Reed Huabo's China Gifts and Home Fair is the largest trade show of its kind in Mainland China. Held in Shenzhen during the best buying seasons in April and October every year, the fair offers the widest selection of business gifts, premiums and consumer products, and attracts tens of thousands of buyers from across the country. They include distributors, agents, premium houses, department stores and large corporate end users. Exhibitors are primarily manufacturers, promising the best design and quality at competitive prices. The fair enables key market players to meet and trade, form partnerships and set industry trends. It is also the best market-entry opportunity for overseas suppliers aiming to tap the fast-growing Chinese market.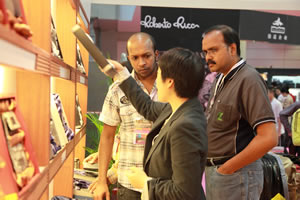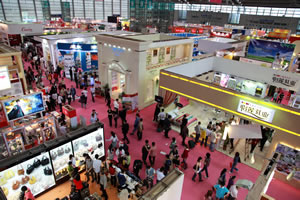 Source trendy products from categories as below at the Fair:
- Arts & Crafts
- Premiums & Gifts
- Ceramics
- Houseware
- Home Decorations
- Tableware
- Kitchenware
- Packaging & Paper Products
- Beauty & Healthcare Products
- Sports & Leisure Products
- Smoking Sets & Lighters
- Electronic Appliances
- Fashion Jewelry & Accessories
- Coins & Collectables
- Crystal & Glassware
- Stationery
- Bags & Cases
- Leather Products
- Home Textile
- Toys
- Clocks & Watches


Why you should attend the Fair in Shenzhen
The perfect trade show if you are an distributor, trader or large-scale retailer who buys products in volume
Meet with the manufacturers from China who supply international quality OEM and finished products to buyers around the world
Plus...see innovative designs from experienced Hong Kong and Taiwan suppliers at the show
Register now , View the exhibitor list


Buyer-friendly time for convenient sourcing
The Fair is held in April and October each year, the same period with Hong Kong Gift Fair and Canton Fair. The venue is conveniently located in the Futian district of Shenzhen. It's about 50 minutes from Hong Kong to Shenzhen Convention & Exhibition Center and 1 hour from Guangzhou to Shenzhen. Pre-register to receive update on the event and to get free admission to the show.

The 19th China (Shenzhen) International Gifts, Handicrafts, Watches & Houseware Fair

Fair Date : April 24-27, 2011
Opening Hours : April 24-26, 2011 09:00 - 16:45 April 27, 2011 09:00 - 16:00
Admission : Trade Only (Visitors under 18 will not be admitted)
Fair Venue : Shenzhen Convention & Exhibition Center
Address: Fuhua 3rd Rd., Futian Central District, Shenzhen
Organizer : Reed Huabo Exhibitions (Shenzhen) Co., Ltd.
No. of Booths : Over 4,900 Booths
No. of Exhibitors : Over 2,800 Exhibitors

Register now for free admission to the fair