The style encompasses a variety of distinctive elements, often featuring unconventional shapes and innovative details. These contemporary-style homes showcase modern materials with unique flair.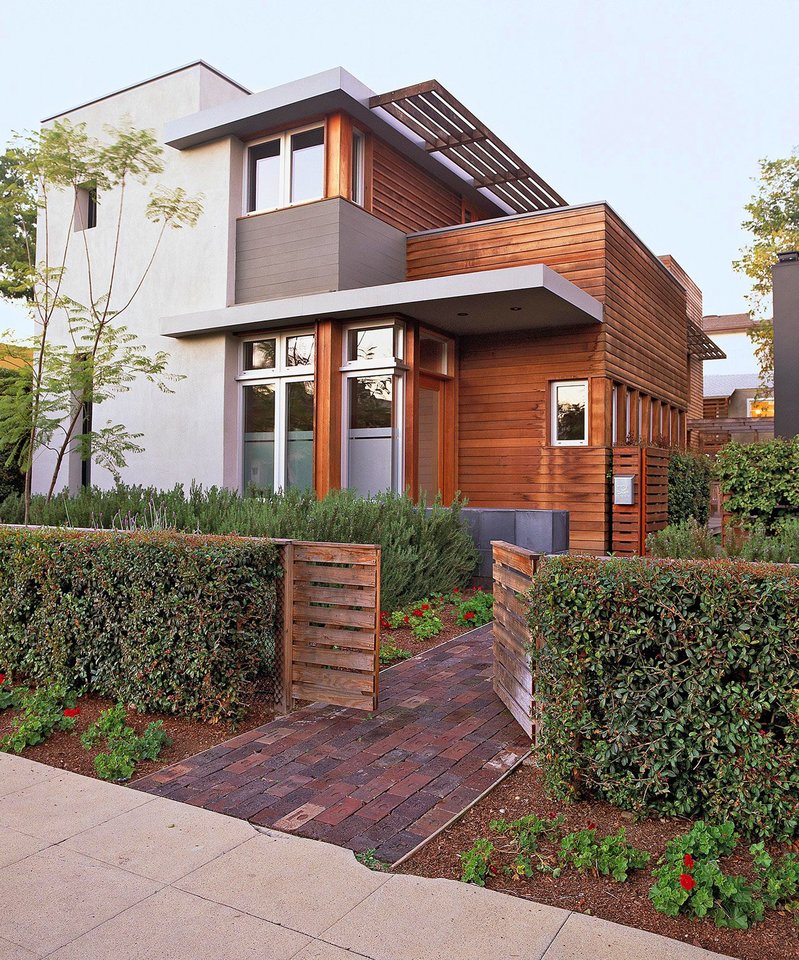 Contemporary Architecture

Contemporary architecture has a broad definition, which means homes of this style often vary widely in appearance. However, there are some key characteristics, including the asymmetric design and geometric forms shown here, that can help you easily identify contemporary houses. Strong linear lines define this home's roofline, and the facade is clad with a combination of wood planks, stucco, and fiber-cement siding.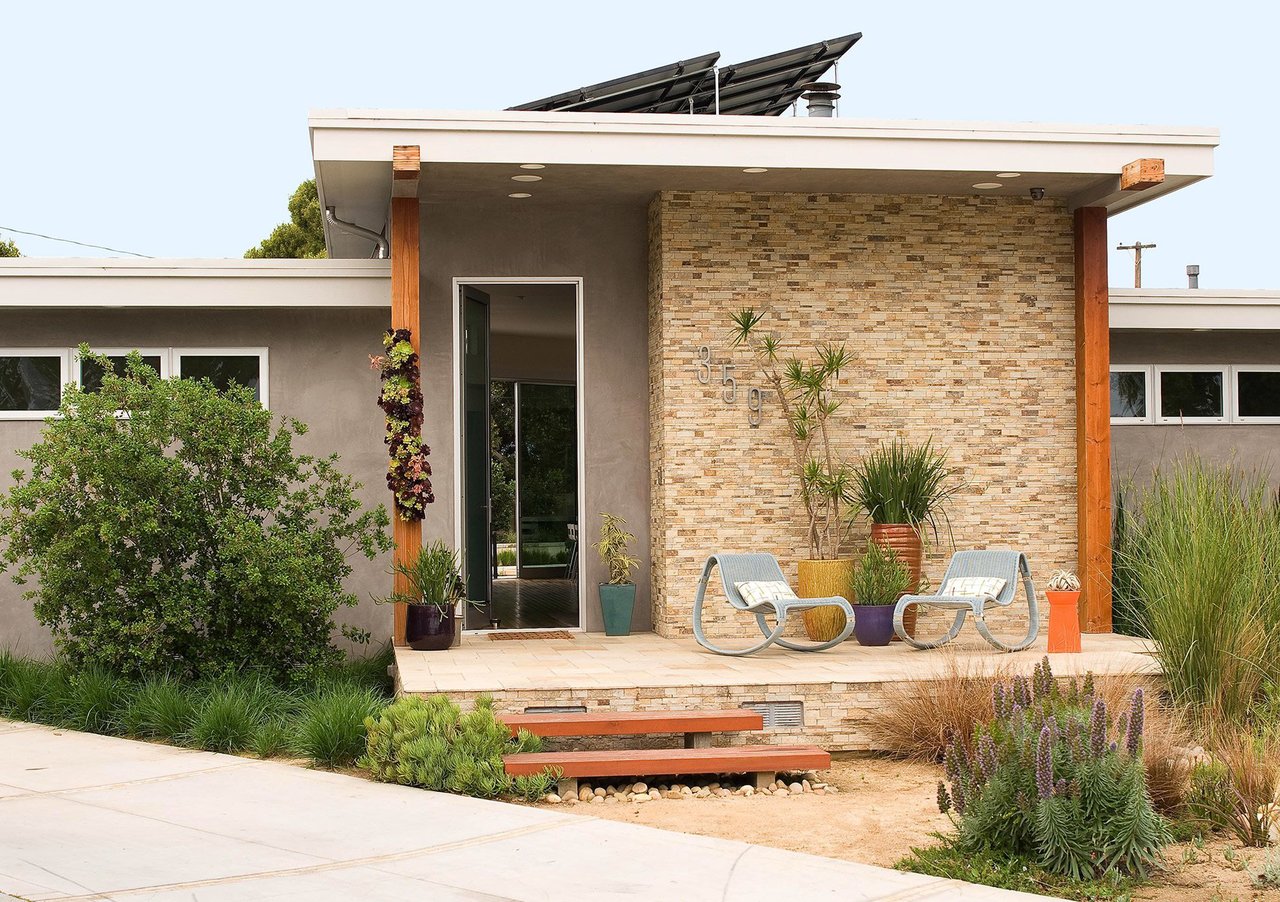 Contemporary-Style Ranch Home

Contemporary houses are often built with sustainability in mind, using eco-friendly materials and aiming to blend in with the surrounding environment. This contemporary ranch-style home utilizes a mix of natural materials, including stucco, wood, and variegated stone, to integrate the building with the landscape. Solar panels mounted on the flat roof help lessen the home's environmental impact.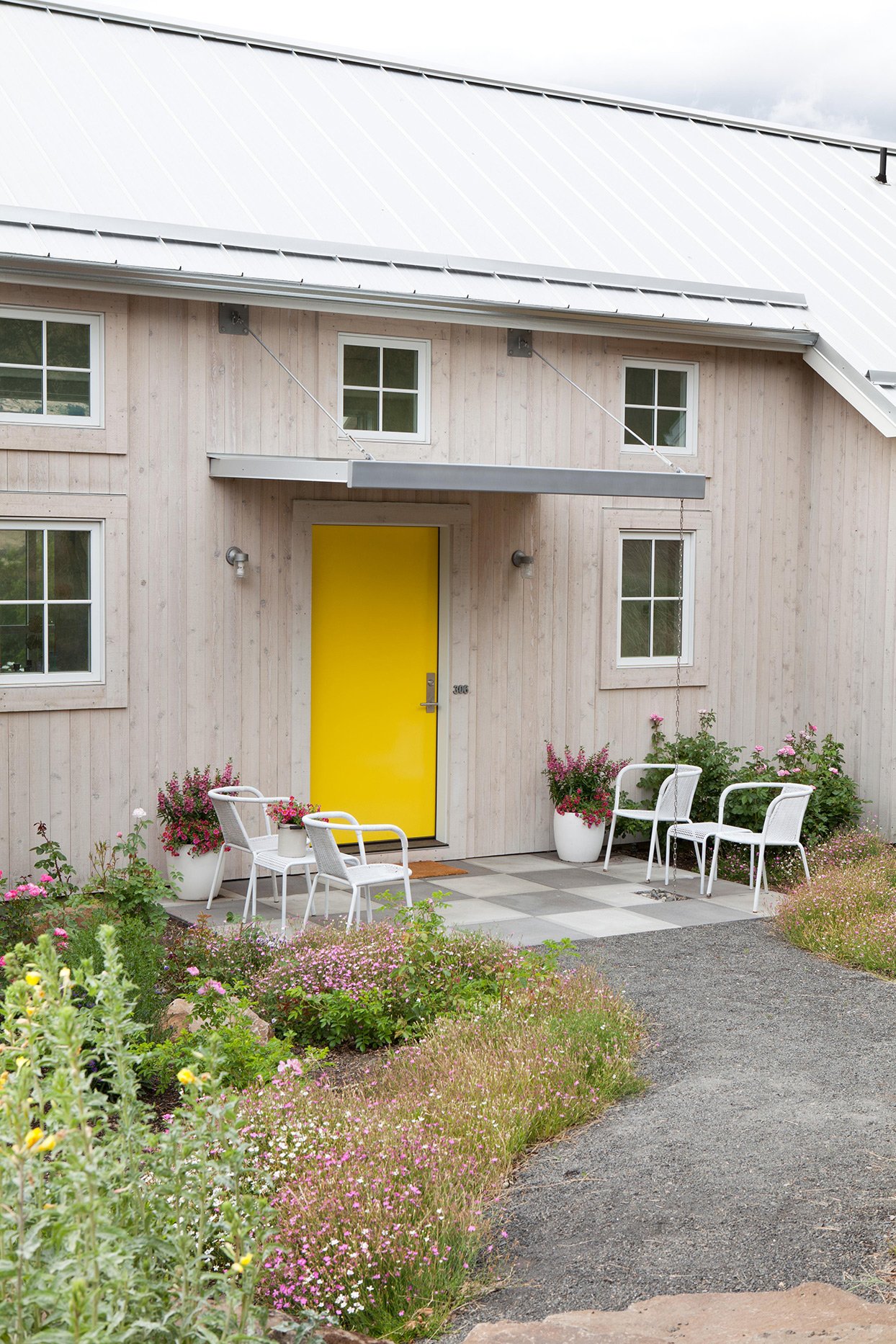 Contemporary Farmhouse

With its metal roof and wood siding, this contemporary home could have easily taken on a rustic, farmhouse-style persona. Instead, clean lines and simple forms, including the utilitarian metal overhang above the front door, give it a distinctly modern look. The whitewashed planks, which are installed vertically for a sleek appearance, let the natural wood grain show through for added texture.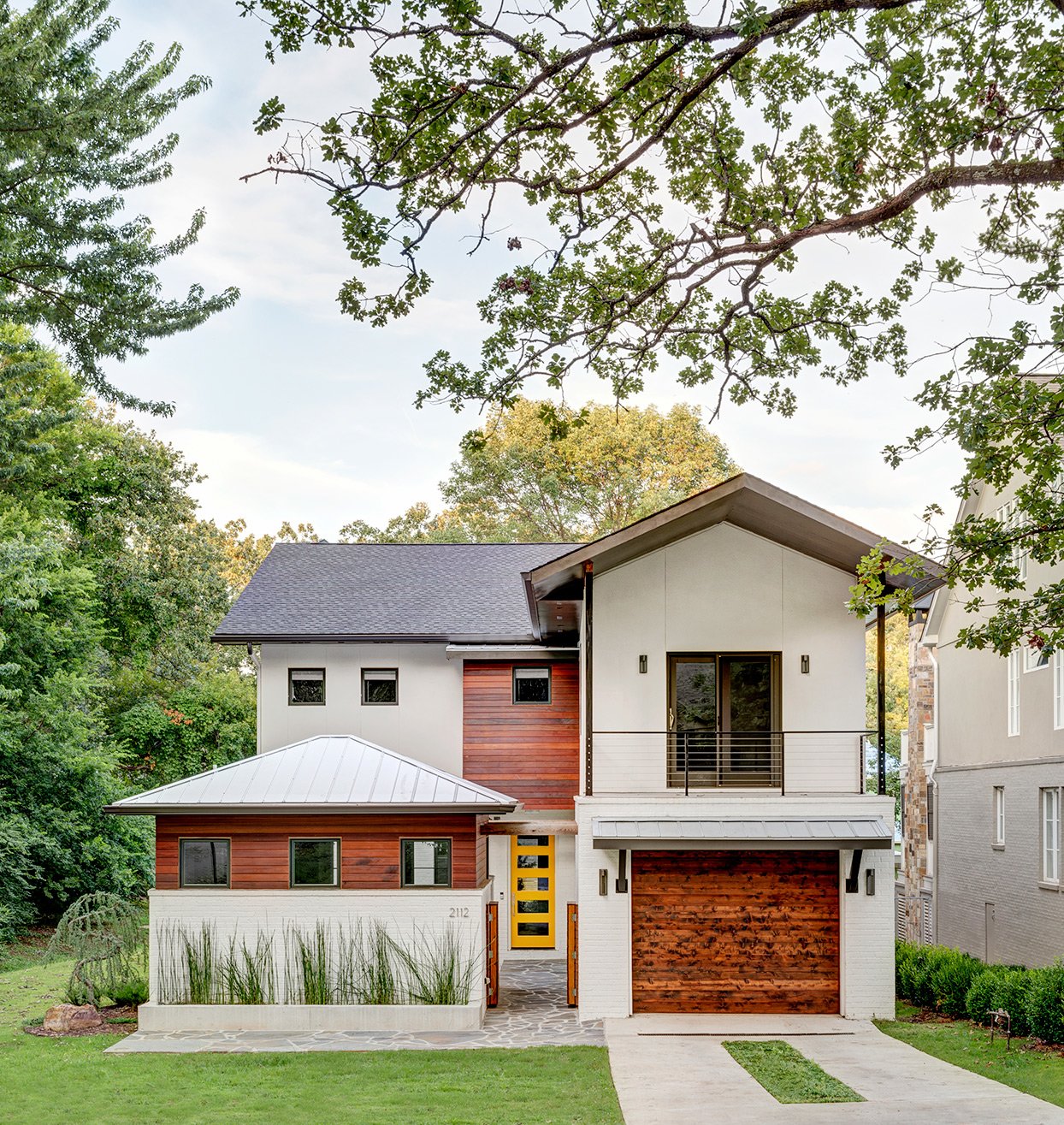 Modern Contemporary House

Without decorative details, this contemporary home gains interest through contrasting materials and a single pop of color on the front door. The overall shape is asymmetrical, but expanses of horizontal wood planks repeat across the facade for balance. The square windows lack ornate trim or shutters to foster a clean, modern look. Guests enter through a gate that leads to the front door, adding drama to the contemporary exterior.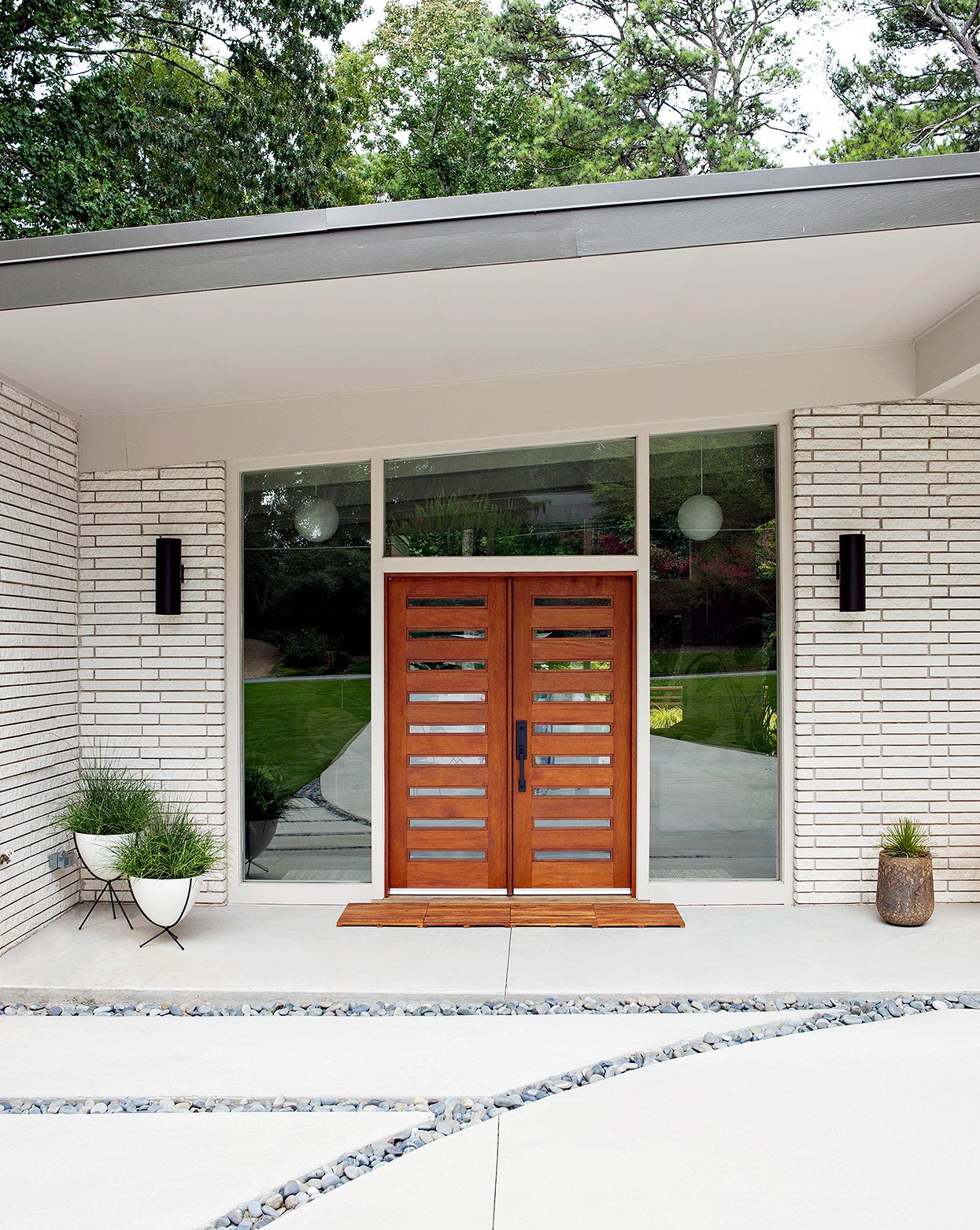 Midcentury Modern Design

Contemporary-style architecture generally encompasses buildings designed in the latter part of 20th century and beyond, which includes midcentury modern homes like this one. Positioned off-center beneath the low-pitched roof, the front door is surrounded by large panes of glass that follow the roofline's slant. These windows let plenty of light into the entry while offering a sleek look from the outside.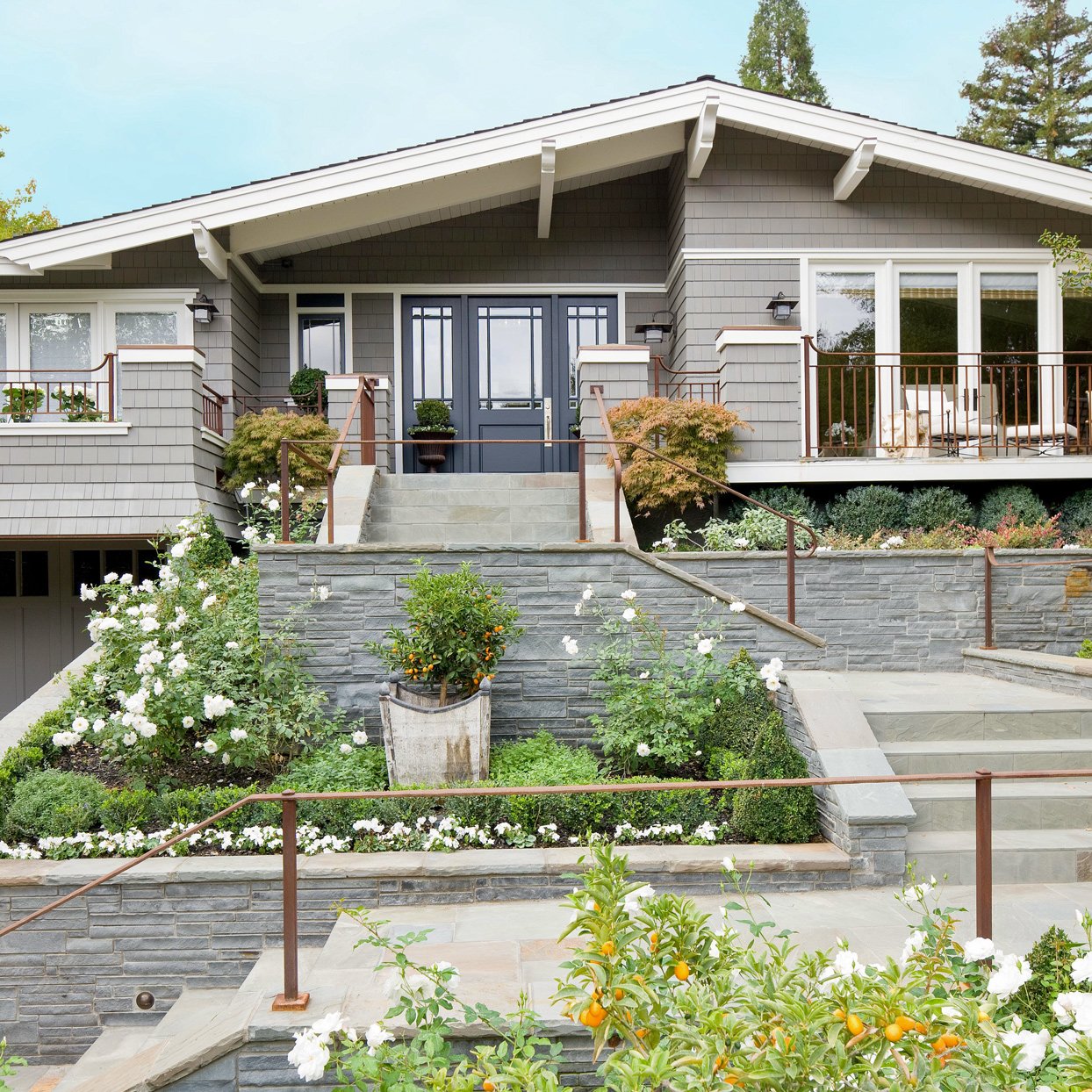 Connecting Contemporary Homes to Nature

This contemporary home is knitted to its site (not perched atop it) with natural materials and strong horizontal lines that keep it grounded. Glass doors and numerous windows, as well as terraces and balconies, create a visual and functional connection to the outdoors. The siding and front door colors repeat the gray hues of the stones used in the landscaping.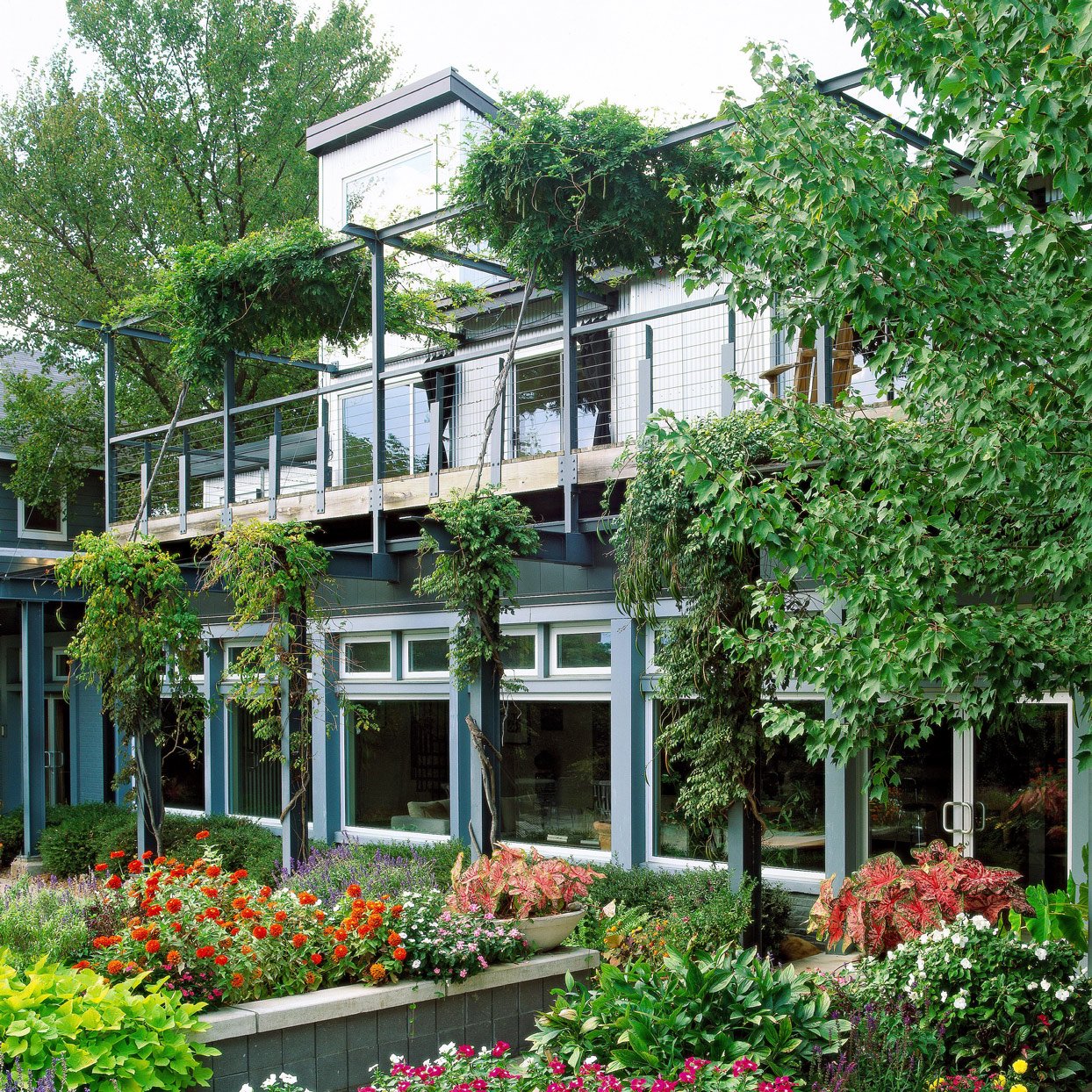 Repurposed Contemporary Home

The boxy lines of an abandoned downtown laundromat offered the perfect starting point for this two-story contemporary home. The old parking lot in front blossomed into a private courtyard. Large windows and glass doors blur the line between indoors and out, promoting a calm atmosphere throughout the home. A new upper-level deck allows a view of the plantings below.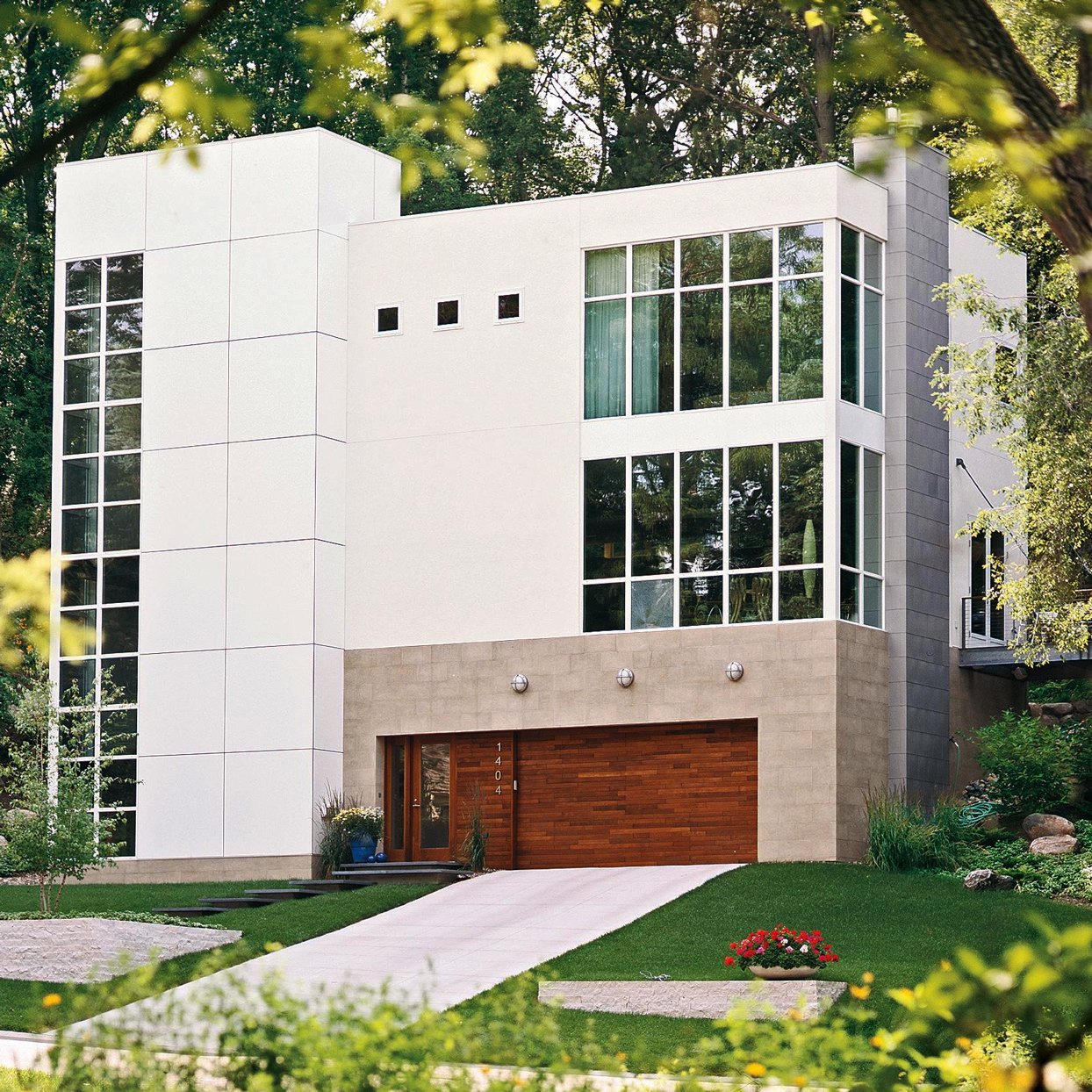 International-Style Architecture

Several features tie this contemporary home to the international-style architecture of the 1930s. It features unadorned, stark white surfaces, a facade that expresses the strength of its steel core, and a straight-lined design that incorporates innovative insulation and glass corners. The contemporary home exterior is clad in Trespa Meteon, a distinctive waterproof siding made in Germany. Arriscraft, a composite stone, frames the red cedar garage door that integrates with the entryway.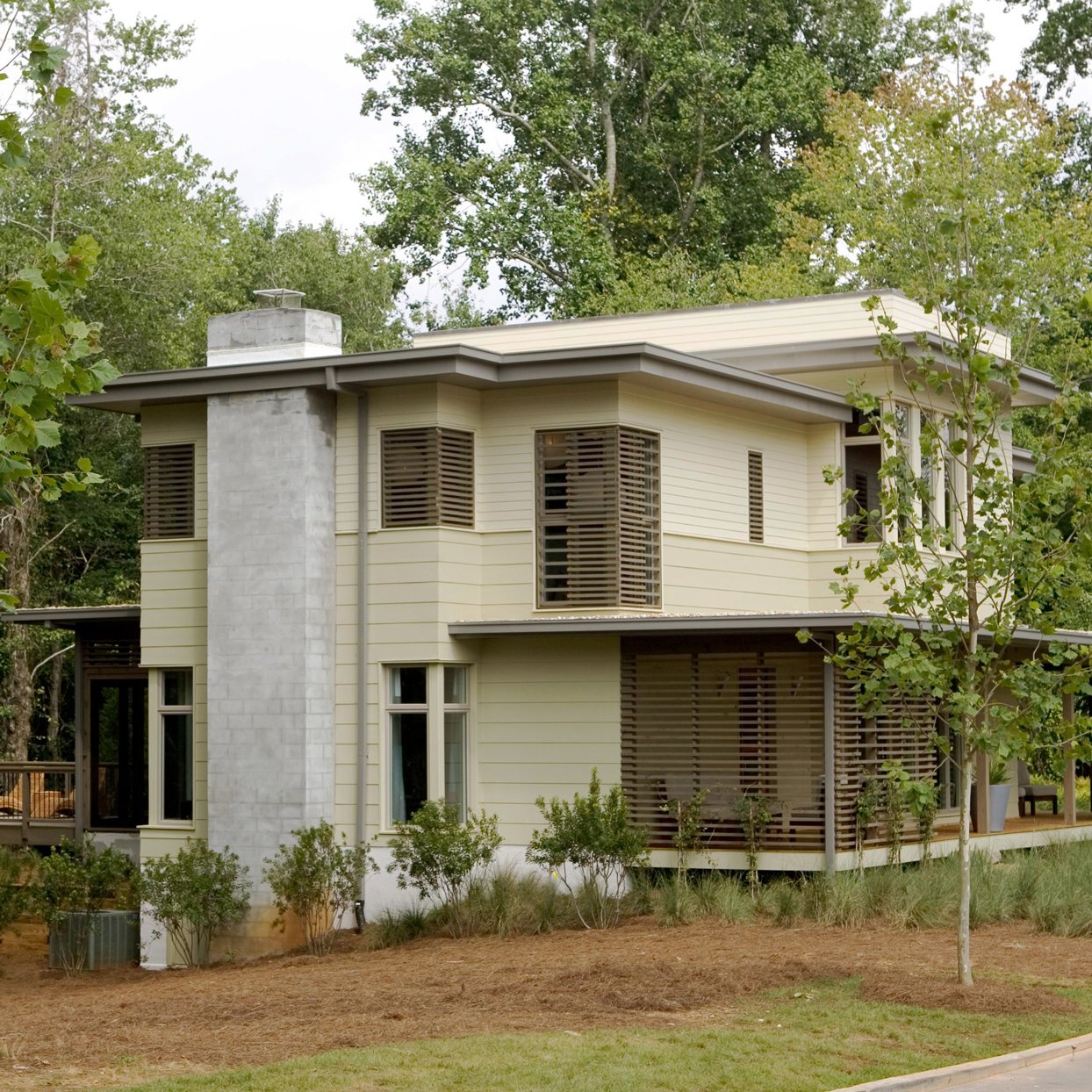 Versatile Contemporary-Style Home

This home's horizontal design makes it appear large from the curb. The modern American vernacular architecture has a familiar feel and works well in almost any neighborhood, but the home's straight, contemporary lines make it appear distinctive. The contemporary home exterior is clad in fiber-cement siding, which is less expensive than wood siding, far more durable, and easier to maintain. It's painted a greenish taupe that harmonizes with the foliage.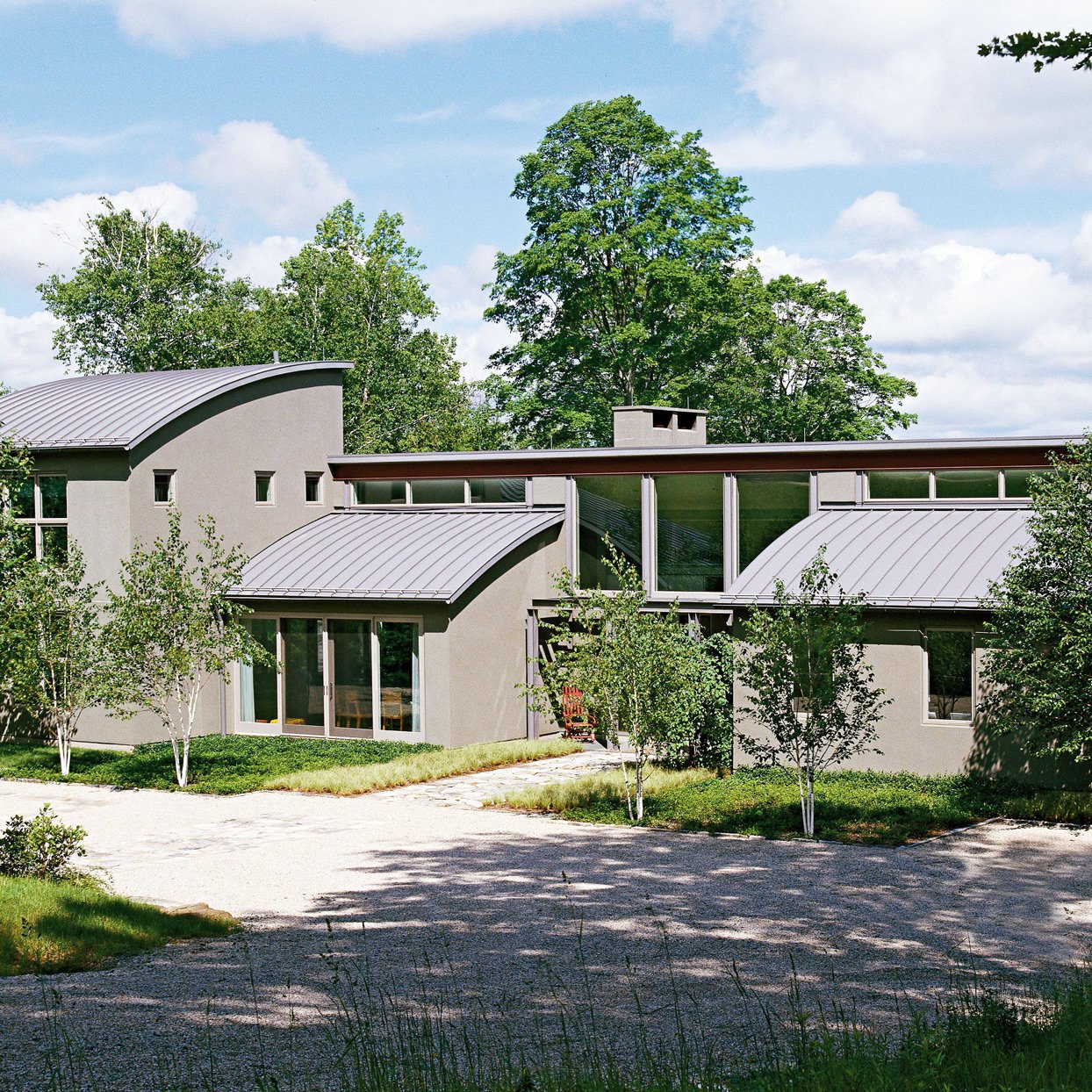 Contemporary Home Design

Contemporary houses are often designed with open floor plans that allow uninterrupted movement throughout the interior. Here, a modern version of classic post-and-beam design takes shape in this vacation home built of glass, steel, and stucco. Inside, the contemporary house plan features few solid walls and is mostly composed of dramatic window walls and breezy passages.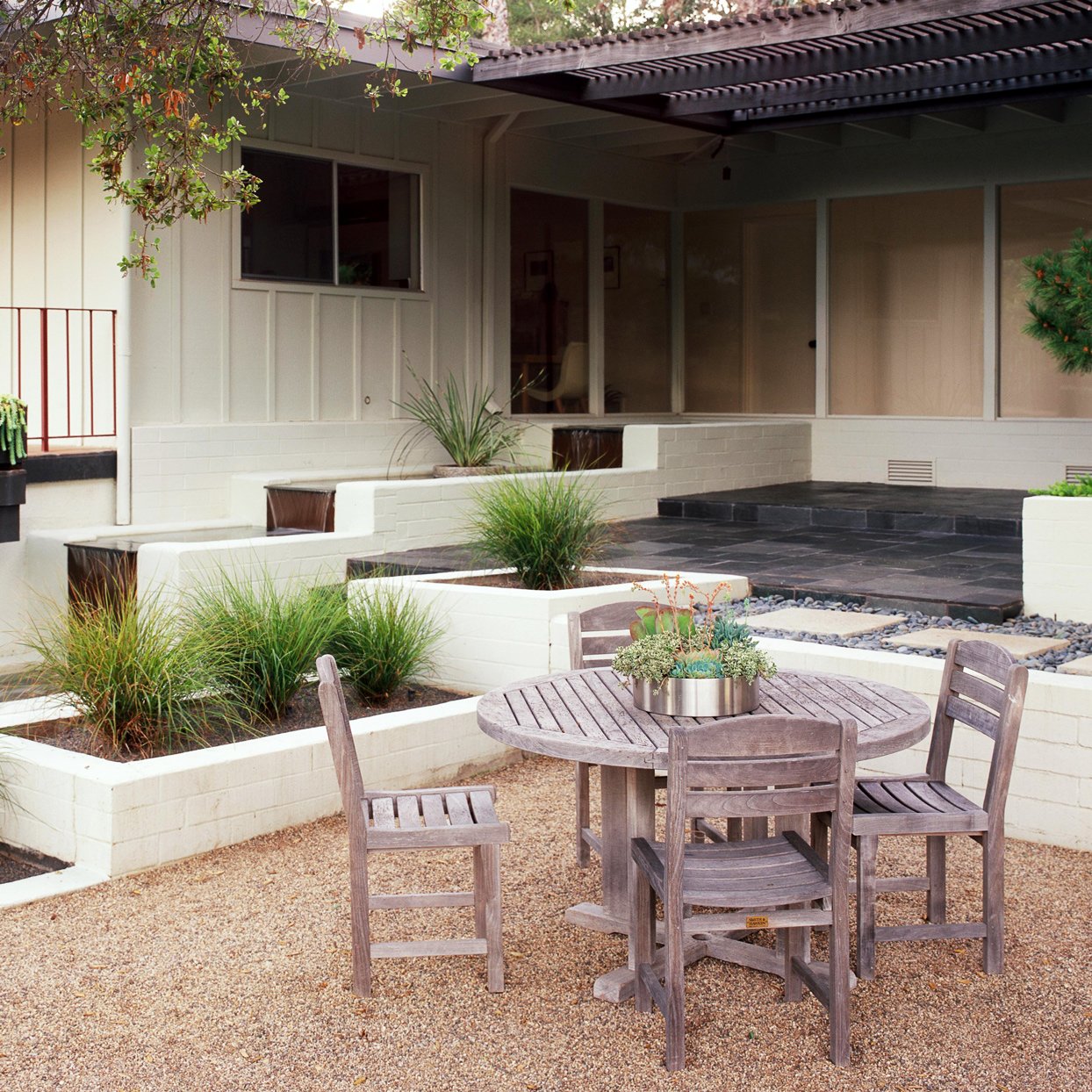 Contemporary Outdoor Living Space

Built on a hillside, this contemporary home features a tucked-under garage and a one-story climb to the front door. The front stairs lead past a tiered, modern spillway to a slate-tile entry court. A few strides away, a gravel terrace with an outdoor dining area offers views of the landscape. To play off the home's contemporary architecture, a collection of raised planters and retaining walls was built from cement block and painted white. The smooth blocks match the materials from the house itself, carrying its style into the landscape. Each wall contributes straight lines, rectangles, and squares that underscore the home's modern geometry.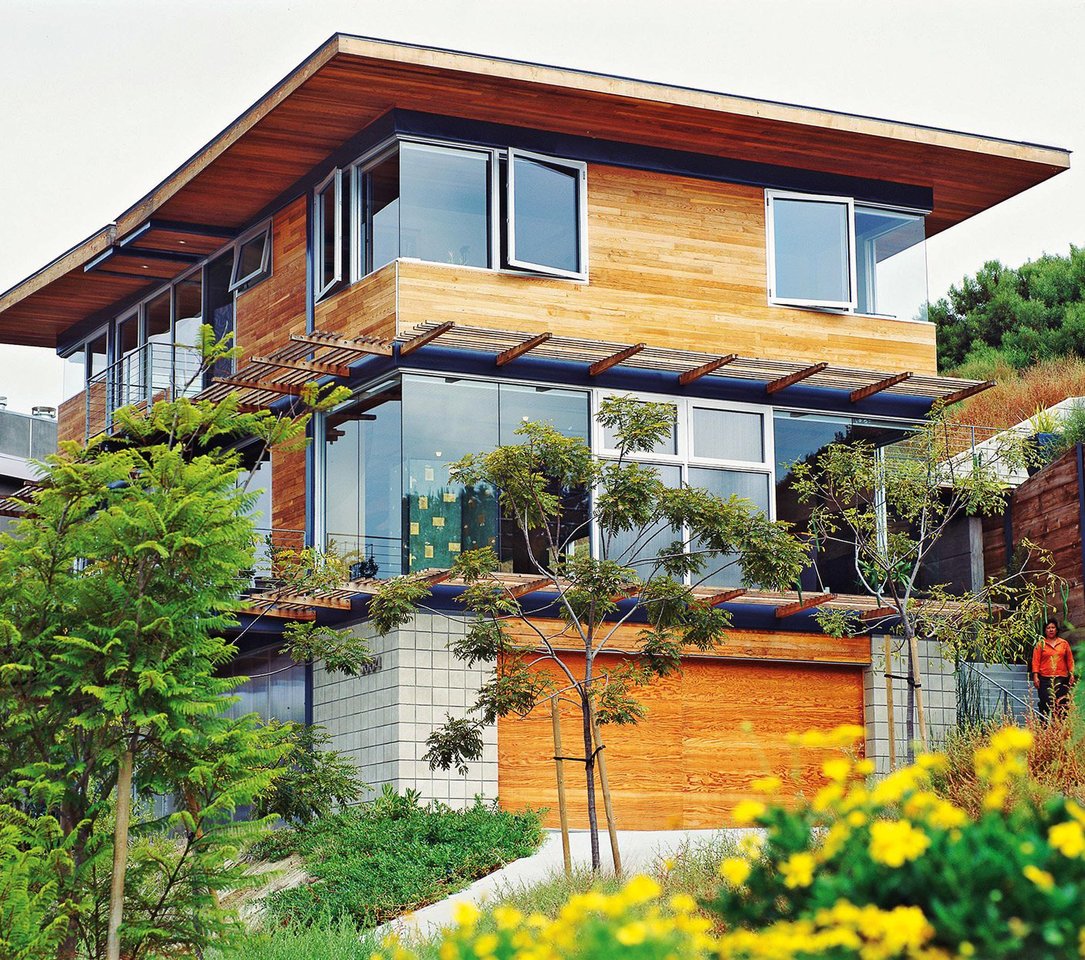 Contemporary Home and Landscape

Made primarily of concrete, steel framing, wood, and glass, this multilevel contemporary home makes the most of a sloping lot that developers had deemed "unbuildable." Outdoor rooms were designed at the same time as the house to create a cohesive appearance in and out. For these areas, the homeowners chose materials, such as wood and stone, to complement their architecturally modern home while connecting the outdoor spaces to the surrounding natural environment.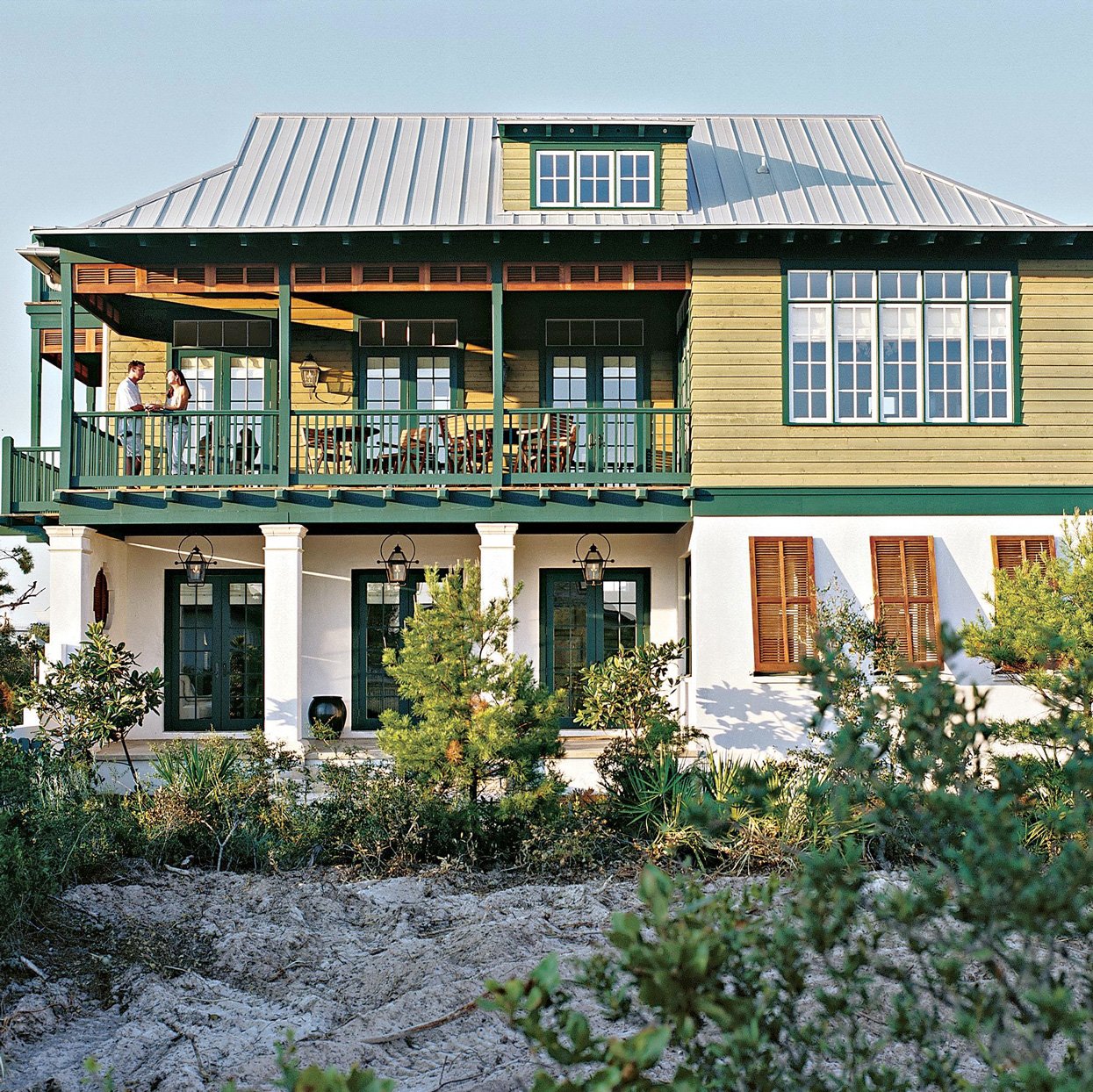 Coastal Contemporary House

Coastal contemporary style combines the ease of a seaside cottage with the impressive lines of a contemporary home. The low metal roof of this home tops an expansive porch and windows that take full advantage of cooling ocean breezes. The home boasts a modern take on the wraparound porch, with an upper-level open-air living space that runs along two sides of the house. The exterior color palette, which includes cream, deep green, gold, and natural wood tones, was inspired by the nearby beach setting.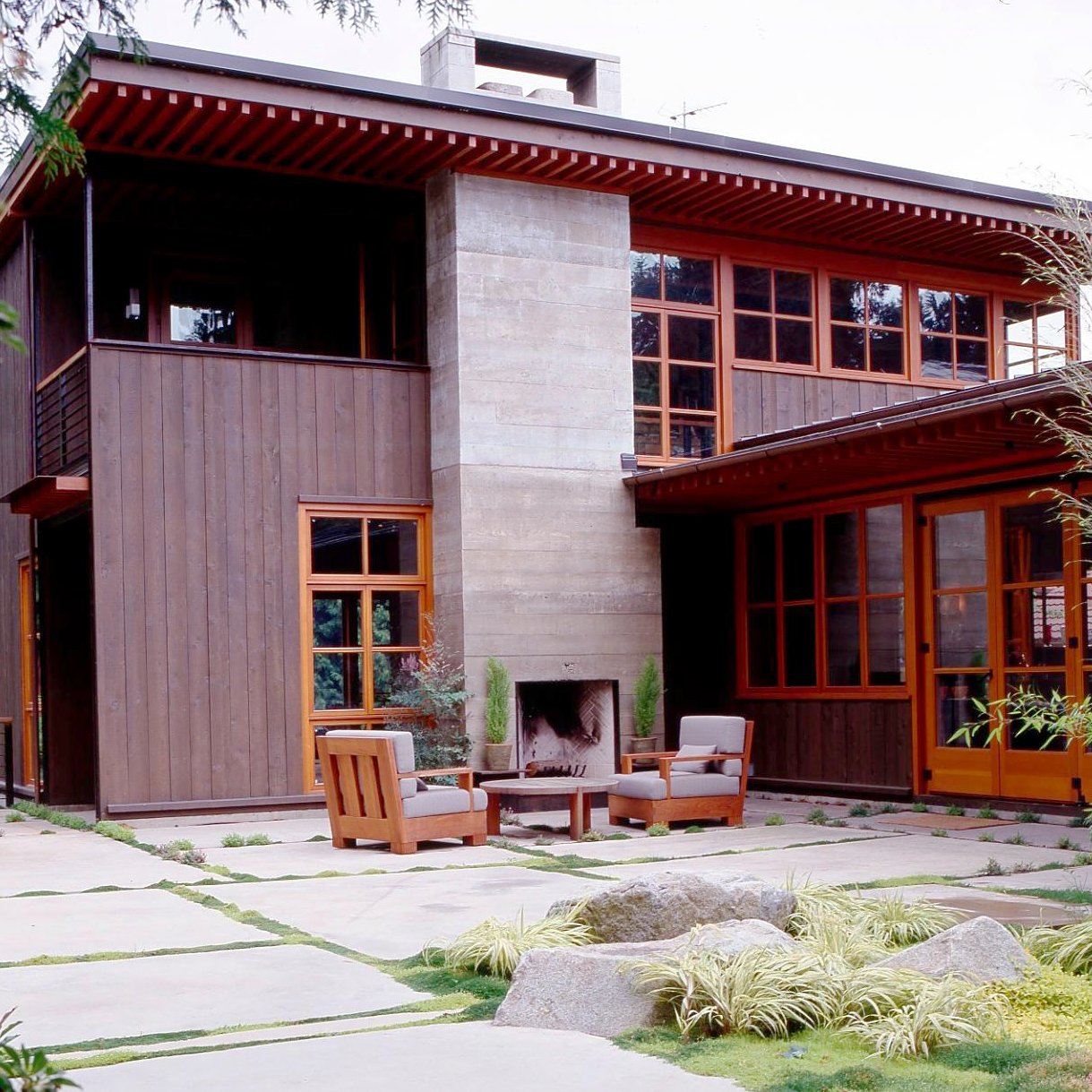 Nature-Inspired Contemporary House

Drama on the flat-faced exteriors of contemporary-style homes often comes from a dynamic mix of contrasting materials and textures, exposed roof beams, and flat or low-pitched roofs. Here, a strong connection to nature and the surrounding landscape is established through large expanses of windows and the use of natural materials and colors. Front and back courtyards help blend indoors and out, and almost every interior room opens to the outside. Steel and concrete accents add an industrial feel, while vertical panels of board-and-batten siding create a sleek, modern exterior.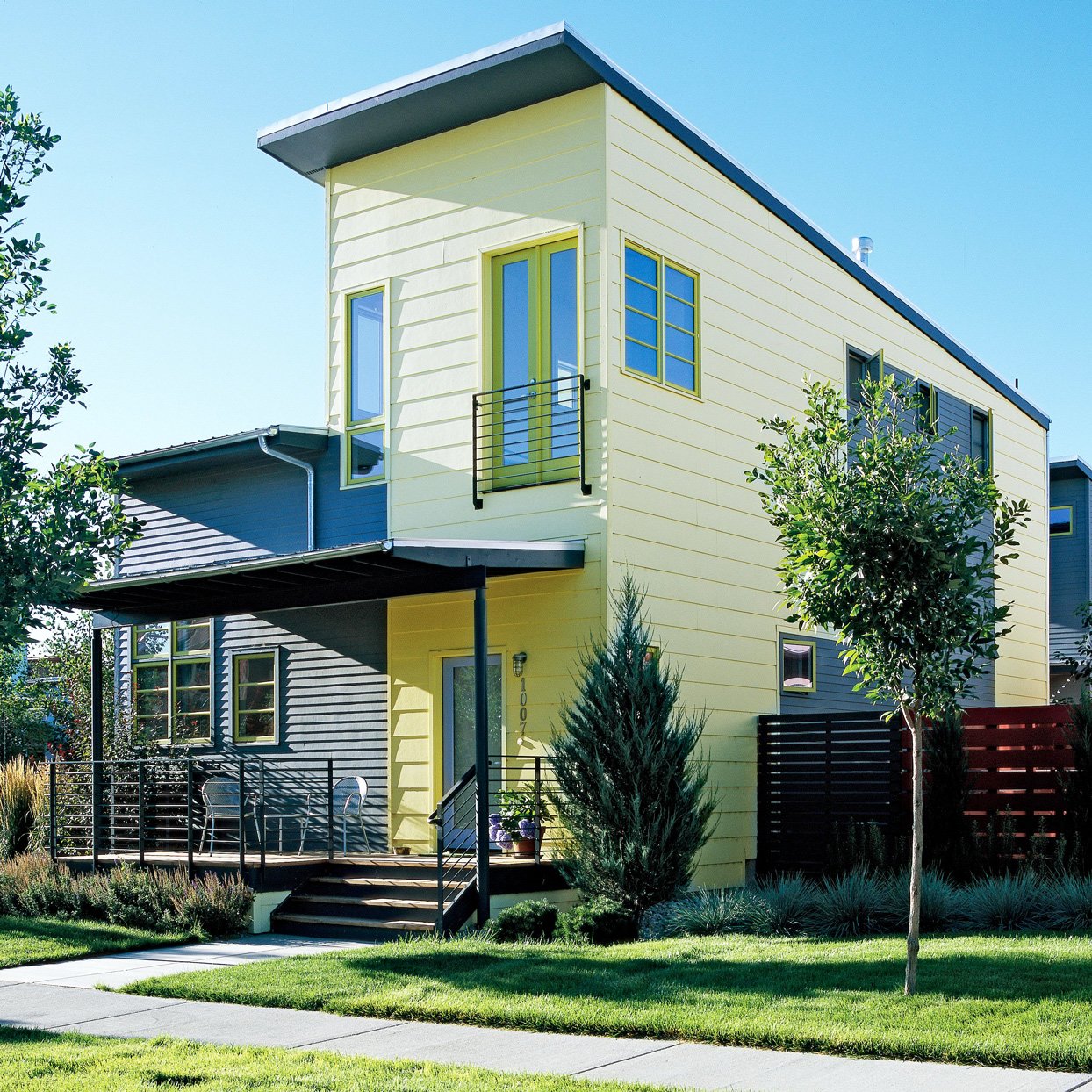 Modern Contemporary Two-Story

This simply styled contemporary house blends comfortably with its more traditional neighbors. However, the two-story home's slanted rooflines and unique combination of siding set it apart as distinctly modern. The contrast of dark gray and buttery yellow siding makes a strong contemporary statement, and the metal porch railing repeats the horizontal lines that appear across the facade.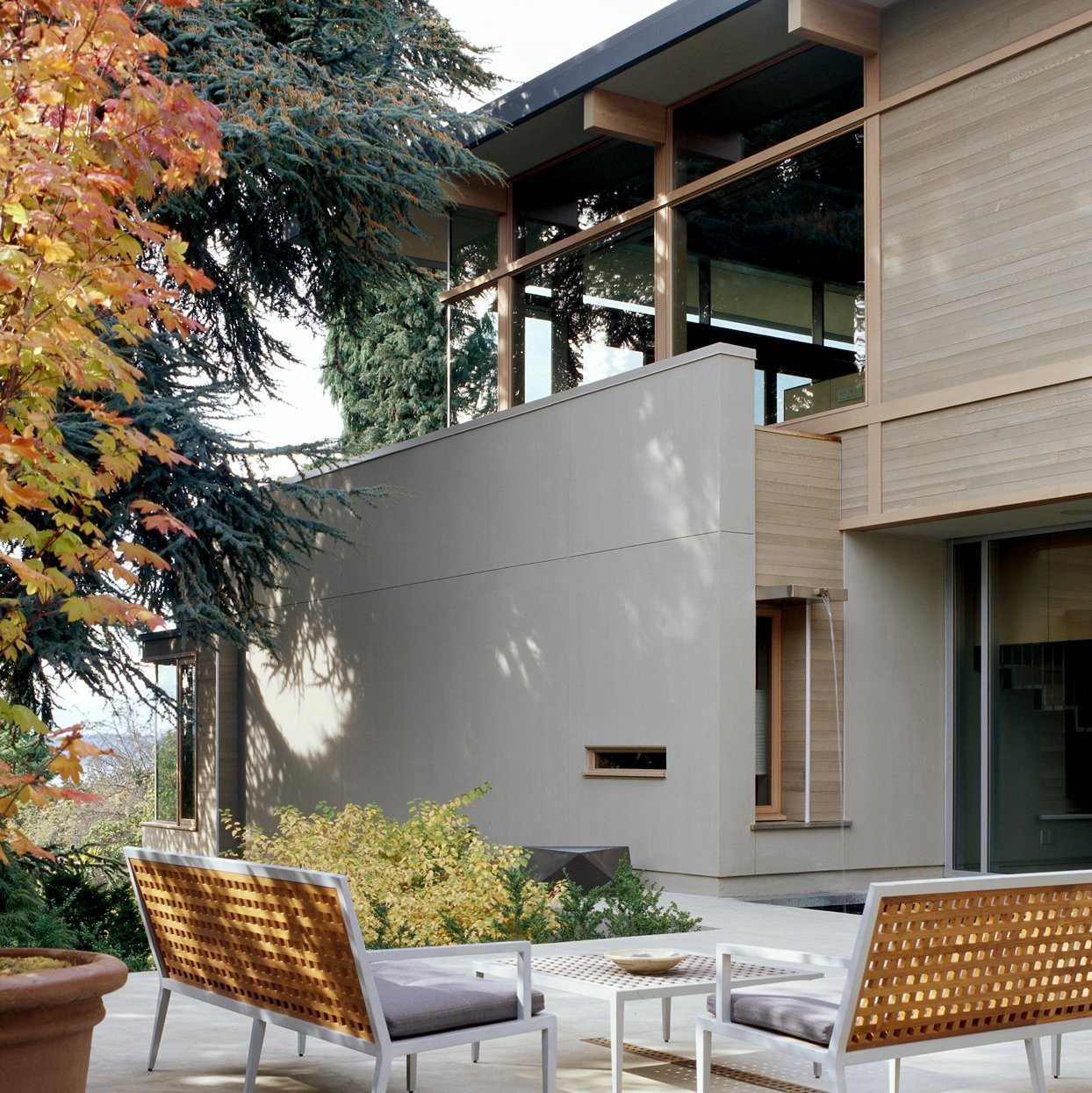 Contemporary Home Materials

A desire for high-quality materials and a strong indoor-outdoor connection influenced the design of this contemporary-style home. Laminated fir ceiling beams extend outside, supporting eaves edged in zinc, and walls of glass alternate with rough-sawn cedar siding and taupe-colored stucco. The sheltered patio extends the lower level of the house. Between the seating area and the house is a reflecting pool fed by a scupper that extends from above a window.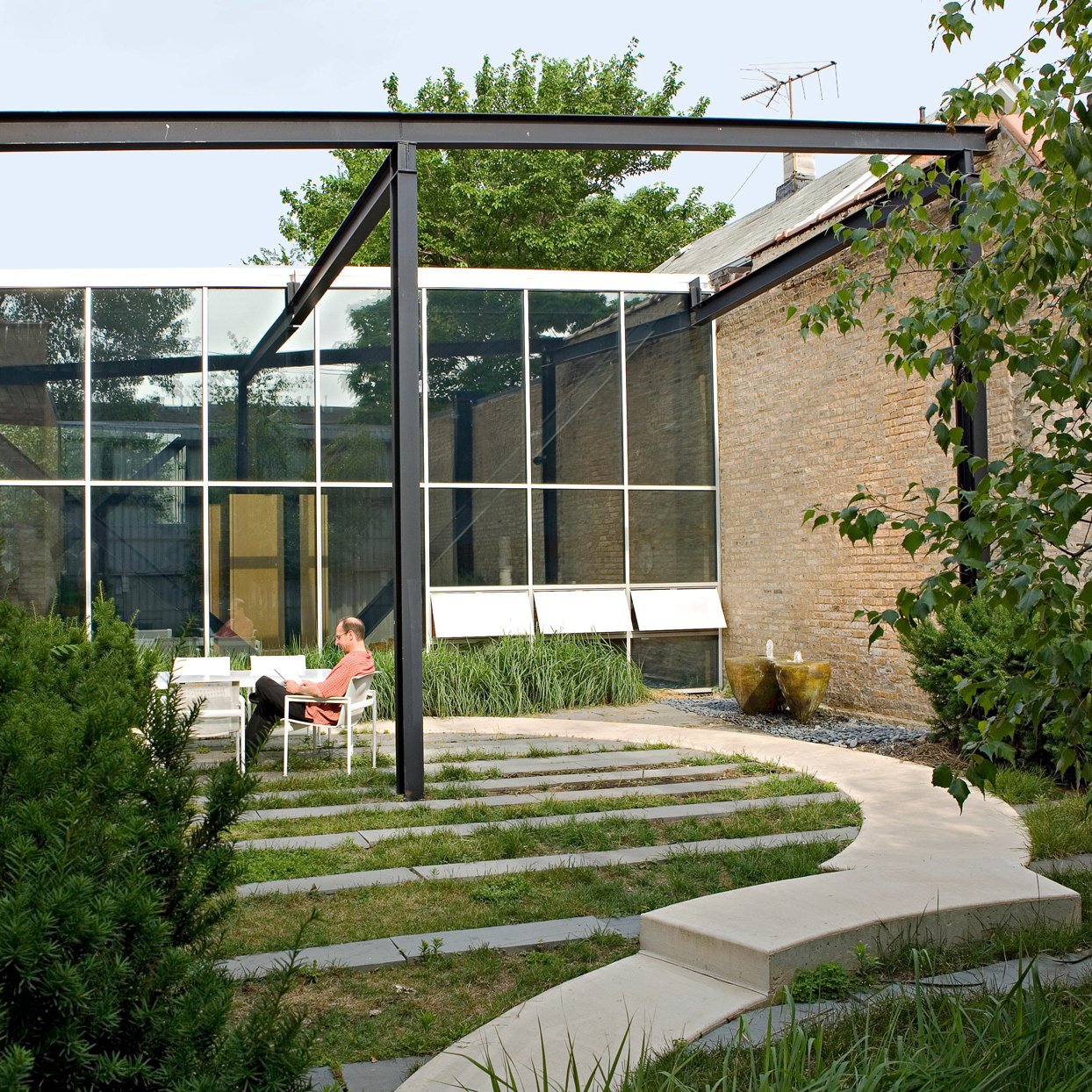 Industrial Contemporary Home

Two brick walls of an abandoned T-shirt factory were transformed into this contemporary-style home. Between the walls, a network of steel sections supports floor-to-ceiling glass panels that look out to courtyards on either side. The courtyard seen here occupies an area that was once the factory's front office space.