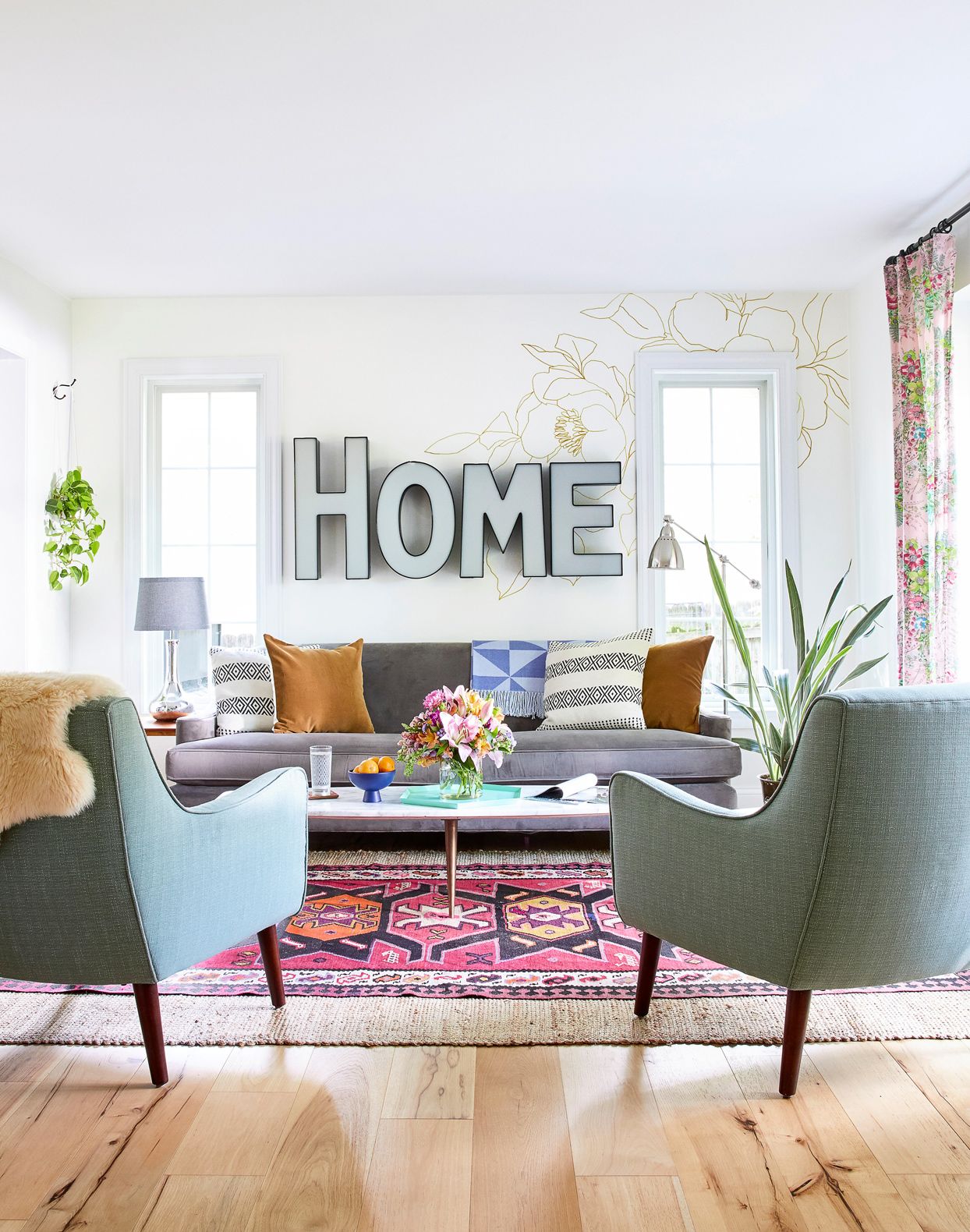 Arranging Furniture Around a Focal Point

In a small living room, arrange furniture around a designated focal point. A TV, fireplace, window, or piece of wall decor can all serve as the room's center of attention. Position furnishings around or directly facing the focal point to maintain a clear view.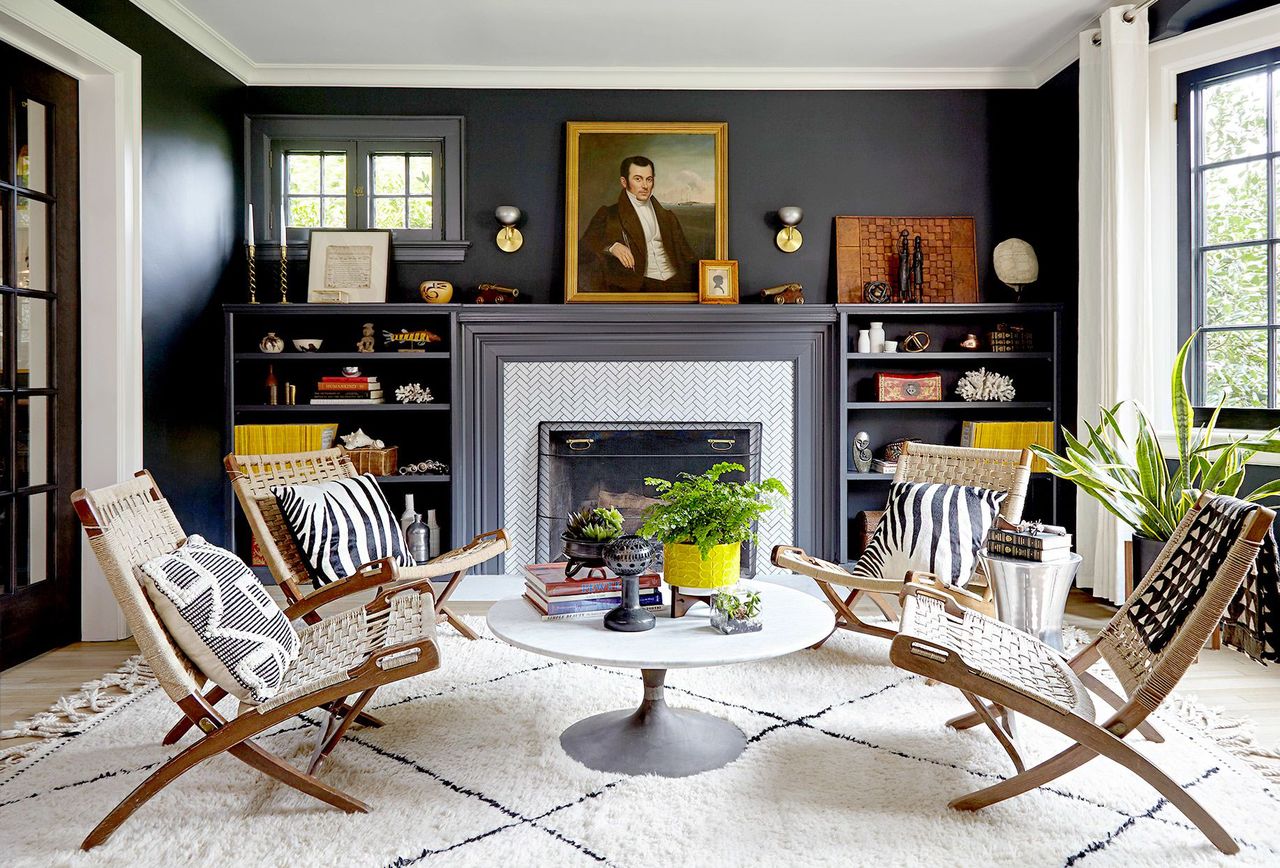 Small Living Room Furniture Arranging Mistakes

Maintaining an open space in the middle might seem like a good way to make your small living room appear larger, but the opposite is actually true. Avoid this common furniture arranging mistake by pulling sofas and chairs away from the outer walls. Gather furniture in the center of the room to create a cozy conversation area.


Small Living Room Furniture Arrangement Tricks

This small living room employs several design tricks to achieve an open, orderly look. Helping the space appear larger, an acrylic coffee table offers practical storage while taking up virtually no visual space. Matching armchairs, poufs, and table lamps are mirrored on either side of the room, creating a streamlined and aesthetically pleasing effect.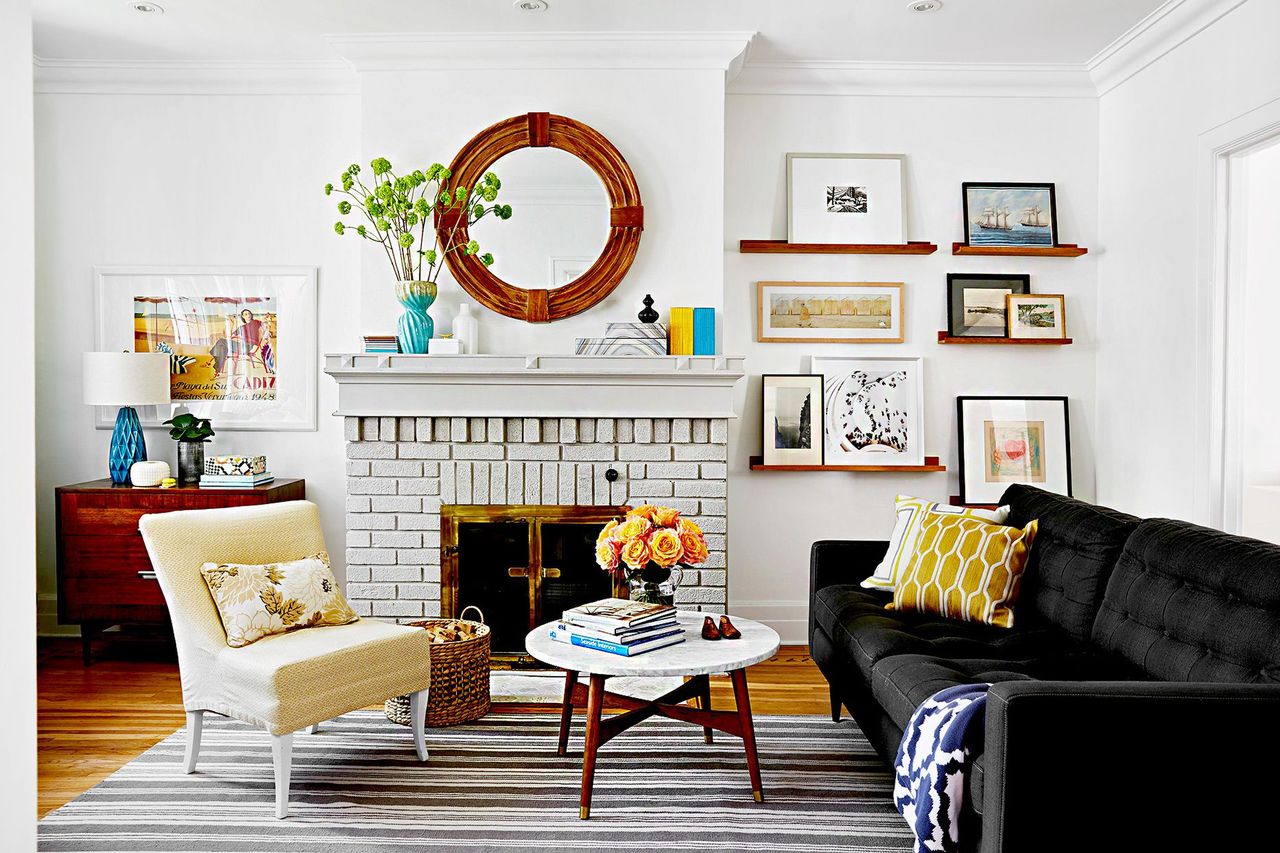 Lightweight Furniture for Small Living Rooms

Pay attention to the visual weight of furniture, not just its actual size. Light-color furniture or pieces with legs appear lighter than dark or boxy upholstered pieces. In this small living area, the leggy, armless chair doesn't obstruct views of the floor or fireplace, so the space feels more open. The small marble-topped coffee table also consumes very little visual space.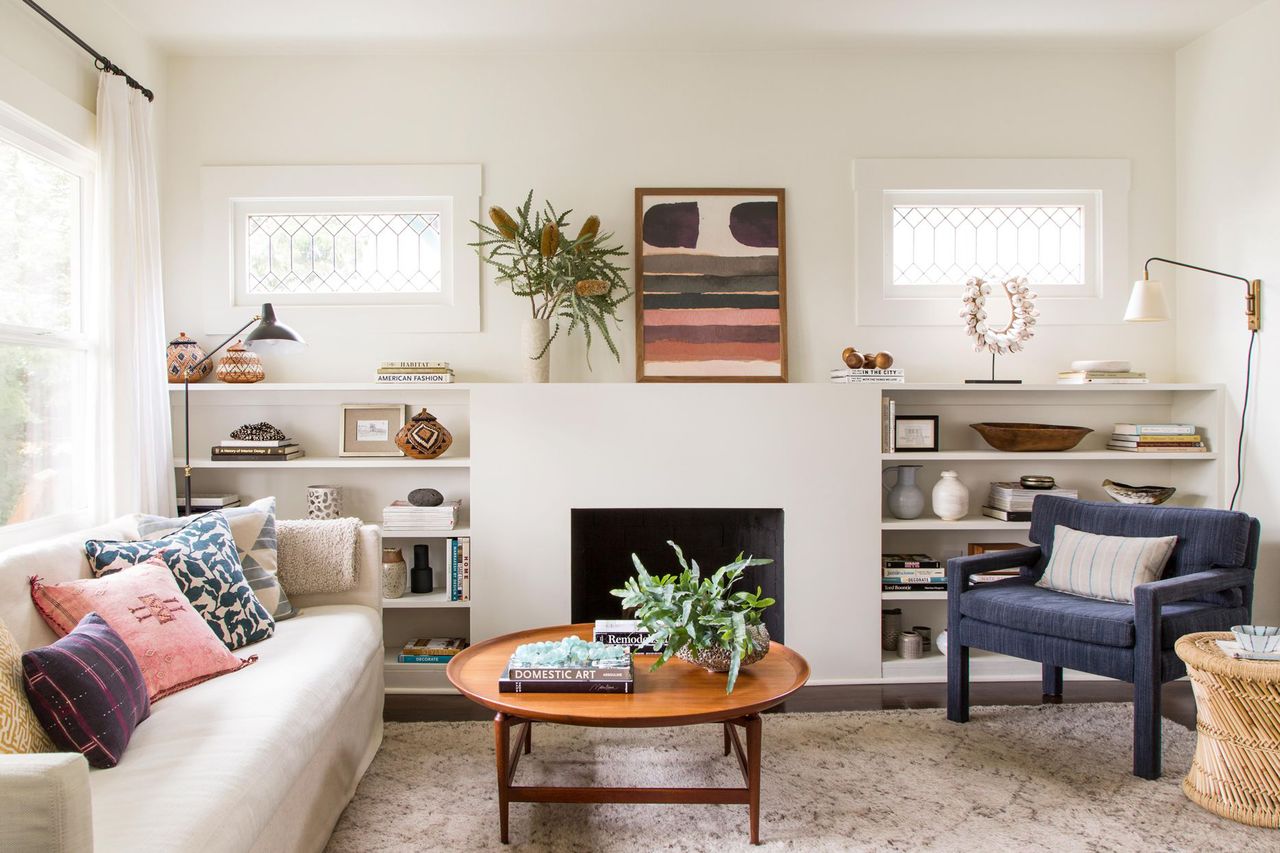 Small Living Room Furniture in Neutrals

Using a neutral palette throughout a small living room is one of the best ways to create the illusion of more space. The eye can roam freely through a neutral color scheme, so the space feels more expansive. Choose variations of white, cream, tan, or gray for walls and large pieces of furniture, and bring in small touches of color or pattern with accents.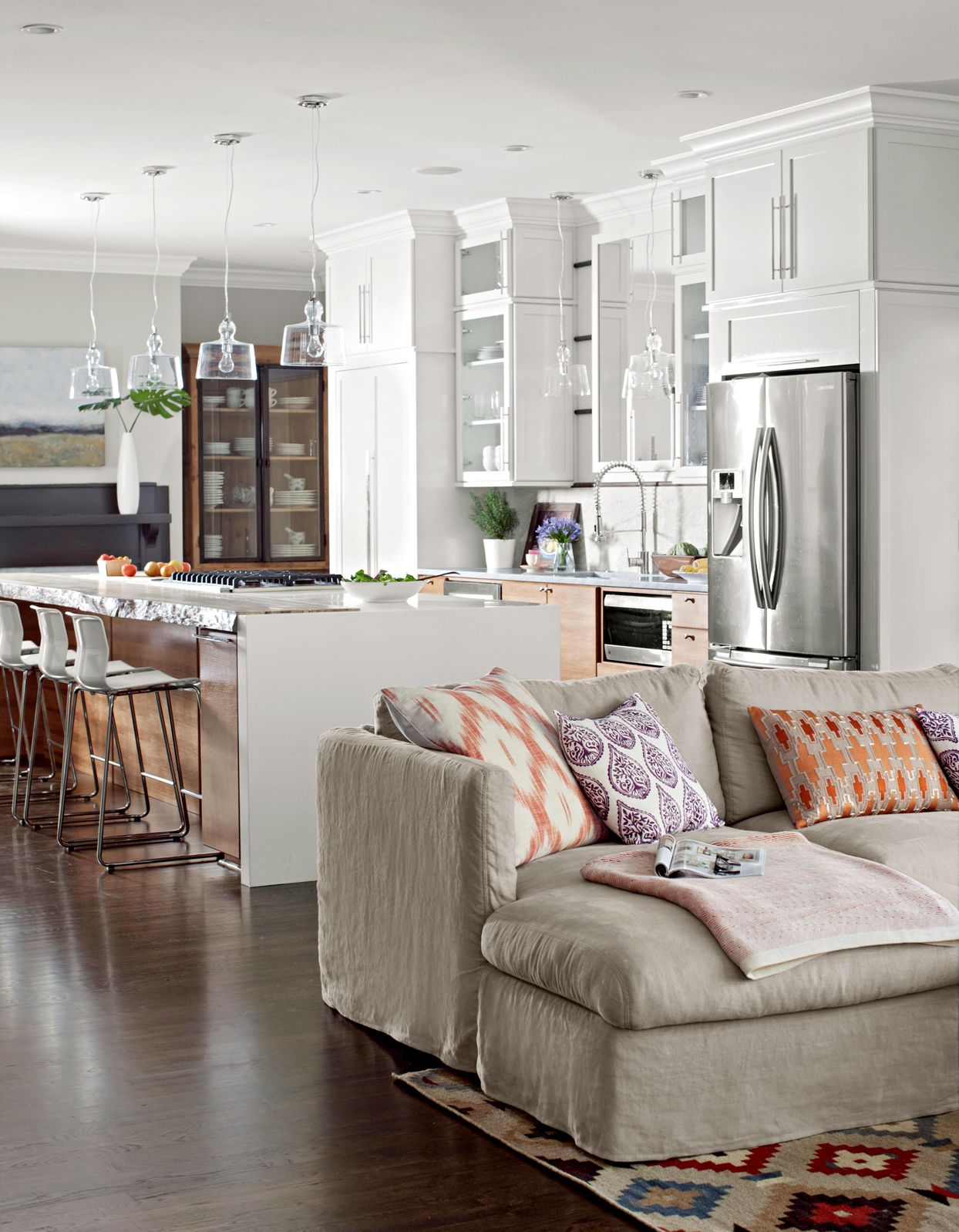 Open Living Room Furniture Arrangement

A small living room can feel even smaller when it shares space with a home's kitchen or dining area. To help distinguish the two spaces, position the sofa with its back facing out of the living room. Arrange accent furniture next to or across from the sofa, taking care to maintain a clear pathway into the room.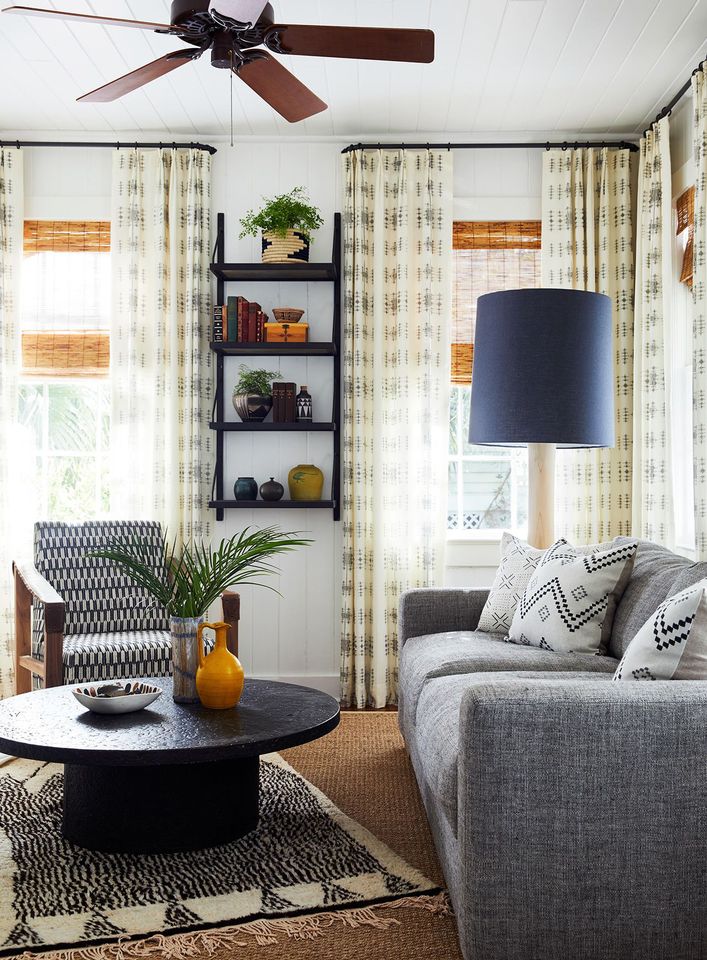 Vertical Space in Small Living Rooms

A room includes more than just its horizontal dimensions. Invite the eye to move above and below eye level to make a small living room furniture arrangement look more substantial. In this living room, emphasis on the vertical comes by way of floor-to-ceiling draperies that hang just below the ceiling.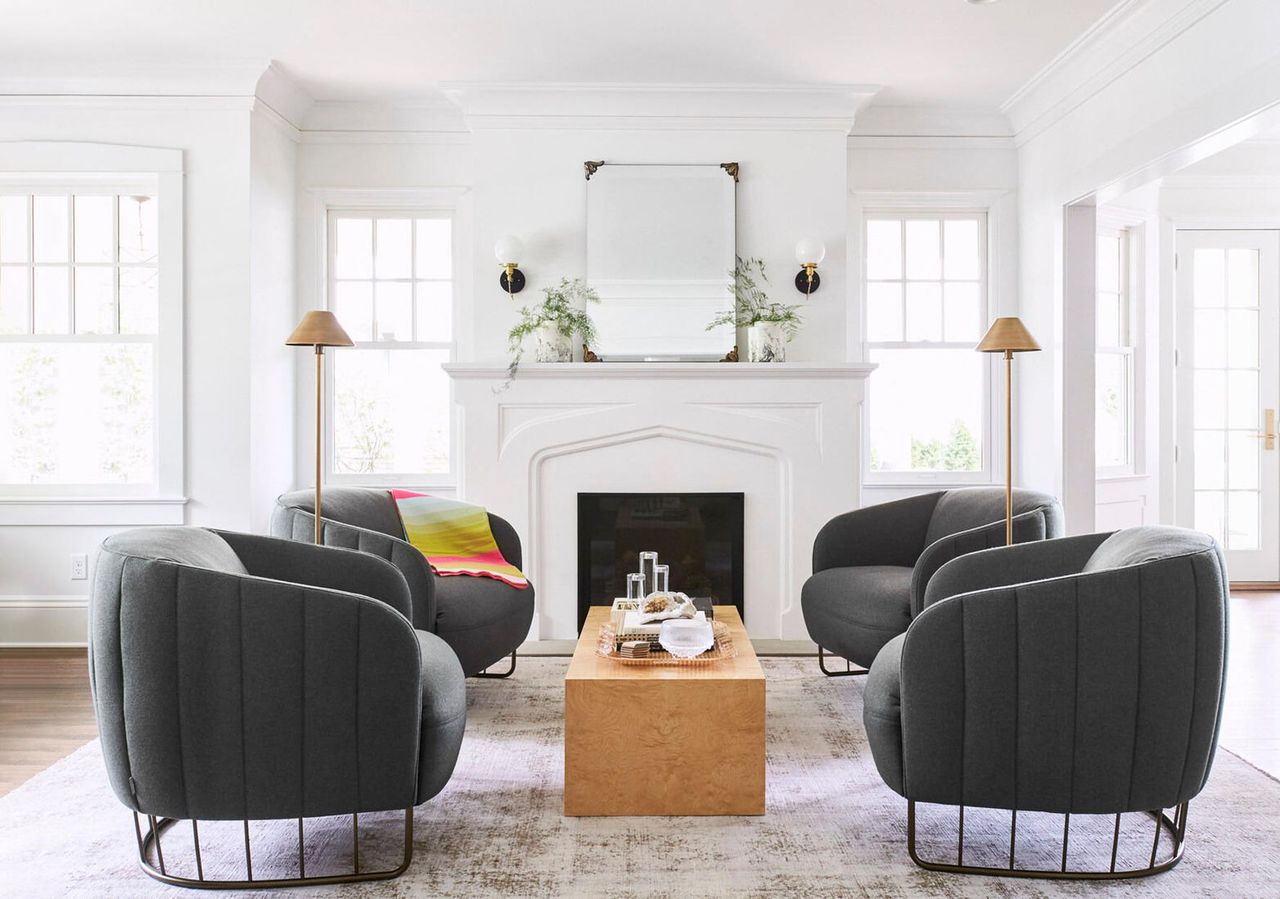 Small-Scale Living Room Furniture

Choose furniture in a scale appropriate for the room and for the people who will use it. In a small living room furniture arrangement, pairs of armchairs can make better use of the space than a large sofa or sectional. The sleek design and smooth lines of these chairs ensure the small room doesn't feel crowded.


Living Room Furniture Arrangement Ideas with Windows

Take advantage of all available light to help enlarge a small living room. Use white or pale colors, which increase the brightness of a room by reflecting light. Keep window treatments simple and avoid blocking the windows with heavy layers of fabric. Arrange small living room furniture near the windows to best enjoy the effect.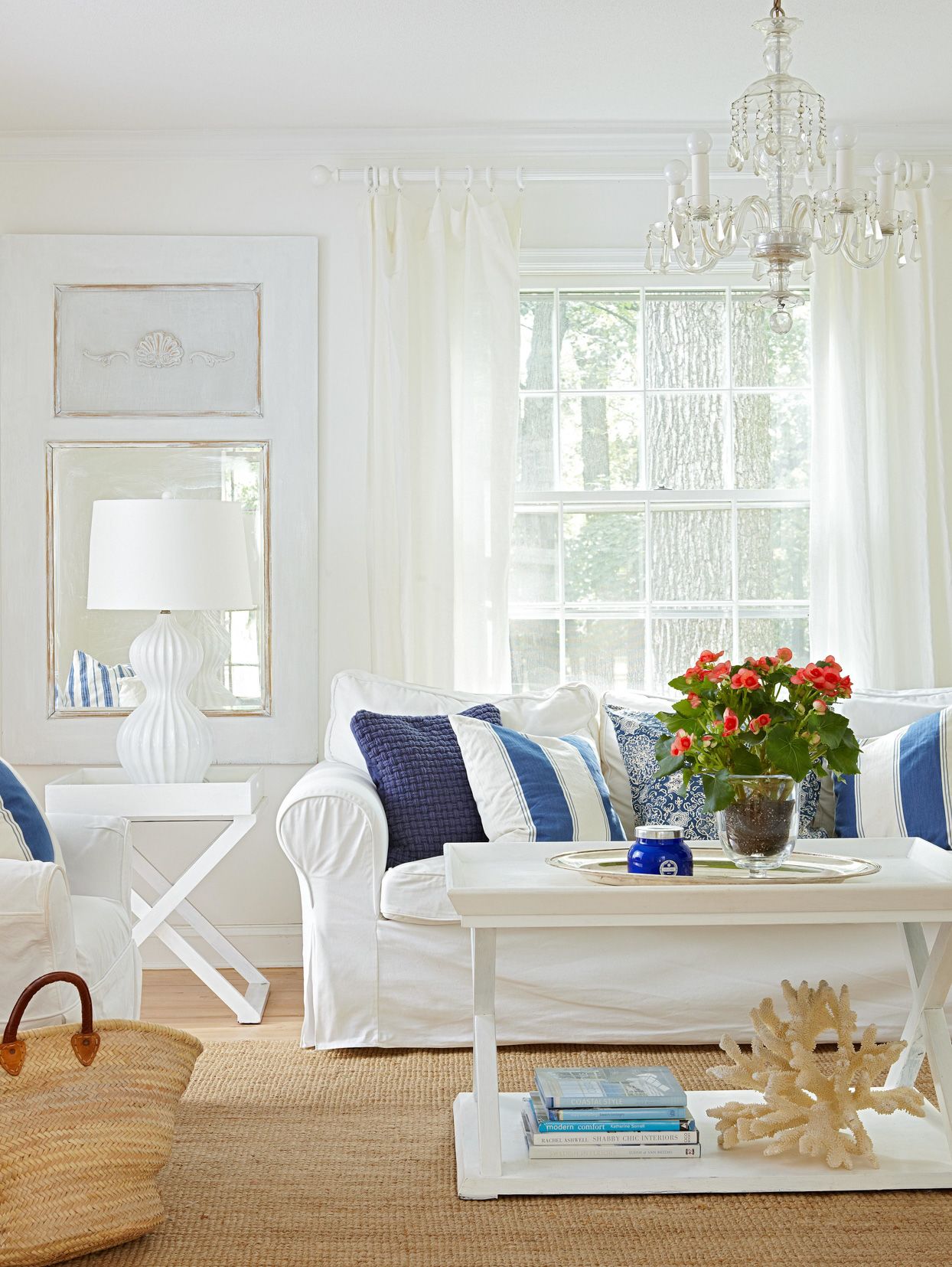 Small Living Room Furniture Colors

Repeat light colors across furniture choices for a bright, open feel. This small living room escapes feeling constrained thanks to white walls, slipcovers, and accent furniture. White unites the elements of the room while pops of blue add crisp contrast.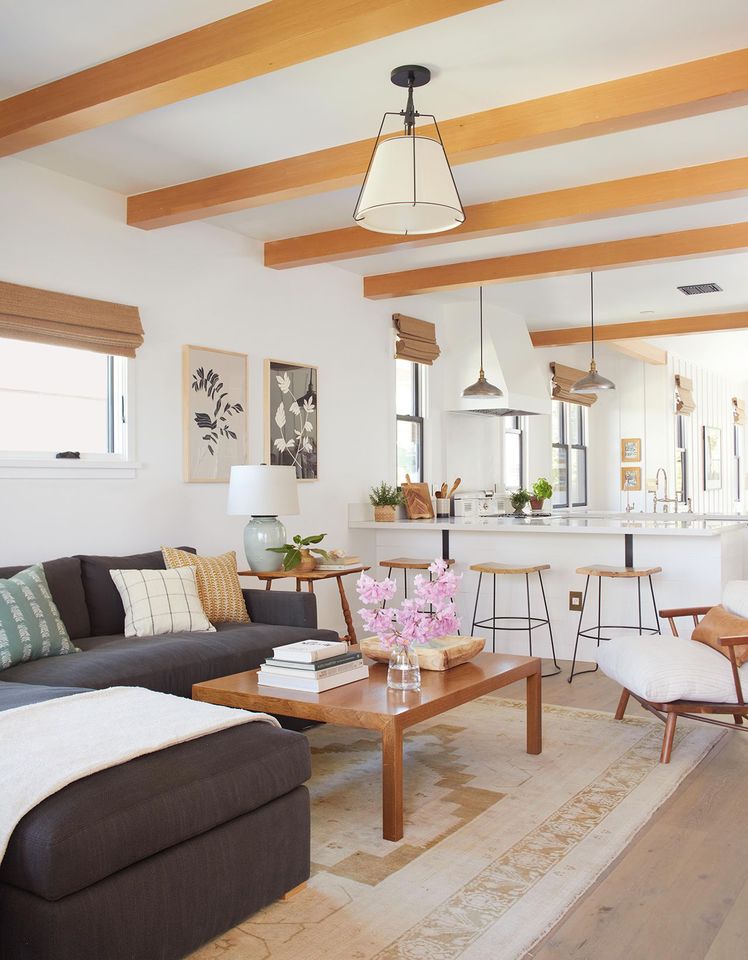 Open-Concept Furniture Arrangement

In an open floor plan, stake out an area for the living room with a small sectional, a large coffee table, and a rug. In this space, the seating placement distinguishes a cozy living space from the kitchen and dining area beyond. Filling the floor space with a sectional and coffee table might seem counterintuitive, but using a few large pieces in a small space actually simplifies the room.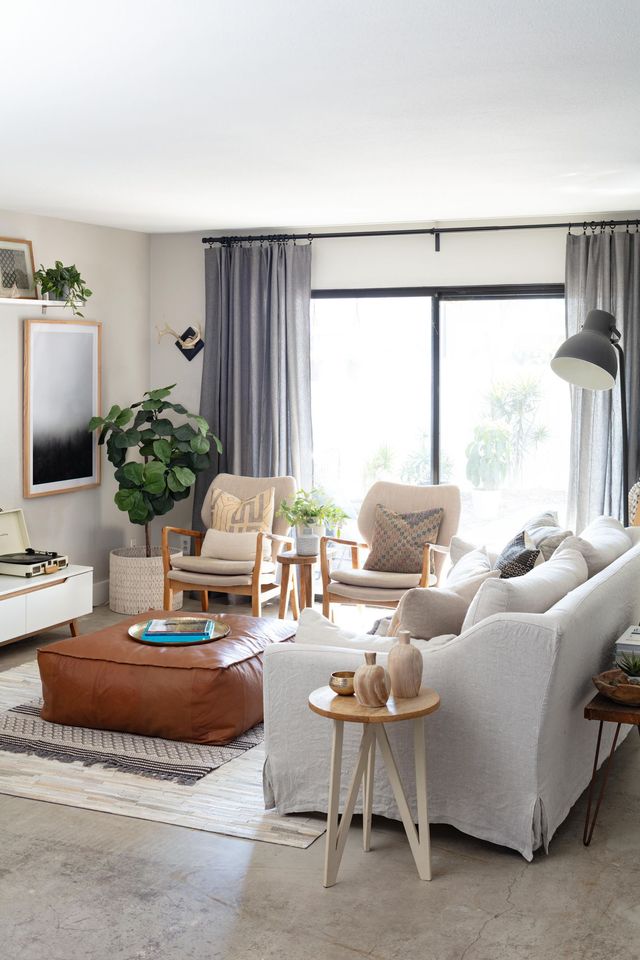 Dual-Purpose Living Room Furniture

Multifunctional furniture helps small living rooms work harder. A large upholstered ottoman doubles as a coffee table when you add trays to provide a flat surface for drink glasses or a vase of flowers. When guests come to visit, it can serve as overflow seating.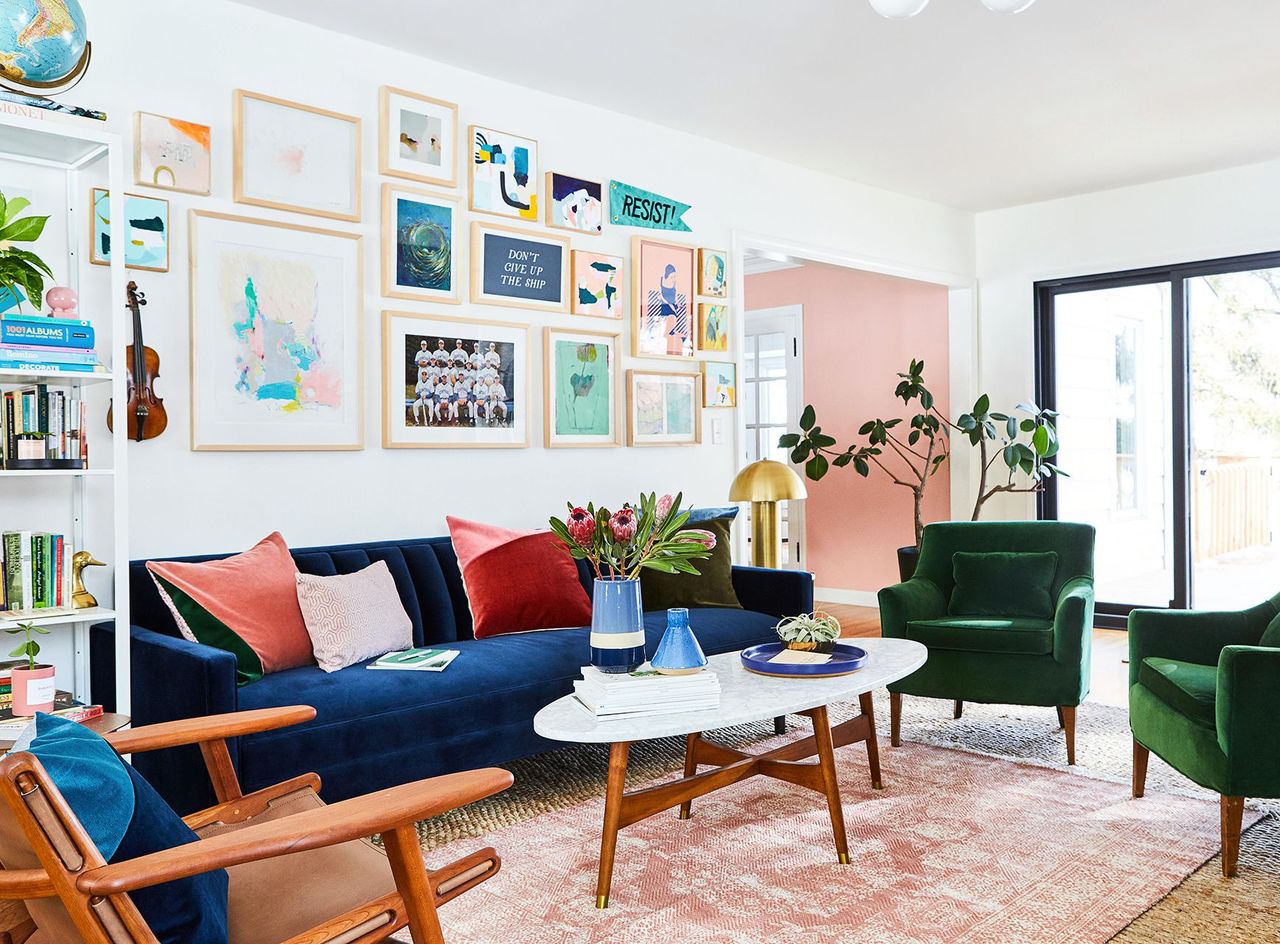 Small Living Room Traffic Paths

Arrange small living room furniture to direct traffic around the conversation core rather than through it. In this living area, a pair of armchairs marks the beginning of the seating space. Traffic coming in from the door is directed to go around them, rather than directly through the conversation area.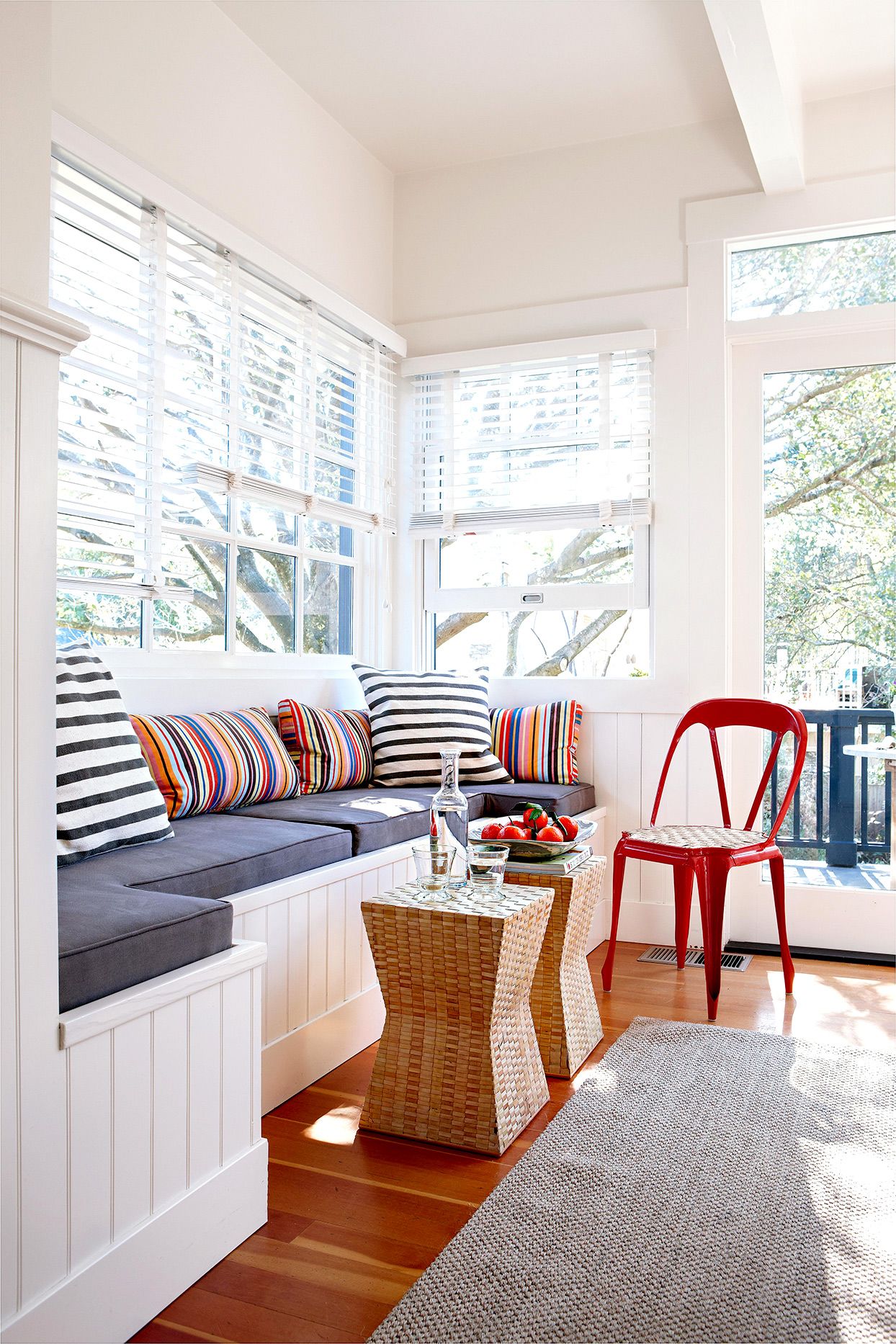 Small Living Room Furniture Alternatives

Look for creative alternatives that can maximize your small living room furniture arrangement. A window niche with a built-in seat can stand in place of a traditional sofa, for example. Instead of a large coffee table, place a matching pair of small side tables in the middle of the seating area. Choose slender, leggy furniture over plush, heavy-looking pieces.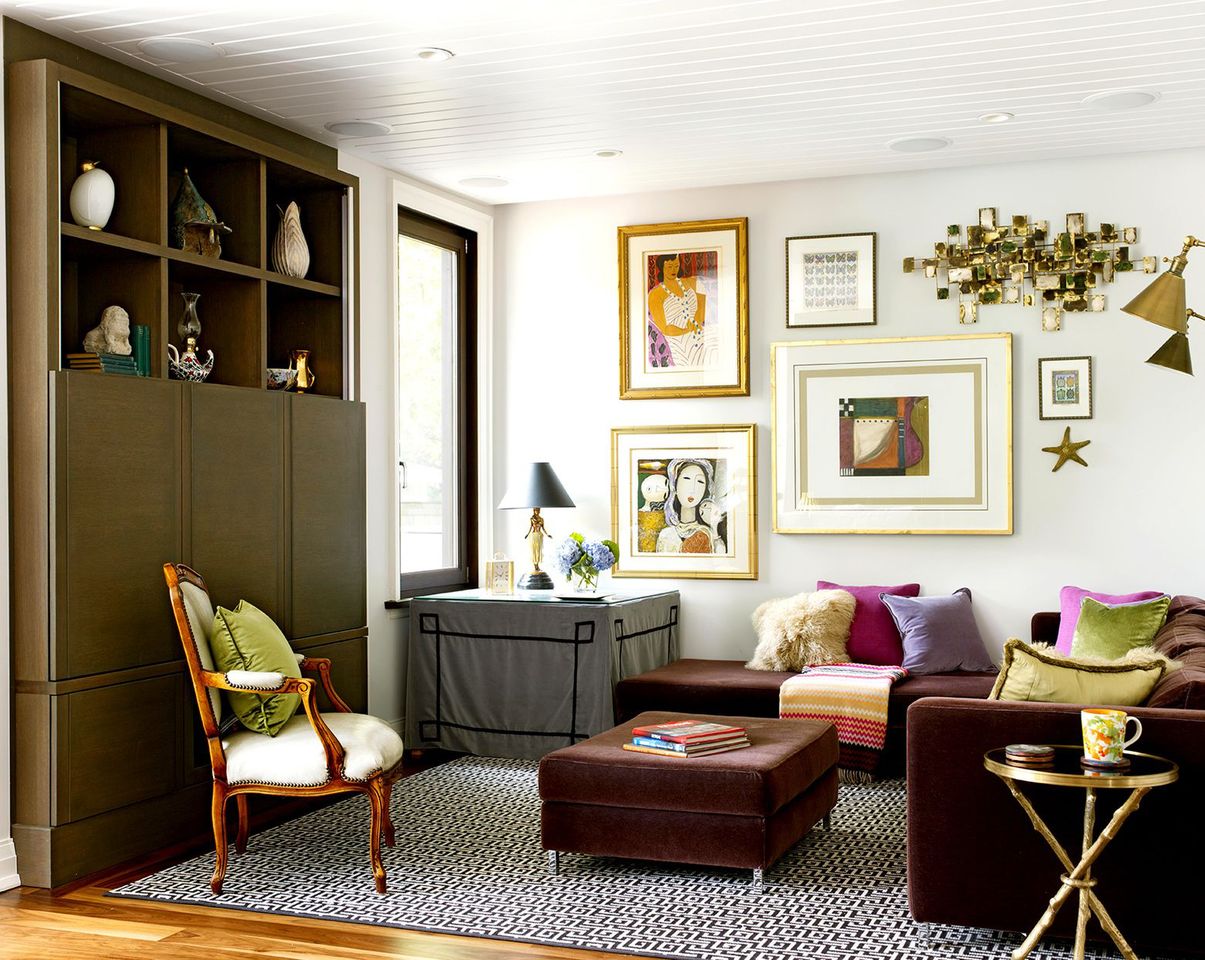 Small Living Room Furniture Arrangement with Storage

Factor storage into your small living room furniture arrangement. This bank of cabinets add grand character and maximum function without taking up additional storage space. This unit incorporates concealed storage as well as open cubbies, which help the piece feel lighter in the room.