If you want to create a cozy oasis at home, Scandinavian home decor is the perfect inspiration. Warm, inviting, and comforting, Scandinavian design is sleek and modern, but with a welcoming vibe that works in any home. With a strong focus on textures and light, airy hues, Scandinavian decor is perfect for lightening up any living space no matter the size.

A sister of minimalism, Scandinavian design is all about focusing on what matters and reducing the clutter that doesn't add to your home. If you are looking for that perfect Swedish home decor inspiration, here are some of our favorite Scandinavian-inspired living rooms.


1. Keep Things Light and Airy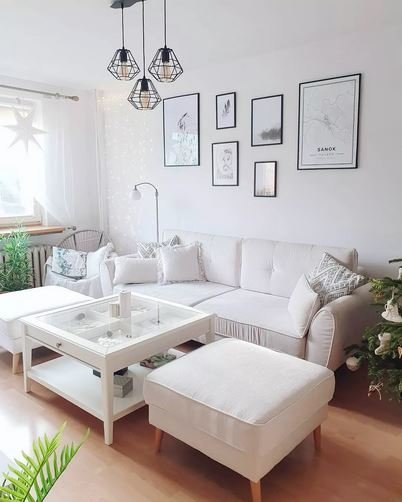 There is no single rule to following Scandinavian design, but many Scandi homes focus on a neutral color palette. The crisp white palette in this living space from my_sweet_little_home is clean and simple, but the textures in the room keep it from feeling stark or clinical.

Focus on cool shades of white to keep your home feeling open and airy. Pair white with natural wood finishes to add a bit of warmth without darkening


2. Focus on Just the Must-Haves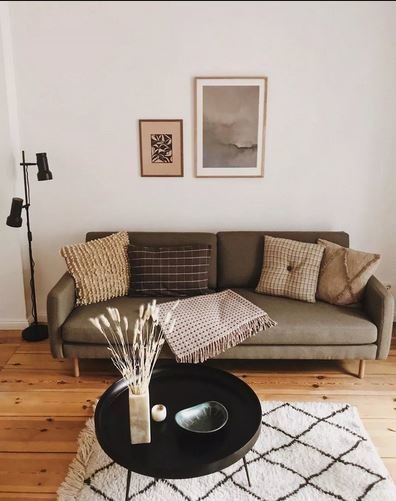 This tan and brown living room from 67quadrat is a perfect example of a Scandinavian living room that experiments with color but still feels straight out of a Danish home decor magazine.

The signature Scandinavian look is stripped back and concentrates just on what is needed and nothing that isn't. Keep things simple and elegant, with minimal art and decor.


3. Mix Types of Wood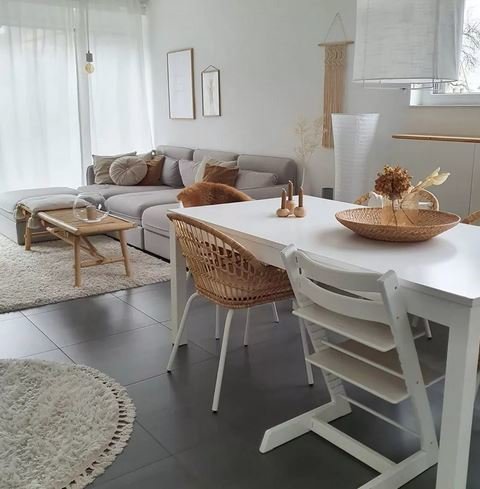 Most Scandinavian homes utilize lots of natural wood materials as seen in this living space from we_are_dackyl. While most homes will focus on lighter, washed-out woods, don't be afraid to play with different shades of wood, even white or gray painted surfaces.


4. True Simplicity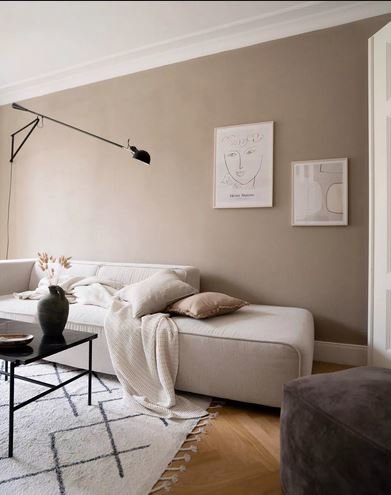 You won't find colorful, oversized artwork in most Scandinavian homes, but that doesn't mean Scandi design is devoid of all art. This lovely living space from scandinavian.interior features two simple pieces of wall art that feel purposeful and pair beautifully with the simple color palette in the rest of the room.


5. Find the Right Lighting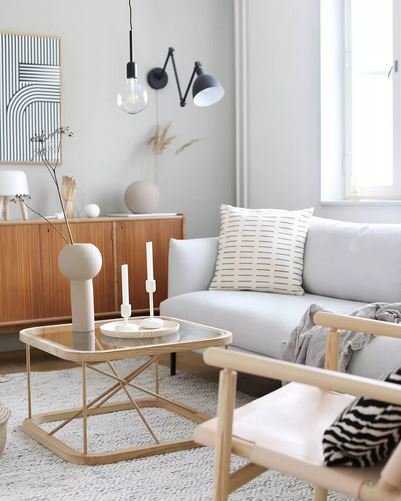 Nothing screams Scandinavian more than a perfectly lit room. This lovely room from emskipihla not only features a beautiful neutral palette we can't get enough of, but the multiple sources of lighting are also perfect for creating a soothing space no matter the time of day.


6. Add in Greenery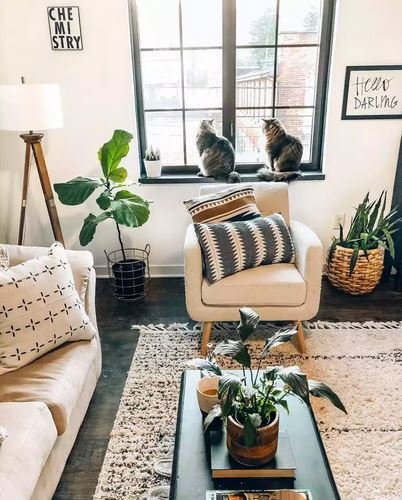 Though the Swedes are all about simplicity, rooms that feature greenery like this space from cj.apartmentliving are a great way to marry the minimalist look with a space that channels the outdoors. We love the various textures used in this living room that give it depth but don't feel cluttered or too busy.


7. Let the Light In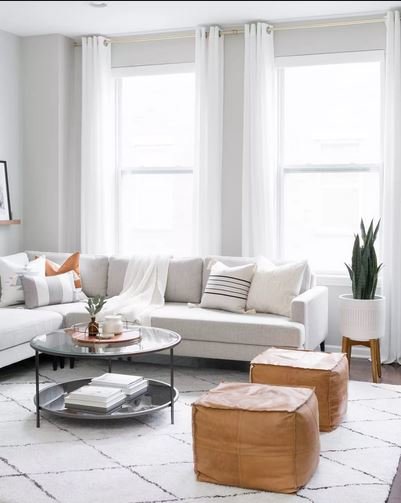 The perfect Scandi living room features lots of bright, natural light like this wonderful room from vivandtim.home. If you're lucky enough to have ample natural light, embrace it and plan your living room around the windows and doors and limit the window coverings to let the most light in.


8. Embrace the Undone Look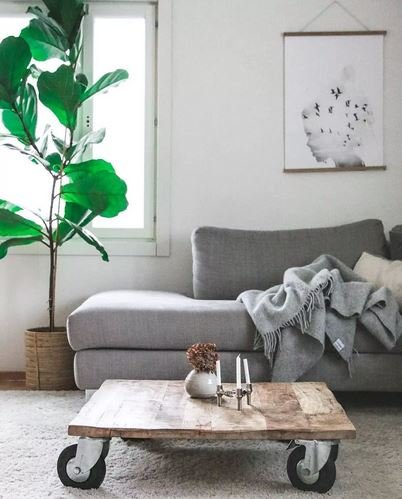 There's just something utterly welcoming and comforting about this living room from ahintofcashmere. It could be the soft textures throughout the space or the rustic wooden coffee table, but we think it also has something to do with the purposefully messy lived-in look. A Scandinavian room is never overly polished or clinical–instead, it feels well-loved and casual.


9. Little Extras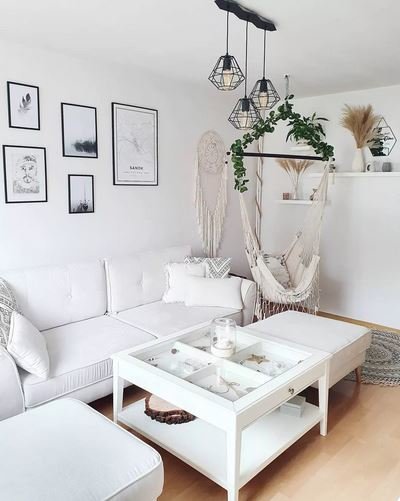 Make your Scandinavian living room feel personalized and perfect for you with an accessory like this causal hammock from my_sweet_little_home. The best element of Scandi design is that it has no rulebook–anything goes, as long as it follows a few simple principles.


10. A Scandi-Inspired Gallery Wall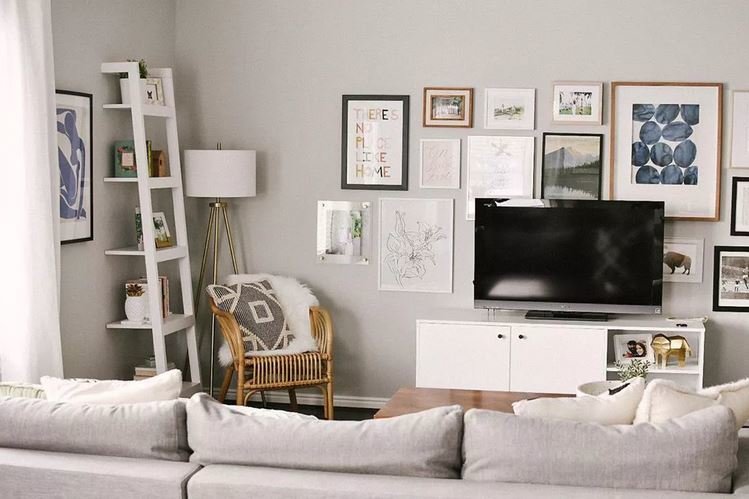 Just because many Scandinavian homes limit wall art, doesn't mean yours has to. This lovely room from brooks.creativestudio proves that as long as you keep your art focused on a single color palette, a well-curated gallery wall can be the perfect accessory to a Scandinavian living room.


11. Add Layers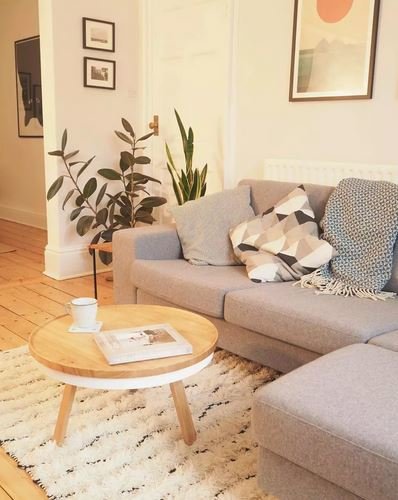 You already know that adding texture is key when it comes to Scandi living rooms, but this cozy space from sixthdaymcr proves that a few layers can make all the difference. As long as you stick to monochrome color palettes, you can experiment with various textures and patterns and still keep your space calming and inviting.


12. A Dark Color Palette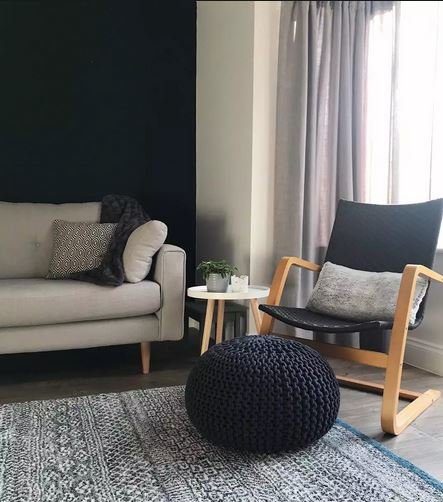 Though most Scandinavian spaces are light and airy, you can still make deeper colors like black or navy work. This lovely room from home_numberfifteen proves that black paint can look sophisticated and Scandi, as long as you maintain simple accessories and clean lines throughout the rest of the space.


13. Hygge As a Priority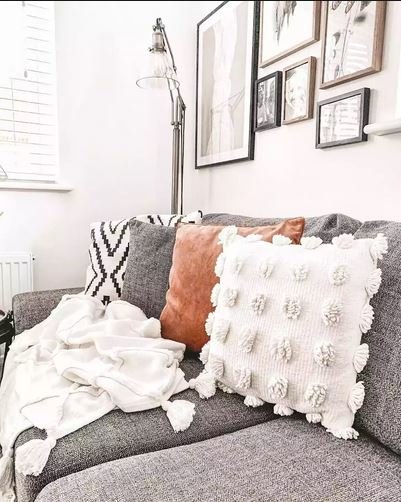 Though there is no direct translation for the Danish word "hygge," it embodies the idea of coziness and comfort and this couch from lifeofthechapmans couldn't be more in line with this Scandinavian theme. Add knits, woven fabrics, pillows and more to create a cozy space, but avoid going overboard and adding clutter. Balance is key.


14. Mid-Century Themes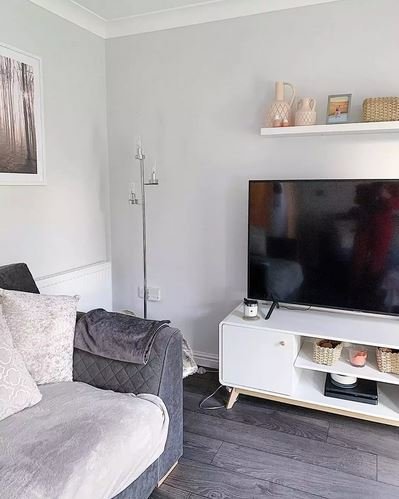 Though Scandinavian design is not the same as mid-century modern, they do share some common themes. This living room from lifeatseventeen_ features clean lines and tapered legged furniture that work well with either design style. Both styles embrace the art of minimalism and design with intention in a way we love.


15. Break the Rules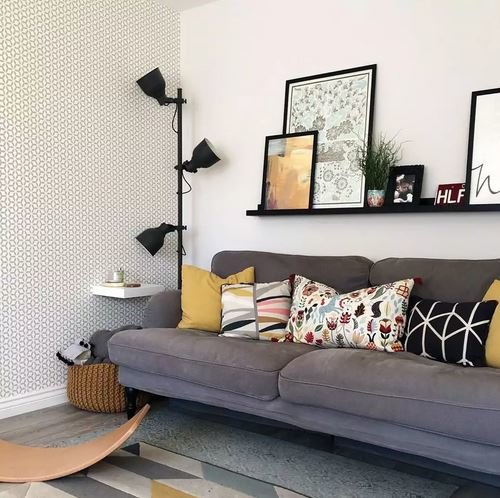 The best thing about Scandi design is there are no rules. While there are some common themes, it's easy to use the basics of Scandinavian design and make it your own. This living room from thejeningtongosford plays with color and textures a little more than some of our other Scandi spaces, but still embodies that feeling of modern simplicity.