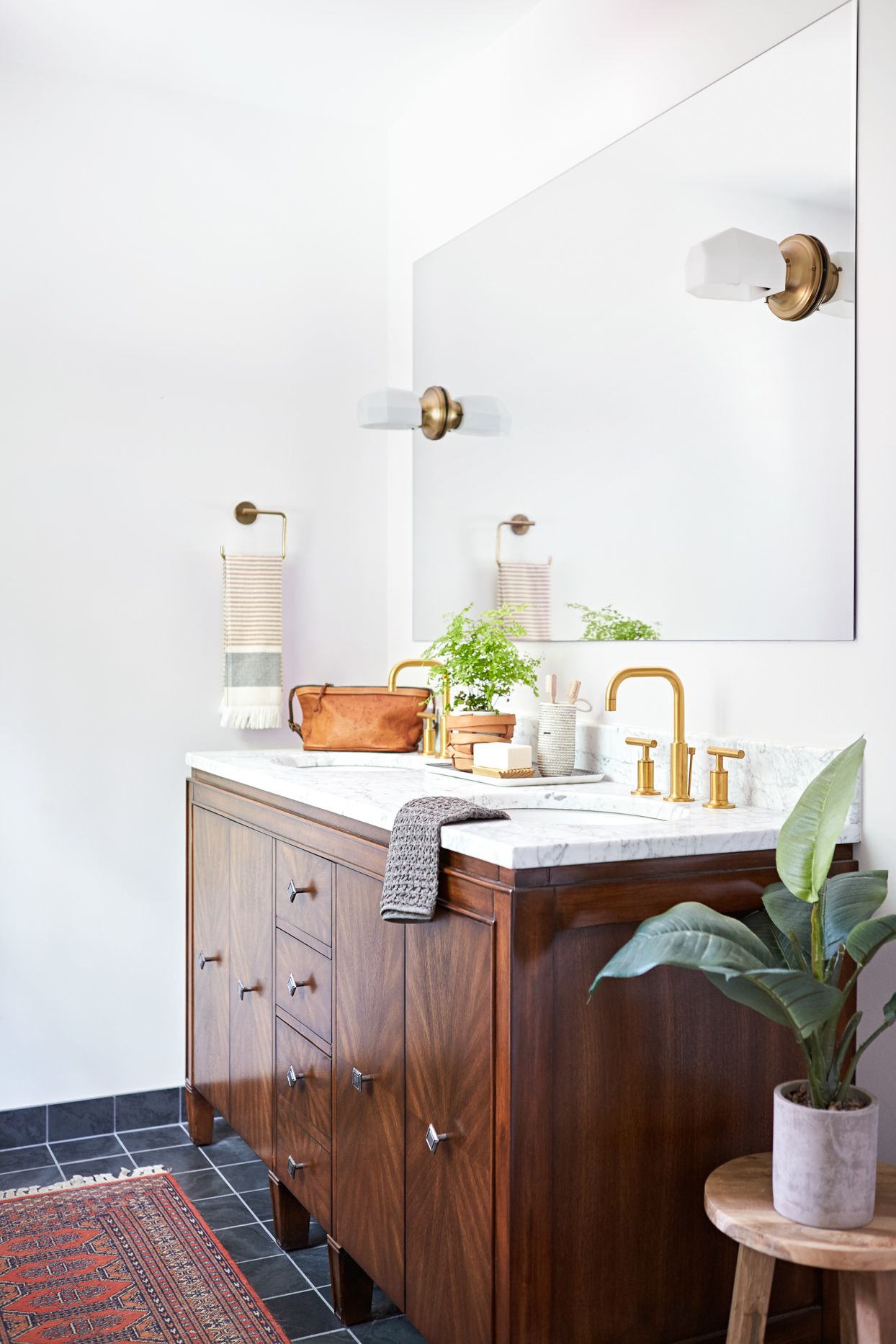 Bathroom Vanity Lighting Tips

Positioned around the mirror and sink area of your bathroom, vanity lighting provides illumination for important grooming tasks like applying makeup or shaving. For task lighting that's both functional and flattering, these fixtures should be positioned so they evenly light your face without casting shadows. Vanity lights are often combined with other sources of ambient light, such as recessed or ceiling-mounted fixtures or natural light from a window, to create a bright, balanced effect.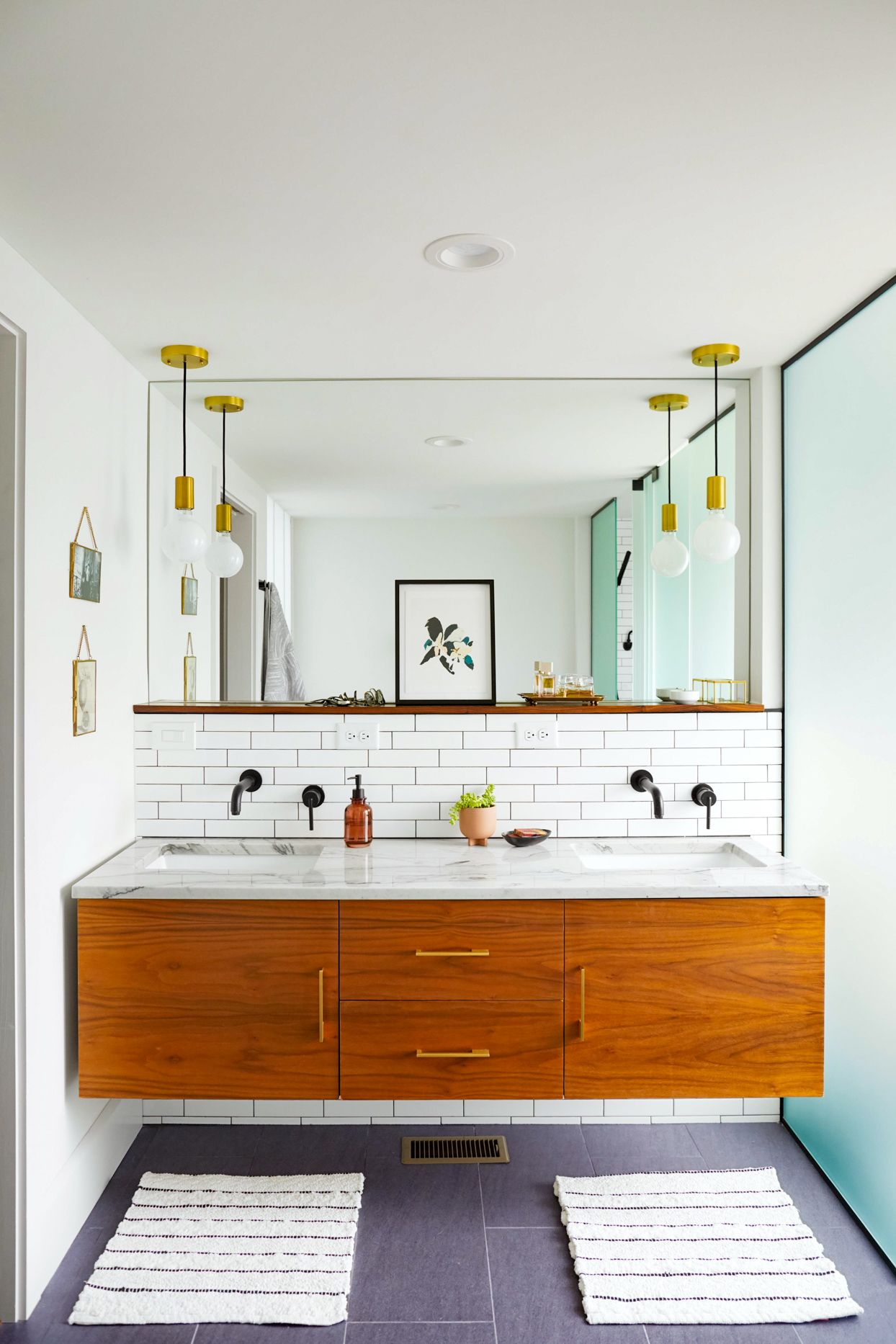 Modern Vanity Lighting

Bathroom vanity lights come in a wide variety of styles and sizes. For a modern look, trade traditional sconces for ceiling-mounted pendants. Here, minimalist vanity lights hang down to about eye level on both sides of the mirror, providing optimal illumination and sleek style. Always make sure the fixture is rated for use in damp areas before mounting in a bathroom.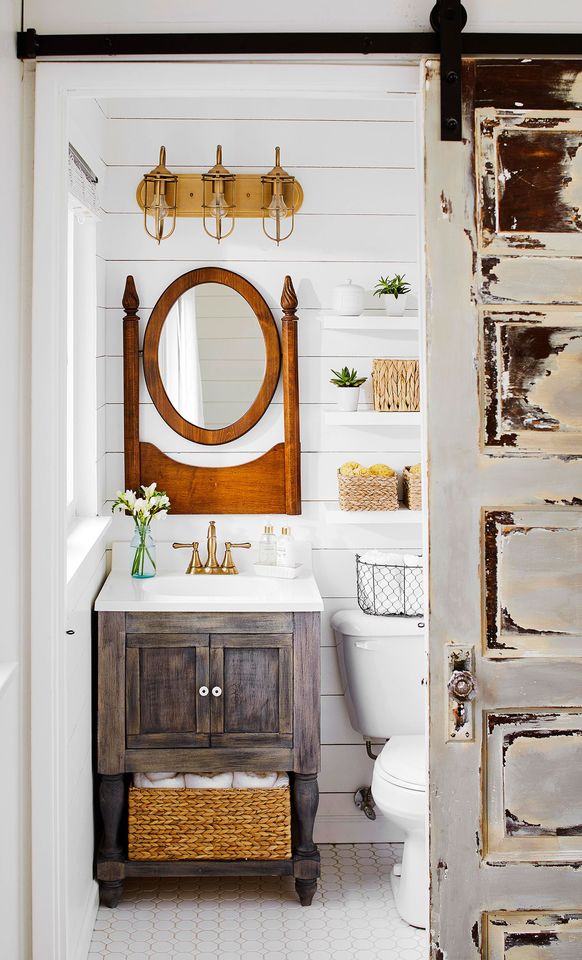 Farmhouse Vanity Lights

Use vanity lighting ideas to reflect the overall style of your bathroom. In farmhouse-style bathrooms, for example, look for fixtures with rustic or industrial-style details. This vanity light features a wire cage design that matches the brass finish on the faucet and ties in with other farmhouse elements including shiplap walls and a weathered barn door.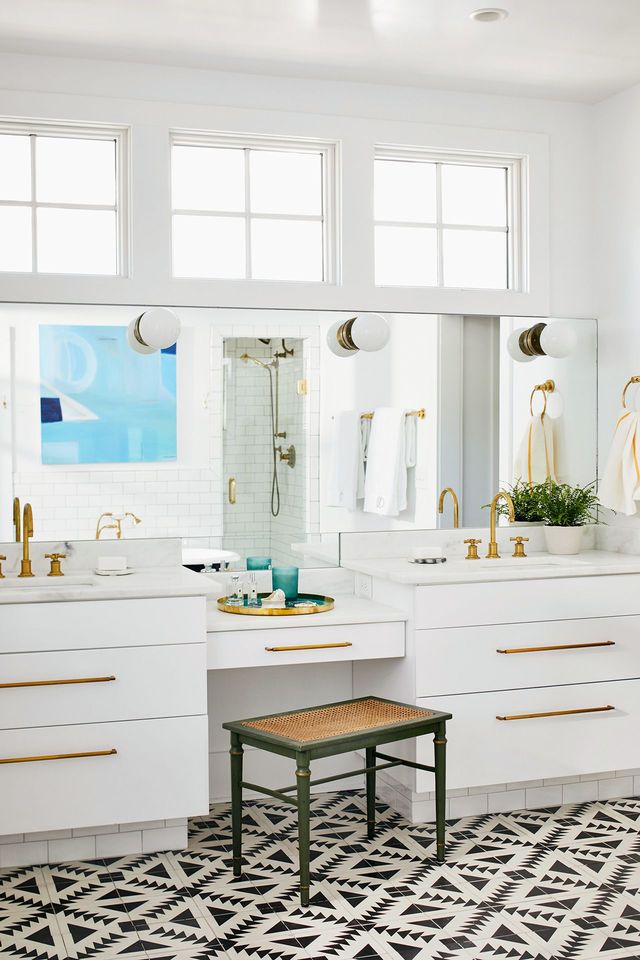 Double Vanity Lighting Ideas

Double vanities typically require more than one fixture for adequate lighting. Space out sconces or pendants along the length of the cabinet, ensuring that each sink has at least one light above it. In this spacious bathroom, globe-shaped sconces line up along the top of the mirror to provide light for two sinks and the makeup vanity in between.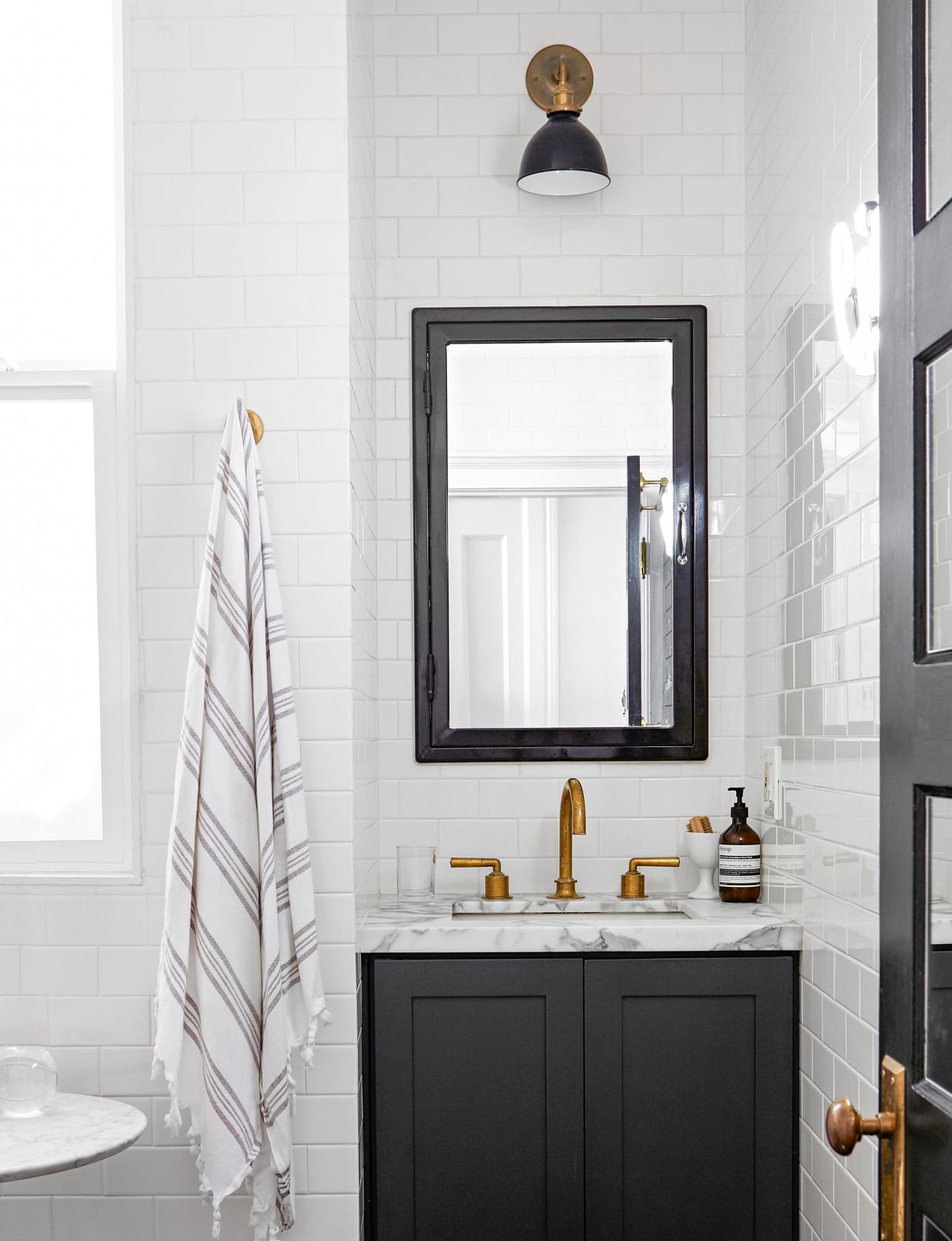 Small Bathroom Vanity Lighting Ideas

In small bathrooms, scale down your vanity lighting ideas to match the size of the space. A large, statement-making pendant would look out of place above a petite powder room vanity, for example. In proportion with the narrow cabinet and mirror, a small wall sconce illuminates this vanity from above. Natural light from the window brightens the rest of the room, so only minimal vanity lighting is needed.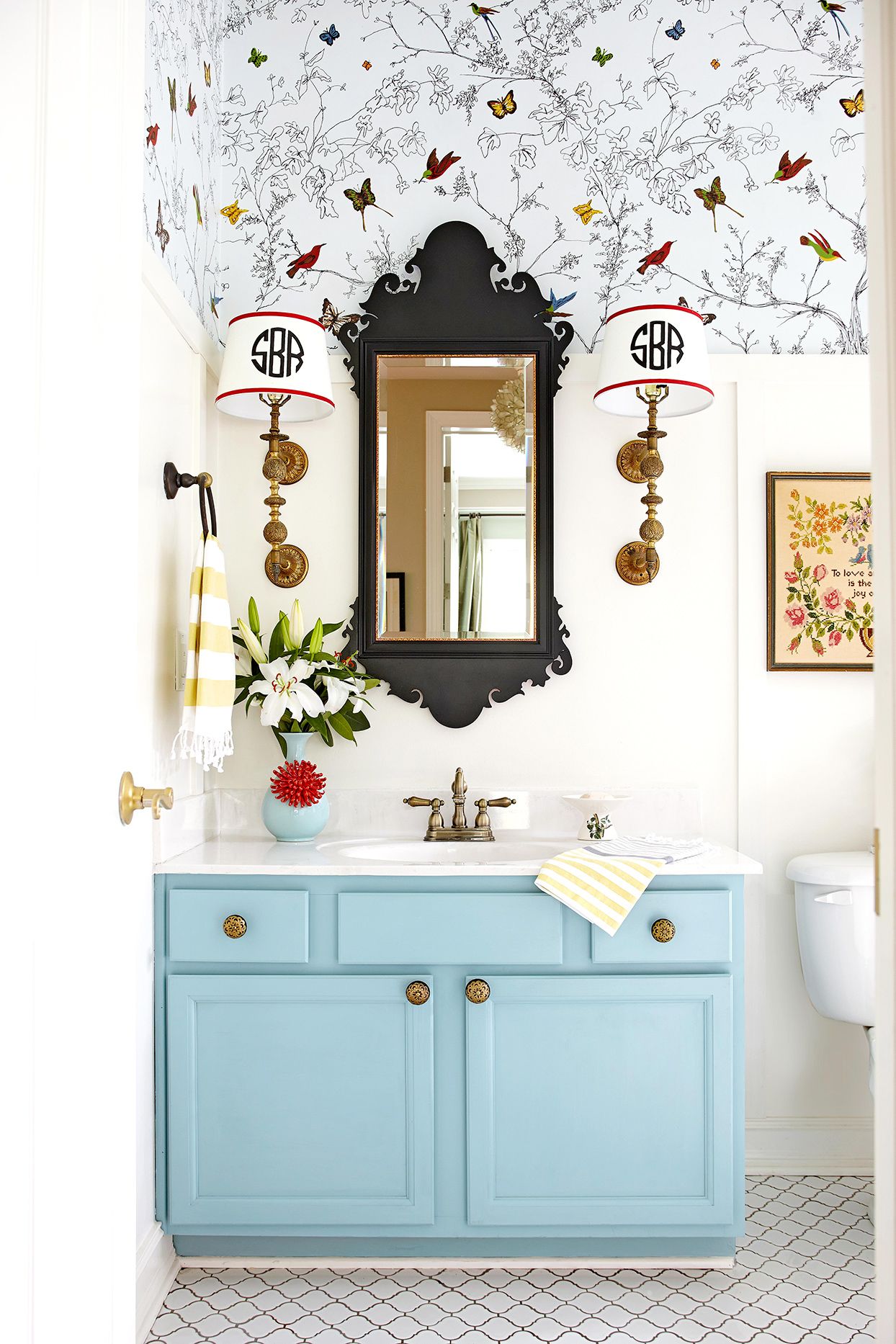 Stylish Vanity Lighting

Bathroom vanity lighting ideas offer a prime opportunity to show off your style. In this cheerful bathroom, antique-style brass sconces highlight whimsical patterned walls and an intricately framed vintage mirror. Monogrammed shades trimmed with red ribbon add a personal touch to the vanity lights.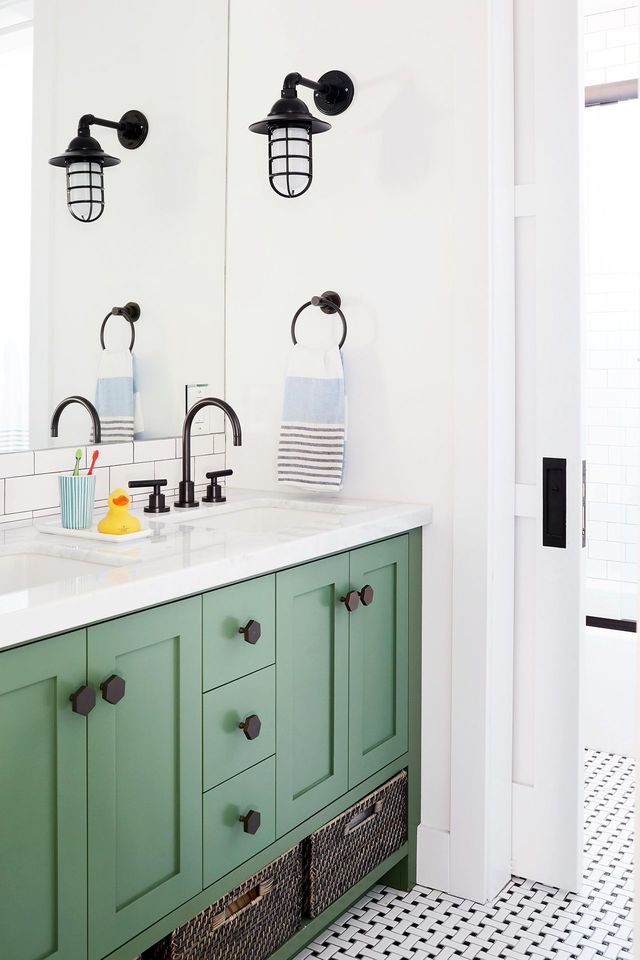 Bathroom Vanity Lighting Placement

Large mirrors provide lots of primping space and make small bathrooms appear larger, but they don't leave much room for vanity lighting. If your bathroom mirror takes up most of the wall space above the cabinet, look to side walls for mounting sconces. Lighting your vanity from the side is a smart use of space that can also help prevent shadows on the sides of your face while getting ready.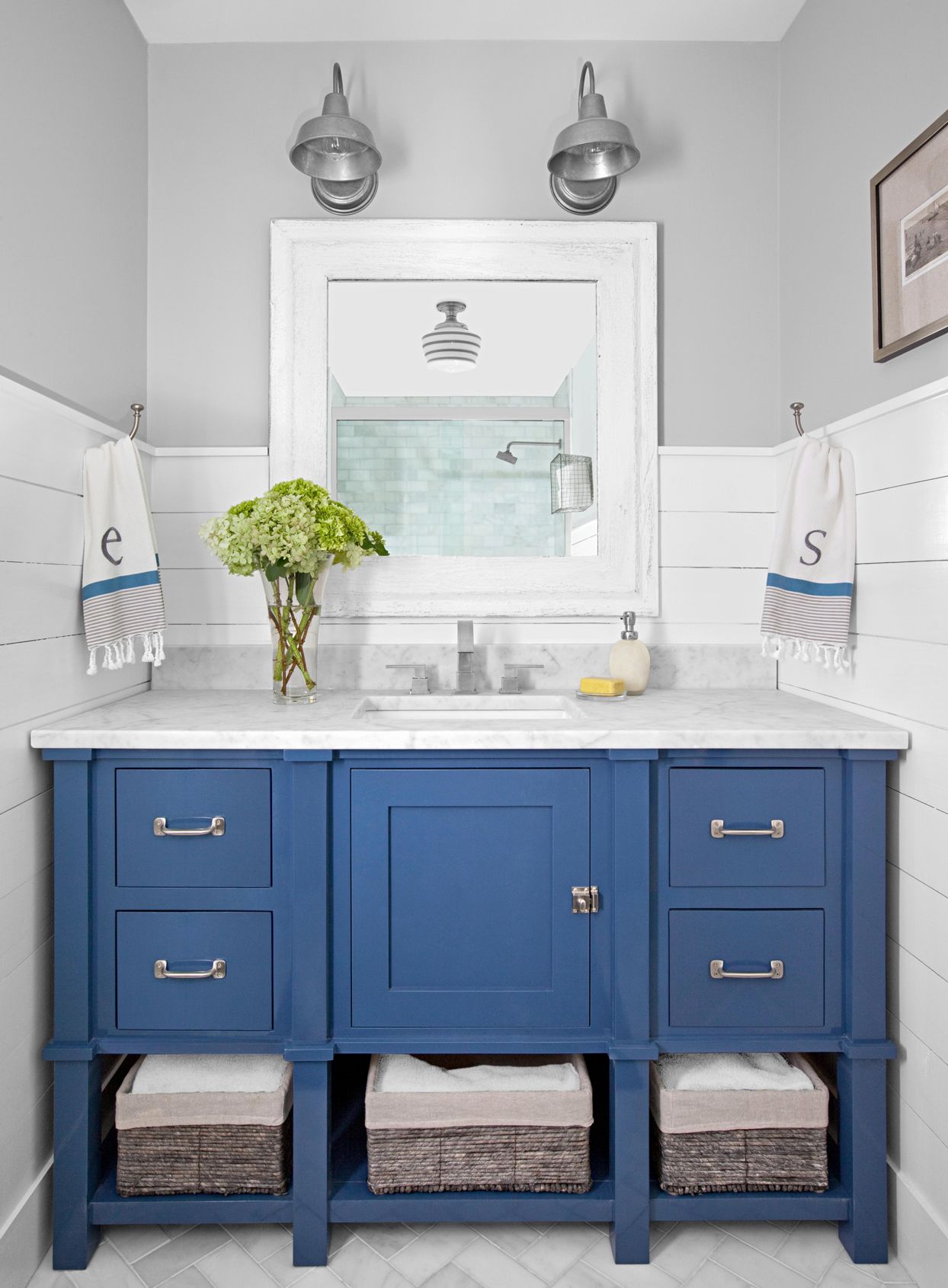 Single Vanity Light Ideas

Single vanities can benefit from multiple sources of light for extra brilliance. Because this cabinet is built into a niche, the sink area would have been too dark and shadowy without enough vanity lights. Two curved-arm sconces extend out from the wall for bright, balanced task lighting.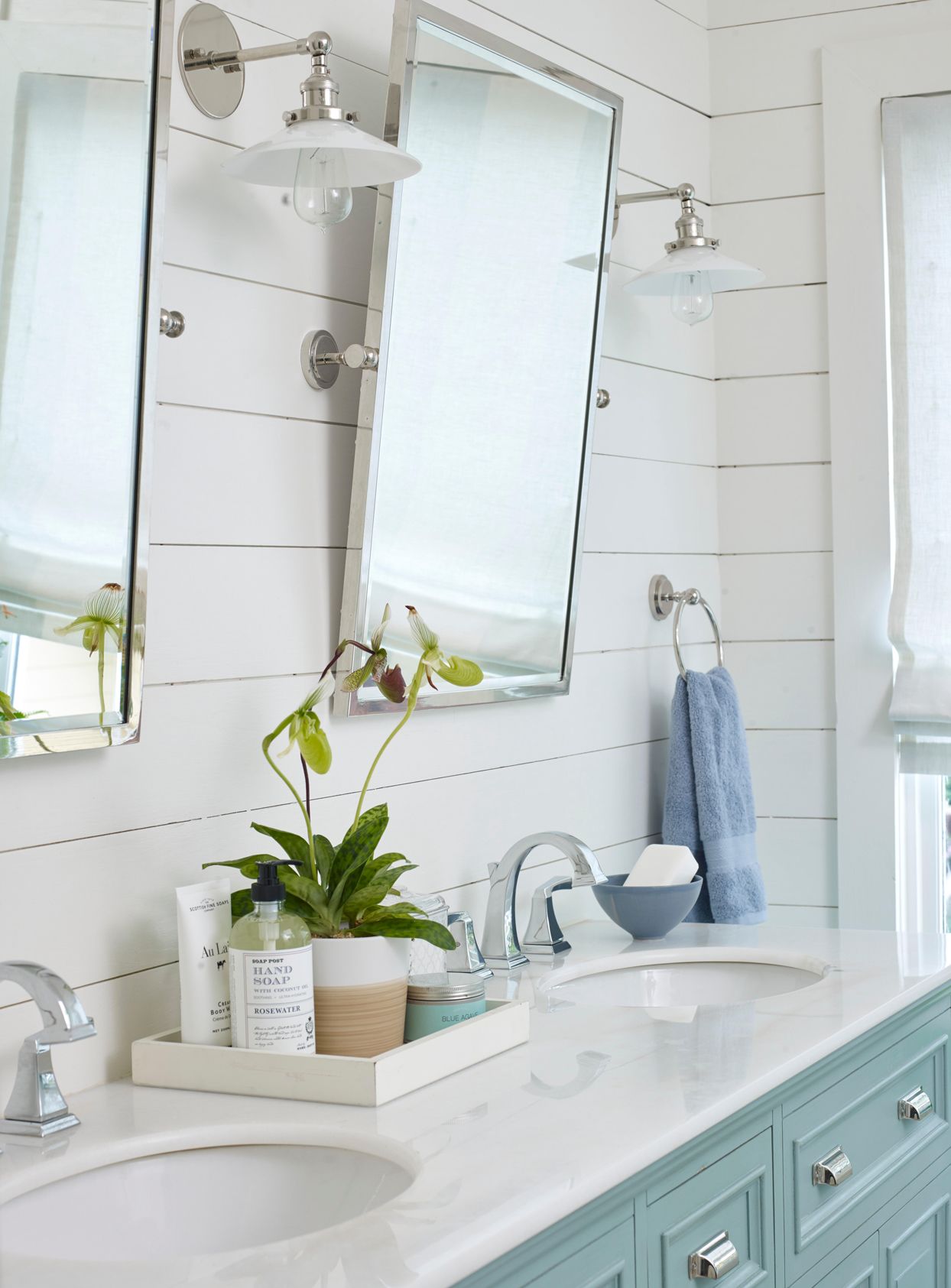 Bathroom Vanity Sconces

Repeat metal finishes used throughout the bathroom on vanity lighting to achieve a cohesive look. Here, polished nickel sconces tie in with the shiny mirror frames, faucets, and hardware. The reflective finishes combine with the vanity's watery blue paint color for a crisp, energizing look.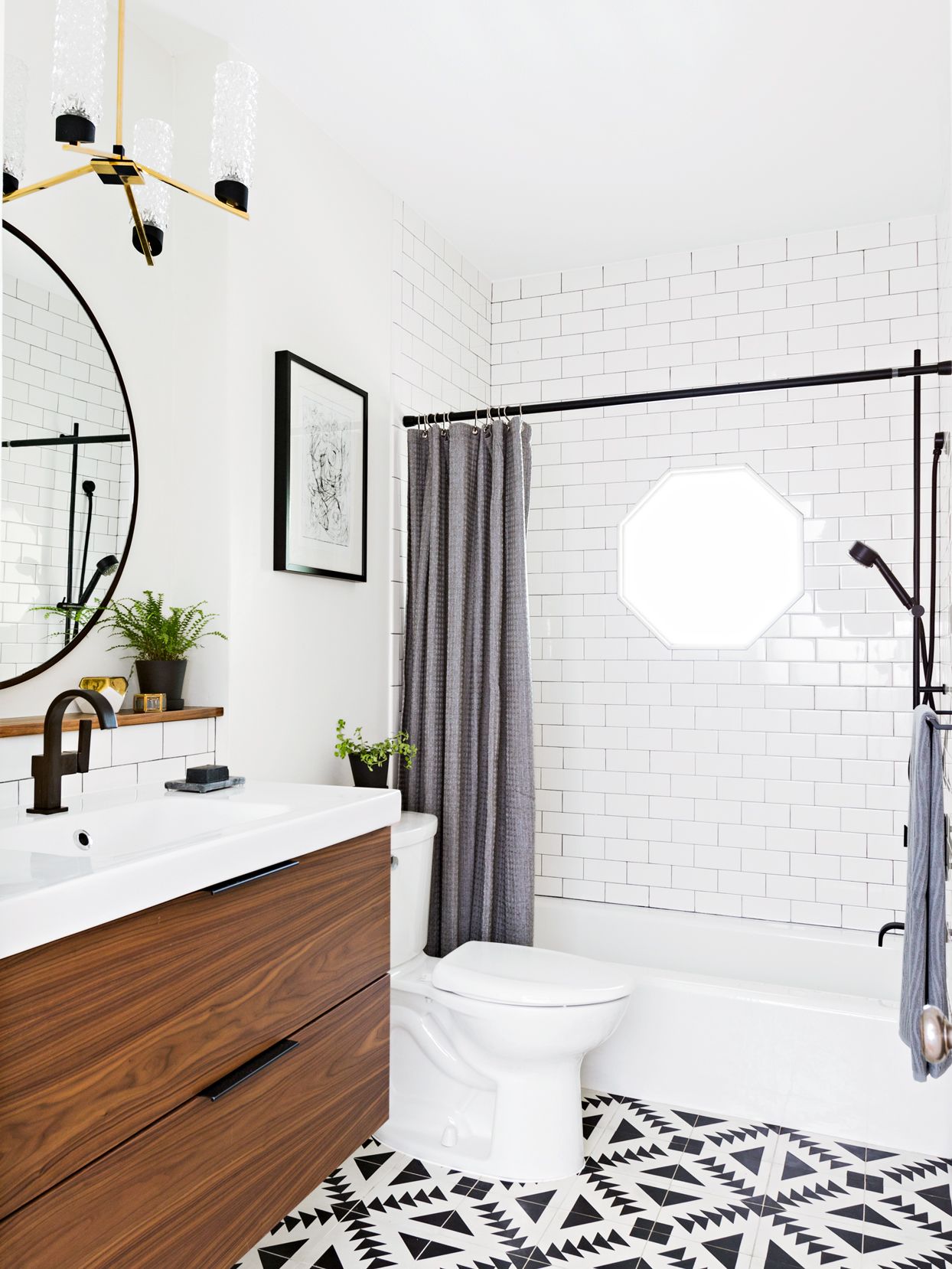 Unique Bathroom Vanity Lighting Ideas

Basic wall-mounted fixtures aren't your only option for vanity lighting. For an unexpected twist, mount a chandelier directly over the vanity. In this remodeled bathroom, a brass-and-glass chandelier hangs just above the mirror to make a striking contemporary statement while providing plenty of task lighting.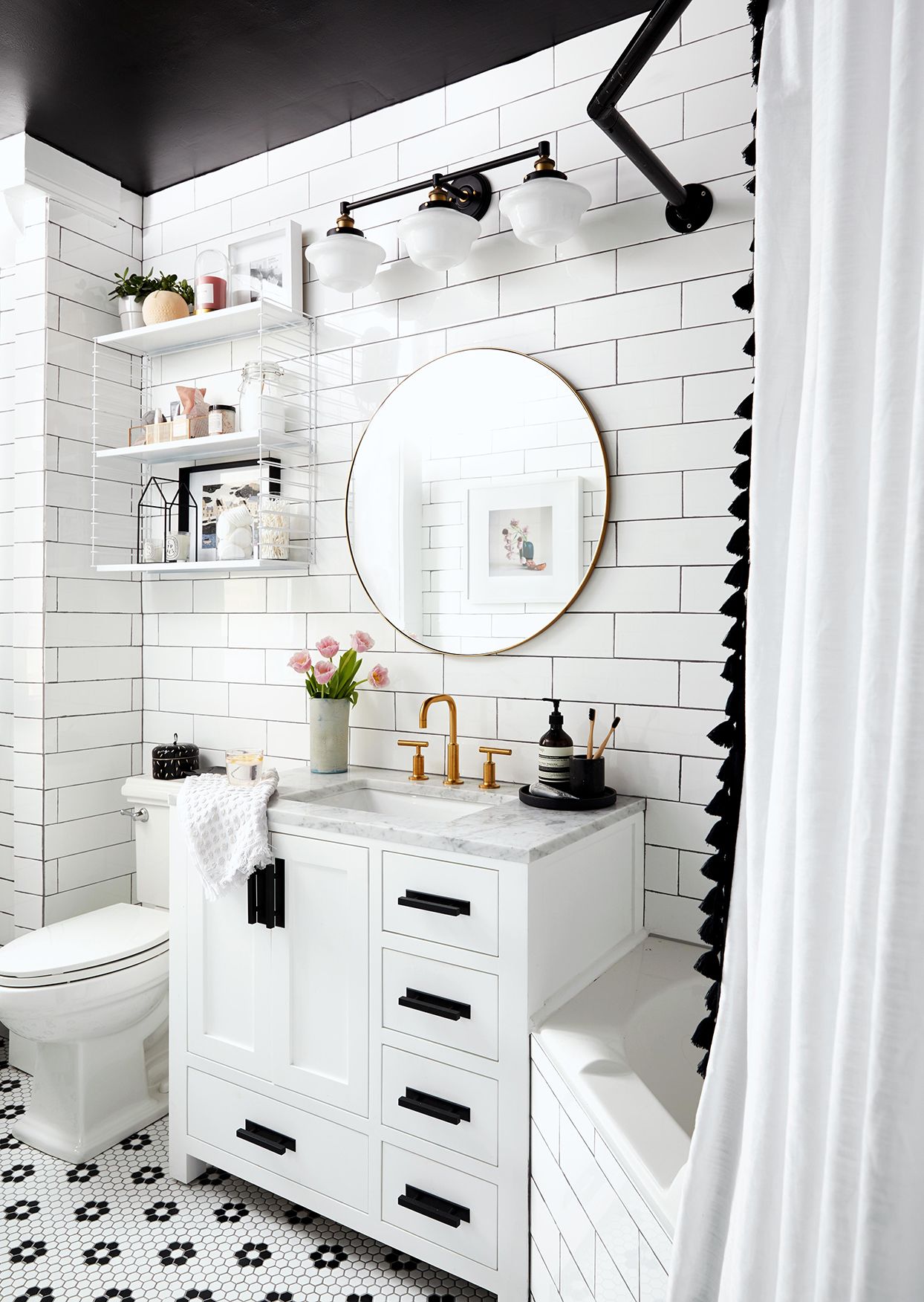 Multi-Light Fixtures for Vanities

Multiply the brightness of your bathroom with a vanity light that boasts multiple bulbs. For a balanced look, make sure the full span of the fixture is no wider than the vanity cabinet. Otherwise, your setup could have a top-heavy look.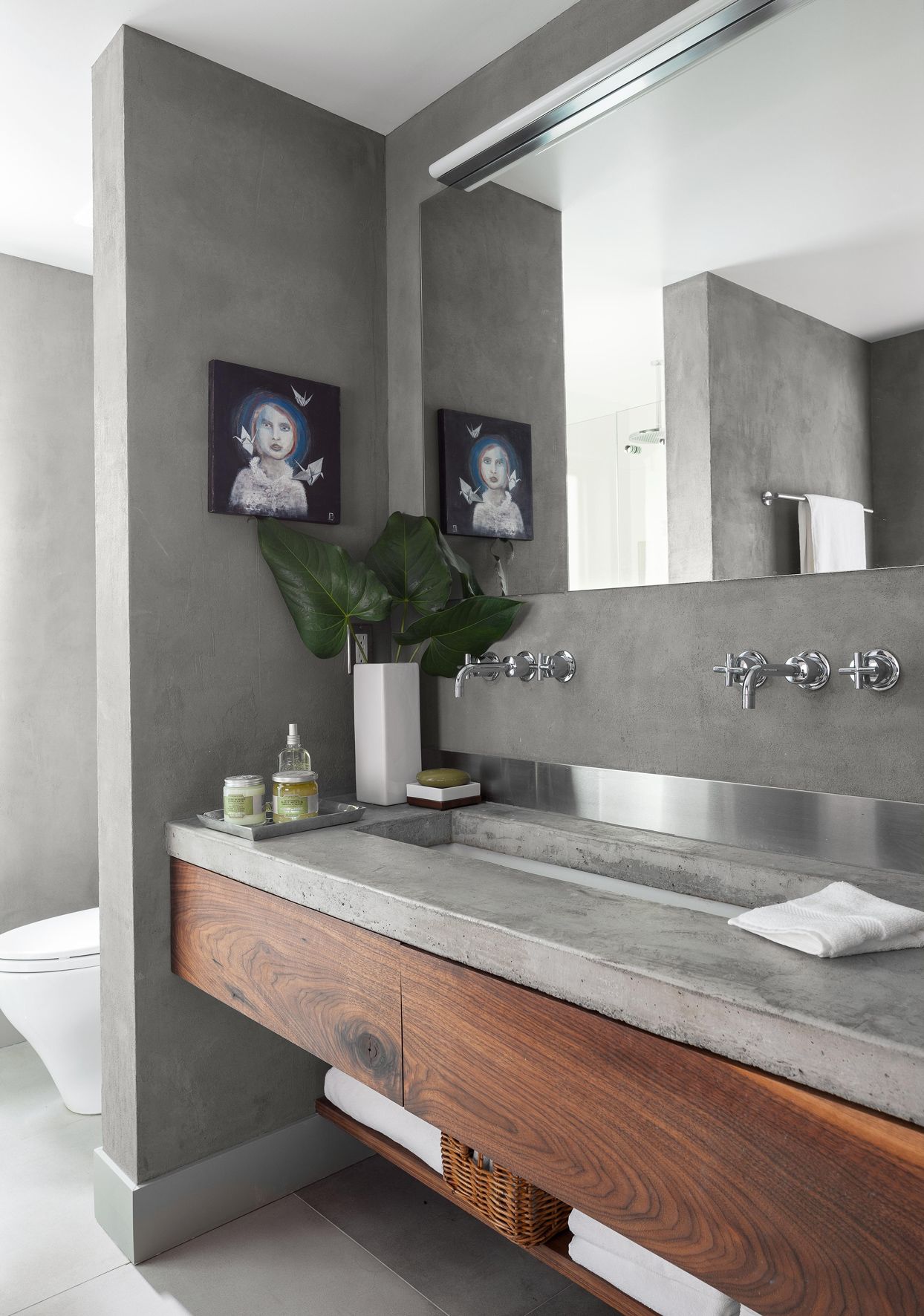 Vanity Light Bar

Vanity light bars give off even brightness without much visual interruption. This vanity lighting idea works well in contemporary spaces to achieve a sleek, simplistic look. In this minimalist bathroom, a tube-shaped fixture melds well with a frameless mirror and floating vanity.