For my extended family-all 25 of us-the Thanksgiving table typically looks like a buffet line, with any chair you can get your hands on becoming a prized possession. But even if your holiday dinner will be a more intimate affair this year, your Thanksgiving decorations or centerpiece don't need to be exclusively coordinated around pumpkin-orange hues. Why not try something new? Below are a few nontraditional Thanksgiving color schemes, from a rich, jewel-toned palette to minimal neutrals. There's sure to be a tablesetting here for everyone.


1 Blush and Navy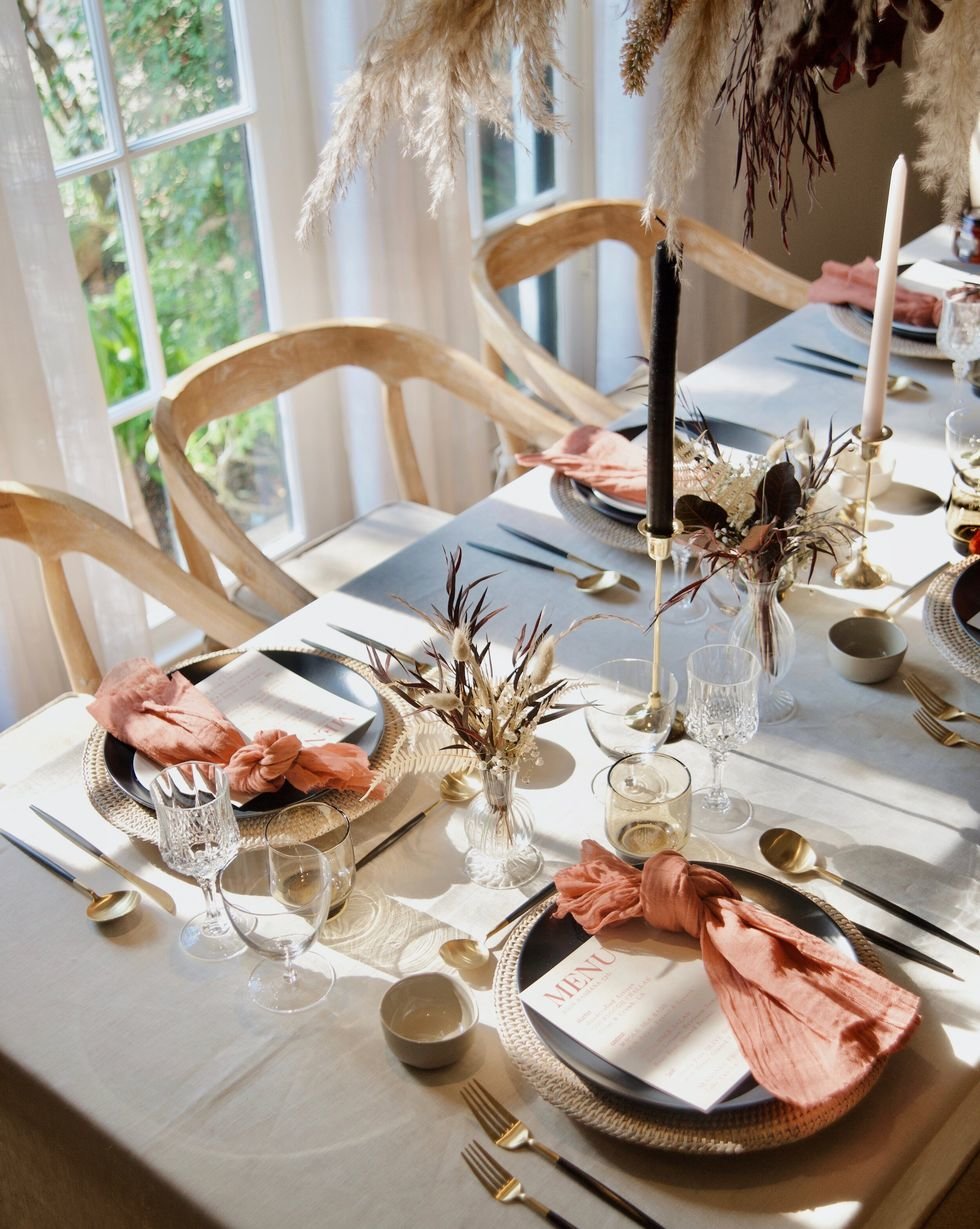 Use blush pink and navy blue for a modern take on a Thanksgiving table. The gold flatware adds a bit of festivity, while the dried florals bring a natural, laid-back touch.


2 Go Green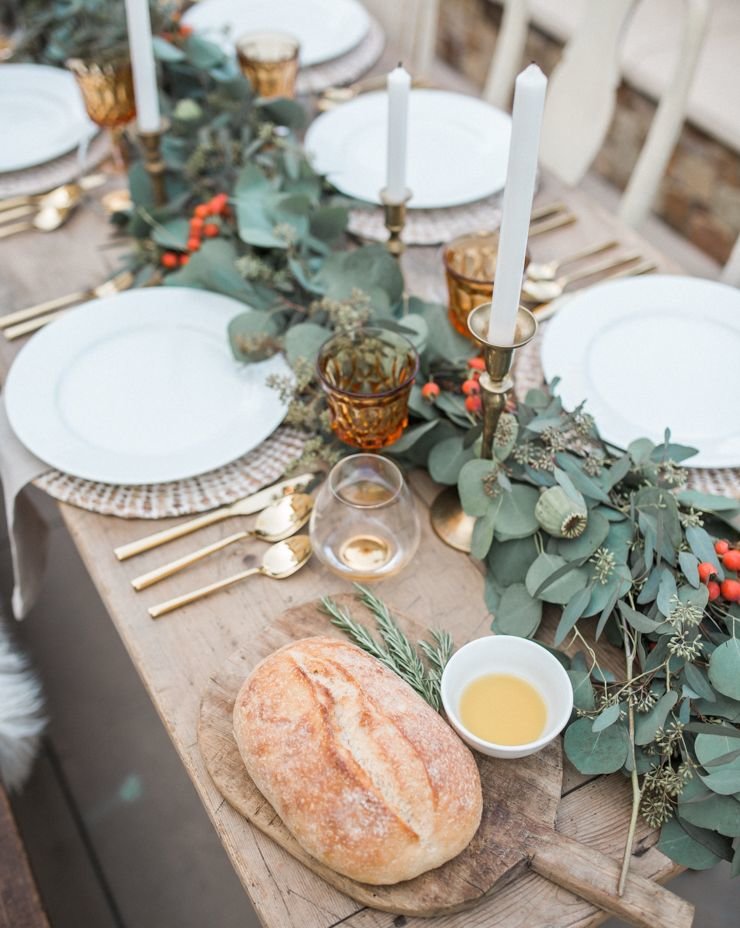 Allow the center of your table to shine on Thanksgiving Day by paring back your dinnerware and contrasting the greenery with warm metallics.


3 Red and Amber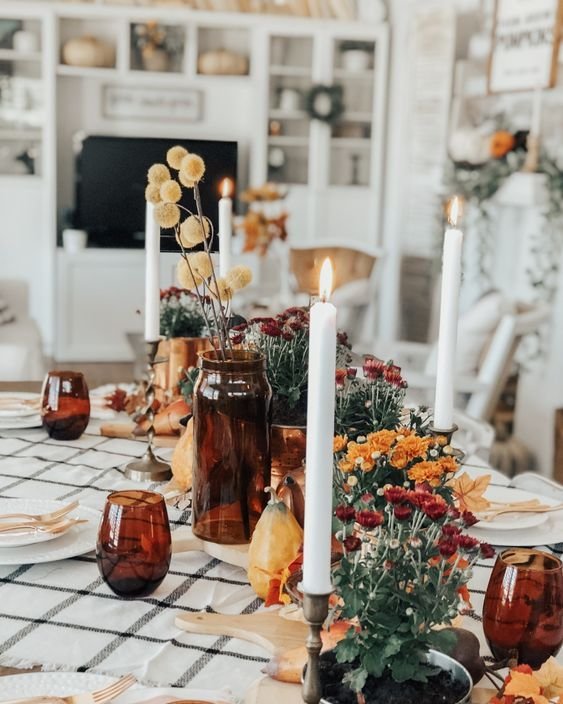 For a more traditional tablesetting, keep the linens and place settings minimal and add accents of red and amber. It's a fall color palette, yes, but with more sophistication.


4 Think Pink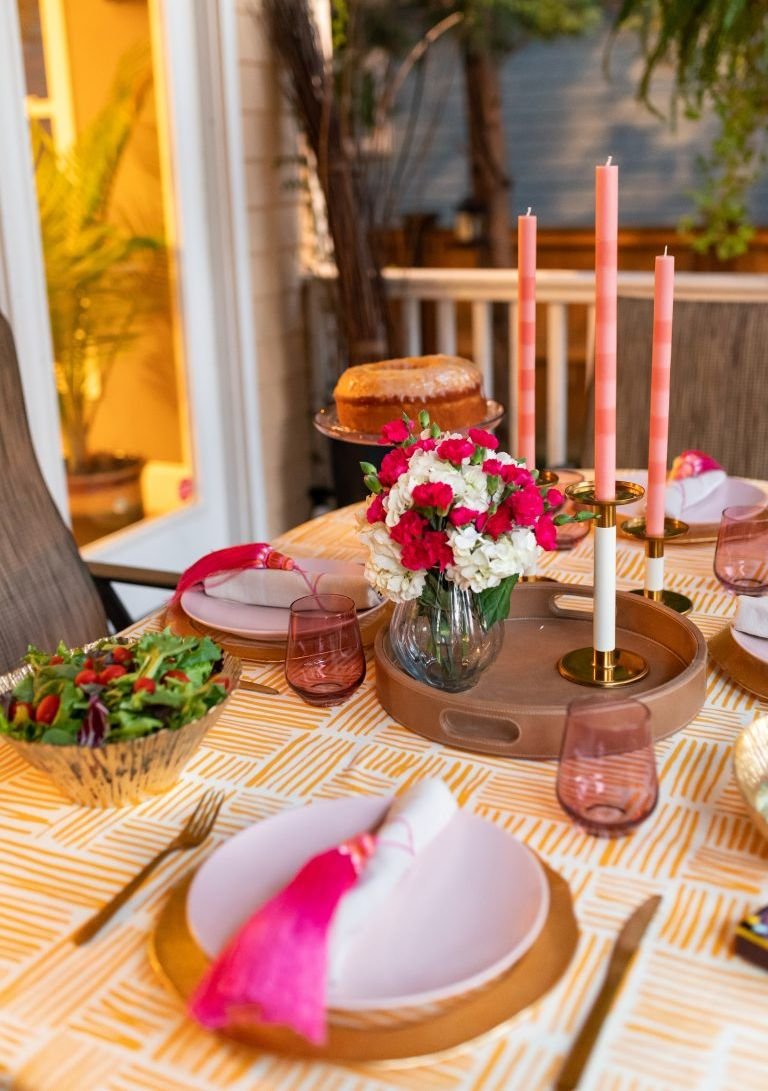 Brighten up your holiday table by choosing livelier shades of classic fall colors. Megan Pinckney opts for an electric pink paired with a warm golden hue for a cheerful tablesetting. Tableware by Post House Design.


5 Goldenrod and Plum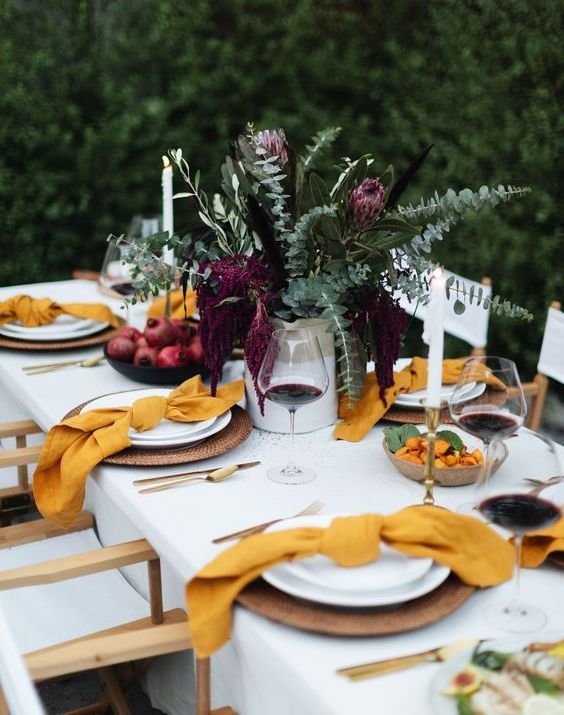 If you're feeling bold, choose a palette of jewel tones for this year's table. The bright yellowish-orange mixed with the bold plum here brings often overlooked fall colors front and center.


6 A Neutral Alfresco Look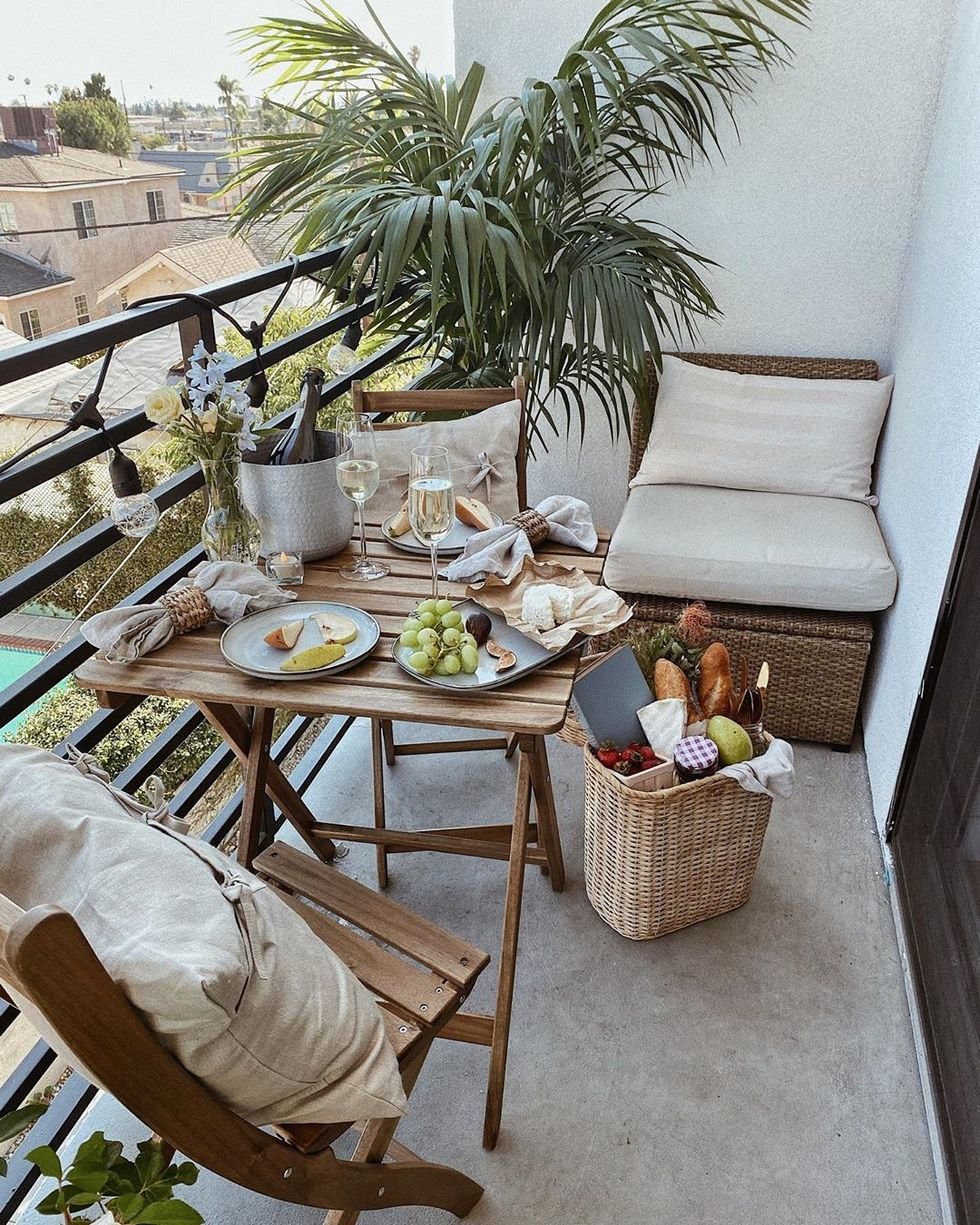 If the weather where you live will permit it, take your holiday feast outdoors with a casual, neutral-and oh so chic-dinner setup.


7 Orange and Blue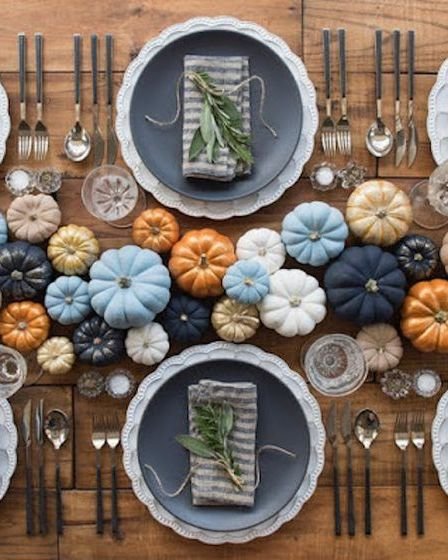 Orange and blue sit opposite each other on the color wheel for a reason-they're perfect complements. Pair the two shades for a brighter take on traditional fall decor.


8 Simple and Modern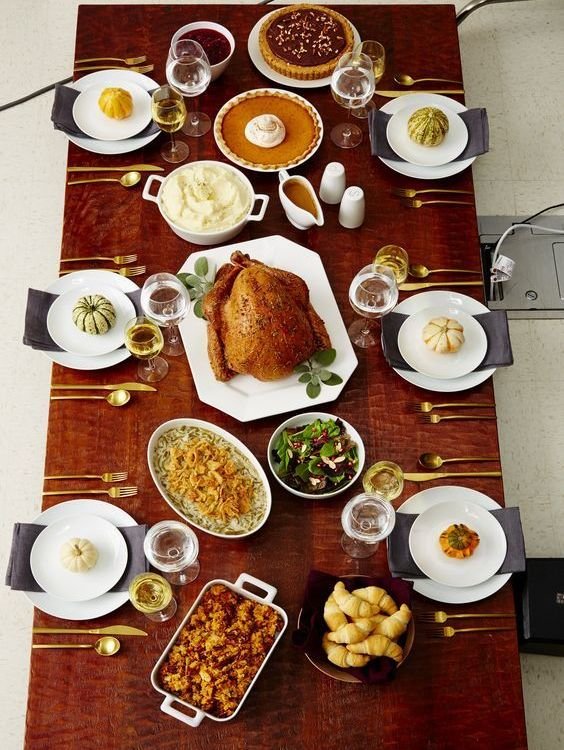 Thanksgiving is all about the food, of course...so it's fine if your table simply reflects that sentiment. Opt for showstopping serving pieces and a clean base this year.


9 Forest Green and Orange


Juxtaposing a deeper burnt orange with forest green creates a moody yet natural tablescape. Add some soft lighting or a few candles and your table is complete.


10 White and Terra-Cotta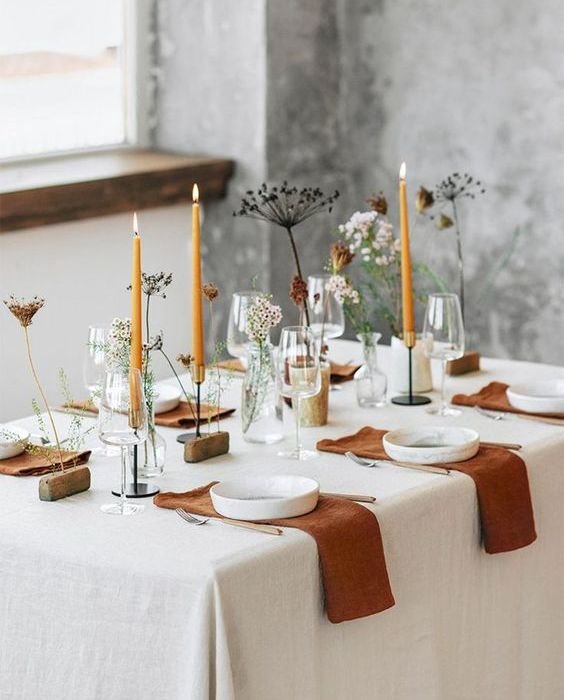 A clean, simple take on Thanksgiving's traditional palette. Subtle orange accents make the table feel autumnal, while the white base keeps the area light and bright.


11 Gray and Yellow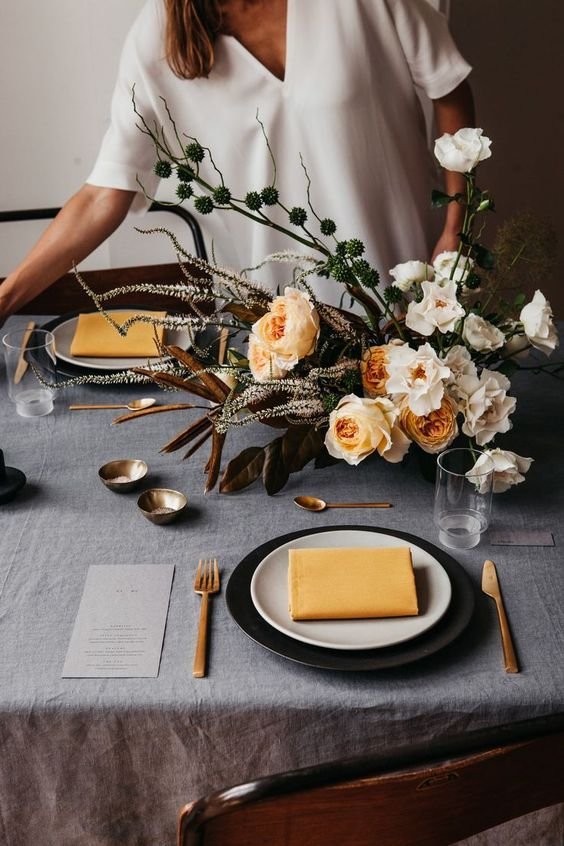 Gray doesn't have to automatically equal dark and somber. The addition of yellow lifts this tablescape without sacrificing any depth or texture.


12 All White


As chic as they come, an all-white Thanksgiving table takes the guesswork out of holiday decorating. The best part: Everything is sure to color-coordinate.