Today, we are going to talk about tiny bedrooms, how to work around the space issue and still feel like you can breathe in that room, and then show you some really cool small desks that will show you that you don't always have to compromise even when you're dealing with limited possibilities.


Tips for Tiny Bedroom Space Organizing

There is actually an impressive number of tricks and strategies that you can out to good use when it comes to taking advantage of whatever bedroom space you have available. Here are some things that you can try:


Keep It Simple

A minimalistic approach is often a really good solution. People often tend to bedroom furniture that isn't always put to good use and is sometimes dispensable. We can give you plenty of examples here, from vanity tables to ottomans placed at the foot of the bed. But a minimalistic approach is more than just removing unnecessary furniture; it's also about using the one that's necessary in a wiser fashion. For instance, if you have a small or medium-sized drawer where you keep your shirts of underwear, you can place it next to the bed and have it serve as nightstand as well.


Declutter

You will feel suffocated in a bedroom where there's too much clutter, which means that you'll have to think of intelligent decluttering solutions. For instance, opt for nightstands with more drawers so you can avoid having items pile up on the top of the nightstand.


Under the Bed

One very good storage solution implies using all the free space that you have under your bed. If you have any bit of under-the-bed clearance, it's time to put that space to good use and there are multiple ways to do that. Probably one of the most convenient solutions is to invest in a bed frame that comes with storage, which translated into drawers that provide plenty of storage space under the bed. If you don't want to make this investment, there are plenty of storage boxes designed to be placed underneath the bed. Most of these storage boxes come with lids or zipper that will protect the contents of the box from dust and have you keeping everything clean and sorted.


Look Up

Vertical space is another aspect you want to take into consideration if you want to put your bedroom's free space to good use. There are plenty of ways to make this happen: from adding simple additional shelves to installing hanging organizers that could declutter some of the tabletop surfaces from other pieces of furniture you have around your bedroom. Another great idea would be to take advantage of the vertical space that's in your closet (for instance, you can attach hooks to the closet's door or add an extra shelf above the clothing rod for extra storage).


Bedroom Decluttering Tricks

Clutter is perfectly normal because we often tend to hang onto things that aren't really necessary and that eventually do nothing more than just occupy space. If you're not sure where to begin your bedroom decluttering process, here is a list of tips that might come in handy:

* One of the most underestimated actions that can really make a bedroom appear more organize is making the bed every morning, as soon as you wake up. In fact, there's an entire philosophy revolving around the idea that it's productive to start your day doing one difficult thing and that will make other stuff throughout the day easier.

* If there's stuff in your bedroom that you haven't used in the last six months, you might want to reconsider having it in the bedroom. We tend to attribute a lot of sentimental value to different trinkets that we don't really need. We're not saying to throw them away, just to store them in boxes and put them away so that you can have more free space to work with and feel less suffocated amongst all these items.

* Don't let dirty clothes occupy unnecessary space in the bedroom. If you have a laundry basket, try to place it somewhere else (like the bathroom, for example). A lot of people actually find themselves having less free space in the bedroom because of dirty clothes piling up on that one chair.

* Don't be afraid to move furniture around. You might want to experiment with rearranging different furniture pieces and you just might discover that a different layout will declutter the room and provide the illusion of more bedroom space.

* If you happen to have a TV in your bedroom, mount it on the wall instead of having it sit on a piece of furniture. This helps open up the space inside the room and frees up room on top of the furniture item where the TV used to previously sit.


12 Top Small Desks for Tiny Bedrooms
Strickland Secretary Desk with Hutch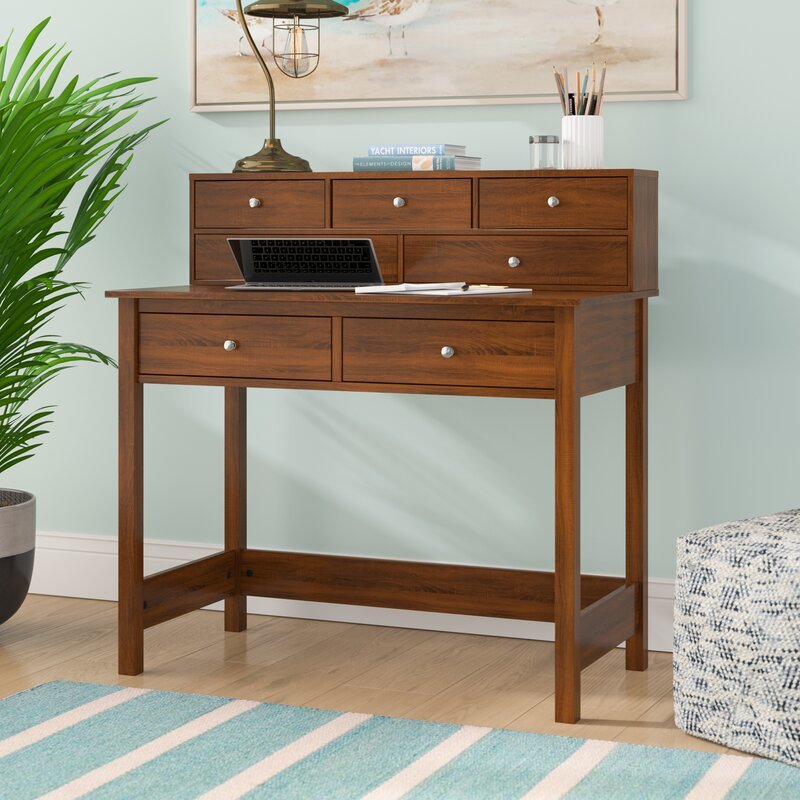 Our first suggestion for the day is a desk that offers a bunch of storage space, with multiple drawers that will help you make sense of the bedroom clutter. There are seven drawers to work with and work really well in a teenager's bedroom or perhaps a hobby and crafts room. The desk is made from manufactured rood and moisture-resistant PVC laminate veneer, and measures 40.2" H x 39.75" W x 20.5" D overall.


Zachary Ladder Desk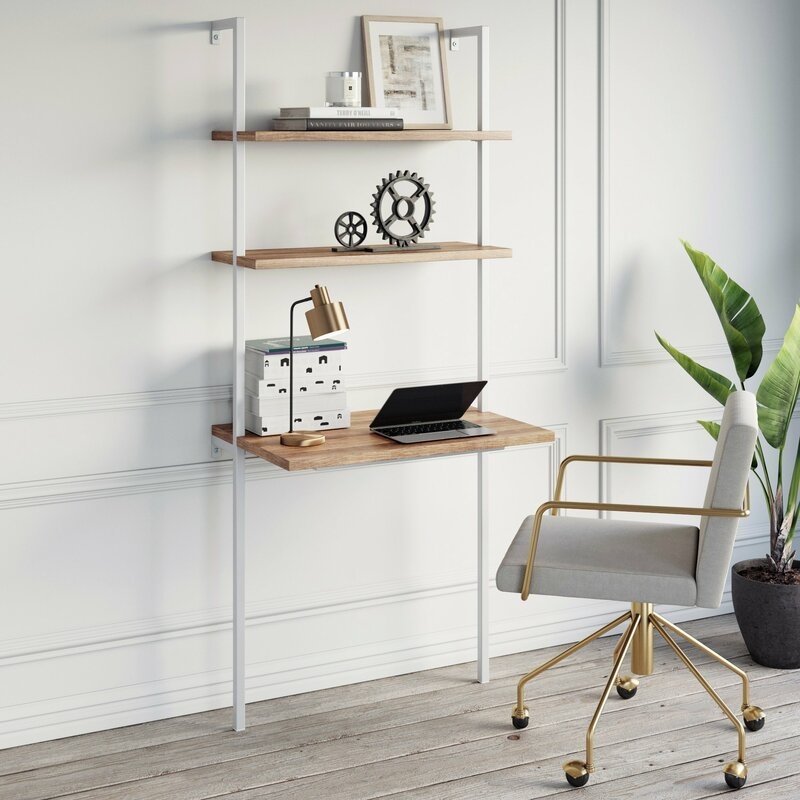 This ladder desk is a great space saver because it uses up a lot of vertical space, which is very convenient when you want to take advantage of every bit of space you have at your disposal. This wall-mounted desk comes with two upper bookshelves that can be used for storing a variety of different things, as well as a larger lower shelf, suitable for placing your laptop or writing. The entire ensemble measures 72.5" H x 30" W x 20" D and it's made from manufactured wood.


Amos Secretary Desk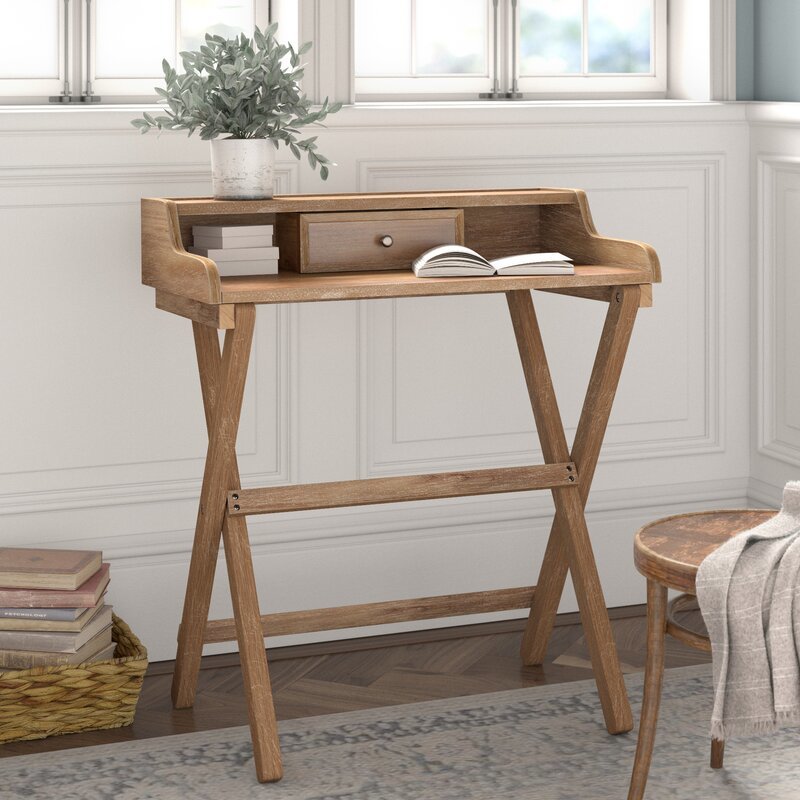 With a more romantic vibe and four different finishes, the Amos secretary desk is that kind of adorable piece of furniture that you just love to see. While advertised as being perfect for a teenager's bedroom, this could surely fit into an adult room as well, as it blends modern elements with a rather romantic vibe. Made from solid and manufactured wood, the desk is equipped with a storage drawer for trinkets or writing tools. It measures 34.25" H x 30" W x 18" D overall and the desktop itself is 29.25" H x 30" W x 18" D.


Thomaston Desk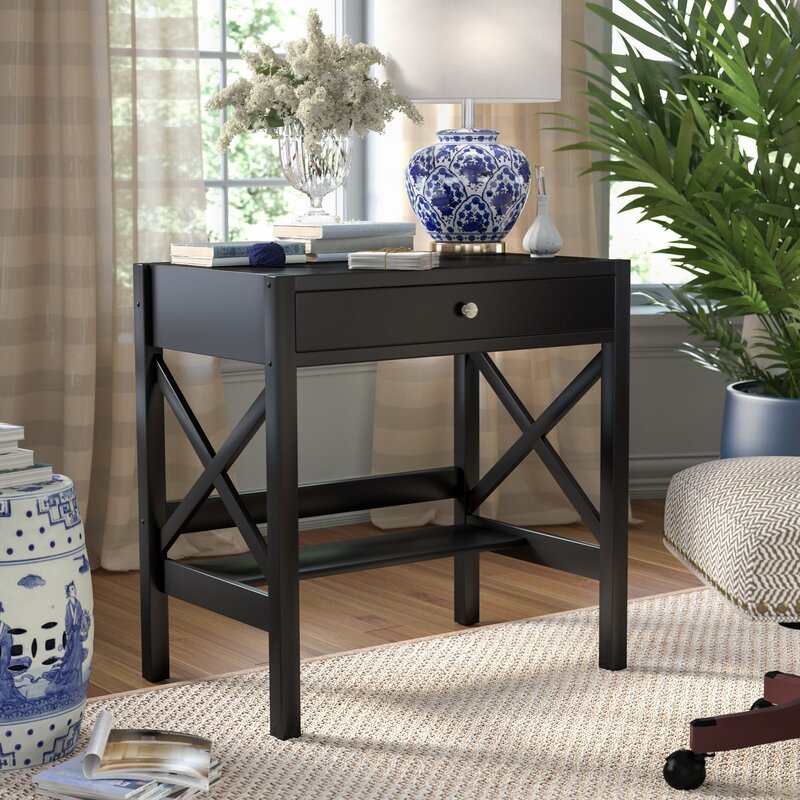 Another very beautiful option for tiny bedrooms is this black finish desk made from manufactured wood. Measuring 30" H x 30" W x 20" D, this desk is designed to serve multiple purposes, and if you can't find a spot for it in the bedroom, you can surely use it as a hallway table for showcasing different things, from a fancy key bowl to that vase you got for Christmas last year. It comes with a gliding drawer that offers 2.25" H x 25.5" W x 13.1" D worth of storage space.


Rossville Floating Desk with Hutch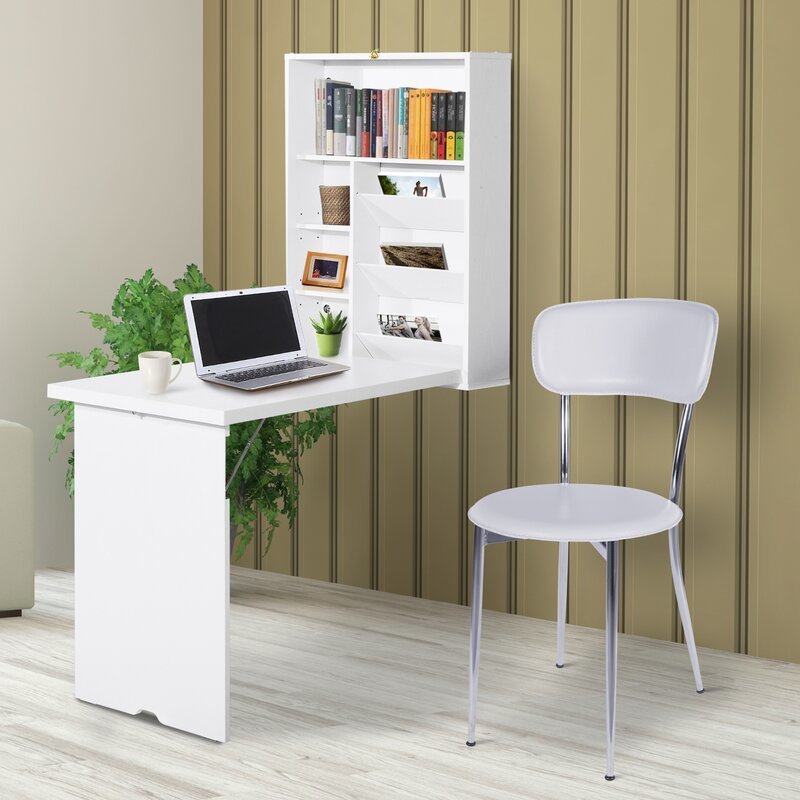 The Rossville floating desk is a little bit different compared to the other ones we've seen today, but still something that work very efficiently when you have so little free space to work with. This floating desk is very similar to a small wall-mounted cupboard that expands to a desk and reveals a bunch of shelves suitable for storing plenty of different items. Some measurements of interest include: 59.8" H x 23.5" D overall size, 32.25" W x 27" D desktop size, and 31.07" H x 23.5" W x 6.25" D for the hutch size. The foldable desk is made from manufactured wood and it's really easy to mount.


Syrna Ladder Desk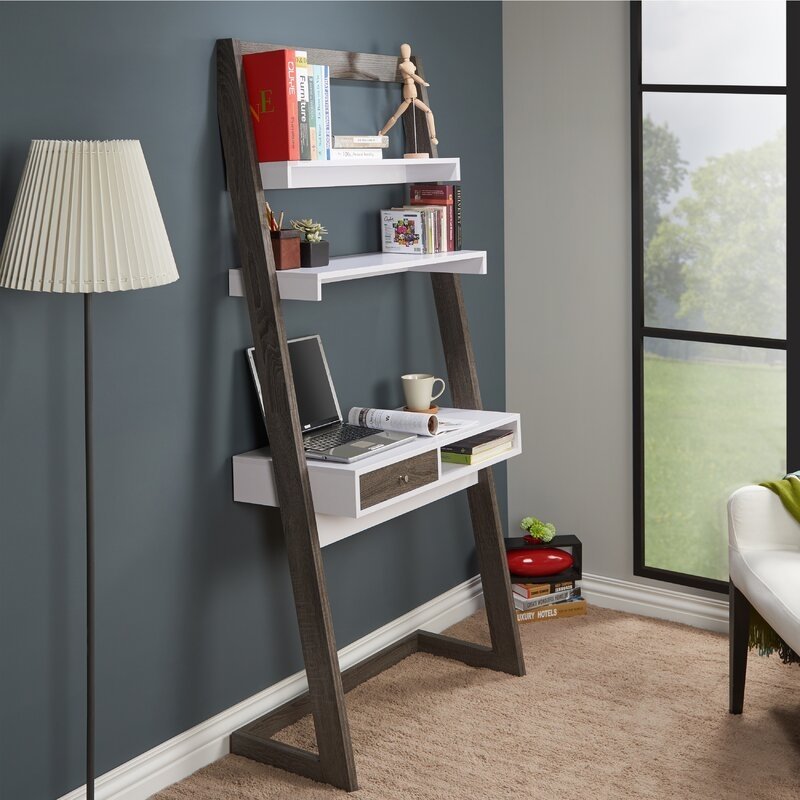 If you were looking for a small corner where you can work on your projects, have your conference calls, or fill up paperwork, products like the Syrna ladder desk are the best companions to help you out. Measuring 70.75" H x 33.75" W x 15" D, this ladder desk is made from manufactured wood and gray-wash veneers, resembling a bookcase that doubles as a desk. The two upper shelves are perfect for storing books, framed pictures, plants, or other memorabilia, while the lower shelf comes with a cubby and a drawer for trinket storage.


Sadie Solid Wood Secretary Desk with Hutch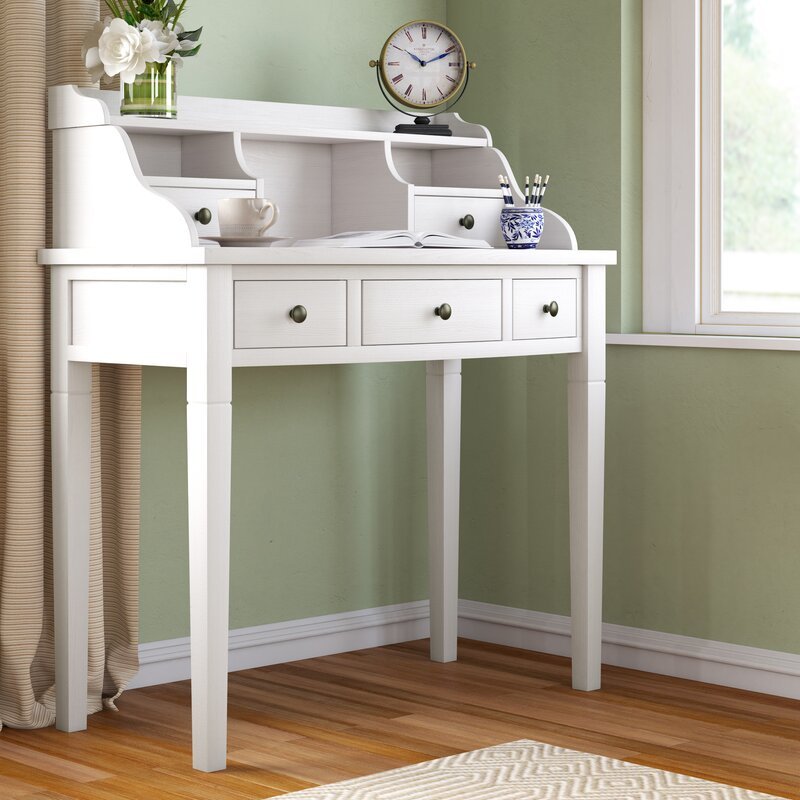 When it comes to romantic-style desks, the Sadie is an option worth your time and money. Made from solid wood, MDF, and ash veneer, the elements that make this desk stand out of the crowd are focused on multiple storage options, as well as 40.5" H x 13" D of desktop space. The desk measures 40.5" H x 36.2" W x 19.1" D and comes with three open shelves and five storage drawers that measure 2.95" H x 8.46" W x 15.35" D each.


Bowersville Ladder Writing Desk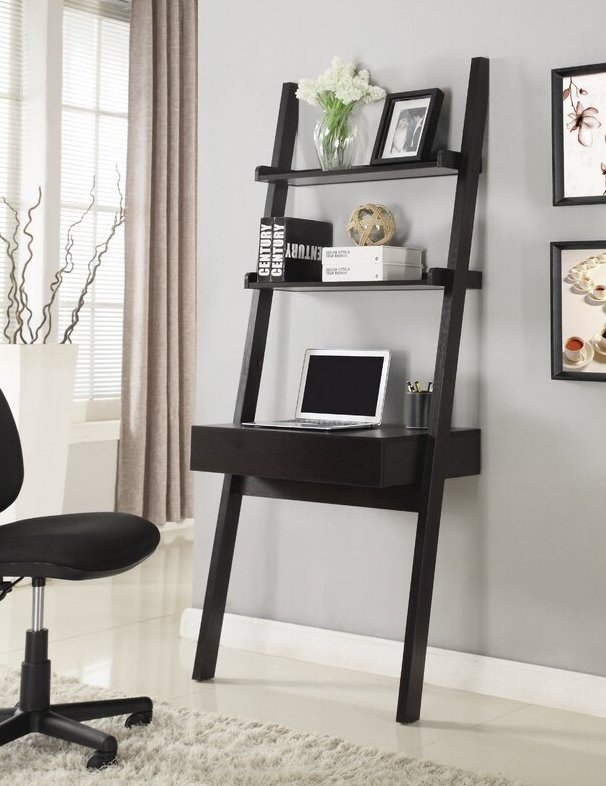 Here is yet another cool-looking ladder desk that's designed to be convenient and good-looking at the same time. Measuring 72" H x 29.5" W x 18" D, the Bowersville desk follows a structure similar to the other ladder desks we've examined so far, with two upper shelves for item placement, as well as a larger lower shelf that acts as the actual working space. The espresso finish is simply elegant and fits well into a variety of different decors.


Diego Ladder Desk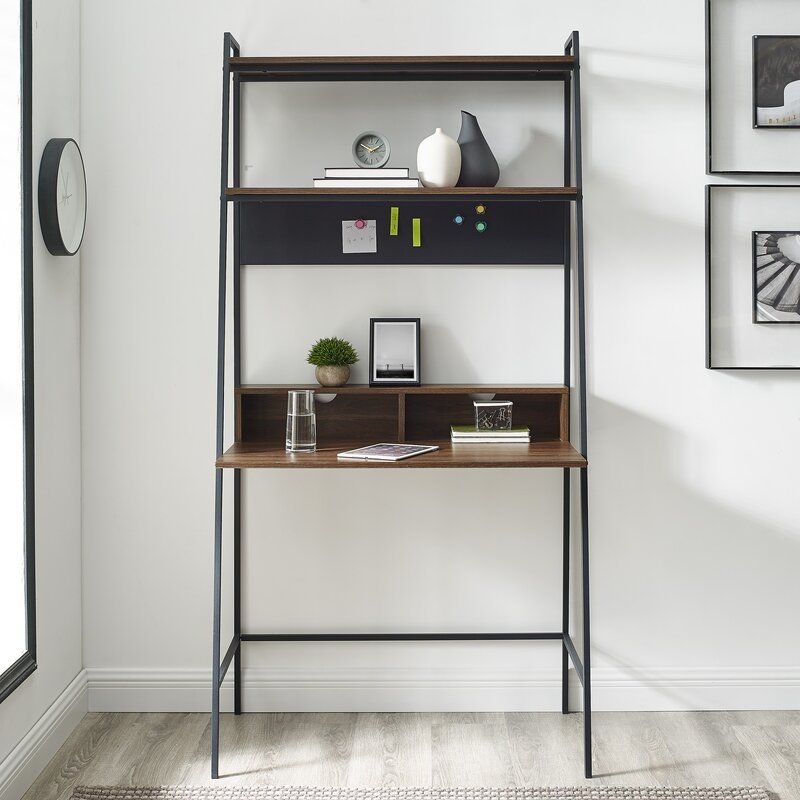 The Diego ladder desk is the perfect combination of a practical piece of furniture for tiny bedroom and a stylish piece that combines metal and wooden elements to perfection. The metal structure has a powder-coated steel finish and offers plenty of durability to the structure. The ladder desk measures 72" H x 36" W x 20" D and has two upper shelves that can support a total weight of 50 pounds, and a lower desktop surface that can support up to 100 pounds in weight.


Hassen Adjustable Standing Desk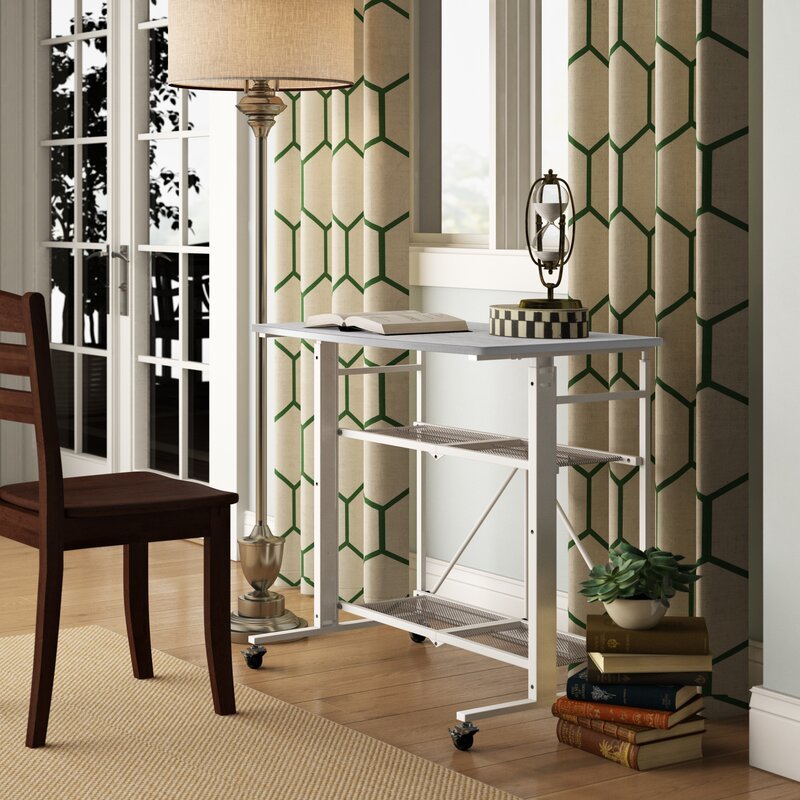 The best part about purchasing an adjustable desk is that you can easily find the working position that's most comfortable for you. Made from manufactured wood and a metal base, this rectangular desk measures 36" W x 20.7" D overall and offers more than just a working space. It also comes with two shelves for storing different kinds of things. The wheels are convenient for moving the desk around, which helps you reorganize your bedroom faster whenever needed.


Milian Desk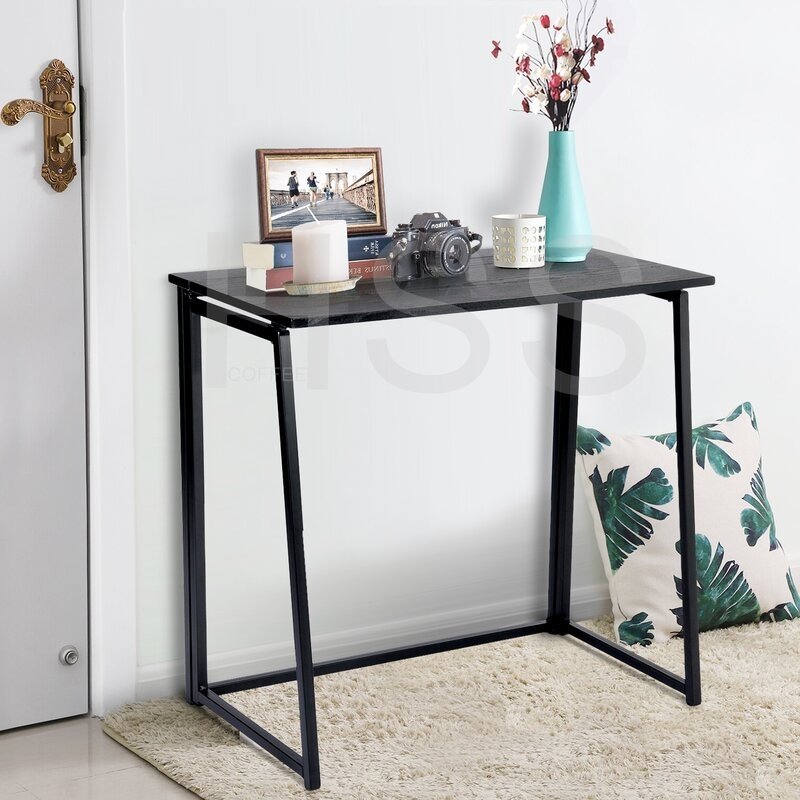 With sleep lines and something that most would consider a minimal design, the Milian desk can easily be integrated in cramped spaces, especially in modern bedrooms dominated by modern furniture pieces. The desk measures 29.1" H x 31.5" W x 15.7" D and is made from manufactured wood combined with metal. The metal has a black powder coat and it's easy to assemble. It doesn't come with any storage drawer, which might be a downside for some of you looking for a place to store their desktop trinkets.


Chicago Solid Wood Desk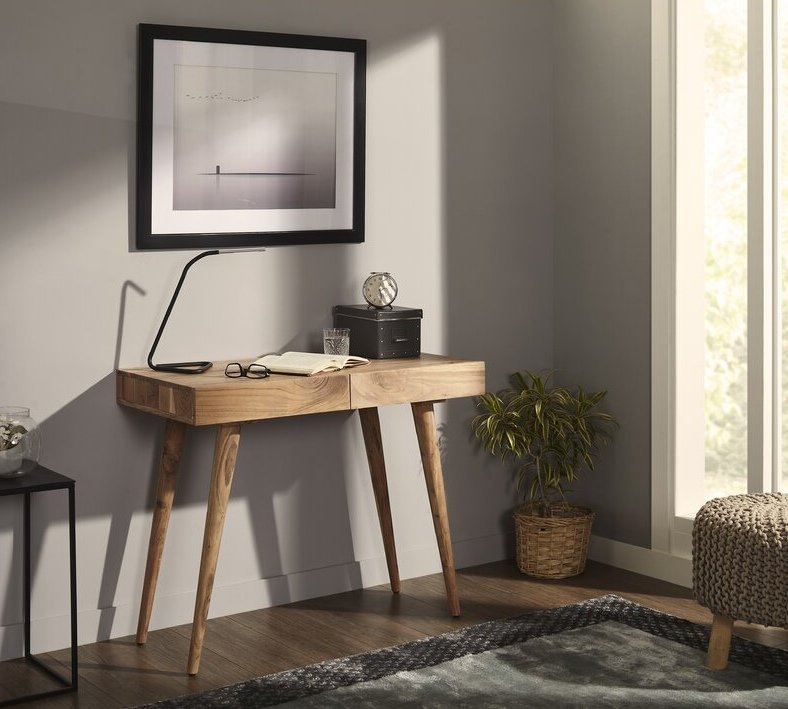 When it comes to simplicity, few things can beat the Chicago wooden desk. It is the perfect option for cabins and rustic-style rooms, as the wooden knots and rugged appearance make it look like a true vintage survivor. It measures 31" H x 39" W x 19.5" D and each of the two drawers offer 3" H x 17" W x 18" D of storage space. You can choose between three different finish options, such as matte wax walnut, walnut, and gray.


Bottom Line

Having a tiny bedroom can be a real nuisance, especially when every time you turn around, you seem to bump into some other piece of furniture. Decluttering your bedroom is recommended, but sometimes having room to breathe also means investing in furniture pieces that are actually suited for the size of your bedroom. That's why we've carefully selected some of the best small desks for tiny bedrooms, because you should be able to sit in the comfort of your safe space regardless of what you have to do.