Cleaning duties aren't such a chore when all the necessary tools and supplies are neatly organized in one easily reachable spot. Designate a cleaning closet, cabinet, or another storage area that can provide convenient access to cleaners, sponges, brushes, brooms, and more. The best spot to organize cleaning supplies might be in a laundry room, bathroom, or kitchen; the key is to pick an area that's close to where you do most of the cleaning. Once you've decided on a storage spot, employ bins, hooks, drawer dividers, and other organizers to sort and safely store cleaning essentials. You can even get creative with office supplies like pencil cups, magazine holders, and even binder clips to corral certain items. These smart solutions will show you how to organize a cleaning closet for a more streamlined tidying routine.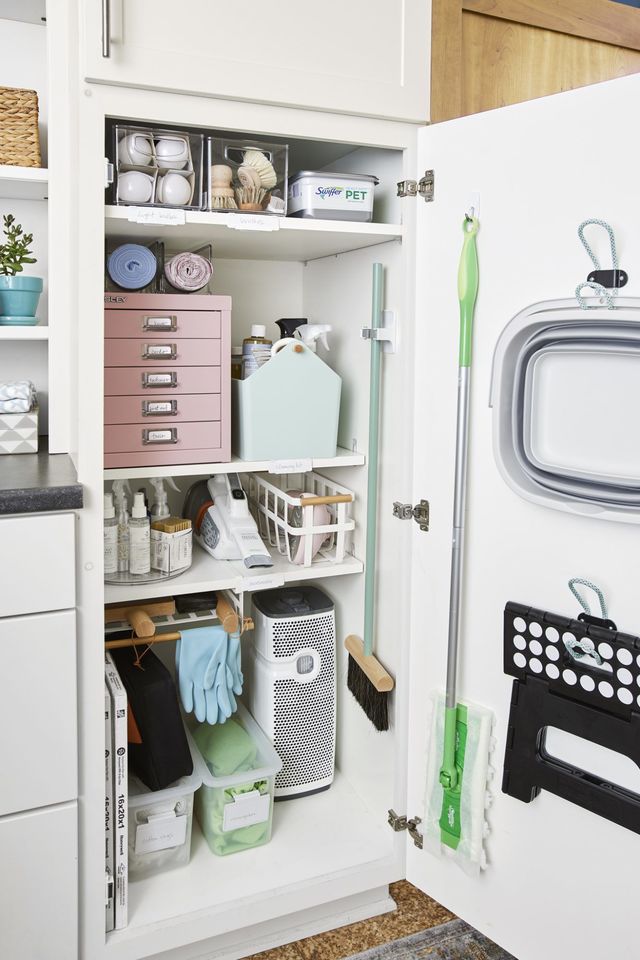 1. Space-Efficient Cleaning Closet

Utility items that are usually relegated to the garage fit neatly inside a cleaning closet when they can collapse flat for storage. Arrange items like a collapsible bucket ($13, Target), folding stool, and floor sweeper on the inside of your cabinet door, then hang low-profile hooks to hold each item. Store accompanying supplies like mop pads and cleaning solutions on nearby shelves to make everything easy to retrieve.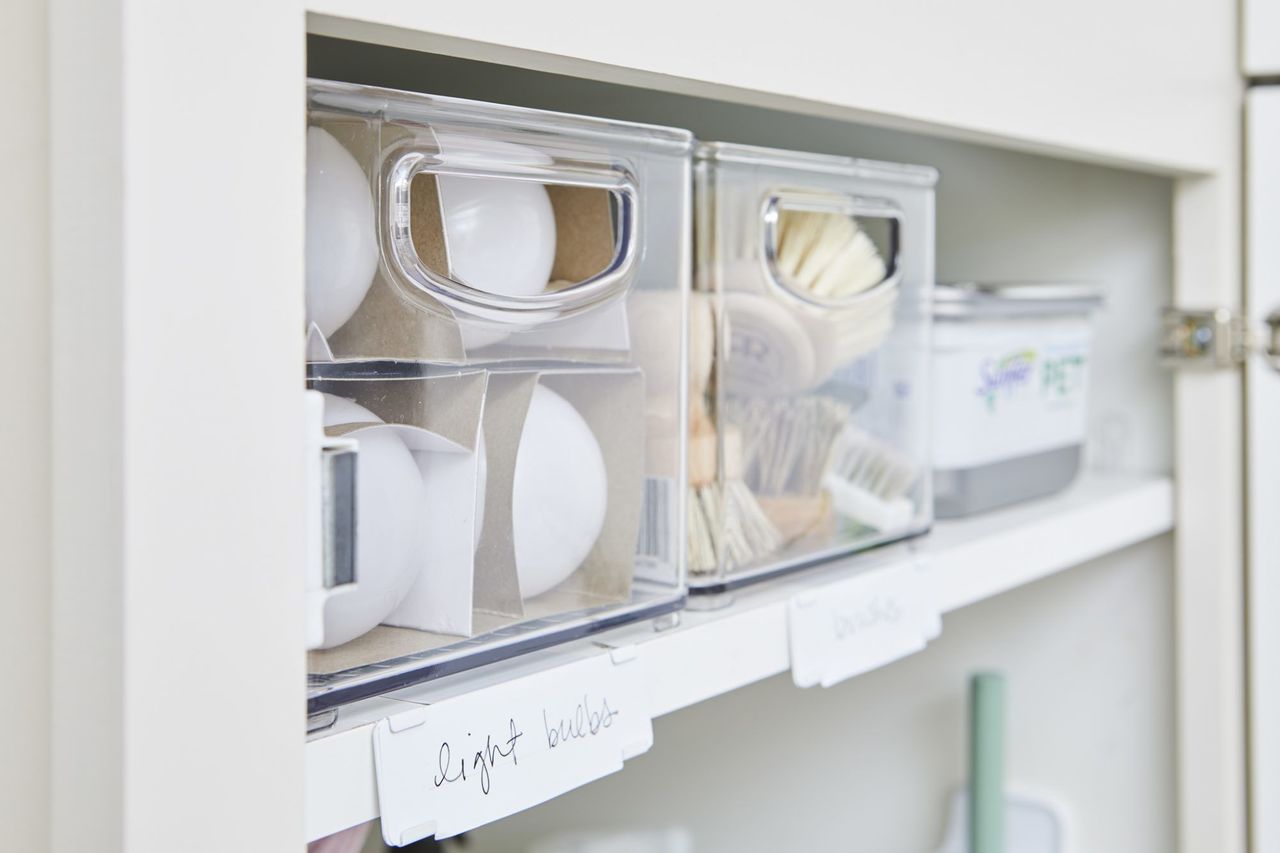 2. Cleaning Supply Storage Bins

Find what you need at a glance with clear stacking storage bins ($18, The Container Store). This cleaning closet organization idea is perfect for finicky items like assorted lightbulbs and miscellaneous cleaning supplies. Make identification even easier with simple shelf labels that keep closet contents neat and tidy.


3. Cleaning Closet Location

Half the battle on cleaning day is gathering the right supplies for the job. Make your life easier by keeping everything you need, including a collapsible bucket, rags, and floor cleaner, in one place. A fully stocked cleaning closet located near a sink minimizes steps.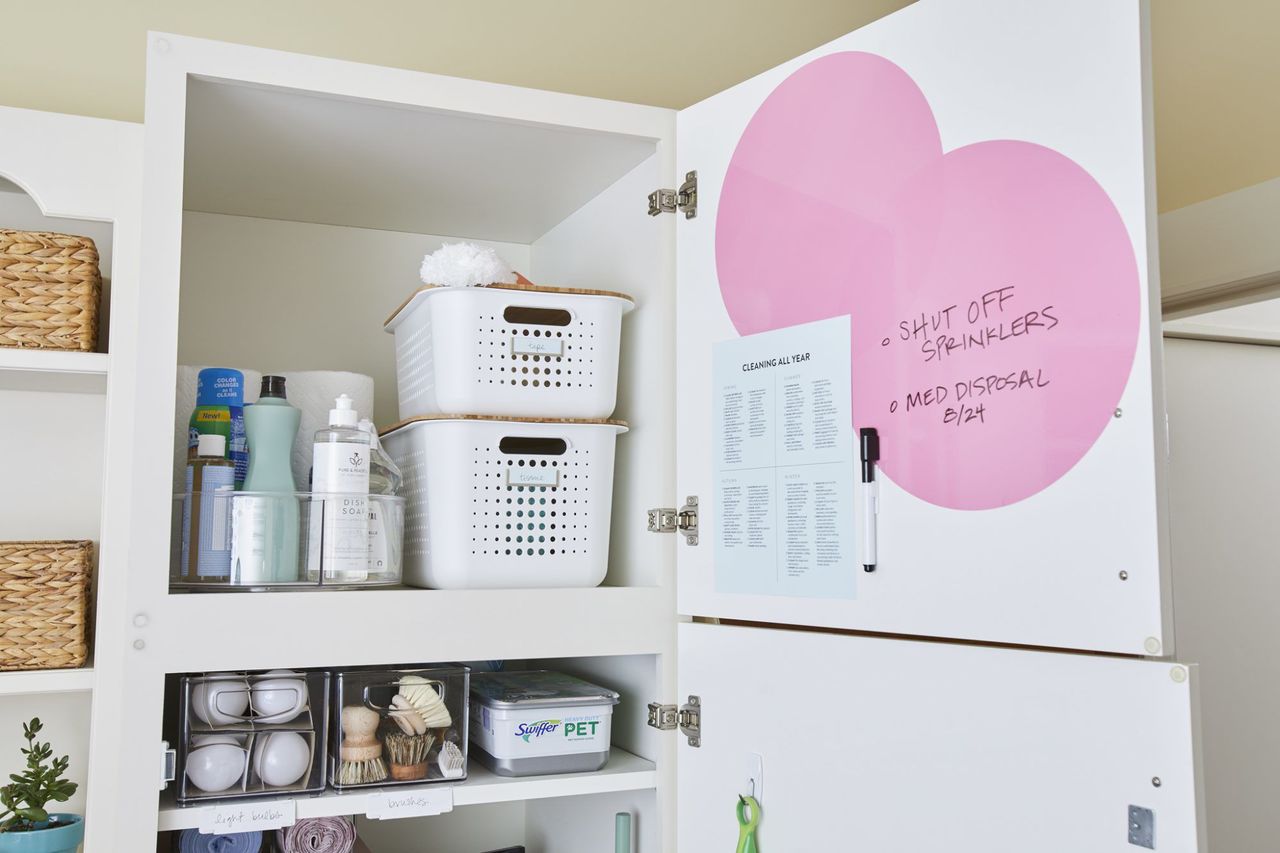 4. Handy Cleaning Schedule

Create your own custom cleaning schedule and tack it inside a cabinet door to keep home maintenance on track. Include weekly, monthly, quarterly, and yearly chores. Make notes about special seasonal tasks, needed supplies, or homemade cleaning solution recipes on large dry-erase sheets mounted next to the schedule.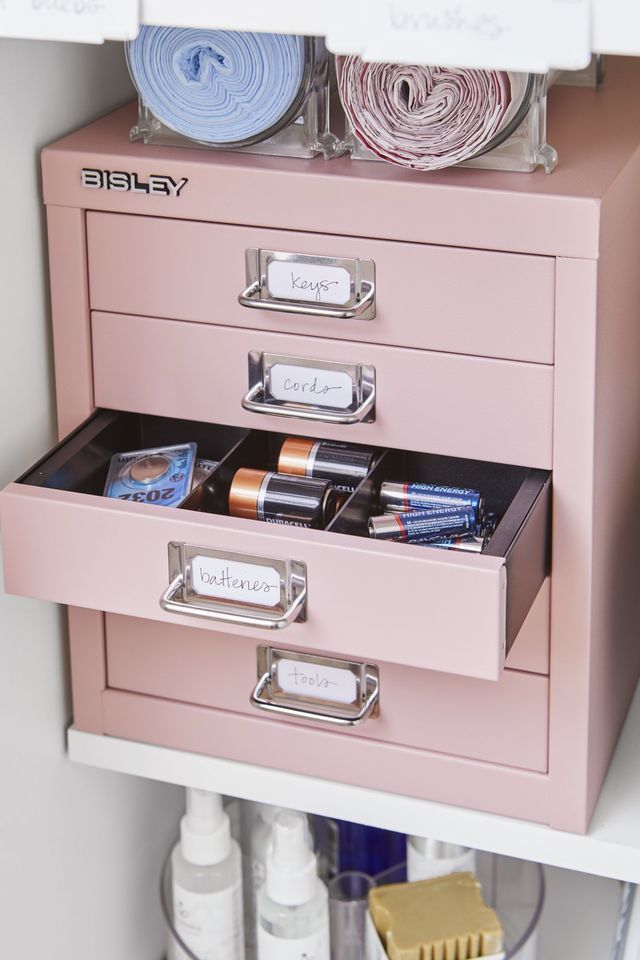 5. Divided Cleaning Closet Storage

Free up valuable junk drawer space with this effortless organization idea. Install dividers inside the drawers of a small cabinet, then sort frequently needed items like office supplies, batteries, and postage stamps into each space. Add labels to drawer fronts for easy access, and swap them out as contents change.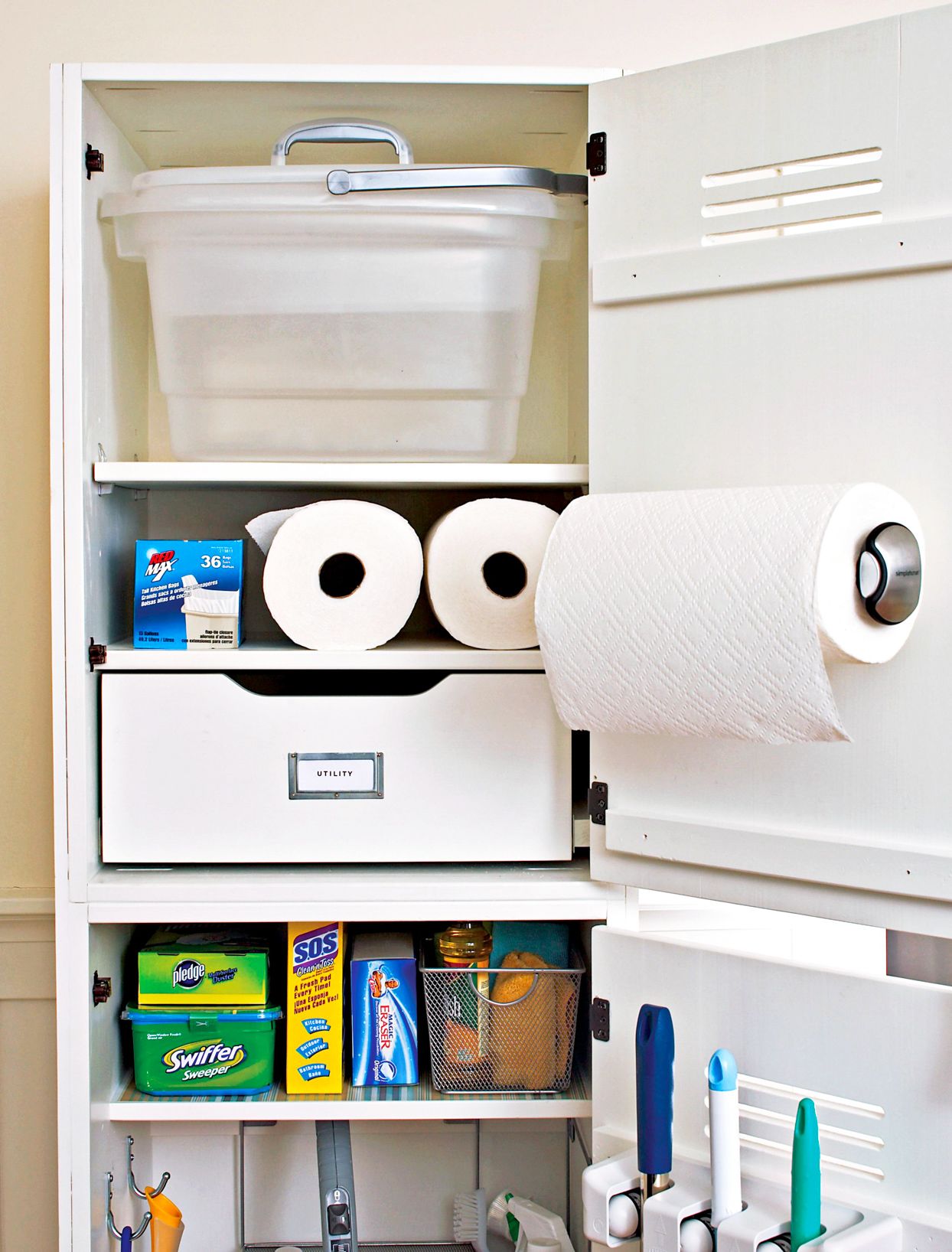 6. Top-Shelf Cleaning Supplies

Store large, lightweight objects, such as empty buckets and extra paper towels, on high shelves. These items will be easier to handle than heavier objects if you need to step on a stool to reach them. This cleaning closet idea clears up floor space and allows you to keep items you use more regularly at eye level.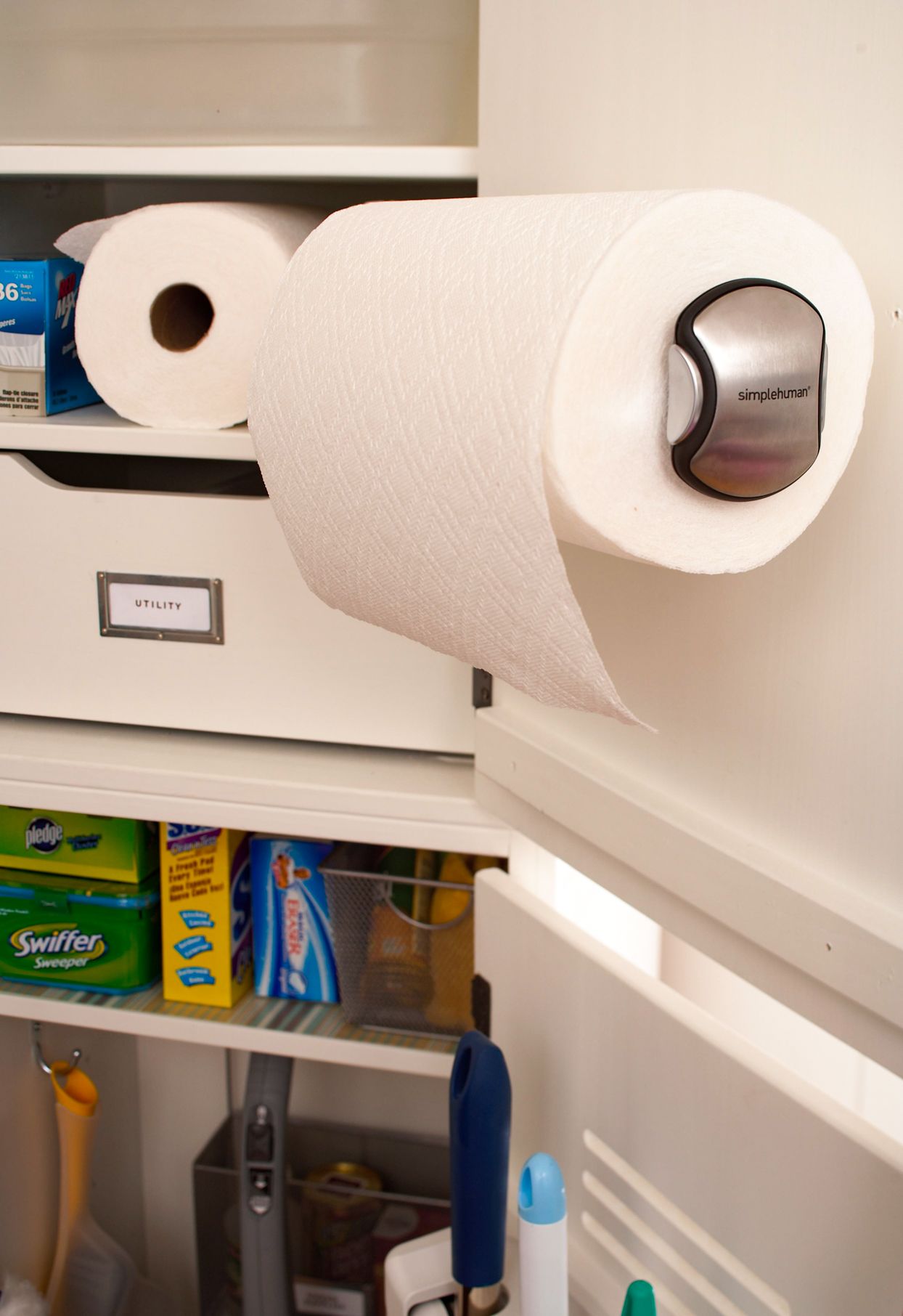 7. Paper Towel Organizer

Mount a paper towel holder toward the top of the inside of the door for quick access. After grabbing your cleaner of choice, you can easily tear off what you need and get to work. Stock extra paper towels nearby so you can easily replace the roll as needed.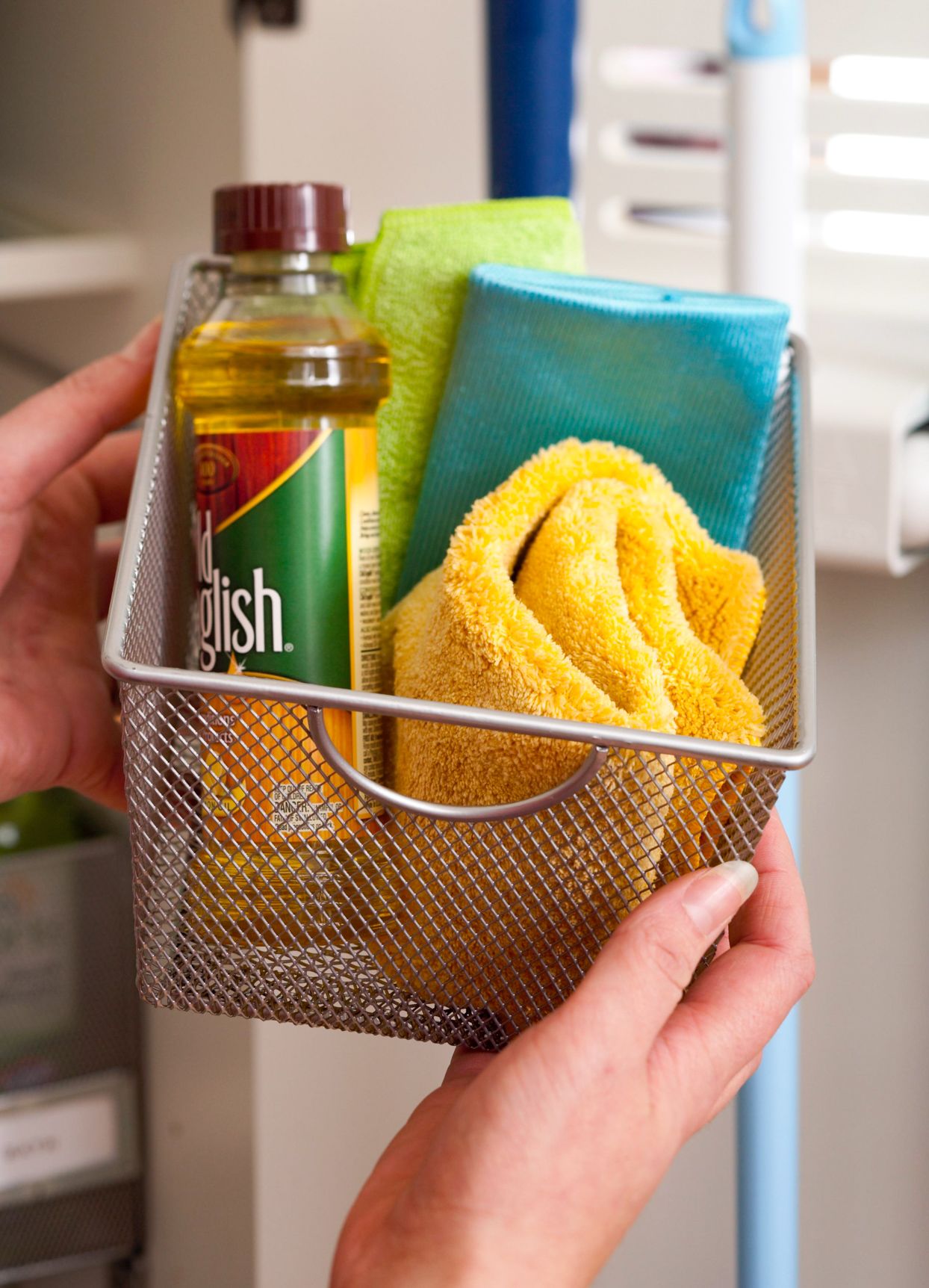 8. Cleaning Kit

Make a kit of frequently used supplies that can easily be toted around the house. Stock the cleaning caddy or bin according to a specific task, such as microfiber cloths and furniture polish for dusting. With everything in one place, you won't have to make multiple trips to your cleaning closet before your task is done.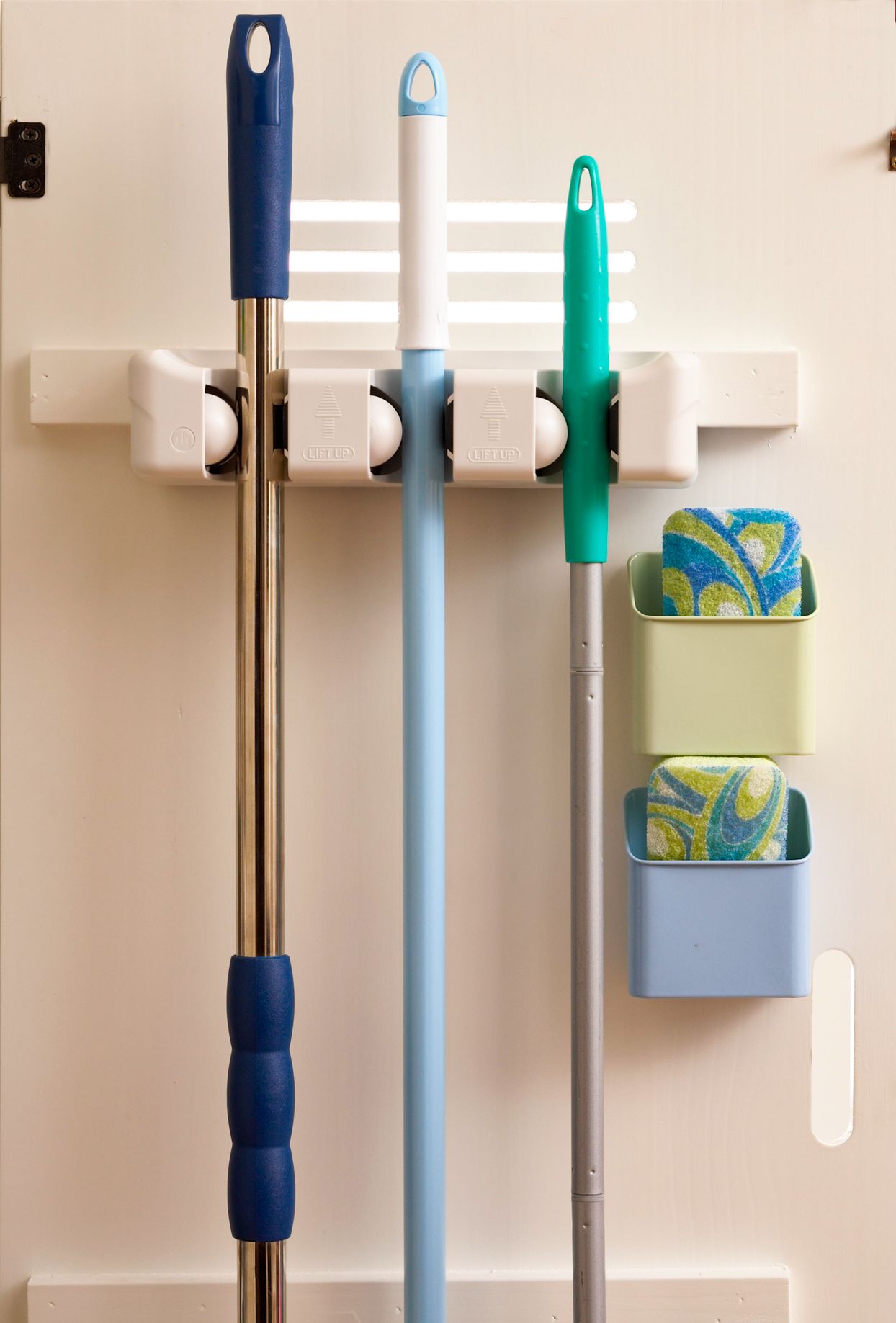 9. Behind-the-Door Cleaning Closet Storage

The back of the cleaning closet door reveals valuable vertical storage space. Put it to use by hanging a clamp-style rack for brooms and mops ($26, Bed Bath & Beyond). Store sponges and scrubbers in repurposed wall-mounted pencil holders.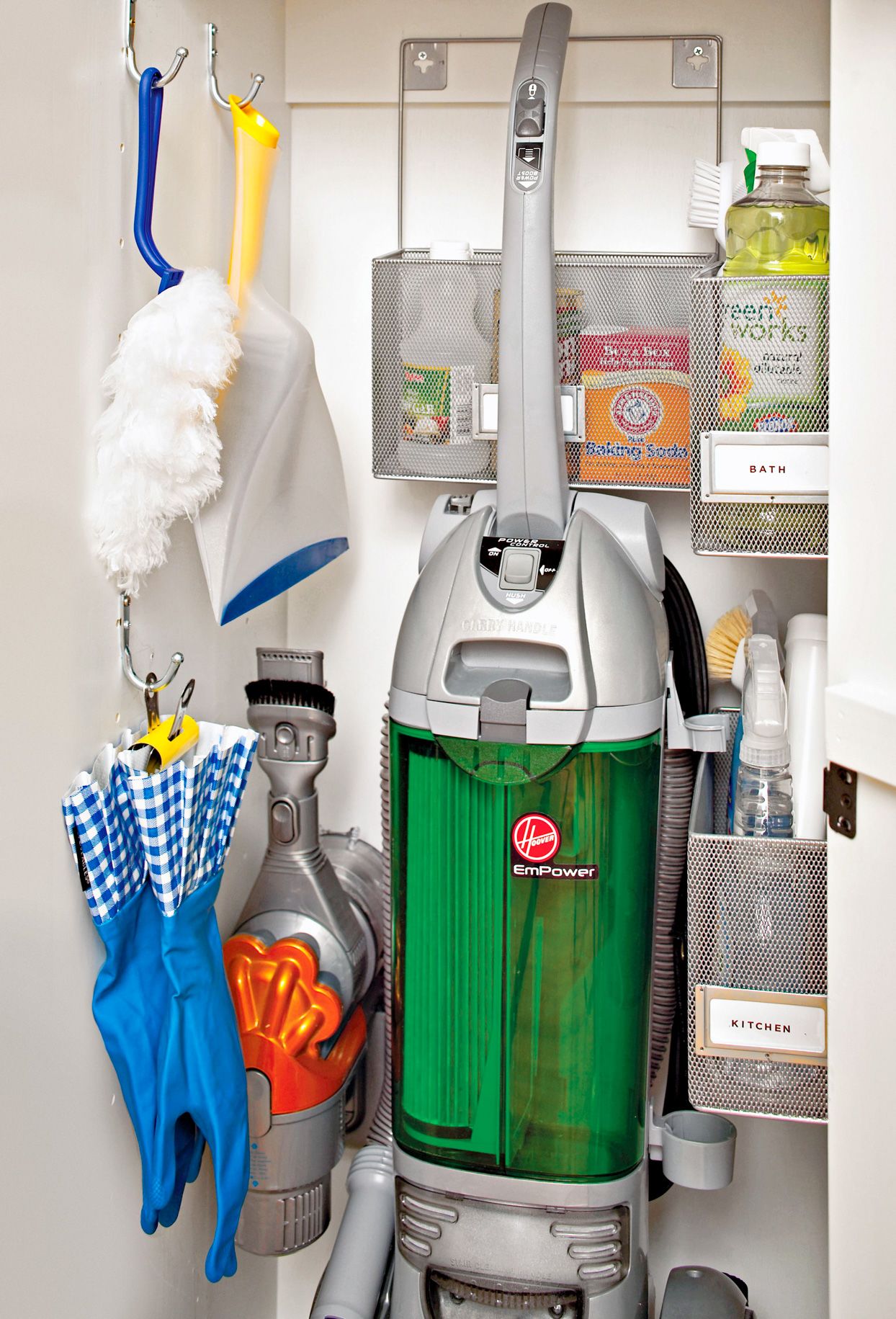 10. Cleaning Closet Hooks

Install small coat hooks on the side of your cleaning closet for a place to hang a duster, broom, and dustpan. Keep pairs of rubber gloves together by clipping them with a binder clip and hanging from another wall hook. Arrange hooks in several rows to maximize the full wall space.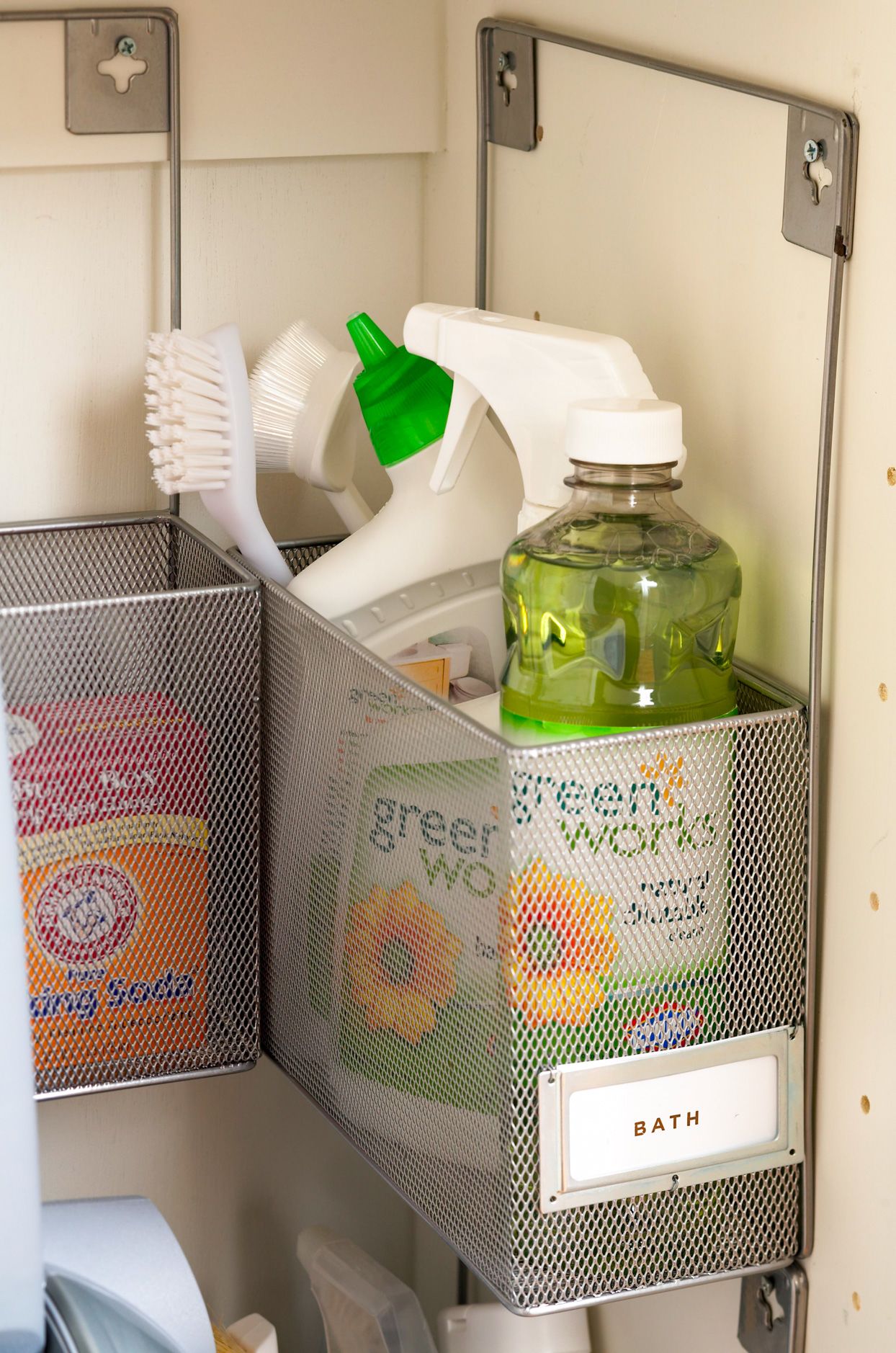 11. Organize Cleaners

Hang narrow metal wall bins (the kind designed for mail and magazines) around the inside of the closet. Fill with spray bottles and cleaners. Label each bin with the type of cleaning product inside or designate different bins for various rooms of the house.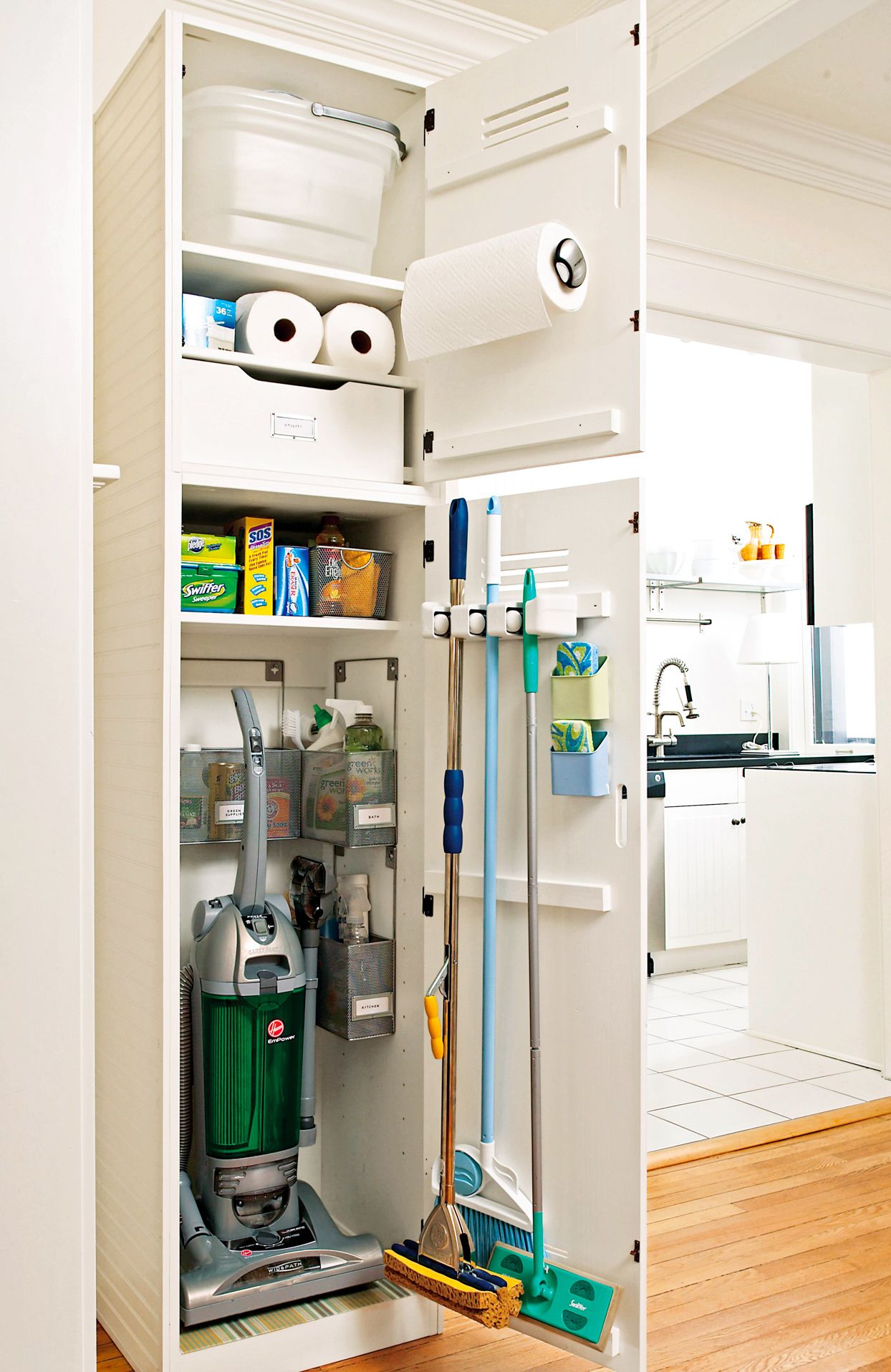 12. Cleaning Closet Floor Protection

Cover the base of your cleaning closet or cabinet with a sheet of durable adhesive paper that wipes clean easily. It'll catch any wayward drips or dust from your equipment and protect the surface from damage. Plus, it provides the opportunity to add a pretty pop of pattern to the storage space.