Country Office Nook

Old country homes abound with charming nooks. Filled with country home office ideas, a cozy corner can become a functional workspace. File cabinets on either side of a wood surface match white paneling and provide essential storage for this country home office. A fun nod to history, a portrait of the home's original owner presides over the desk.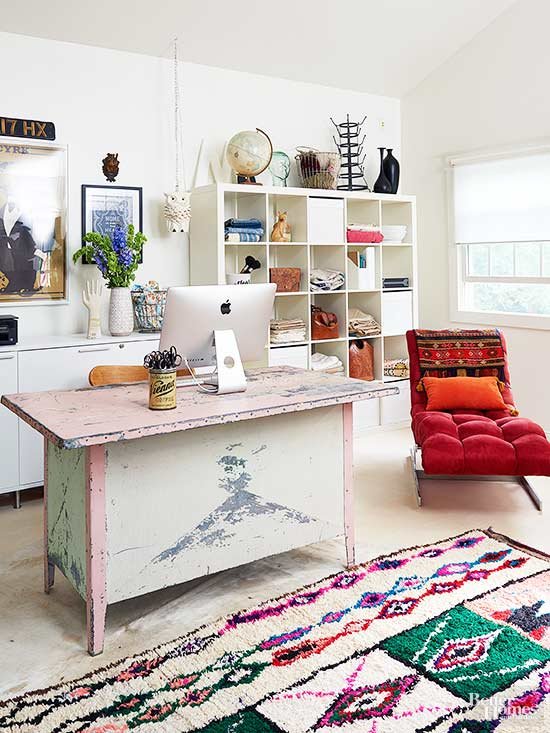 Working Hard

Utilitarian work tables from factories and workshops can get a second life in a home office. While not taking on fabrication or tinkering projects, a large work surface for spreading out books and papers still proves useful as office space decor. The earned patina of old work tables perfectly suits a country-inspired room.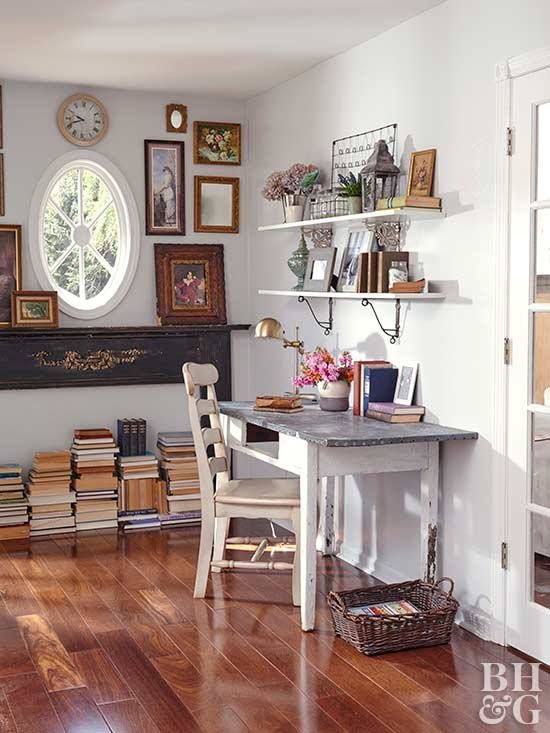 Country Material

For an authentic country home office, rely on the right materials. Consider a DIY desk made from an old table retrofitted with an extended zinc top for extra workspace. An equally rustic and eclectic (read: not quite matching) farmhouse-style chair cozies up to the desk. Open shelves with mismatched brackets continue the country look while providing functional office organization.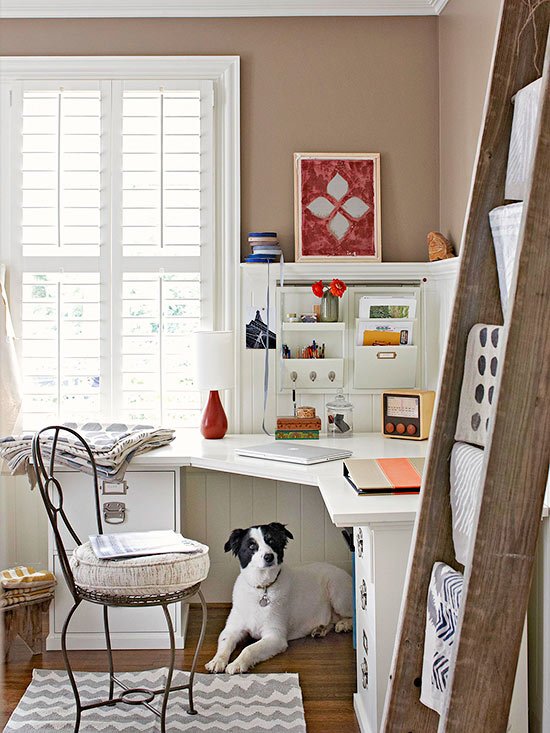 Corner Office

Embrace all manner of shiplap, beaded-board, and paneling in a country home office. Running vertical, the material exudes traditional country style, while a horizontal installation lends a modern vibe. Wood finishes and earthy neutrals are almost always fitting for a country office, as are rustic details. Here, a corner desk with vintage drawer pulls provides essential work and storage space with a bit of country flair.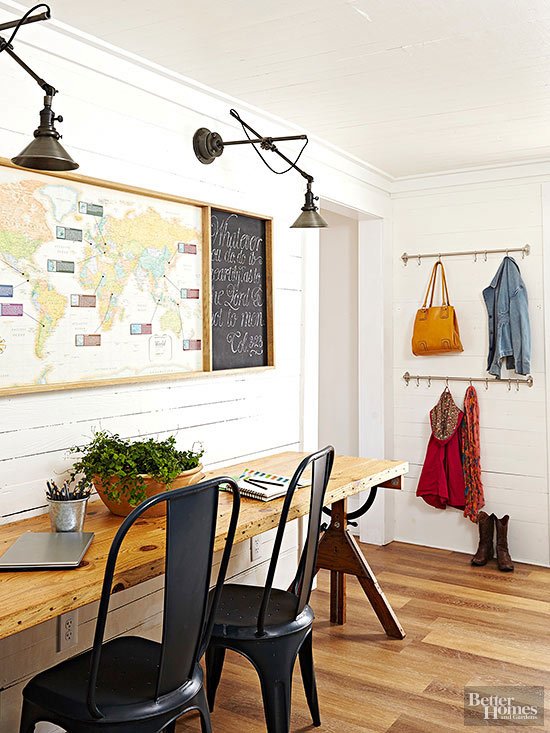 Salvage Style

Farmhouses and country spaces embrace a collected-over-time approach that looks charmingly cobbled together. In this DIY office space, a slab table sits atop antique table legs and against a shiplap backdrop. Antique sconces with moveable arms illuminate the workspace. Calling on a few favorite country decorating ideas, a framed chalkboard and map complete the workspace.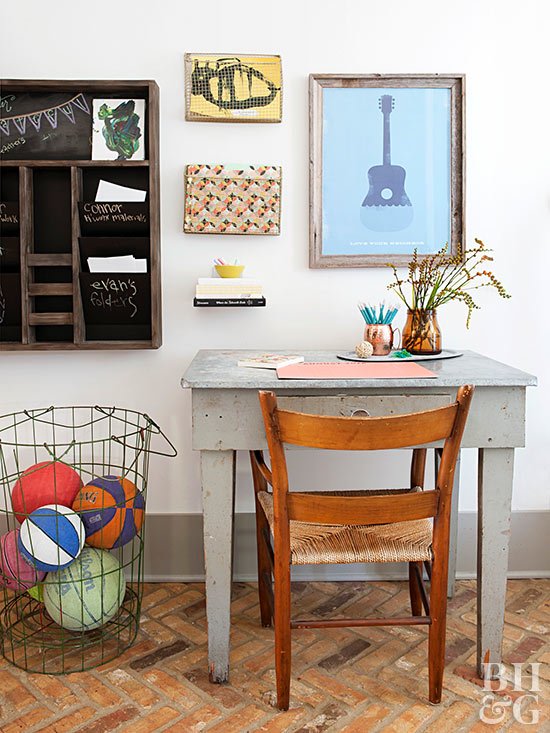 Functional Heirlooms

Repurpose beloved family pieces for an office space idea that's bursting with nostalgia. Here, a curved-back chair from the homeowner's grandmother cozies up to a vintage desk to create an efficient workspace. For small-space office organization ideas, look to the walls. Wall-mount organizers, like this chalkboard and distressed wood number, become a hub for keeping papers and notes in order.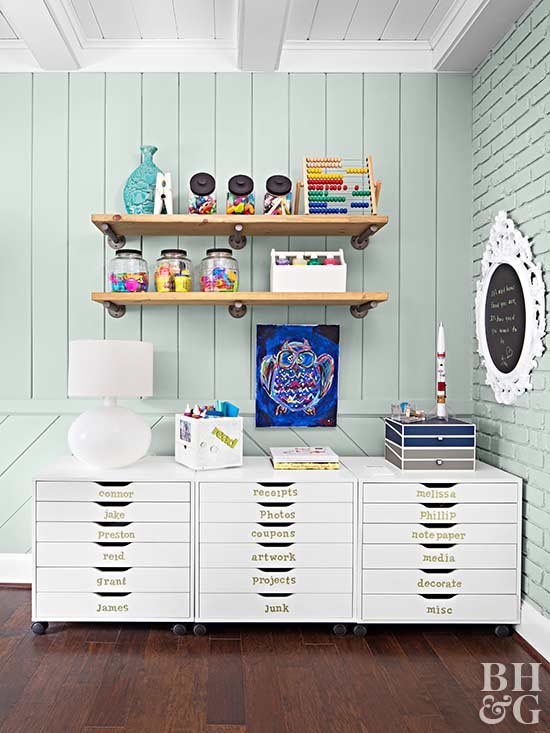 Modern Country

Country decorating ideas reflect the past, but they can also mesh nicely with the needs of a busy modern family. For a home office the entire family can utilize, employ storage that goes the distance. Here, a multi-drawer unit is labeled with a place for everything. Green paneling paired with rustic wood and pipe shelves introduce farmhouse charm to the functional hub.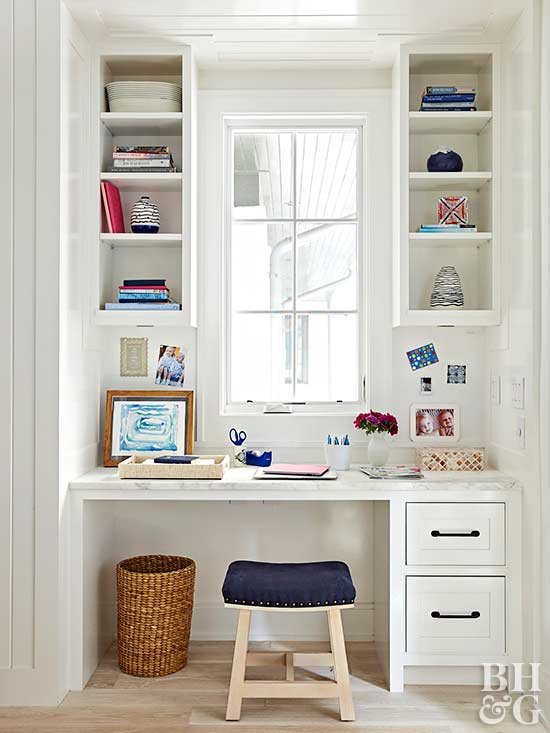 Clean and Bright

While country-inspired rooms are best known for their rustic vibes, country can also take on a clean and serene face. A paneled ceiling crowns this home office area, while substantial moldings and woodwork, all in crisp white, reflect the woodwork found in old farmhouses. Simple touches, like the black drawer pulls and stone workspace, complete the country office.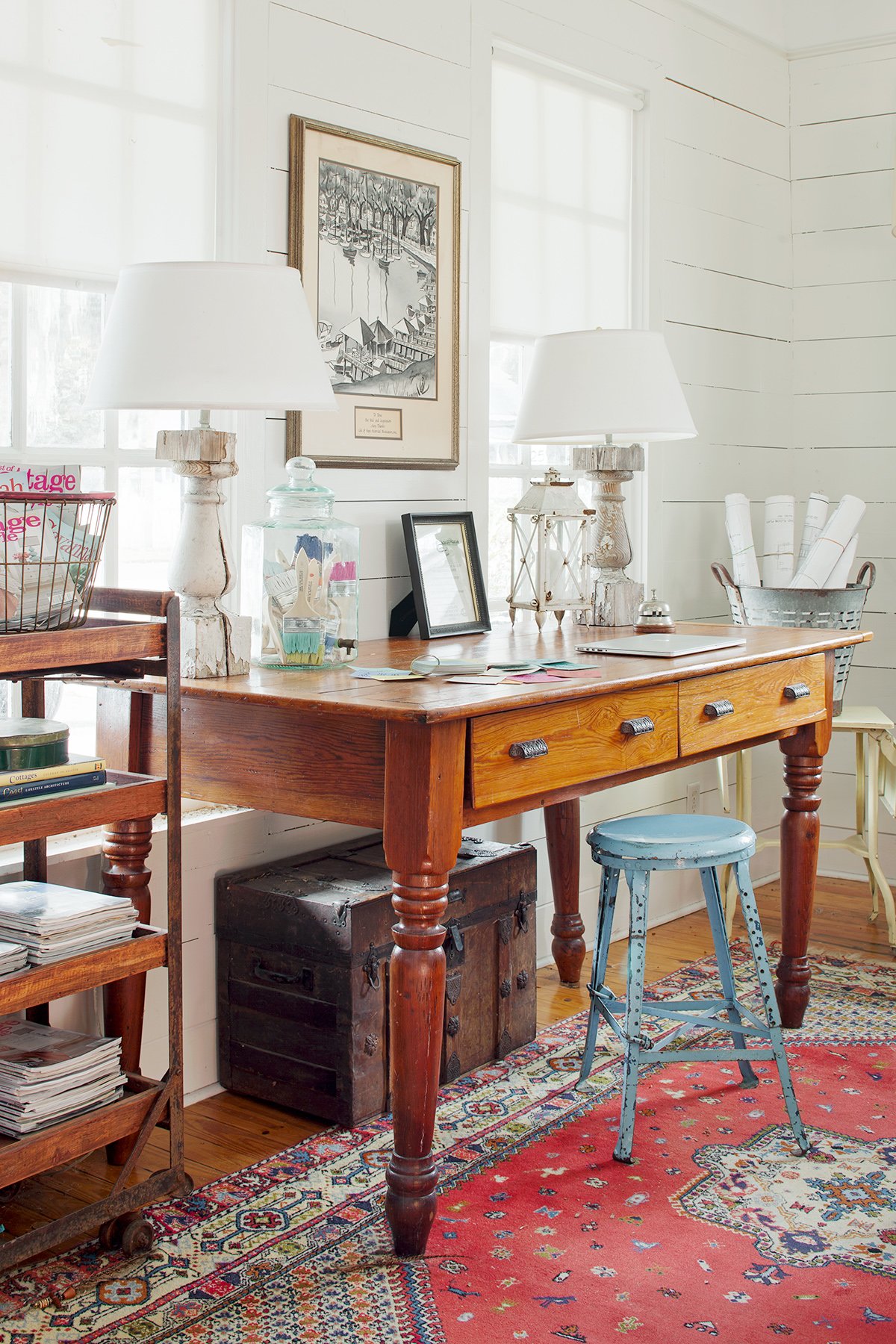 Just Charming

A handsome desk stands as the focal point in this corner office. Deep drawers are at the ready to house office supplies. An antique stool provides a perch for catching up on emails or paying bills. Lamps that resemble old balustrades illuminate the space, adding essential task lighting with old-fashioned charm.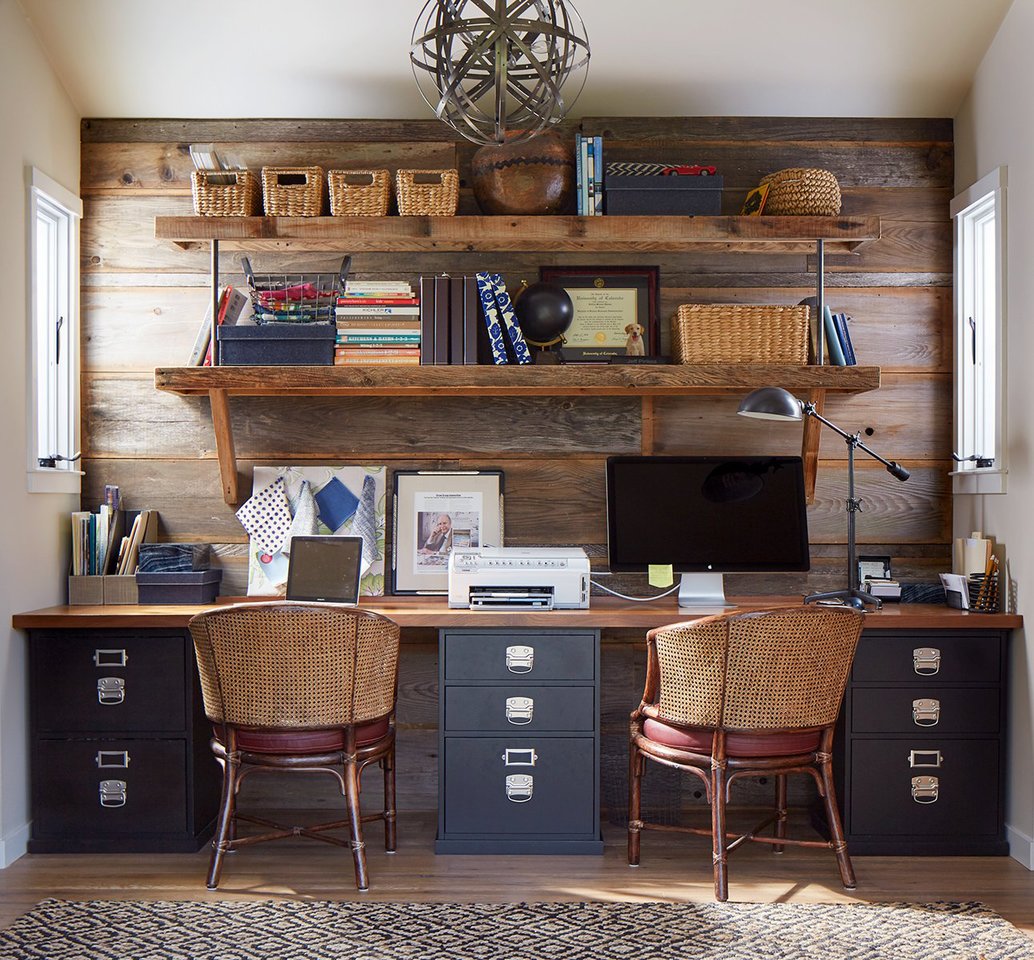 Cabin-Style Office

Office decorating goes cabin-chic in this fully outfitted workspace. Wide, weathered wood paneling sets a rustic backdrop for a wall-to-wall desk. A handsome and substantial set of shelves with rough edges provides open storage for the office. Woven elements, from the baskets to the barrel chairs, contribute texture and a natural touch.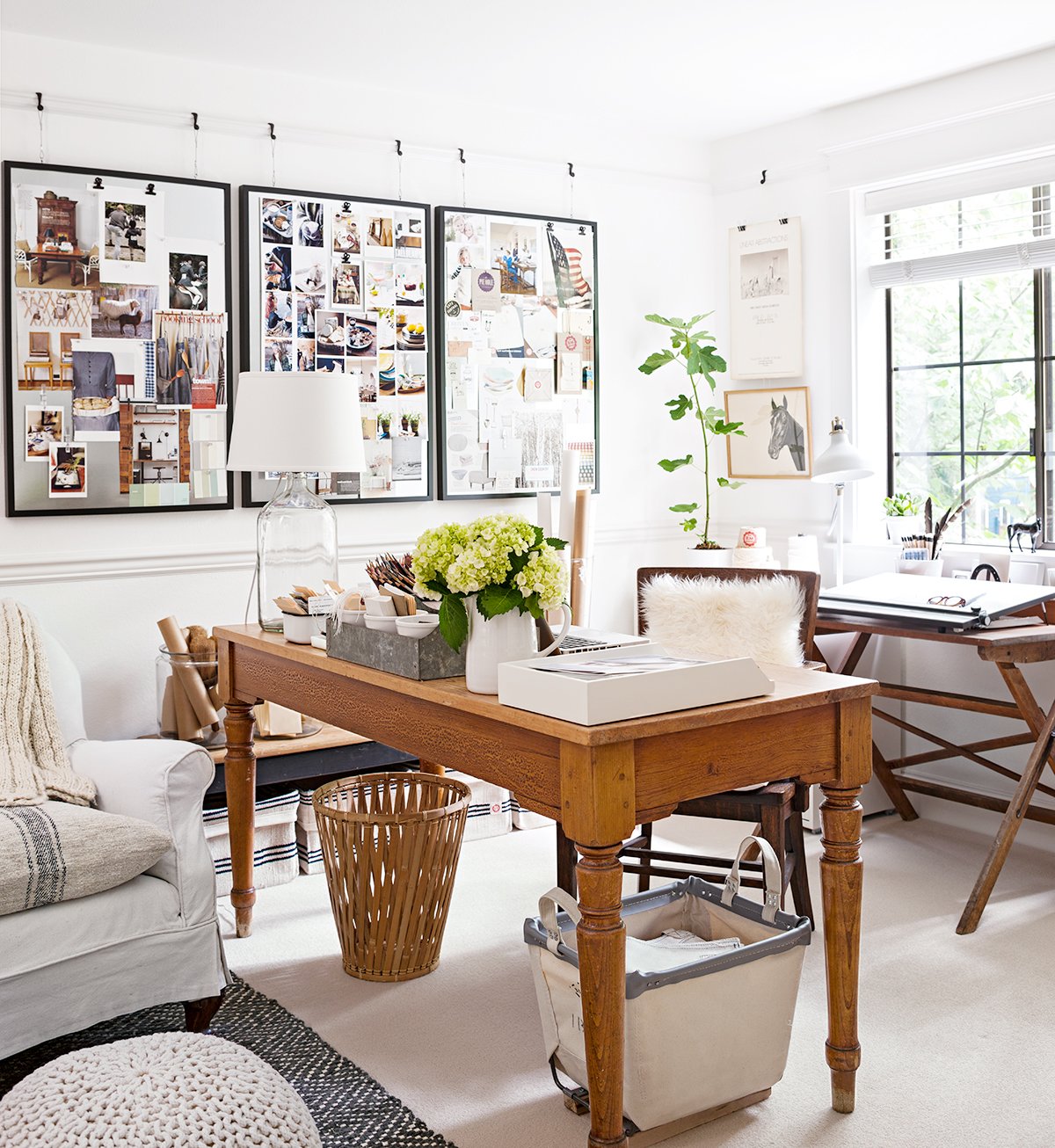 Clean and Tidy

In this office, a timeless take on country proves inviting and functional. A large desk, which once served as a dining room table, anchors the office. Metal and ceramic organizers on the desk reflect simple farmhouse materials, while storage baskets are tucked here and there. For a simple yet necessary office organizer, the homeowner framed pieces of sheet metal and hung the pieces on the wall as magnetic bulletin boards.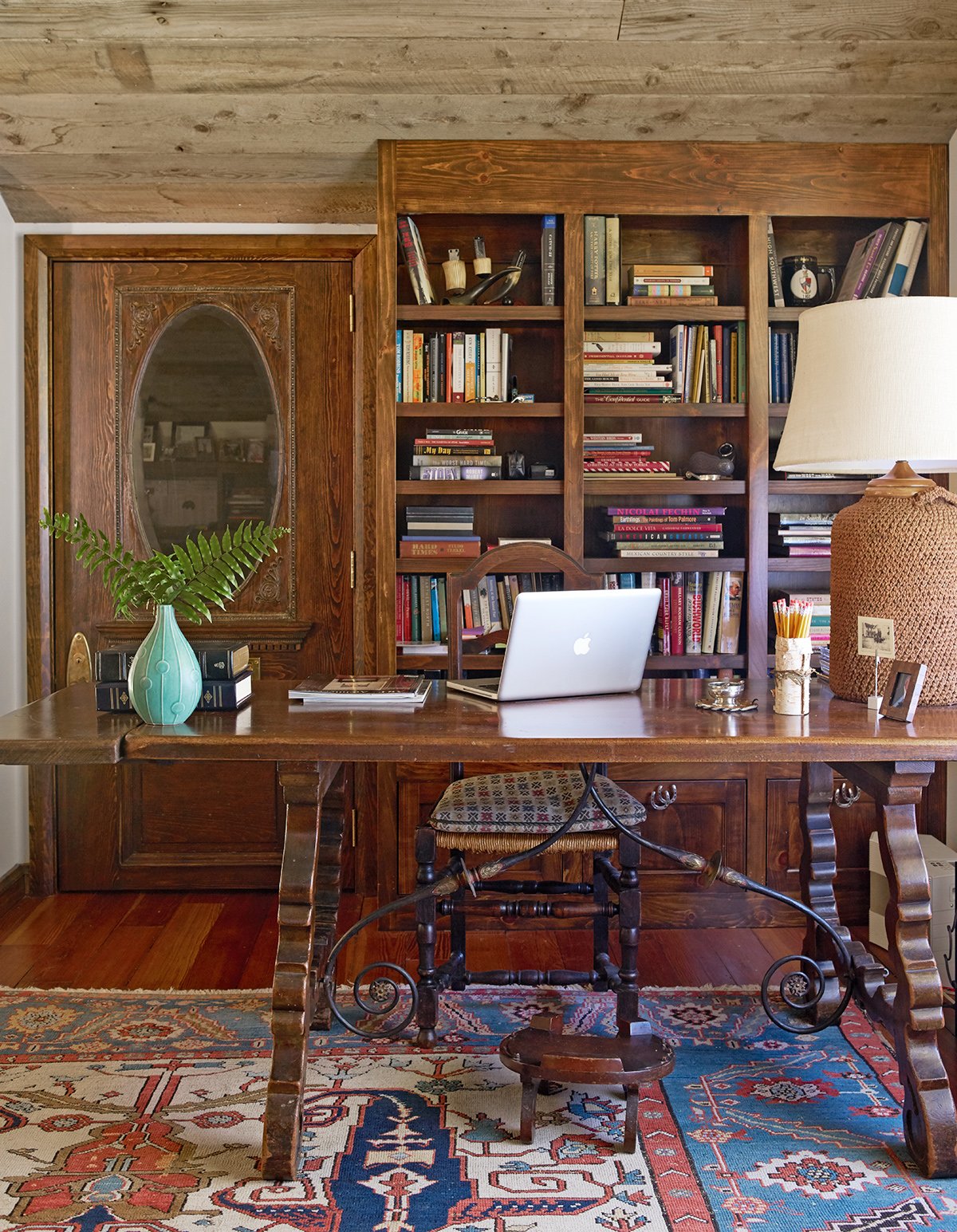 Home Sweet Home Office

In this rustic ranch home, a country office serves as a writing nook. The trestle table and built-in bookcase recall heritage style. Underfoot, a vintage rug adds pattern in a blue, red, and white country colorway. Overhead, rough-hewn wood planks provide a cozy canopy. The oval glass door next to built-in bookshelves is a traveled family heirloom and brings memories to any space it occupies.