Get ready for a summer of entertaining with these fun garden bar ideas. Garden bars are a growing garden trend and they have been bubbling under the surface for a while, but lockdown has pushed this trend right to the foreground. Pubs and bars have been sorely missed, but many made do by creating their own, and searches for garden bars have sky rocketed over the last 12 months.

Now that we're able to host groups of six in our own gardens, and larger groups by the summer, there's never been a better time to find some garden bar ideas to inspire a mini garden make-over.

Plus, with most pub gardens being booked up for the foreseeable, adding a bar to your garden is a great solution for when everything else is fully booked. Cheaper (read: free) drinks and later closing times – what's not to love about a garden cocktail bar or garden pub at home? With this in mind, it's understandable to see why there has been a 293% increase in searches on Etsy for outdoor bars and accessories in the last three months (compared to the same time the previous year).


1. Open up a shed or kitchen window with a hatch and bar ledge

Open up the kitchen with a serving hatch, and add a ledge / bar top for an instant garden bar area. If your kitchen isn't positioned next to the garden then consider transforming your shed instead – a hatch and a ledge is the first step into turning your shed into a garden bar.

Just add some bar stools and serve drinks from the other side.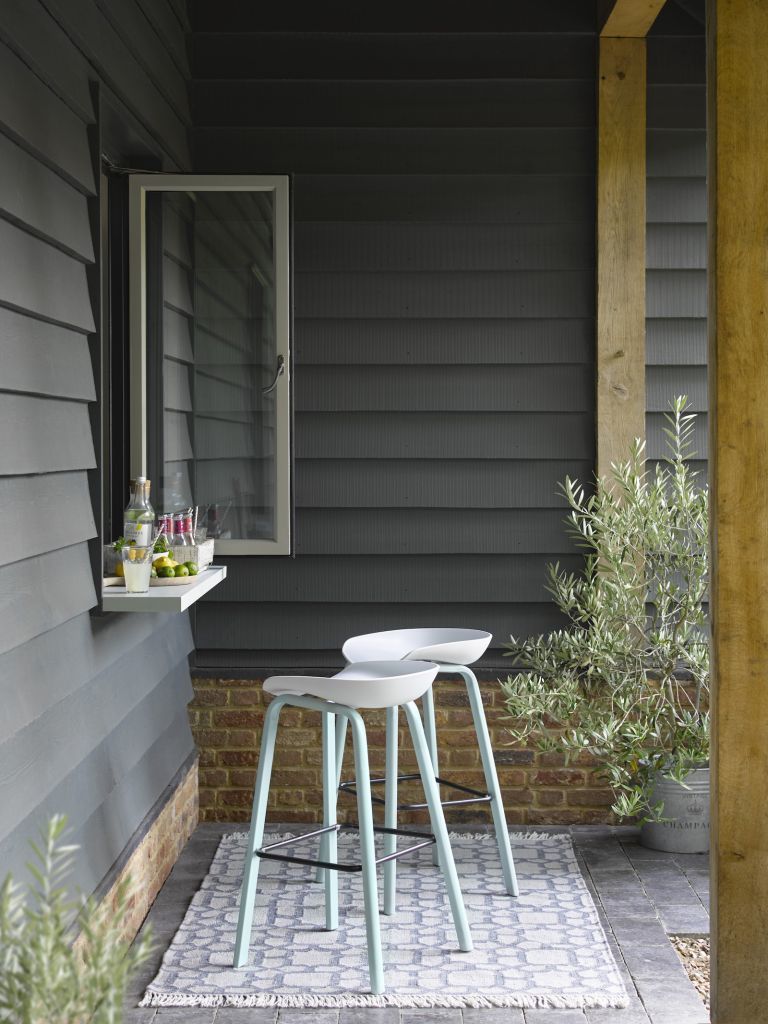 2. Install a Tiki themed bar

If we can't travel to any beach destinations for the time being, then we may as well and try bringing the beach home in any way that we can.

With their finger on the pulse, Habitat have revealed their affordable outdoor bar option, which they call the Beach bar Gazebo (pictured below). Inspired by beach bars, the Tiki style bar features a straw roof, natural finishes plus handy internal shelves for the server to store drinks. Piña colada anyone?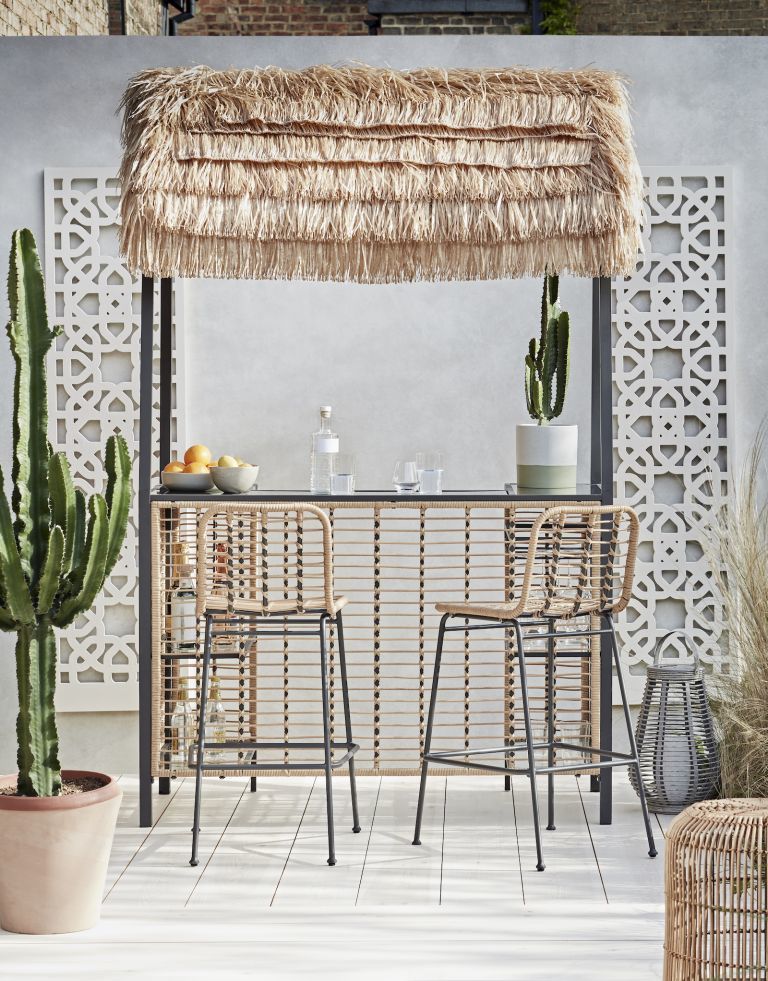 3. Upgrade your outdoor kitchen

Already got yourself an outdoor kitchen set up? Upgrade it with a peninsula island or extended countertop to create a bar at which guests can sit, then install a mini-fridge underneath to keep drinks cool.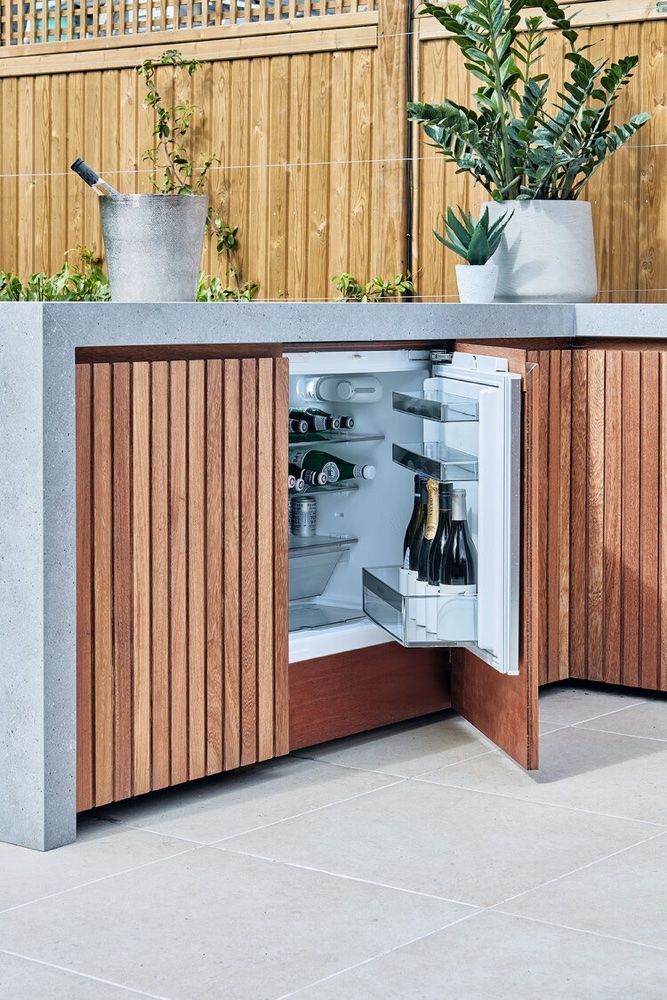 4. Go all out with an outdoor cocktail bar

Take a leaf out of Carly Madhvani's book and entertain in style with an outdoor cocktail bar. Her team at NW3 interiors installed a striking cocktail bar area for this Grade II listed Victorian home in Hampstead's Belsize Park. When it comes to throwing garden parties, you could either do the cocktail shaking yourself or hire someone to put on a cocktail making show or masterclass. There's plenty of room at the bar to seat a group of guests, making it a destination in its own right (rather than just a ledge to collect a drink and leave).

Think about key components first, such as an outdoor wine fridge or sink, then build the bar around these. You'll want to choose materials that can withstand year-round exposure, like a well-sealed natural stone top and treated wood cladding.


5. Upcycle a potting table

Upcycle and repurpose an old potting table or even a small French dresser and turn it into a bar area. Treat the wood with a weatherproof coating and weatherproof paint, then use storage for plastic glassware, drinks dispensers and cocktail tools.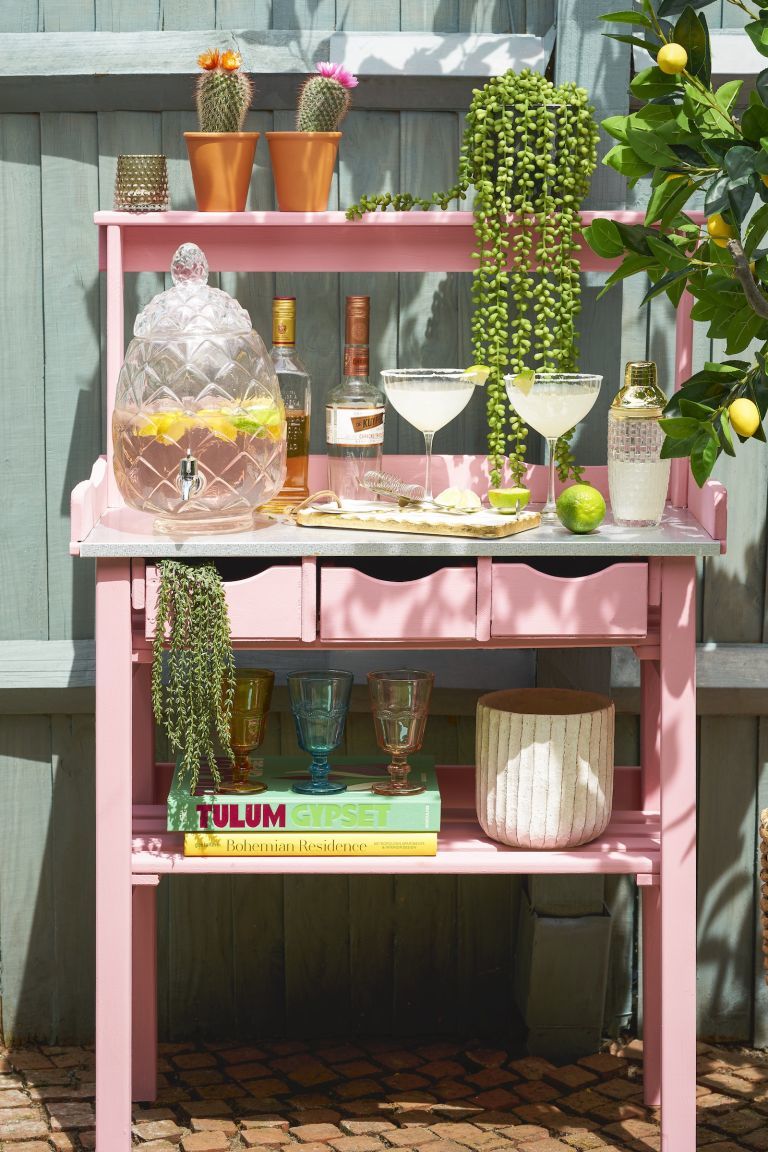 6. Opt for a wall-mounted option to save space in small gardens

As the weather can be pretty unpredictable, you may choose to create a bar that's a little less permanent, or doesn't take up too much space.

You'll find lots of wall mounted options online, like the below bar from Etsy, or you could try your hand at making one yourself.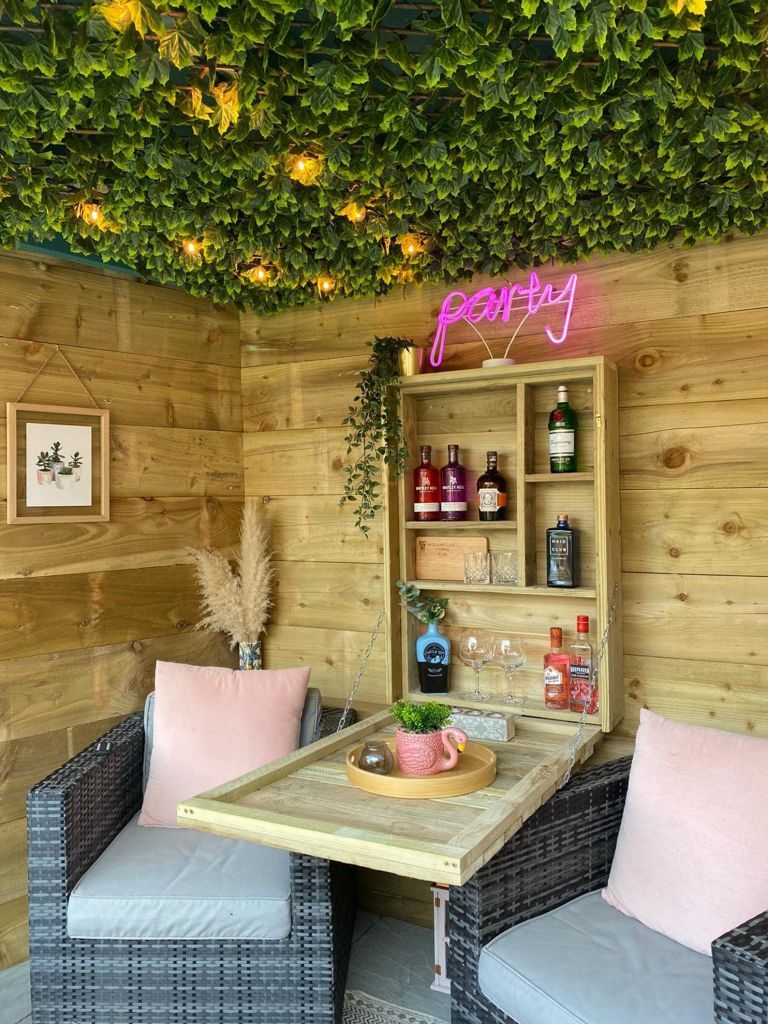 The depth is just enough for storing bottles and glassware, and the drop-down table top folds back up to free up space and store everything away. It's a great solution for a balcony, small garden or courtyard.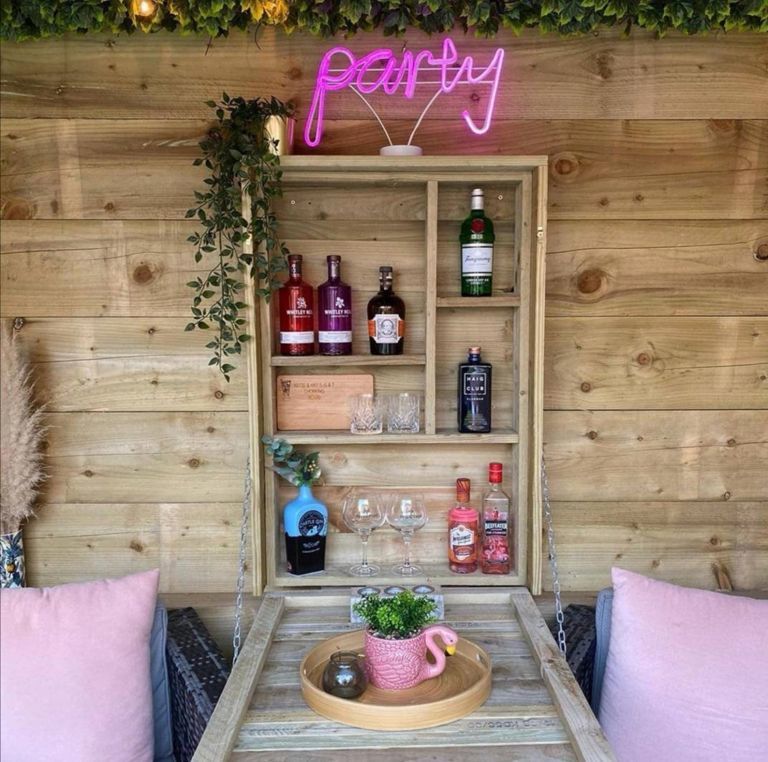 7. Get yourself a tall bar table and bar stools for a fuss-free approach

To keep things easy and simple, store drinks and glassware in the house and only bring them out when you have company. Instead, focus on creating an outdoor seating area that has a bar feel – like Olympic skier Gus Kenworthy did in the roof garden of his Hollywood bachelor pad penthouse.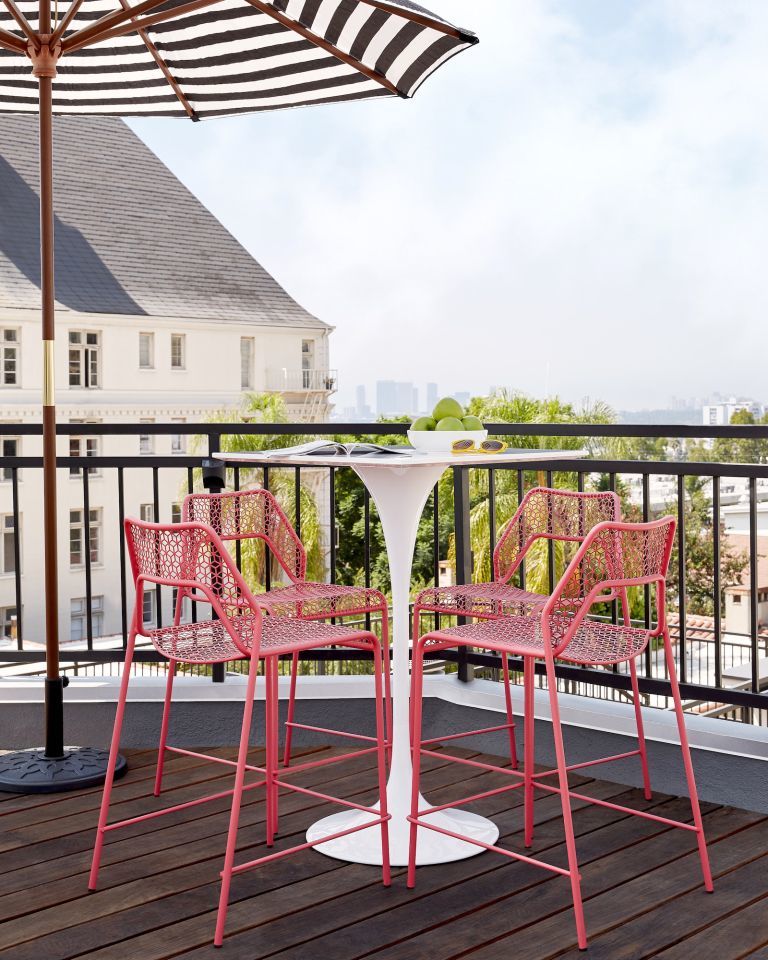 8. Find outdoor furniture with a built-in wine cooler

Invest in an outdoor table that can serve drinks and keep them cool, as well as provide enough surface area for plates and glassware.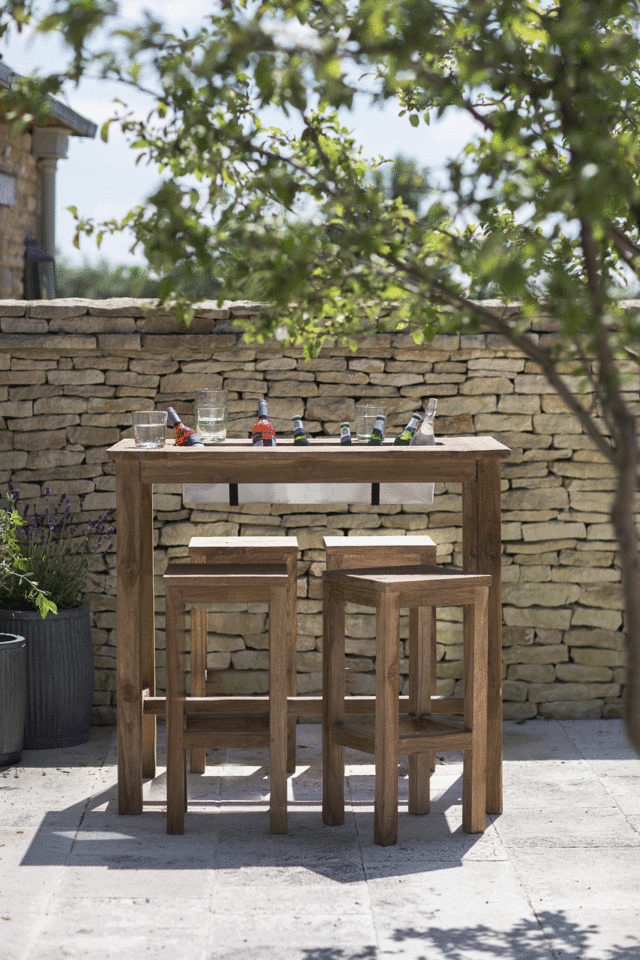 The below outdoor table and chairs is a great option for larger gardens. It takes up a little more space but seats more people and leaves plenty of table space for alfresco dining too.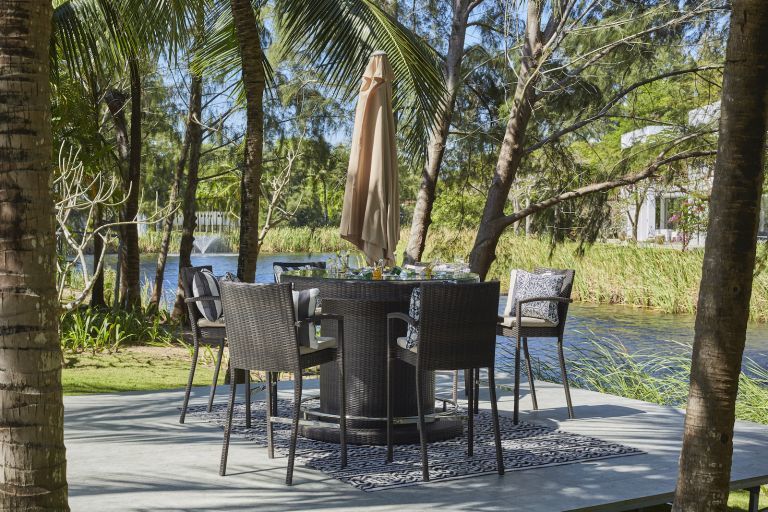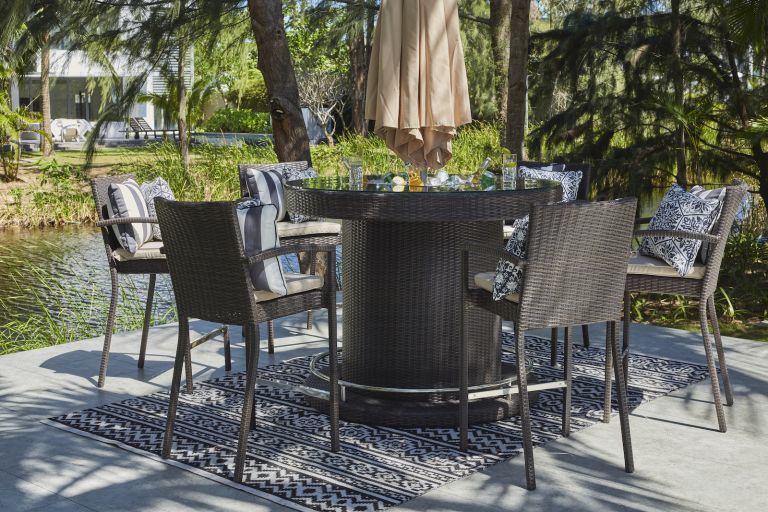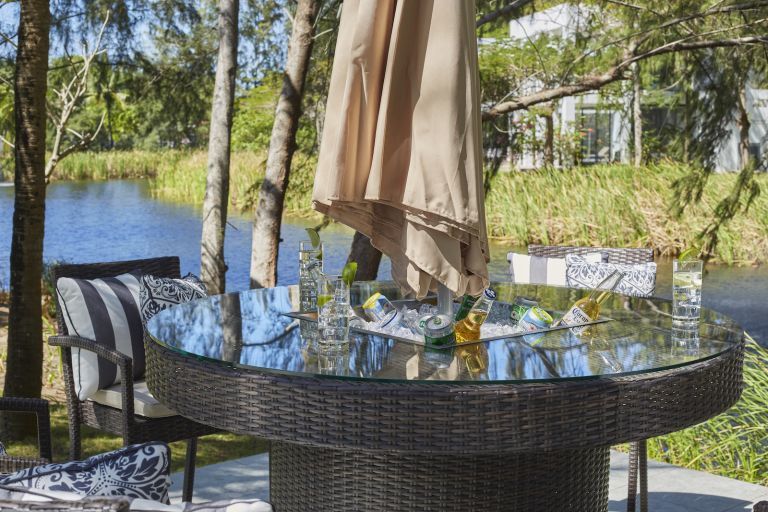 9. Can't decide on a look? Play it safe with greys

Opt for cool greys or earthy tones for a timeless look that's also on-trend. You can always add pops of colour with your glassware and accessories.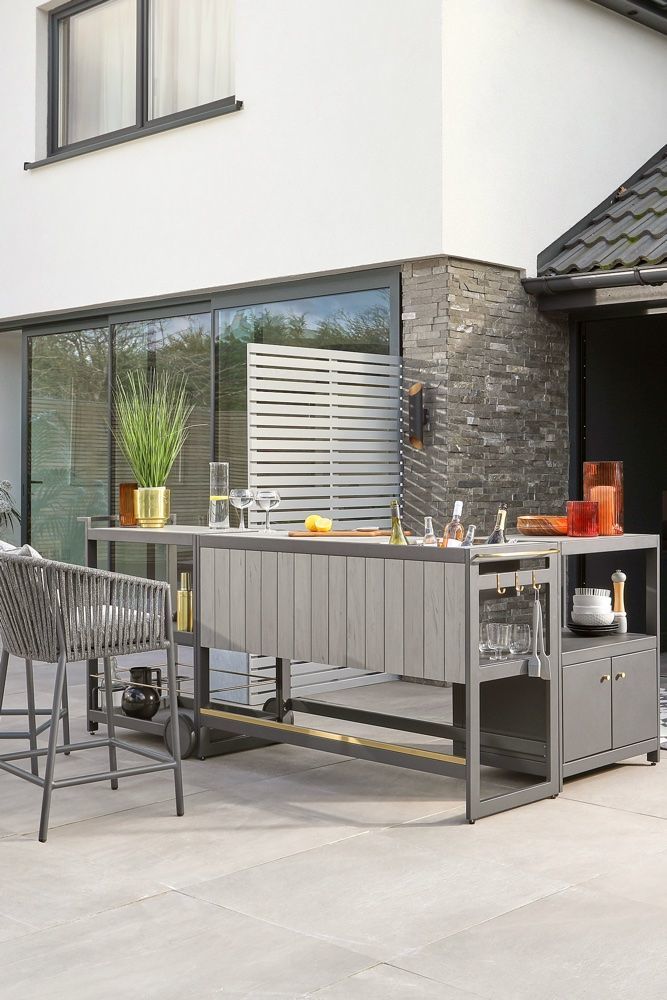 10. Build a simple tall table structure then fit in seating underneath

Set up a bar and bar stools close to your kitchen (or outdoor kitchen) to create a relaxed, informal socialising space for family and friends. This means you can also easily entertain while you cook, too.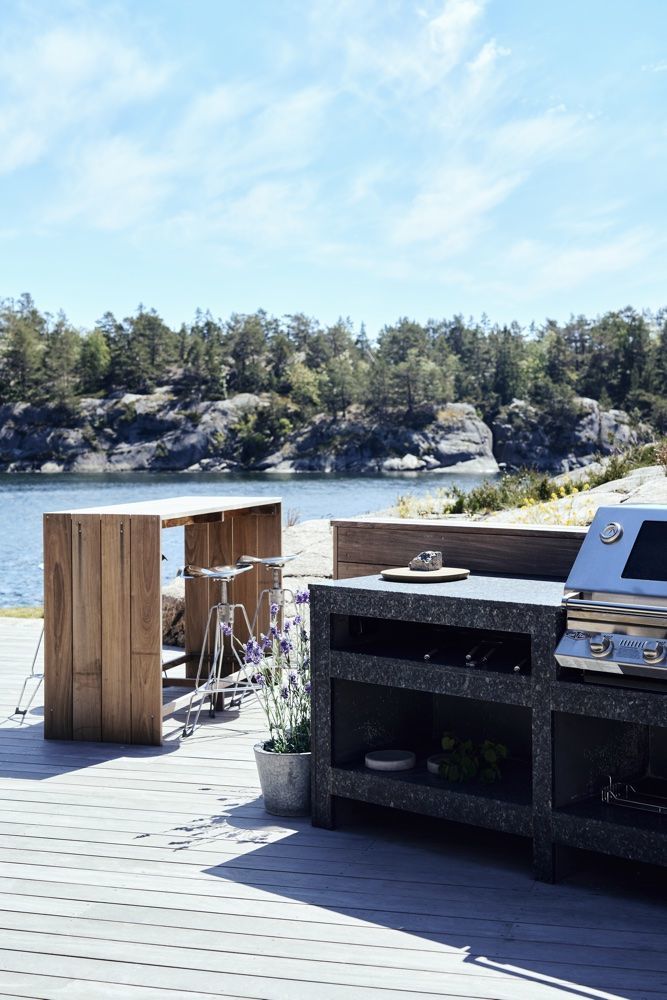 11. Create a covered area to get more use out of it

The English weather is nothing if reliable (yes, we know there'll always be rain) and getting drenched while you're cooking is no fun. Invest in a roof to shelter your garden bar area, so you can get the most out of this space.