Conjure the beauty of faraway locales without venturing out the door. Florida-based designer Caitlin Deasy Kah of Kemble Interiors lays out the essential decorating elements-think vibrant colors, seagrass accessories, nature motifs, and ocean inspiration-for rooms that feel like a permanent vacation. Pick a tropical color palette with bright blues, greens, and corals, or turn to natural elements like shells, rattan, and small-scale florals.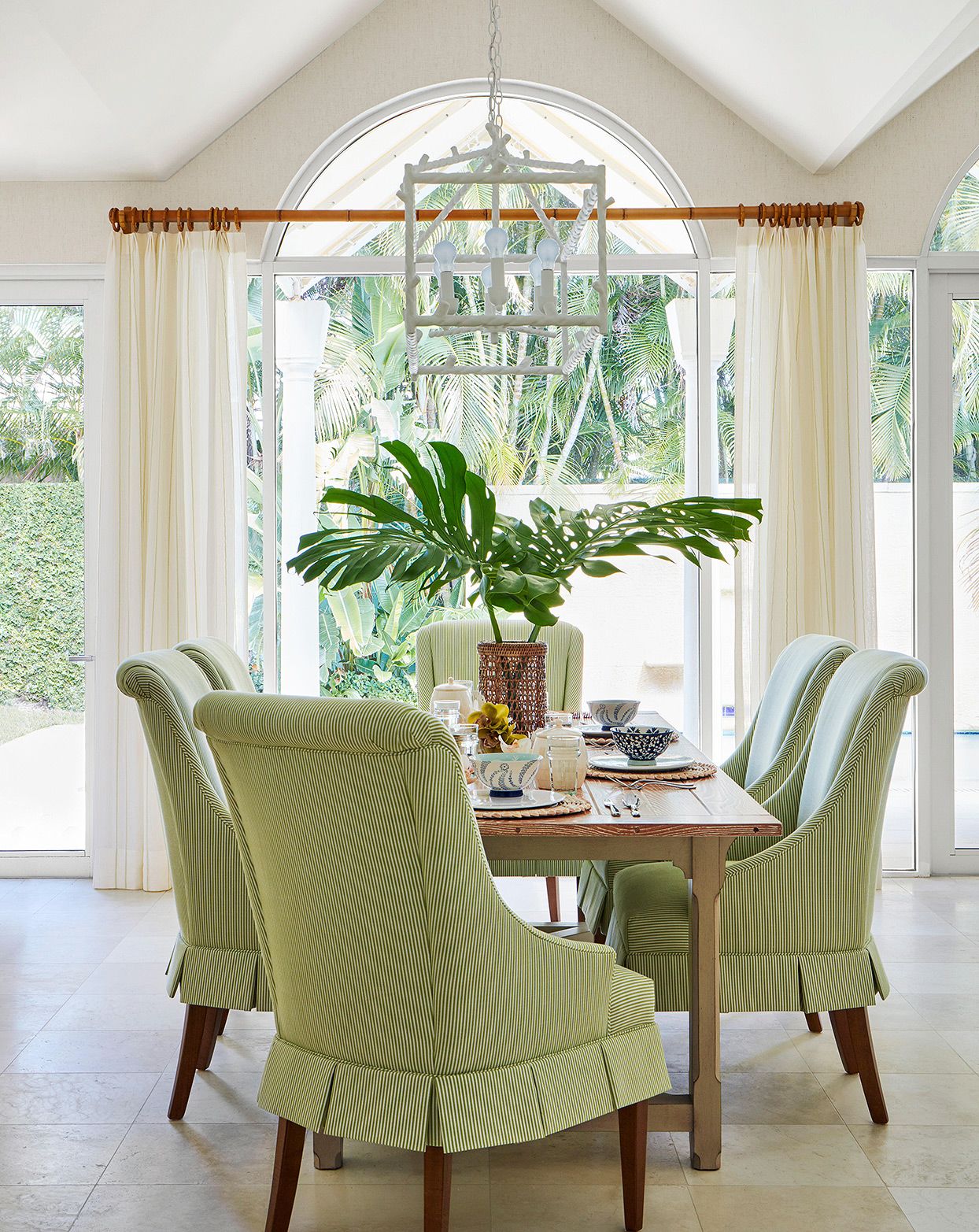 1. Lush Greens

If there's one defining characteristic of tropical style, it's the verdant green hues of jungly foliage. This Palm Beach dining room channels the palm trees outside with chairs upholstered in a hazy green ticking stripe. A more literal move: Cut monstera leaves add high drama on the table. Faux palm fronds-now more realistic-looking than ever-work too.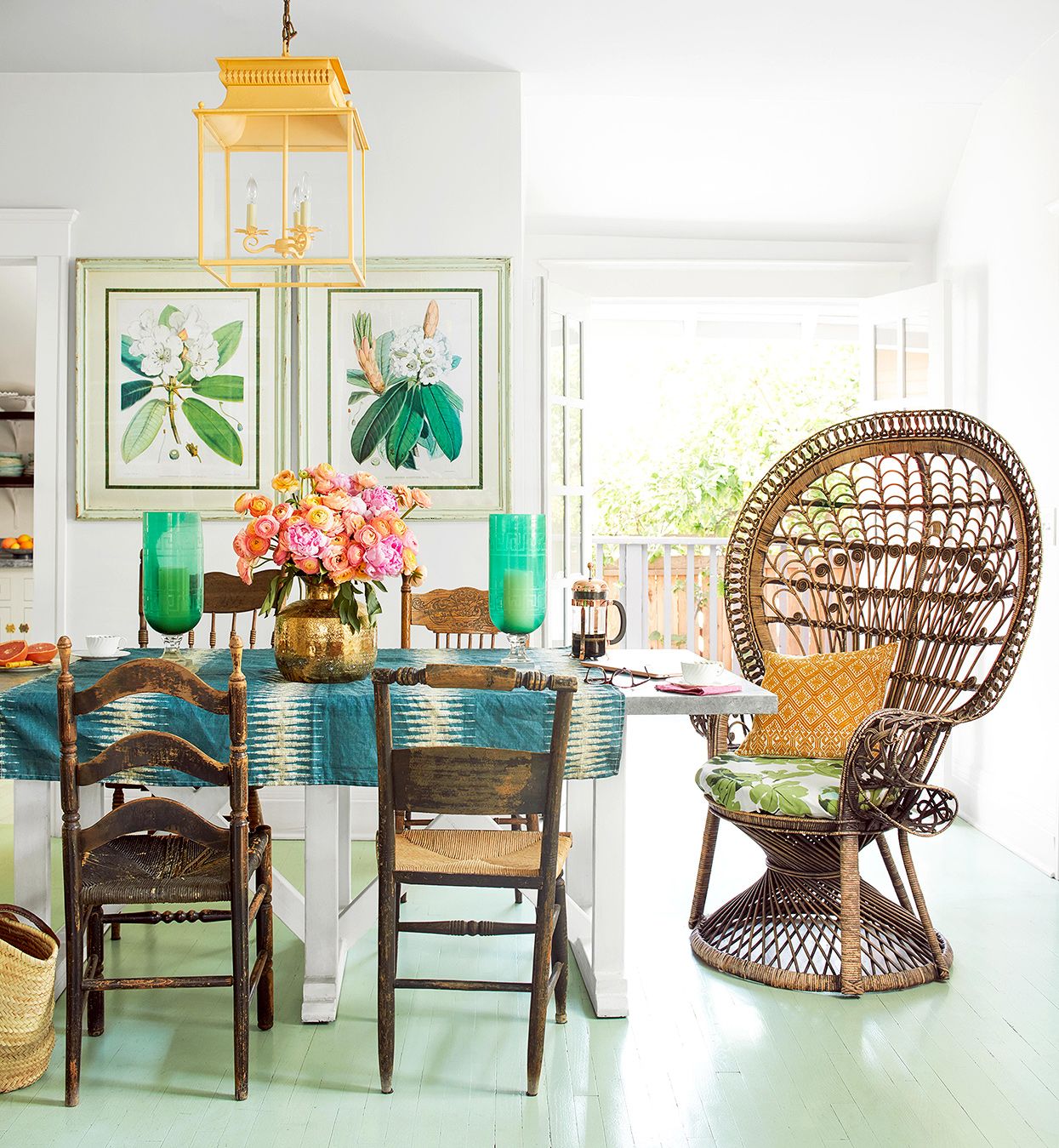 2. Natural Fibers

The roughness of woven elements brings an informal air to tropical-style rooms. Seagrass wrapped around accessories brings in the casualness of outdoor living, and braided abaca emphasizes the tropical feel. Bamboo-inspired elements are another hallmark of island style, while natural-fiber rugs like sisal, jute, and seagrass have a tactile look and feel ideal for barefoot living.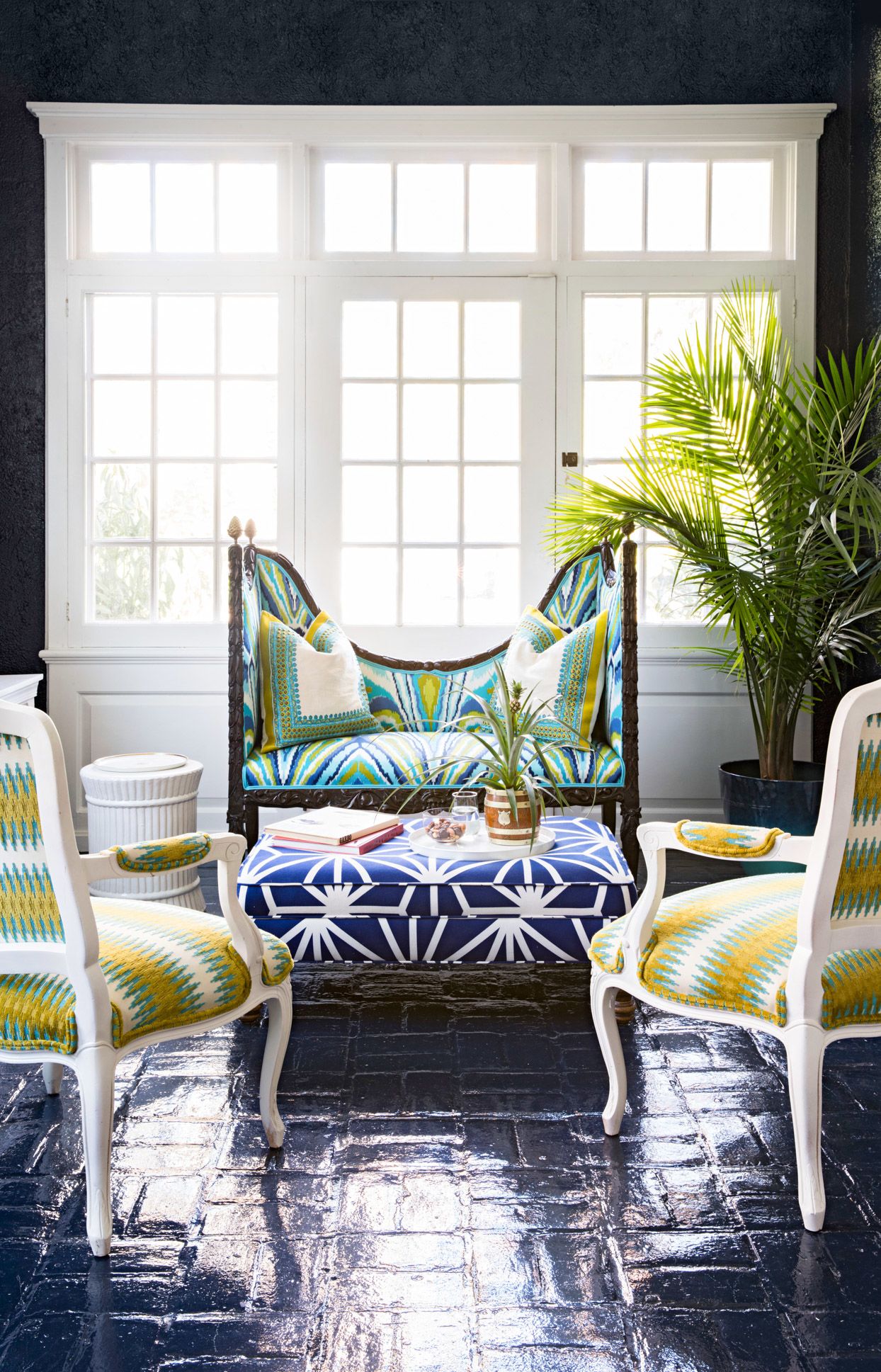 3. Ocean Blues

When choosing a color scheme, draw inspiration from the ocean. Whether pastel sky-blues or rich, dark navy, blue hues are a staple of tropical style. This sitting room blends daring greens, citrus yellows, and ocean blues for a brilliant tropical color scheme.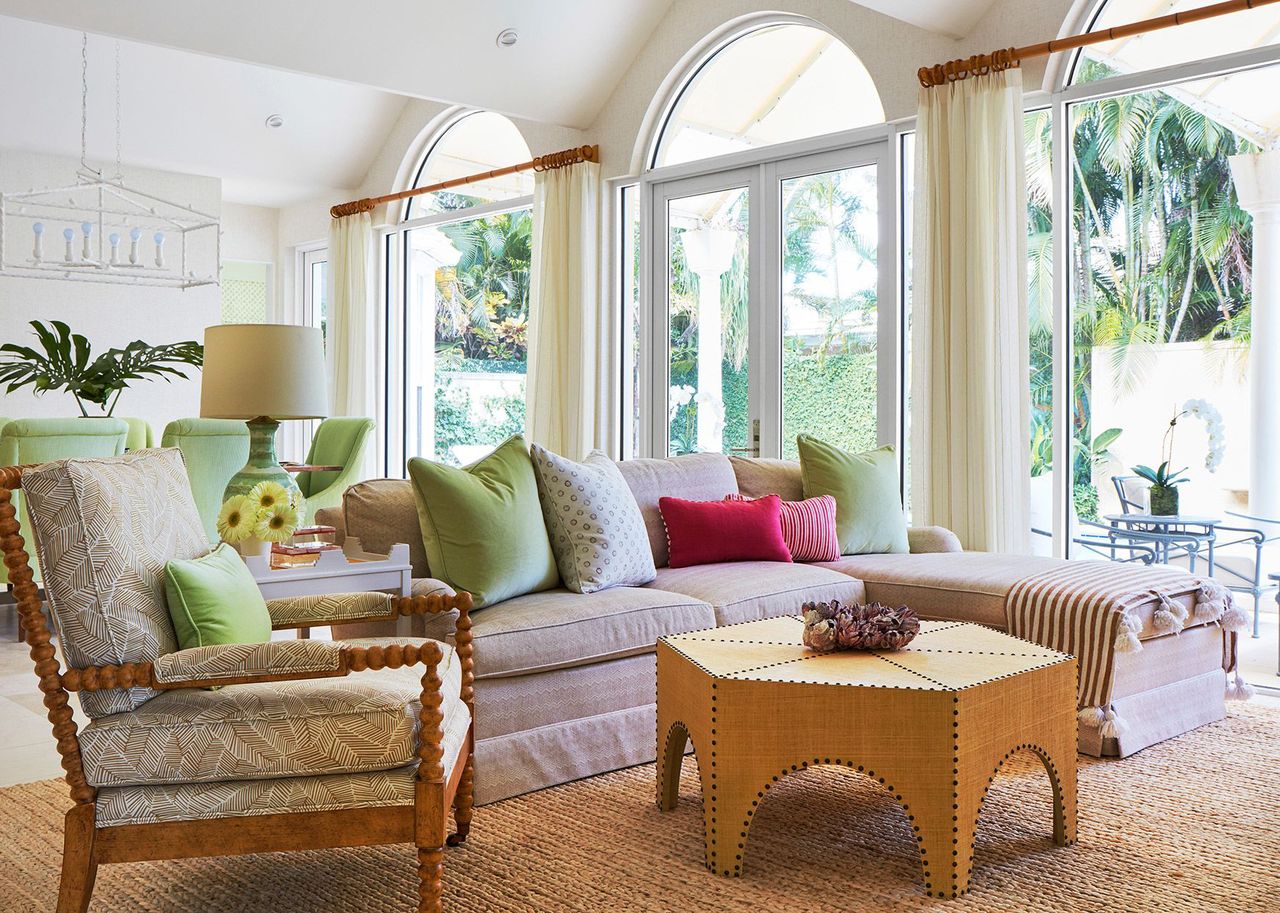 4. Casual Comfort

The breezy feel of coastal homes is designed to set people are ease. Kah reinforces the call to relax with plush furnishings in high-performance fabrics, gauzy curtains, and pillows in postcard-perfect pastels. Nature's elements like raffia and rattan create a sensory connection to the outdoors.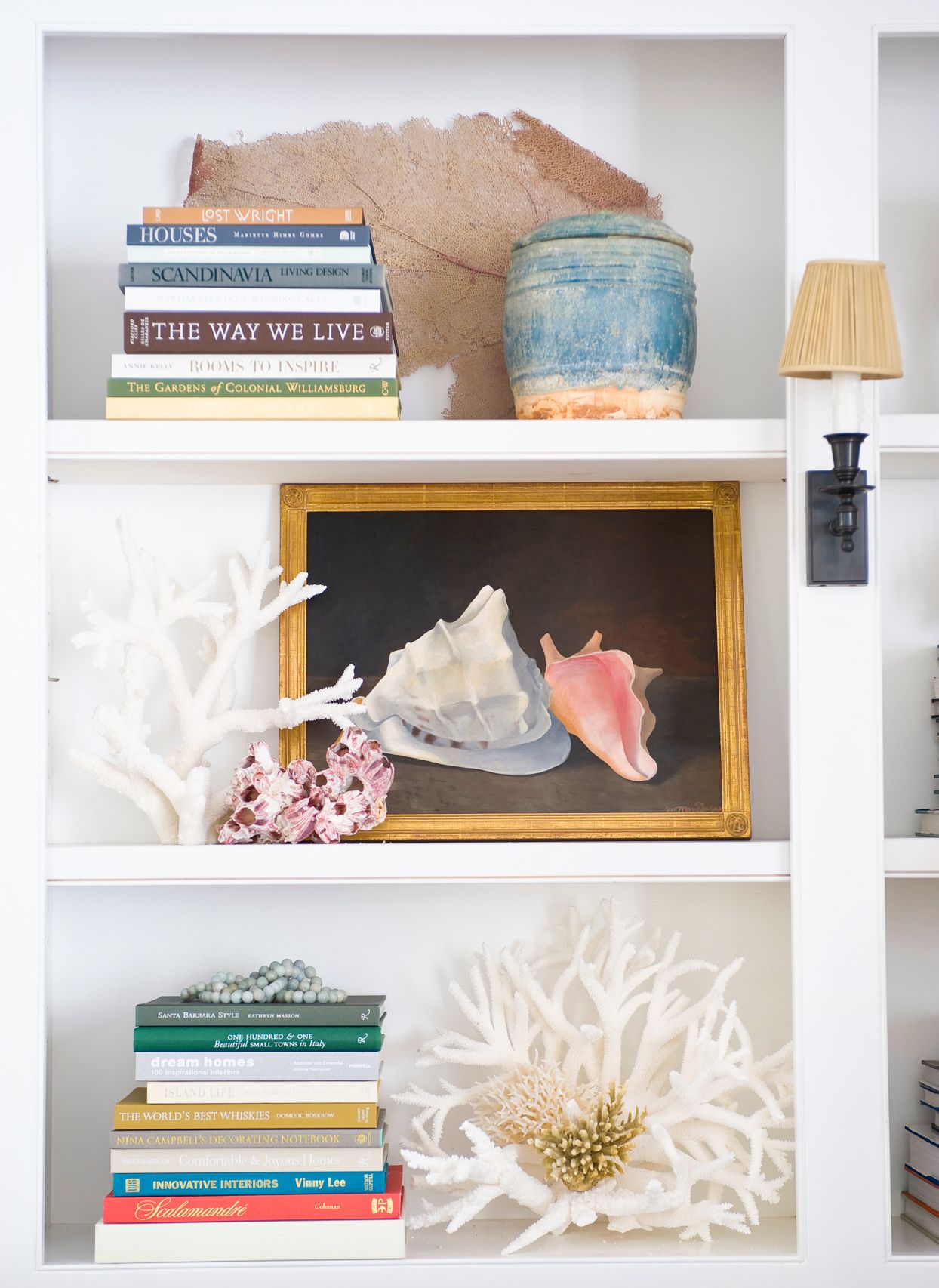 5. Sea Motifs

Do you have a drawer filled with beach vacation mementos? Put them on display. Accents that reference ocean life are a natural part of tropical style, but Kah prefers less expected finds, such as a barnacle cluster on a cocktail table or shell-encrusted votives on a bar cart.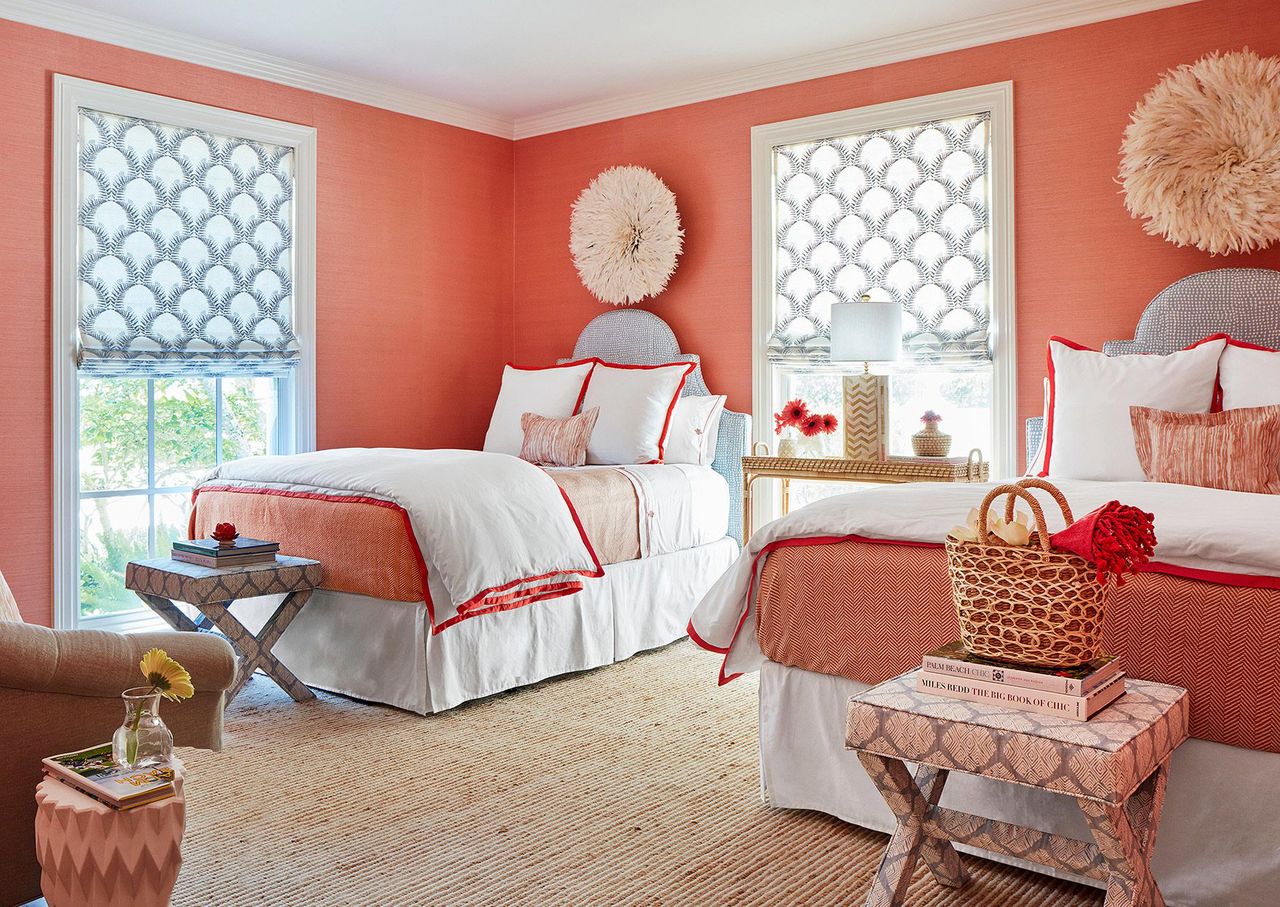 6. Vibrant Coral

The color of fiery sunsets and hibiscus flowers brings to mind sunnier climates. Kah used lavender as a cooling counterpoint in this guest bedroom. Delicate curves, including the scallops on the window shades, soften the lines of the room. Steal inspiration from the produce section for additional tropical color palette ideas. Lime, mango, avocado, and juicy papaya are perfect for adding color and interest to your home.


7. Sandy Shades

It's impossible not to be relaxed on the beach. Re-create the setting by combining soothing sea blues with warm sandy beiges in varying textures, as Kah did with the grass-cloth wallpaper and matchstick blinds in this relaxing bedroom. The abstract floral pattern on the headboard is an exotic element in the otherwise quiet space.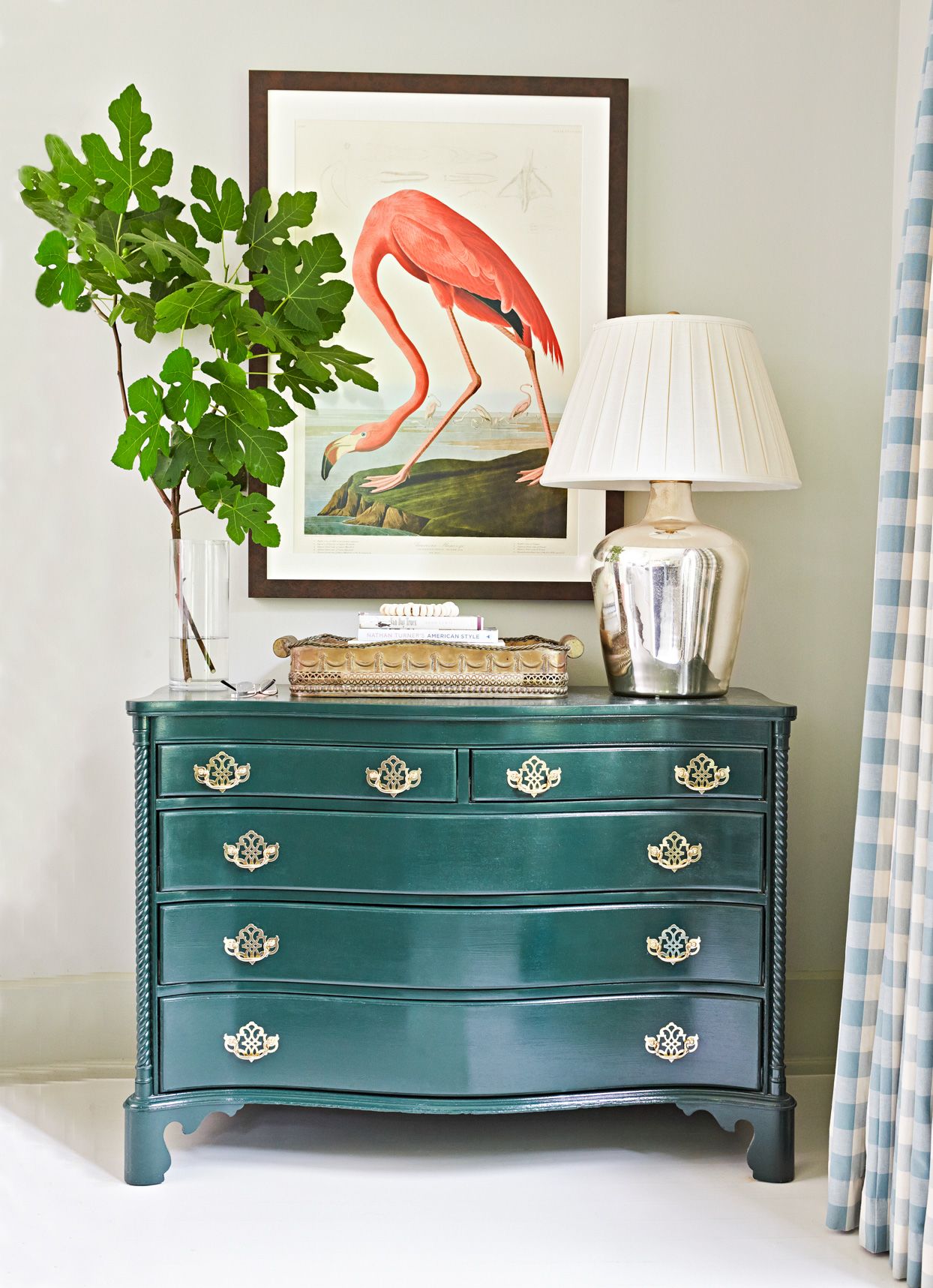 8. Coastal Wildlife

Wall art showcasing the wildlife of faraway locales is an easy way to incorporate tropical flair. This oversize vintage flamingo print contrasts a teal dresser and verdant greenery. Get the look with artwork featuring tropical life, like toucans, parrots, turtles, or colorful fish. Hang your artwork above a mantel, lean it on a bedroom nightstand, or display it above an entryway table for a quirky accent.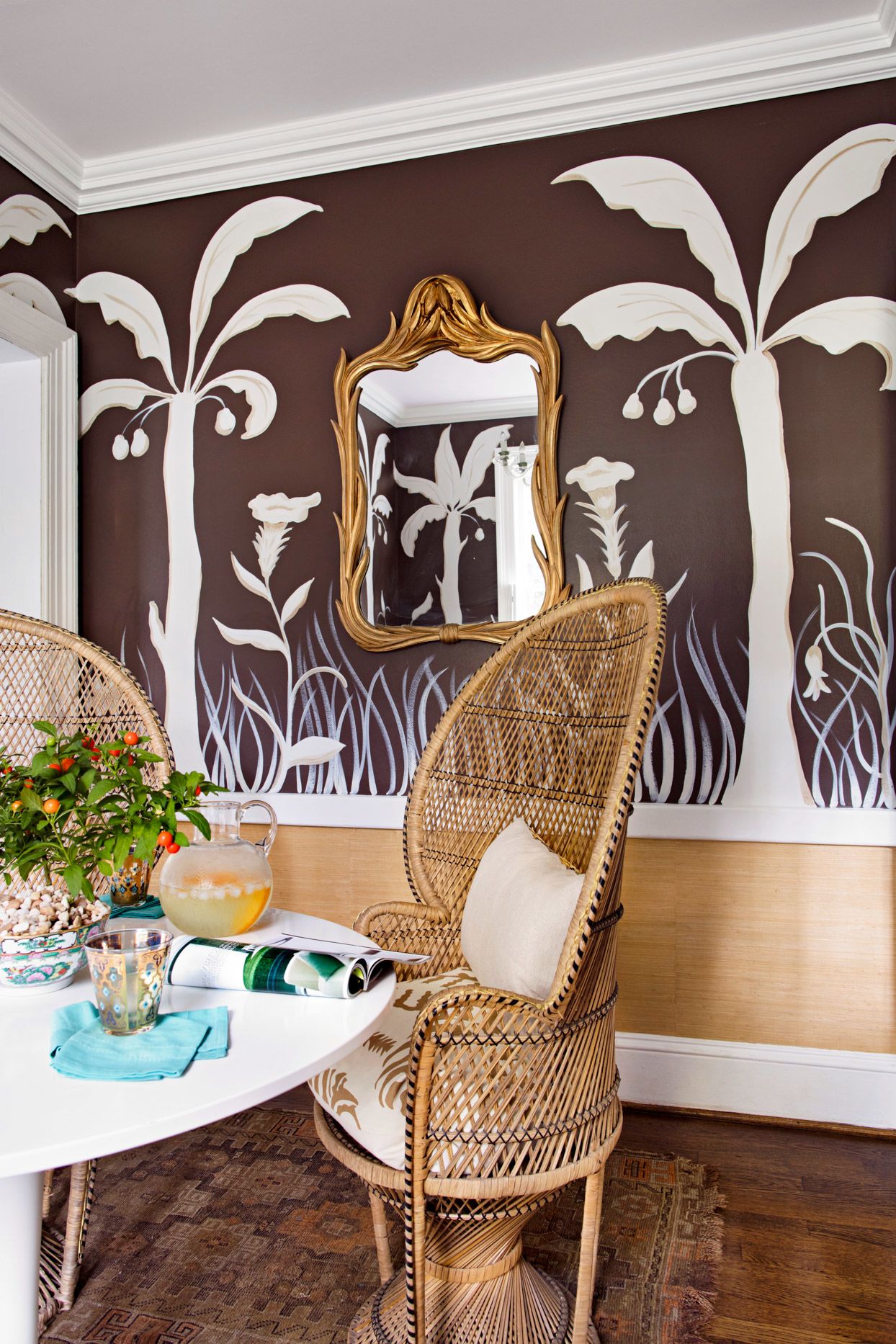 9. Palm Trees

Palm trees instantly evoke the laidback atmosphere of your favorite tropical locale. A mural or graphic wall covering lets you add the warm-climate staple anywhere in your home. This casual dining room features two tropical wall treatments: a lower section of grasscloth and bold wallpaper with white palms on a rich chocolate-brown backdrop. Rattan dining chairs complete the island look.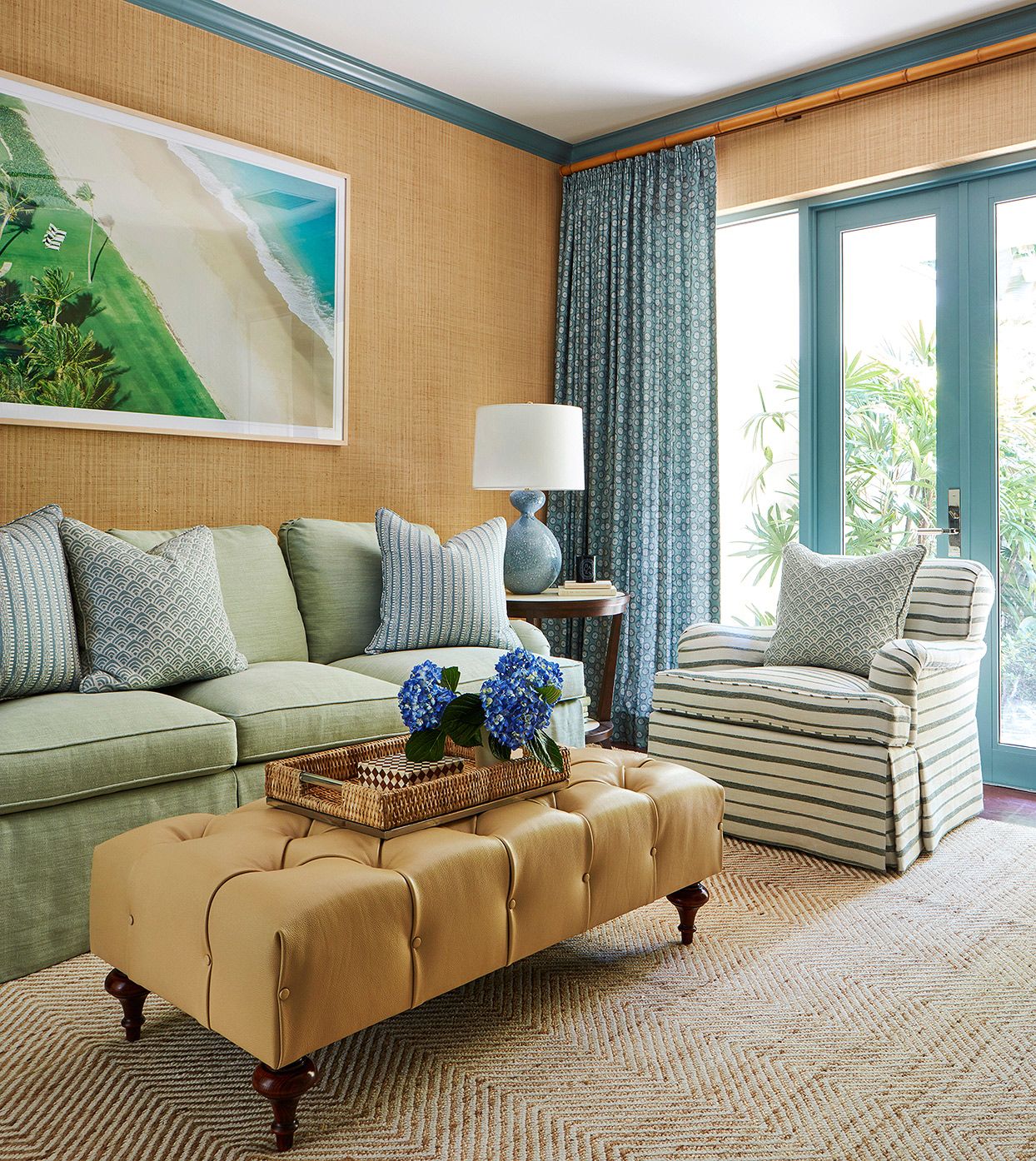 10. Nostalgic Touches

Look to the past for tropical decorating inspiration. Designed to evoke the lived-in feel of an Old Florida beachside cottage, this den features a mix of small-scale florals, wave prints, and stripes. The nubby grass-cloth walls contrast glossy blue trim. A lamp topped with a burlap shade takes it in a beachy direction.