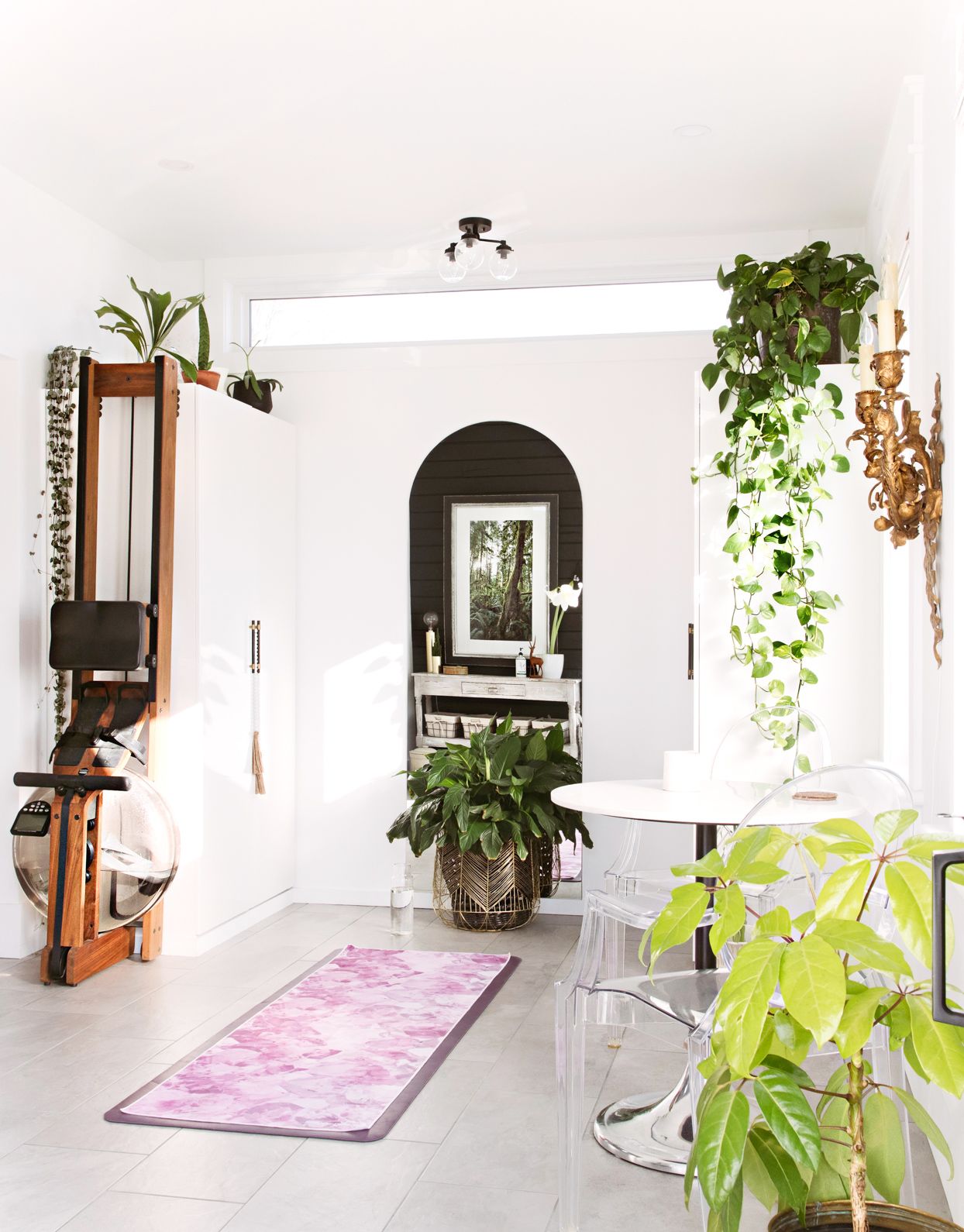 Entryway Workout Area

Small-space design tricks help this hardworking foyer double as a zen home gym. Freestanding cabinets on either side of the room incorporate much-needed storage. To make the space look larger, Camille of Jonetsu kept the furniture and wall colors similar. A rowing machine gets stored vertically against one cabinet when not in use. A mirror incorporates plenty of natural light, and transparent chairs at the window coffee nook also help the home fitness area feel bigger. And there's still plenty of room to pull out the rowing machine or practice yoga.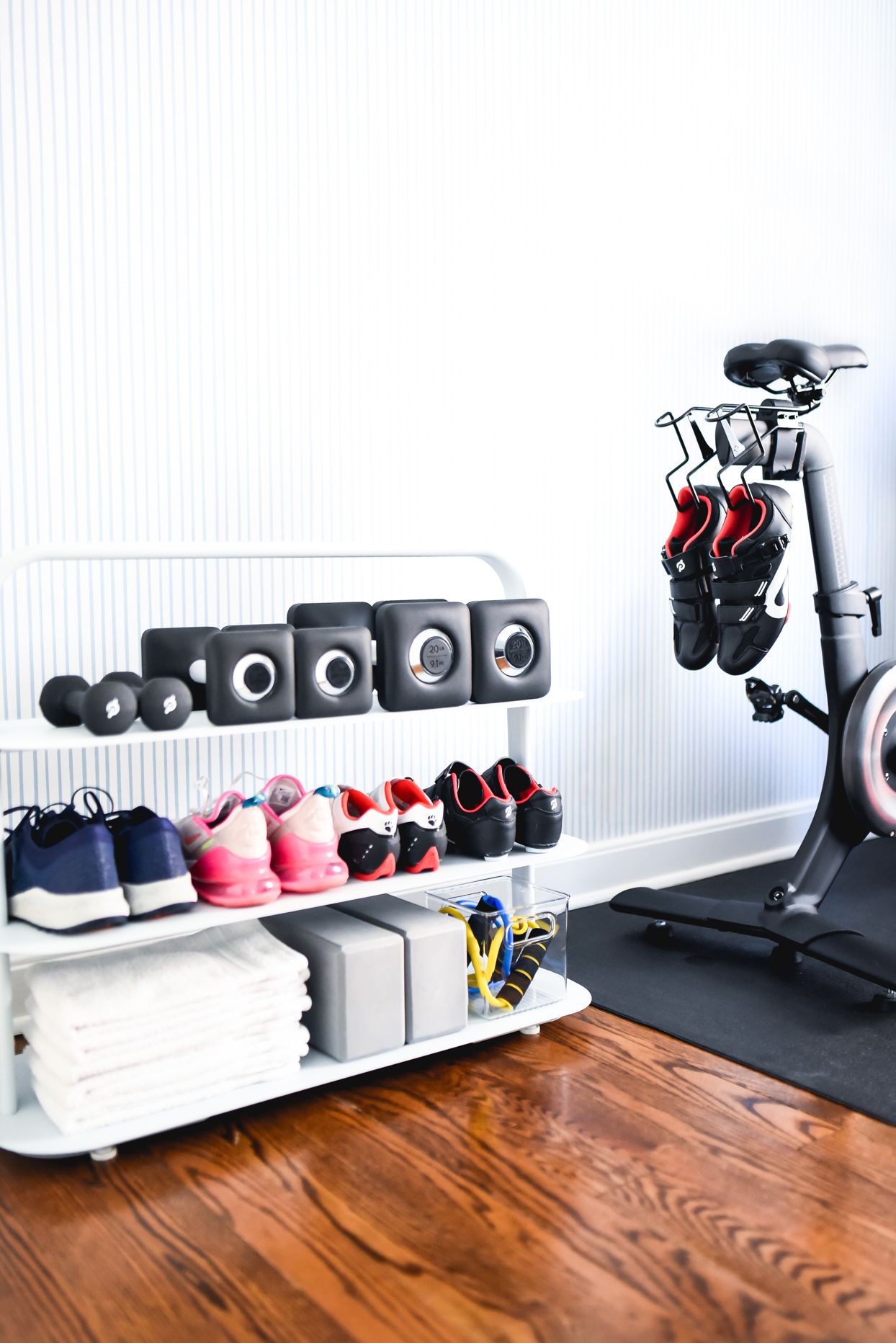 Convenient Exercise Equipment Storage

If your home gym gets frequent use, consider open storage so it's easy to grab what you need (and put it away when done). Blogger Sincerely Sara Meadows combatted the sprawl of a growing collection of fitness accessories with an entryway storage rack. The unit is deep enough for weights, shoes, and yoga blocks, and the tiered shelving allows for storage in the small available space next to the bike. Plus, it fits the aesthetic of her home office, which shares a room with the fitness nook, so it's not a distracting eyesore when she's working.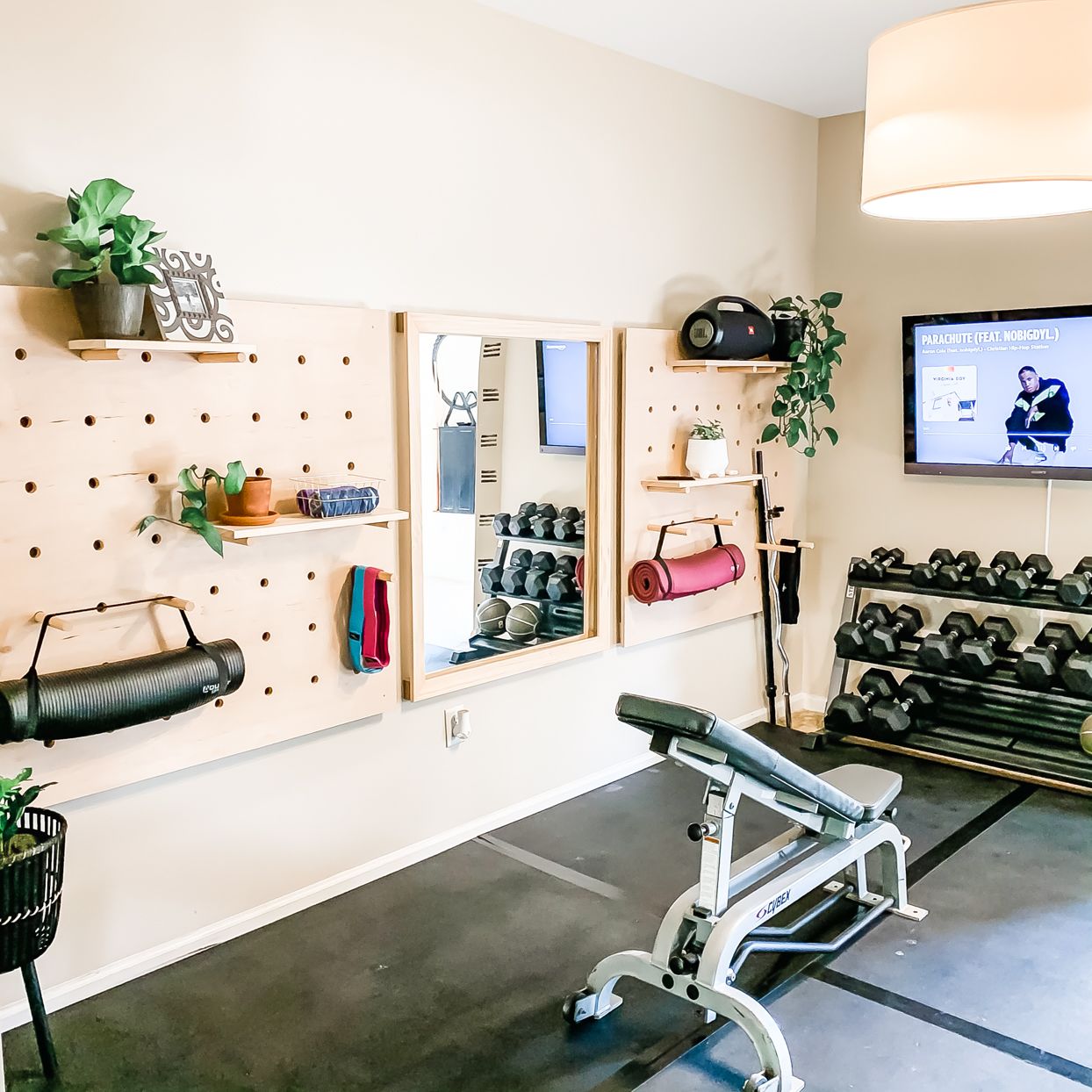 DIY Pegboard Gym Wall

To make the transition from a formal dining room to an energizing home gym, Lisa of Wildfire Breaking Free created DIY modular pegboard units to hold the bulk of their exercise equipment. Wood trim around an old frameless mirror and puck lights above and below the pegboard complete the look for a studio feel. A simple painted pattern on the opposite walls is a stylish touch to cap off the gym's totally custom look that was accomplished without any structural changes.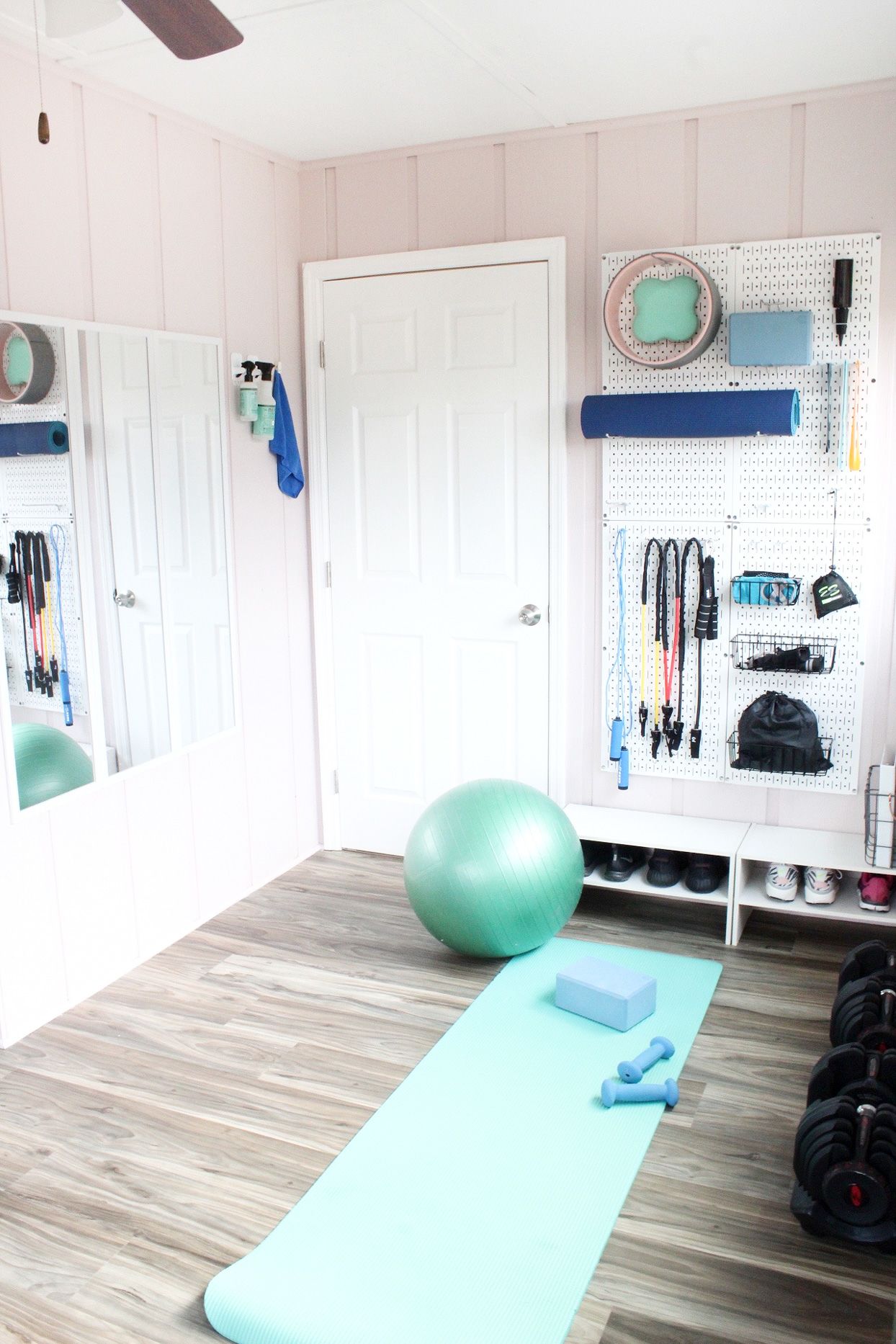 Adjustable Home Gym Storage

If at-home fitness is new to you, create a space that can adjust as you learn what works best for your needs. Simple accessories and storage solutions that can be easily reconfigured are the stand-out features in this refreshed 1970s porch makeover by Lela of Organized-ish. Although the steel pegboard is securely mounted to the wall, the hooks are adjustable. The mirrors and spray-bottle hooks are mounted with easy-to-remove adhesive strips, and the shoe organizers can be moved elsewhere in the room or stacked for vertical storage.


Under-the-Eaves Fitness Space

Designing a home gym around eaves can be tricky, especially in a room that requires free movement. This upper-level home gym uses the space impacted by the roof incline for storage and a TV. Fitness equipment angles accordingly and the rest of the layout allows open space at the center of the room. Minnesota-based Lands End Development designed a dedicated workout space tucked neatly behind a stylish sliding barn door—a smart solution that removes the need to leave room for a traditional door swing.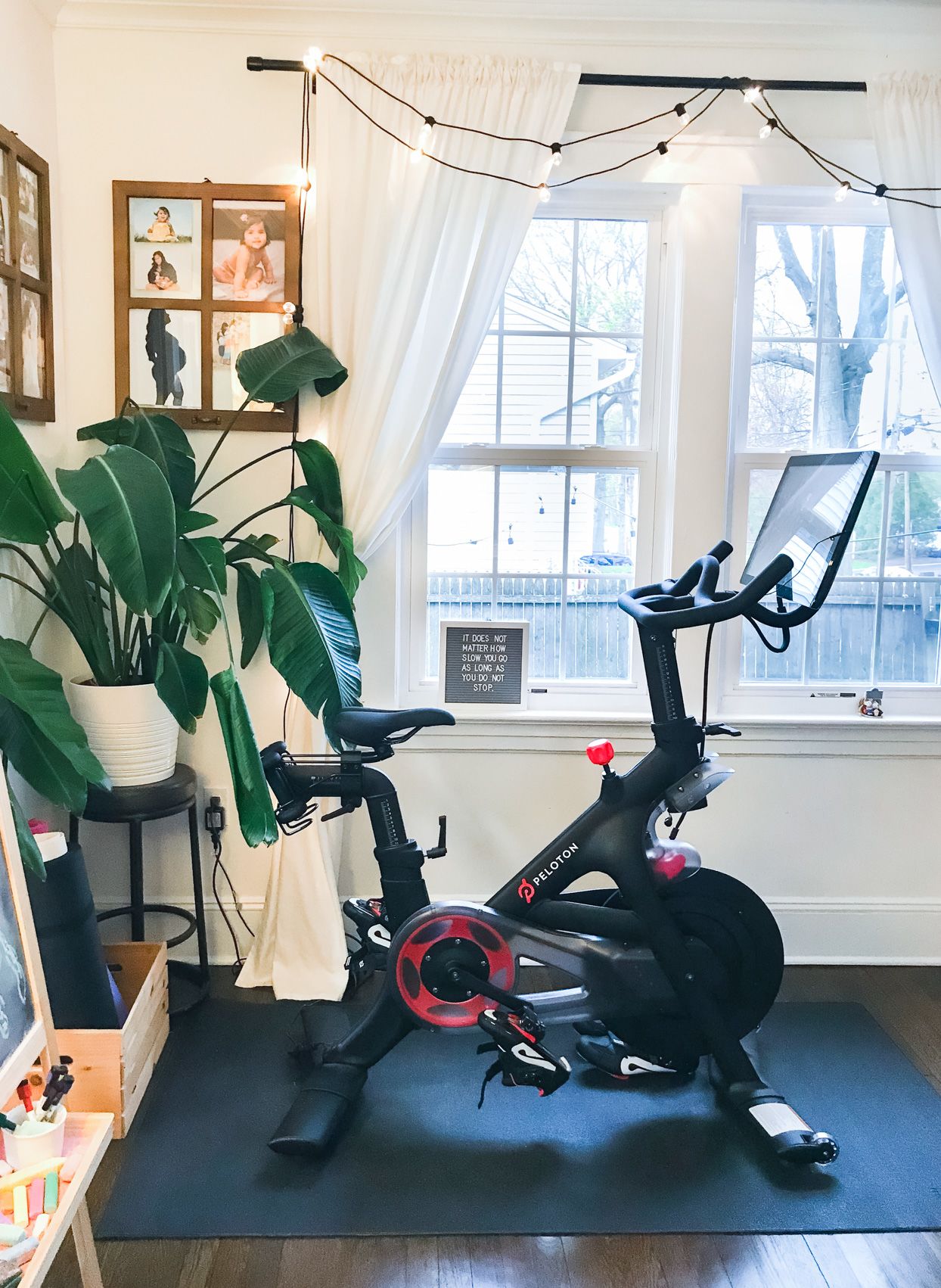 Living Room Exercise Nook

When fitting a home gym into an existing space, look for ways to make it feel special and motivating but not out of place. Karina of Lovemade Handmade added a stationary bike to a busy family space, in part because the proximity would make it convenient to use. It also allows her to enjoy natural light and backyard views. Adding string lights and a large houseplant upped the ambiance so the exercise nook feels both intentional and part of the broader room.


Minimalist Basement Gym

Working with an unfinished basement, blogger Laurenda Marie created a hardworking home gym with just a few key elements. Planning ahead allowed her to identify areas that needed reinforcements-like wall-mounted mirrors, a TV, and a pull-up bar-prior to drywalling. Laying foam floor tiles above the concrete added cushion without the need for a subfloor. Taking advantage of recesses in the walls by placing equipment around the perimeter keeps the majority of the space open for the workouts like yoga, cardio, and online HIIT classes.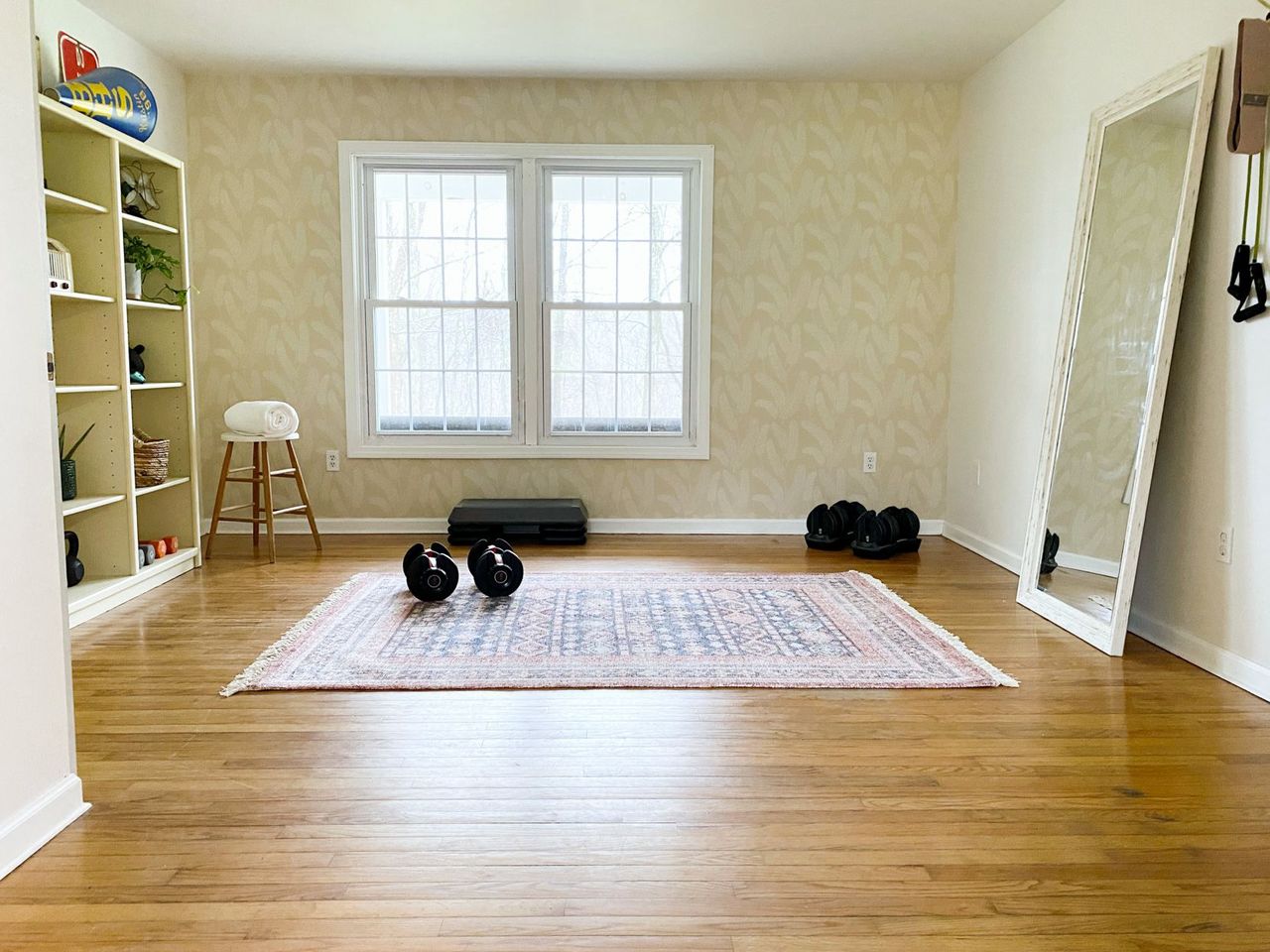 Stylish Home Fitness Studio

If unframed mirror panels and rubber floor mats aren't your style—don't sweat it! Even a dedicated home gym doesn't have to look like one. Stephanie Osborne transformed her dining room into an exercise area with accents that match the character of her home and decor. A rustic framed mirror and patterned rug provide home gym necessities without looking out of place. She camouflages additional equipment storage in a perfectly-styled bookshelf so you hardly notice it's there.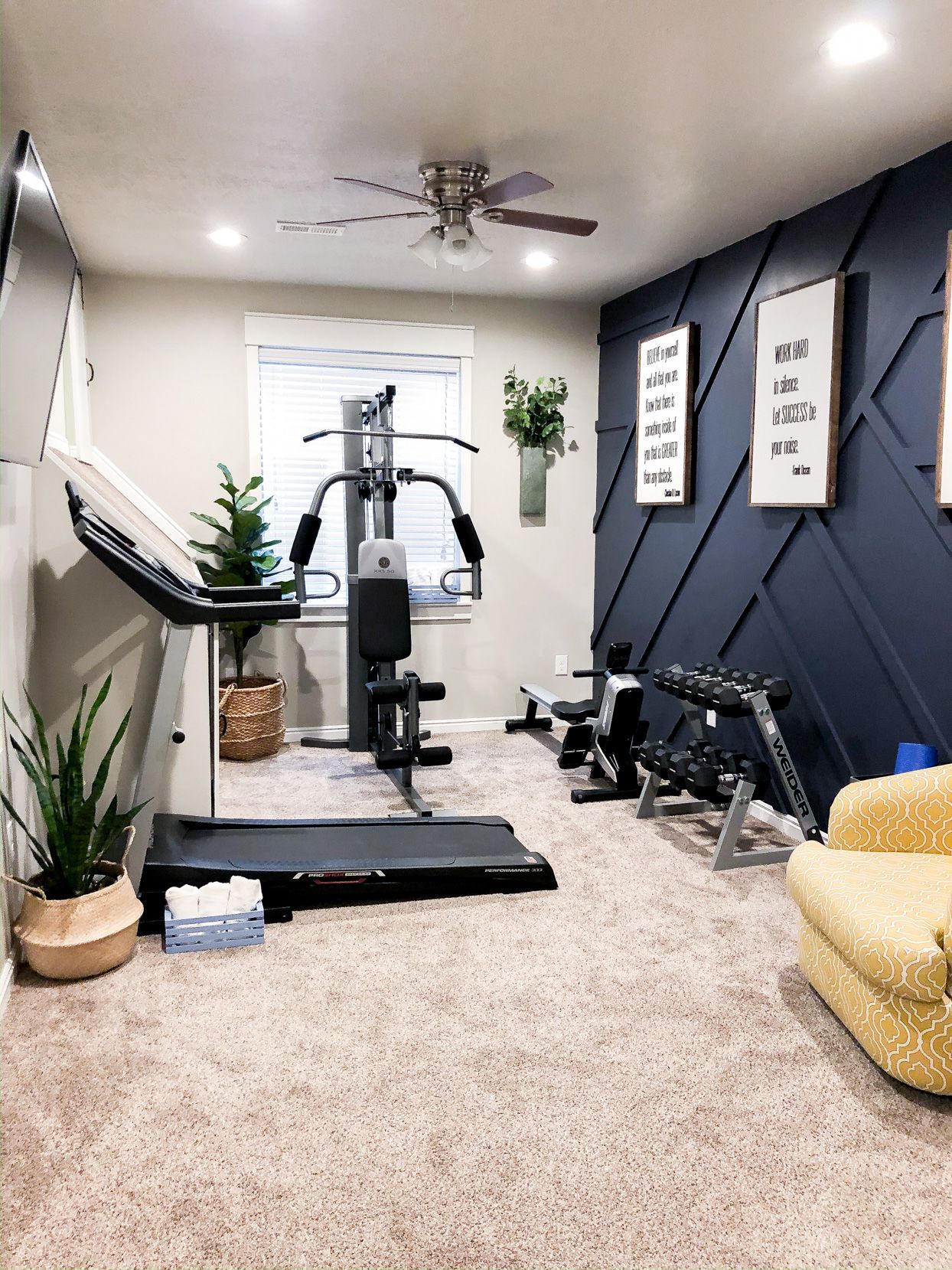 Sophisticated Accent Wall

Although spa-like neutrals are a popular choice for home gyms, don't be afraid to use dark colors. Kelly from City Girl Meets Farm Boy used a deep blue color and DIY wall treatment to create a sophisticated focal point in her home gym. Limiting the color to one wall prevents it from overpowering the room while acting as a visual counterbalance to the gym equipment and television. The modern board-and-batten pattern adds texture without cluttering the narrow room.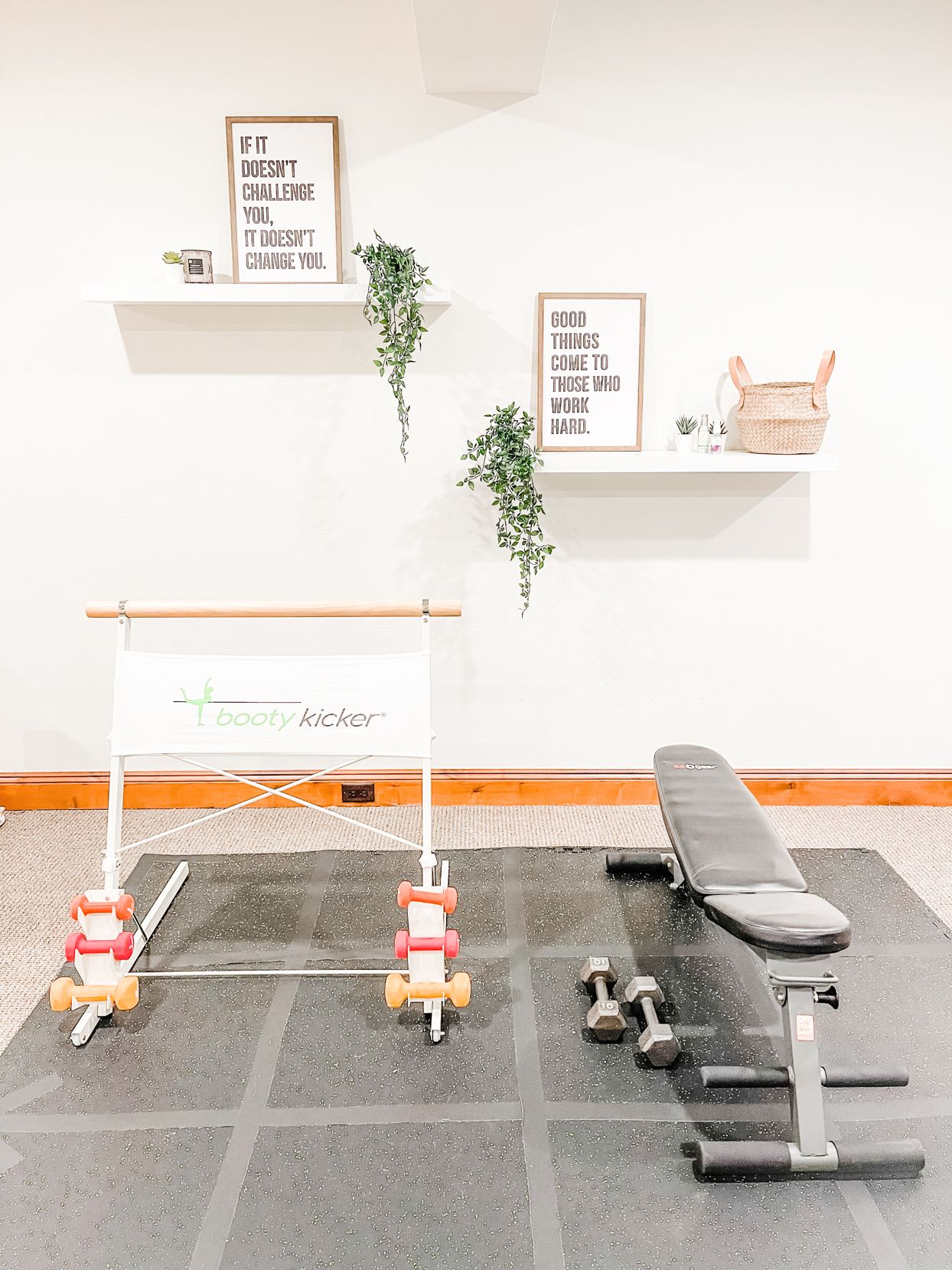 Clutter-Free Fitness Zone

Make an impact in an existing home gym with thoughtful organization. Britt of The Brittish Way made room for barre and free-weight workouts with out-of-the-way storage for gym accessories that used to overrun this basement workout space. An exercise mat and decorative shelving that incorporates greenery and simple decor anchor the focused fitness area. Combined, these simple updates bring tranquility to the refreshed workout area.