Smooth like the liqueur, yet zingy and energized, the color chartreuse packs a serious punch. Named after the beloved herbal French liqueur, chartreuse is the color directly between green and yellow. When chartreuse was introduced as an official color, The Domestic Monthly (1885) originally defined it as such: "The delicate, pale green, with a yellow tinge, entitled 'Chartreuse,' is a rival to the renewed apple green." Some things have changed since the 1800s, and with the color's ever-evolving definition (is it technically green or yellow?), many acknowledge two versions of the shade: chartreuse yellow (traditional), and chartreuse green (updated). Regardless of these distinctions, one thing is for sure: if it isn't already, chartreuse should be on your radar this year. With many moments in the limelight, the citrusy hue has become a marker of high fashion and timeless style, from the cocktail dresses of the Roaring 20s to the mid-century modern furniture designs of the 40s and 50s, to the psychedelic shades of the 70s, all the way into 2020. Etsy even declared chartreuse their color trend of the year due to its high search volume across the board.

Enlightened? Intrigued? Looking to bring this color into your own spaces? Scroll down to see how this sumptuous shade stands out in some of our favorite homes, and see how to get the look for yourself.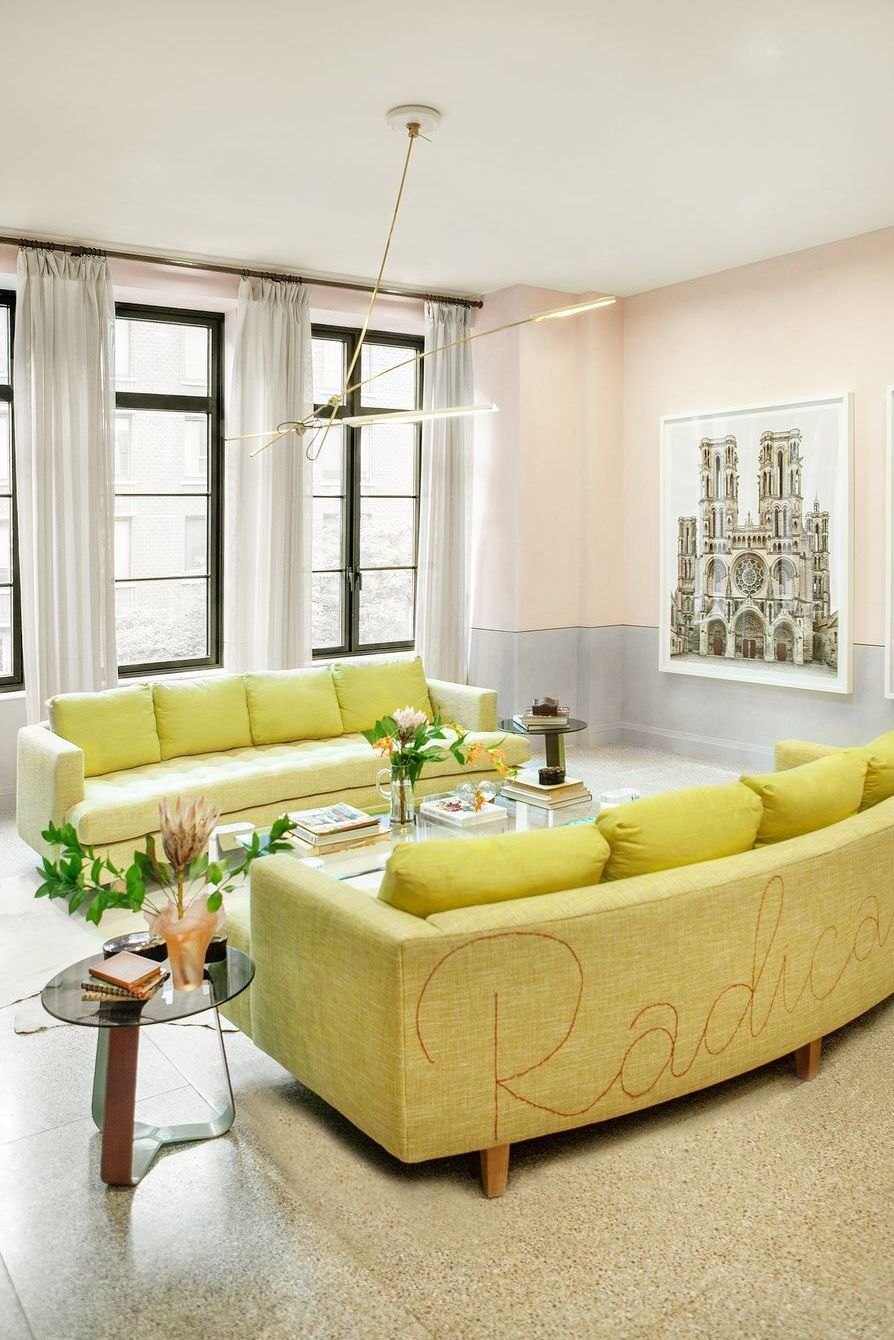 1 Statement Chartreuse Furniture

A pair of pair of curved, Donghia-inspired sofas-embroidered by textile artist Rhiannon Platt-are a focal point in designer Carloyn Pressly's blush-toned TriBeCa living room.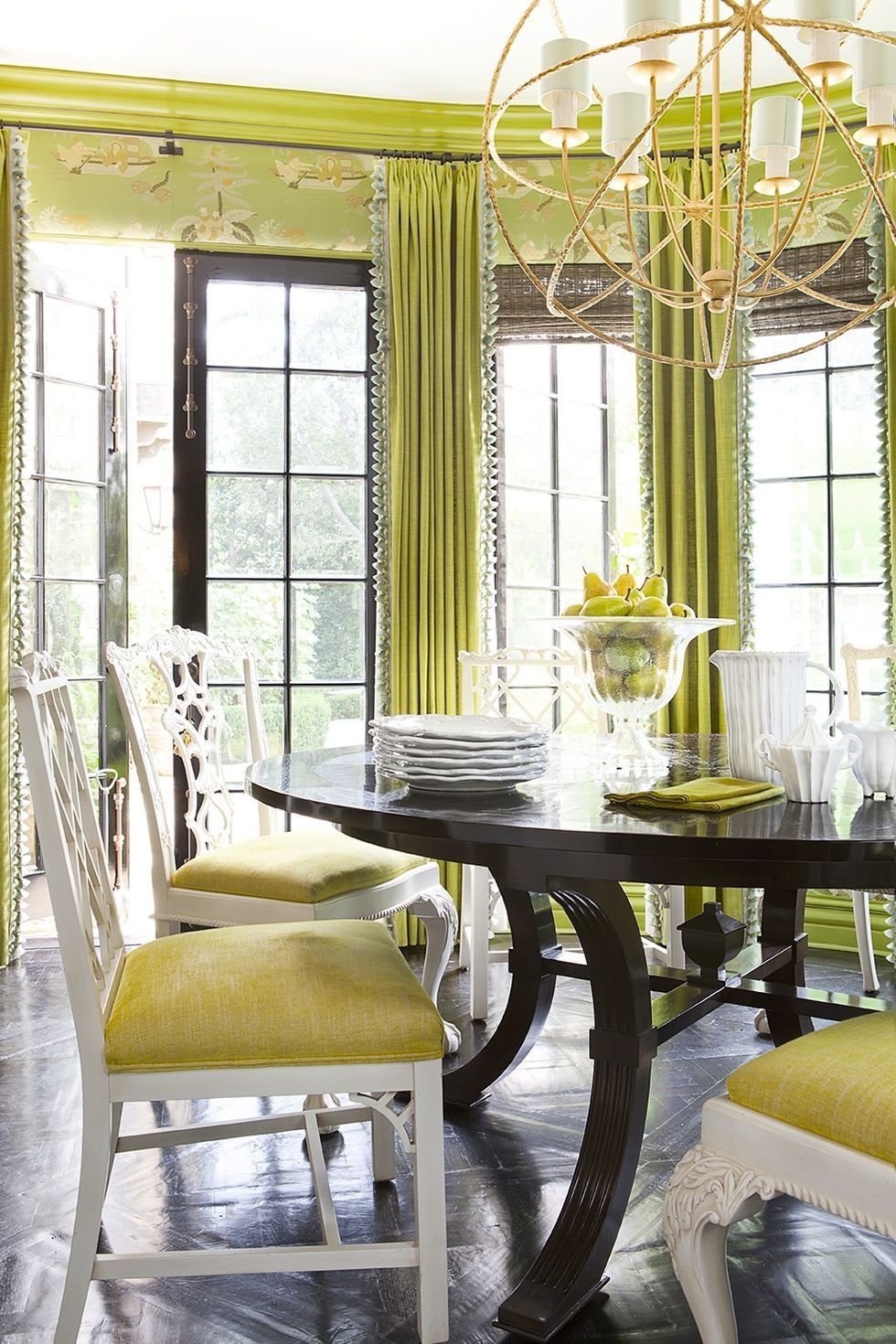 2 Coordinated Chartreuse Dining Room

Decadent dining comes to life in this David Dalton-designed home, courtesy of a chartreuse palette balanced by crisp white and dark flooring.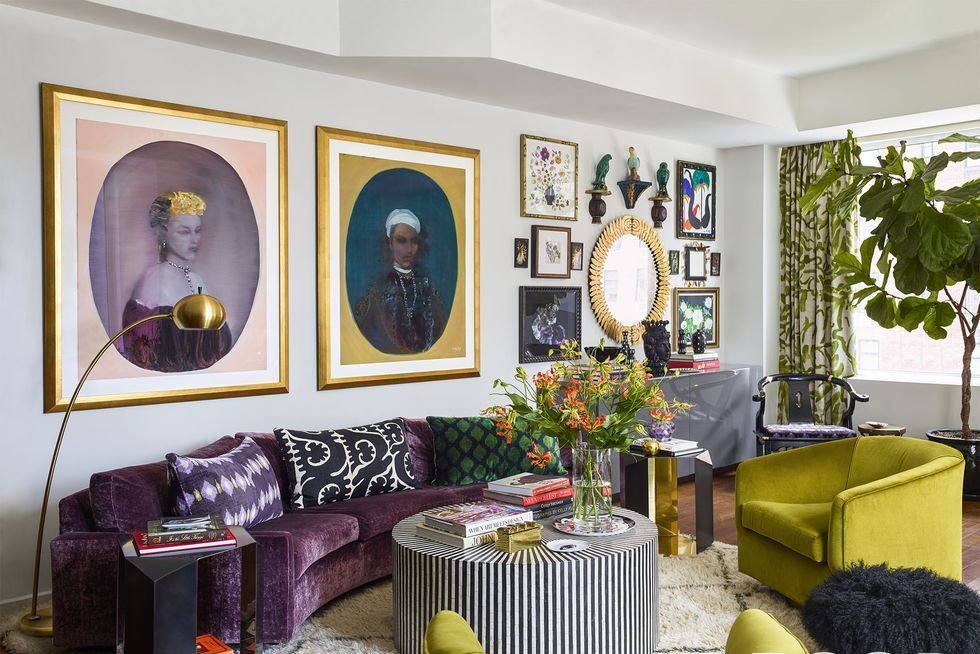 3 Velvet Chartreuse Pops

Exploding with color and pattern, PR maven Christina Juarez's New York living room includes a vintage Milo Baughman sofa in a purple Cowtan & Tout velvet, paired with vintage chartreuse Larsen chairs.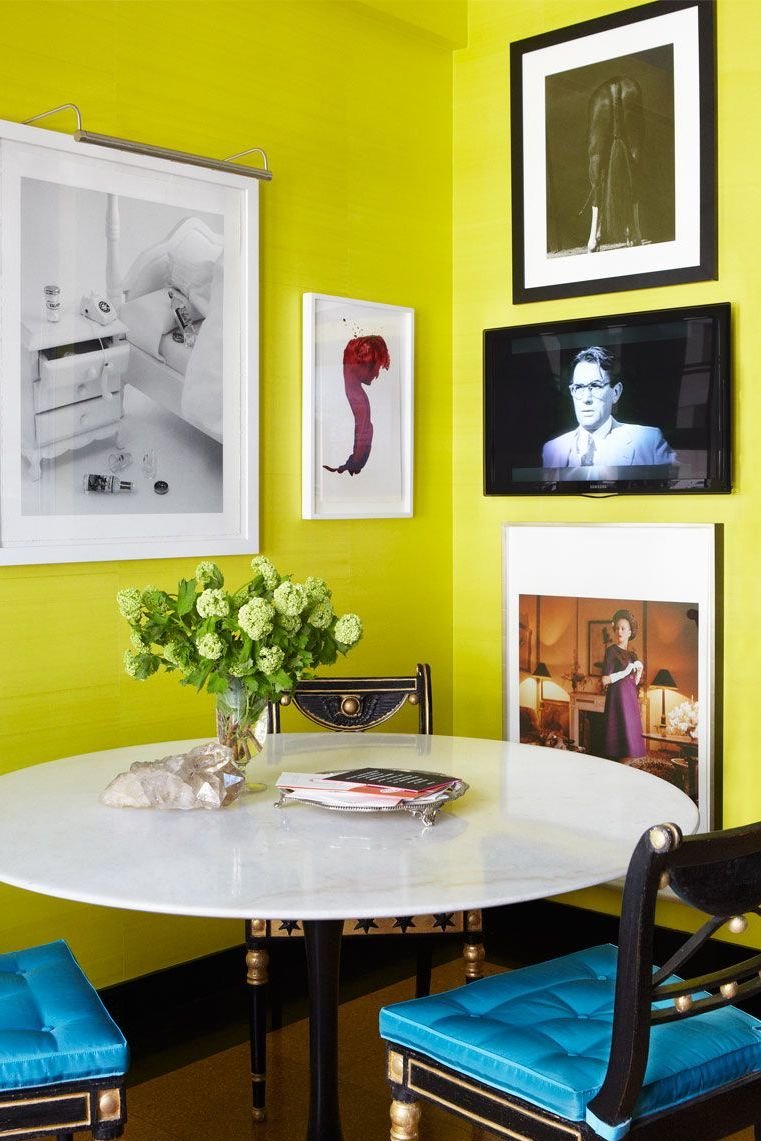 4 Electric Chartreuse Dining Nook

In decorator Todd Alexander Romano's zingy kitchen dining nook, chartreuse vintage silk wallpaper sets an energized backdrop for a classic gallery wall. Here, regency chairs with silk cushions surround a Saarinen table.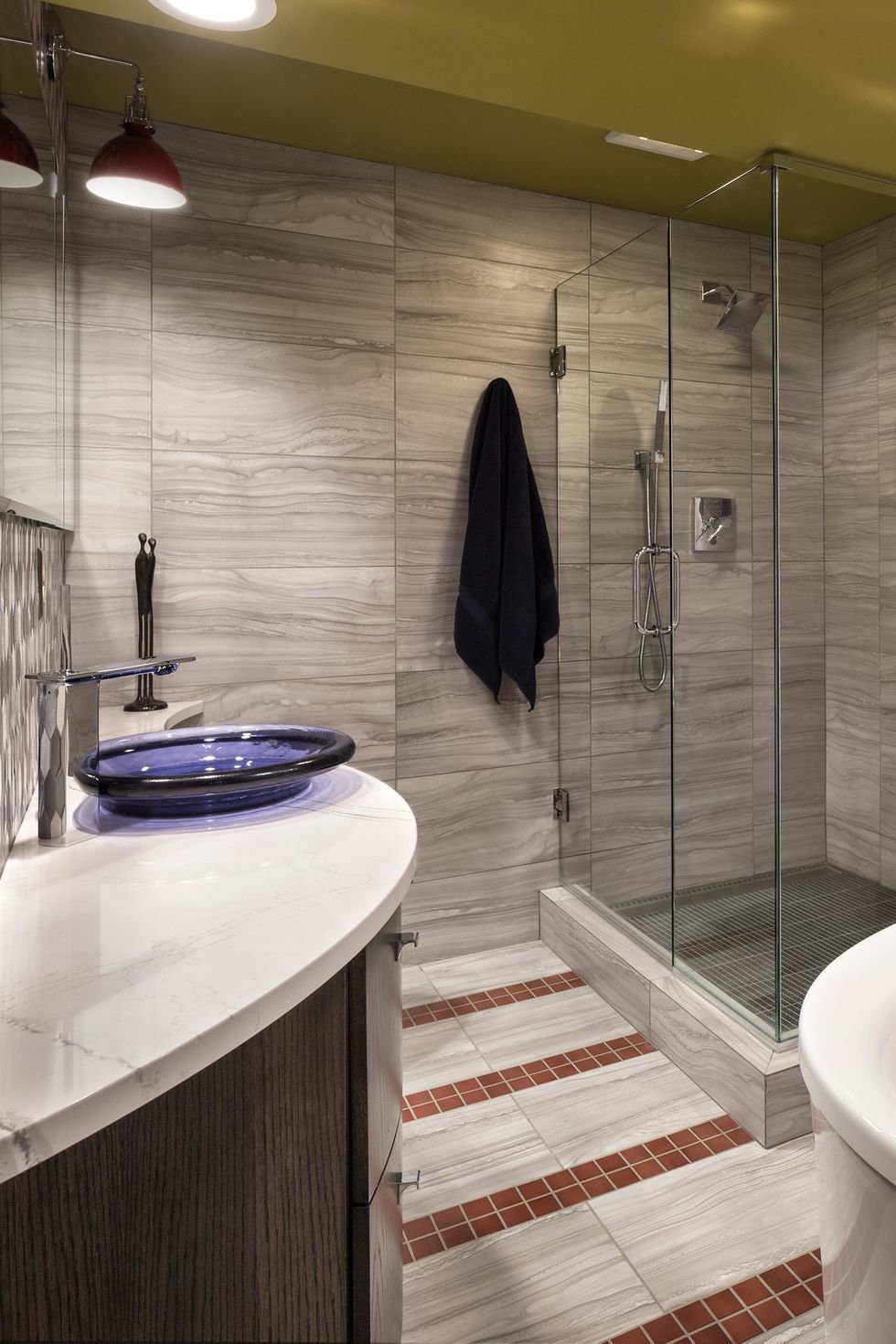 5 Chartreuse Ceiling

A spacious guest bathroom by Susan E. Brown Interior Design features a striking chartreuse ceiling, bringing in a natural appeal against the marble-clad walls.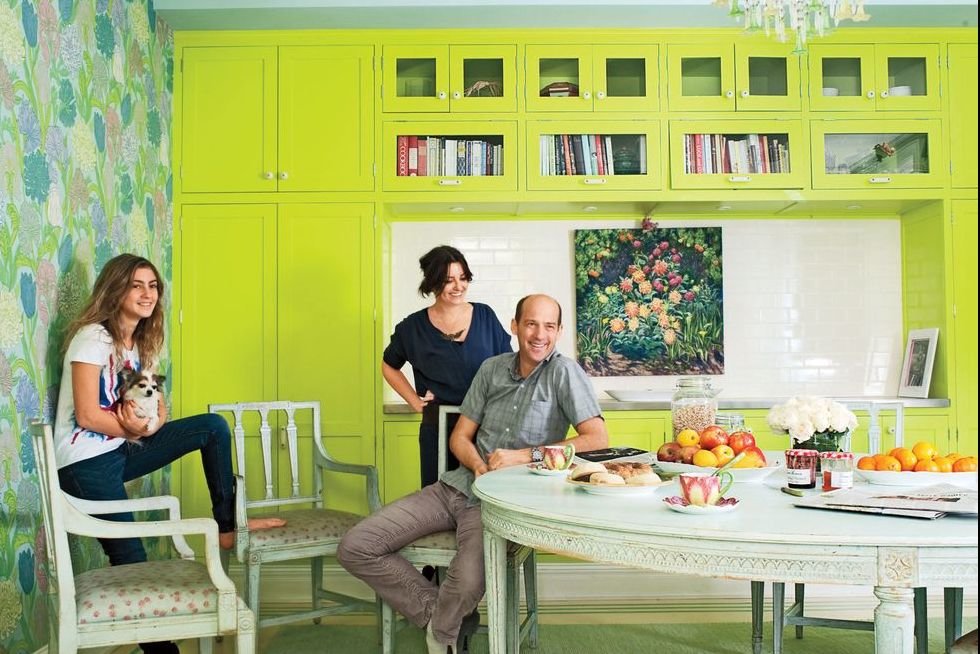 6 Chartreuse Built-Ins

Cosmetics star Jeanine Lobell and actor Anthony Edwards crafted a colorful family home full of pattern and pizazz, including the bright breakfast room, which features chartreuse built-ins and an adjacent floral accent wall.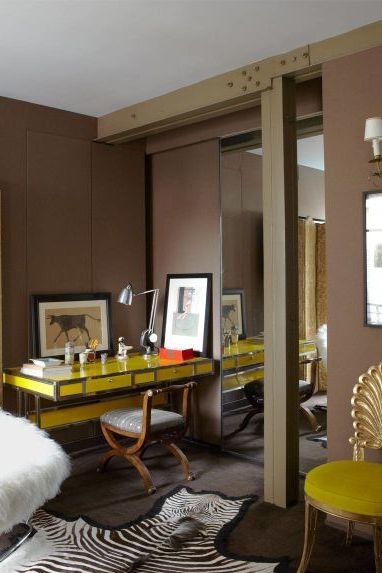 7 Sultry and Chartreuse

São Paulo-based decorator Sig Bergamin conjures a sultry-yet-energized vanity area in his Paris apartment, with a coordinating chartreuse desk and accent chair that are tempered by earthy brown walls.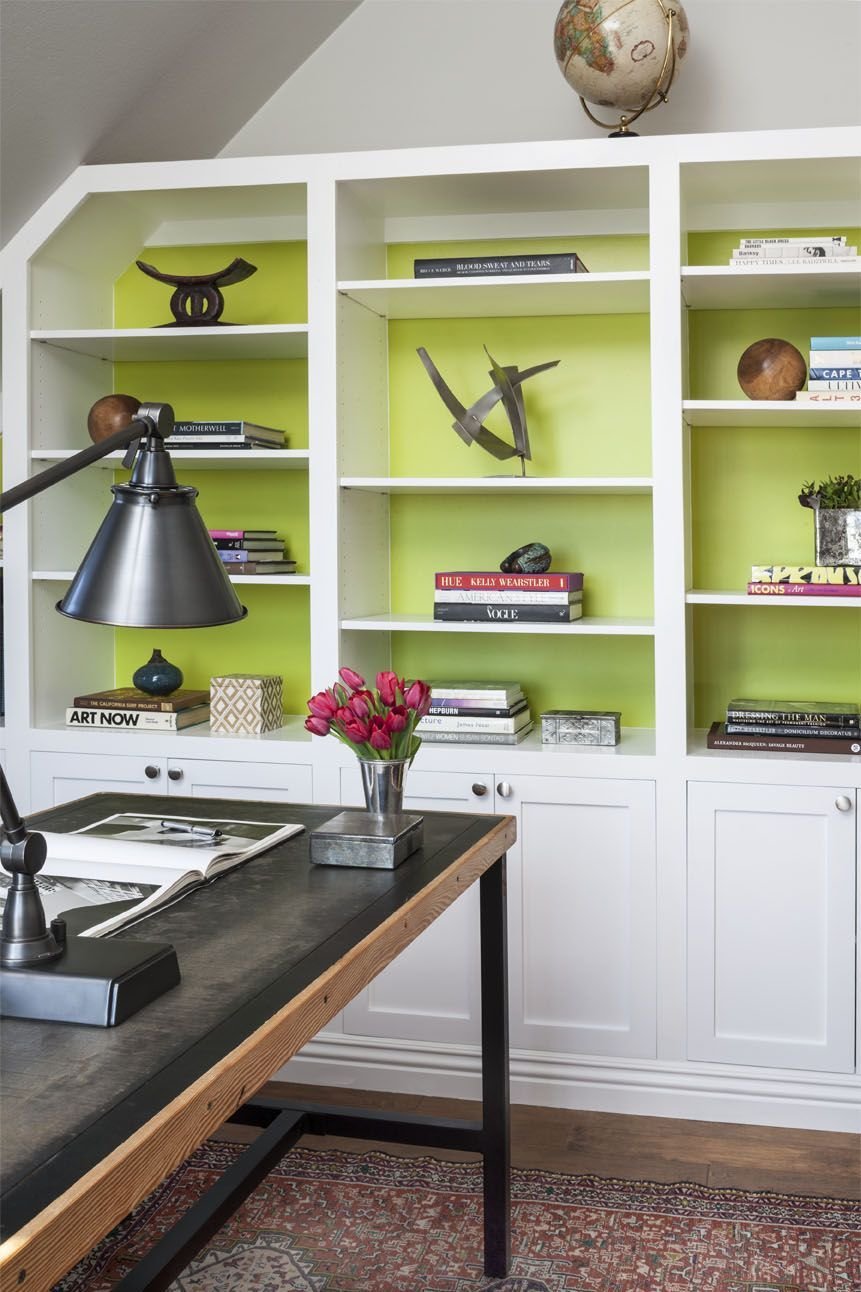 8 Chartreuse Bookcase Backing

Interior designer Lisa Gutow gives a modern bookcase a vibrant twist with a chartreuse backing that begs guests to browse through.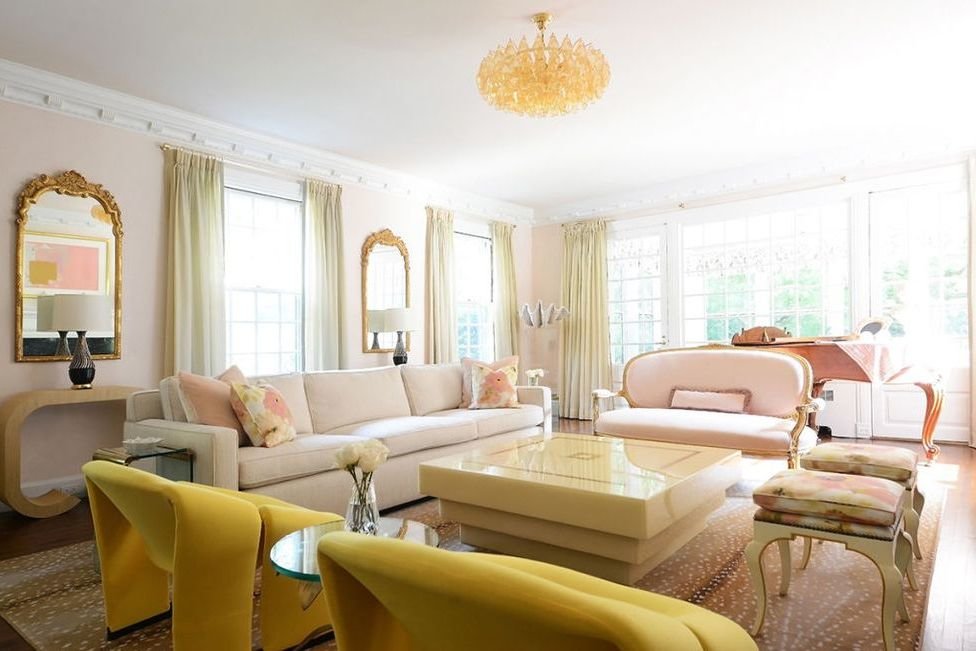 9 Impressionist-Inspired Chartreuse

Interior designer Sasha Bikoff was inspired by impressionist artwork for this soft, almost ethereal living room, which balances blush tones with chartreuse pops through the modern accent chairs.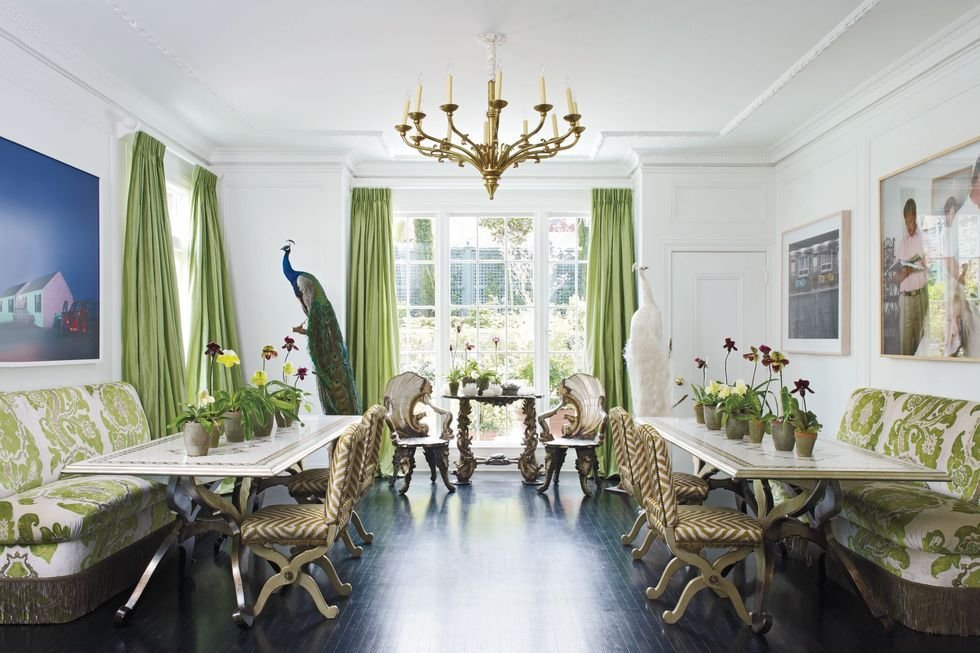 10 Regal Chartreuse Dining

In this Thomas Britt-designed San Francisco home, the grand dining room features a pair of custom-made tables by Andrew Fisher, surrounded by Getty-designed folding chairs and custom-made banquette, all of which boast a chartreuse green hue.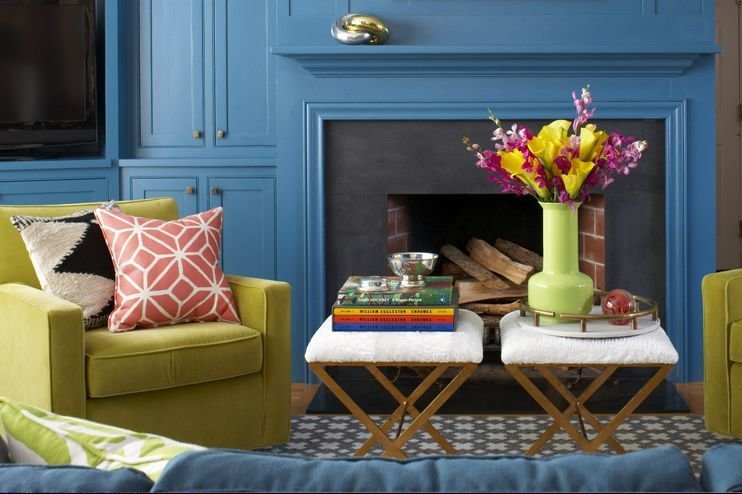 11 Chartreuse Accents

Chartreuse chairs juxtaposed against moody blue walls in this Liz Caan & Co-designed room is a lesson in the power of contrasts.


12 Grassy Chartreuse Kitchen

Girlboss founder Sophia Amoruso's Los Angeles kitchen makes a case against the all-white fad, with chartreuse green walls that are sure to stimulate conversation.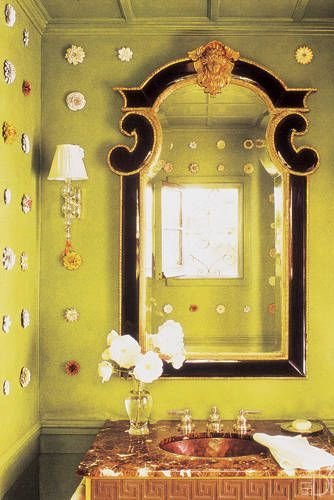 13 Chartreuse Powder

A San Francisco powder room by interior designer Katie Riddler is given a bold dose of color with chartreuse walls, which are accented with painted aluminum flowers and an ebonized mirror to match.