Berber style rugs are testament to how some of the best modern decorating ideas have their roots way back in history. Despite being around for over 1,000 years (with some patterns being traced back as far as the Paleolithic era or the Stone Age) the style is an enduring classic, acting as a neutral to blend seamlessly into any interior.

Originally from Morocco and surrounding areas of Northern Africa, Berber rugs – or Beni Ourain as they are also known – were popularised by designers in mid-20th century Europe. Seeking inspiration from further afield, they imported these luxurious piles in their thousands, taking the expertly handwoven works from the Berber tribes of the Atlas mountains, to the sitting rooms of Paris, London and New York.

Designers such as Le Corbusier paired the thick rugs with sleek furniture, and soon everyone wanted one. And as mid-century style has endured, so has our penchant for Berber style rugs, making them a familiar site on many a moodboard and many a magazine page.

We owe these beautiful Berber style rug designs to the nomadic women of the Beni Ourain tribe, who passed down their looping techniques and secret family patterns for generations. But there's more to these rugs than meets the eye. The patterns aren't just beautiful, they are symbolic too – the lozenge, chevron and diamond shapes representing femininity and fertility.

And, like fingerprints, the original Moroccan Berber rug patterns were as unique and individual as the weavers who created them. The colours, patterns and woven designs were all inextricably linked to the isolated villages where they originated – which we think gives these rugs a new dimension beyond aesthetic. While you can still get your hands on authentic Berber rugs through rug specialists or perhaps bringing one back from Morocco itself, there are also lots of rugs emulating the style beautifully available online a little closer to home.
The best Berber style rugs

Thankfully, these days, you don't have to book a flight to Morocco just to get your hands on a Beni Ourain rug. As well as the authentic ones, you can also pick up Berber-inspired ones and achieve the same effect. We've found plenty of Berber style rugs that are just a click away. And if you are wondering how to place your new rug, we have included styling tips, too.

We challenge you not to fall in love with these designs...


1. Heal's Demantur Rug by Linie Design, £689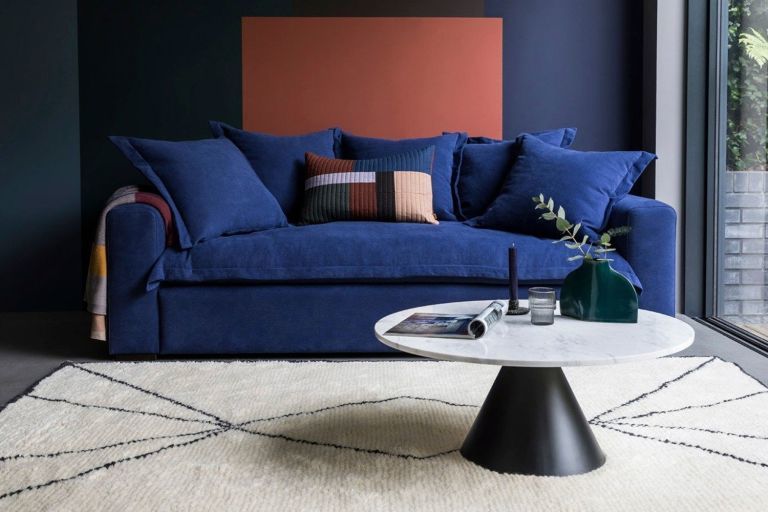 The Heal's Demantur rug by Linie Design (from £689) at is one that seamlessly blends Scandinavian simplicity with the rustic texture and thickness of traditional Moroccan Berber rugs. This design is named after the Icelandic word for 'diamond' in reference to the large motif that adorns the centre of the rug.

Made from 100% wool, this Berber style rug is soft underfoot to add a layer of comfort to your home. This is a versatile design, one that would complement a traditional home with wooden floorboards or in a modern setting over polished concrete.


2. Anthropologie Idella Hand-Knotted Rug, from £78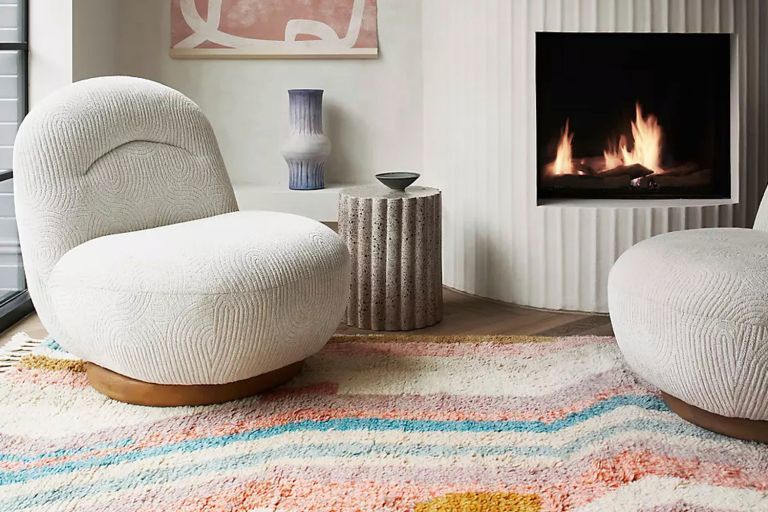 Made from pure wool that has been knotted by hand, Anthropologie's Idella rug (from £78) uses yarn that is hand-cut and hand-tempered creating tightly constructed knots. Inspired by traditional Berber-style floor coverings, the rugs colourful design provides a modern twist on a classic style. Woven yarns in soft pink, sea-foam blue, rich ochre and a pretty lilac, this is a rug for those not afraid to add a splash of colour to their interior scheme.

Styling tip: thanks to its jolly hues, this design would work well with rattan accents and could help to lift the darker areas of your home.


3. Habitat Savanna Wool Rug, £195


Combining bold colours with graphic shapes, the Savanna rug by Habitat (£195) is one that will stand out from the crowd. Moroccan inspired, this design has been hand woven in India using 100% wool and has a deep pile finish which is soft and warm underfoot. Designed by the in-house design team at Habitat, this rug features a dusky pink that works beautifully as a background against the traditional diamond design that runs over the length of the rug.

Styling tip: with its vibrant tones, this rug would stand out against dark upholstery or darker floors.


4. Made.com Drax Berber Style Rug, £179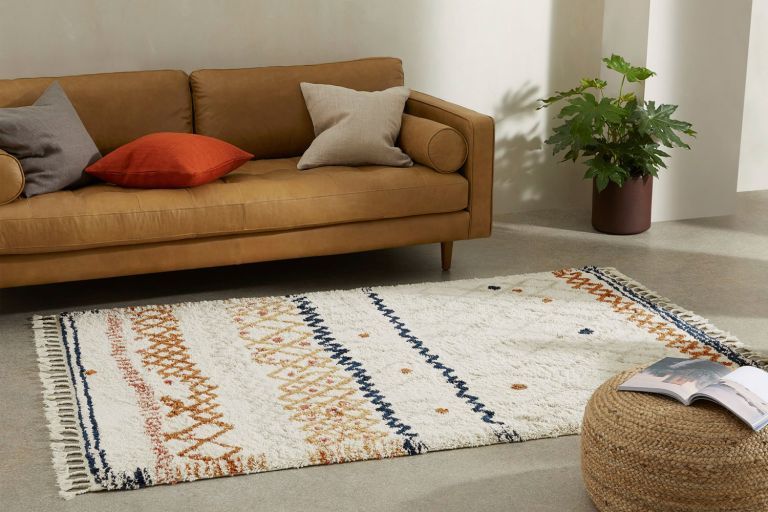 With its soft cream background and just a dash of colour and pattern, the Drax rug from Made.com (£179) is the perfect balance of adding colour without overpowering a space. The blue and ochre colours of this design are ideal for a home that favours a bohemian vibe, work together with tan leathers, dried palms and raw wood finishes. The beautiful tufted texture of this design is ideal to create a cosy corner in your home, perfect for sinking your toes into.


5. La Redoute Adza Berber-Style Wool Rug, £215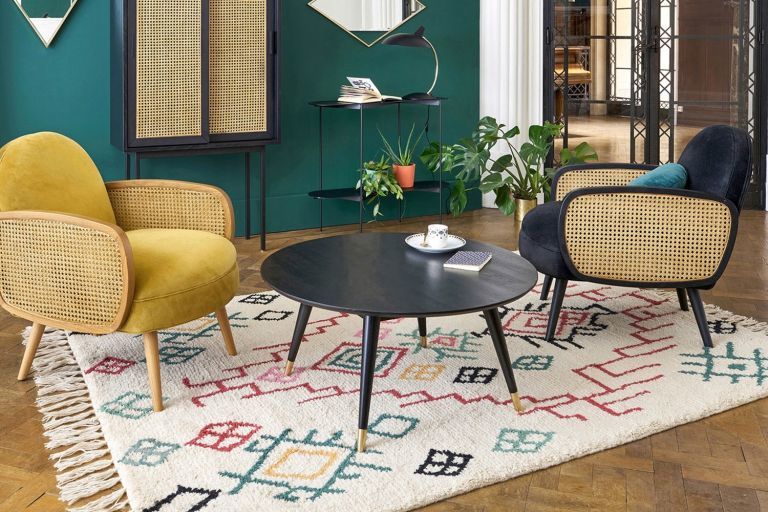 A multicoloured design, the Adza rug from La Redoute (£215) displays playful motifs that feel like marks made by an artist. The hand-knotted wool provides an authentic charm, yet the bold colour choice present this berber-style rug in a new – and rather contemporary – light.

Styling tip: work together with mid-century pieces, such as a G-Plan sofa or a 1950s-style statement armchair. The Adza would create a vibrant statement in the centre of a living room but if you're a colour enthusiast then try picking out the primary colours and use them throughout the room to tie your scheme together.


6. Maisons du Monde Isma Grey Cotton and Wool Berber Rug, £439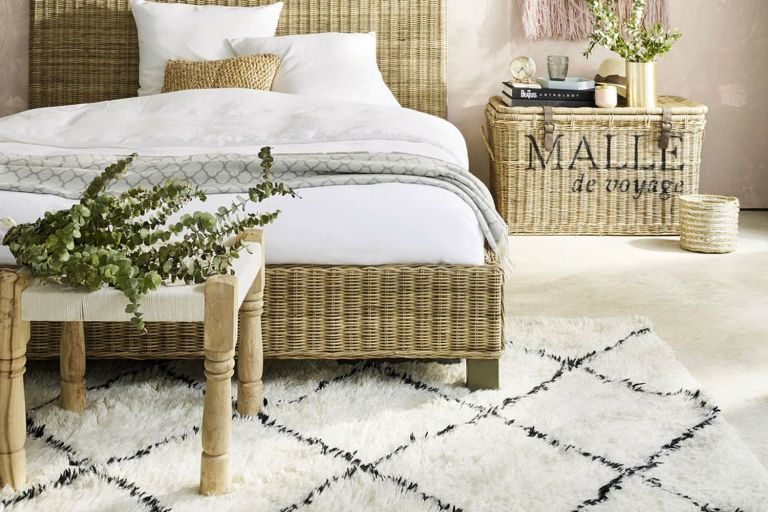 Create a calming interior and a welcoming boho ambiance with the Isma berber rug from Maisons du Monde (£439). A simple, yet classic design that is often associated with Moroccan style rugs. An instant winner in our books, thanks to its quiet design and pared back colour. This style has been a decor must-have within the interiors world during recent years, it's the perfect background for both modern and traditional furniture.

Styling tip: these natural tones could be pared with matt finishes or metallics touches the endless options allow you to be as creative as you wish.


7. Dunelm Mill Rita Moroccan Wool Shaggy Rug, from £99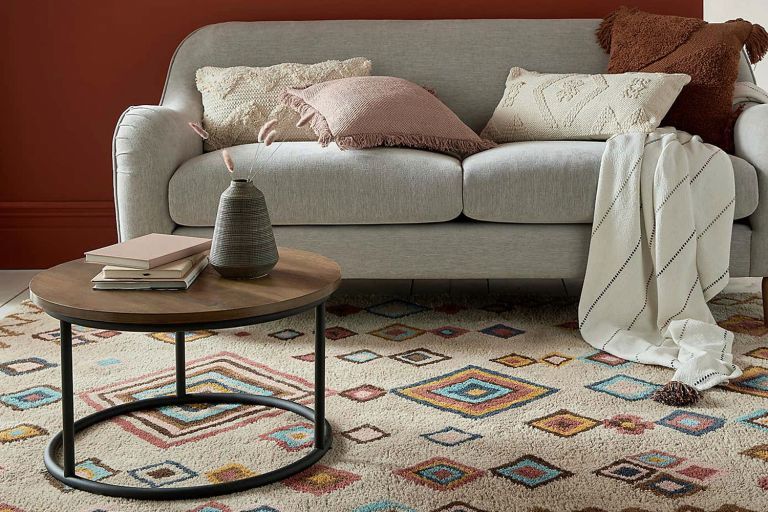 Inject colour and comfort into your space with the Rita Wool Moroccan Shaggy rug from Dunelm Mill (£169). Hand-tufted by rug artisans in India, the 100% wool composition adds softness and personality to your space in equal measures.

Styling tip: Pick out your favourite hues from the rug design and use them as a colour palette for your room. It may feel quite bold but this will help your overall scheme to hang together effortlessly. If you'd rather not reach for the paint brush, add some colourful wall art or decorative curtains.


8. Graham & Green Myla Hand-woven Rug, £328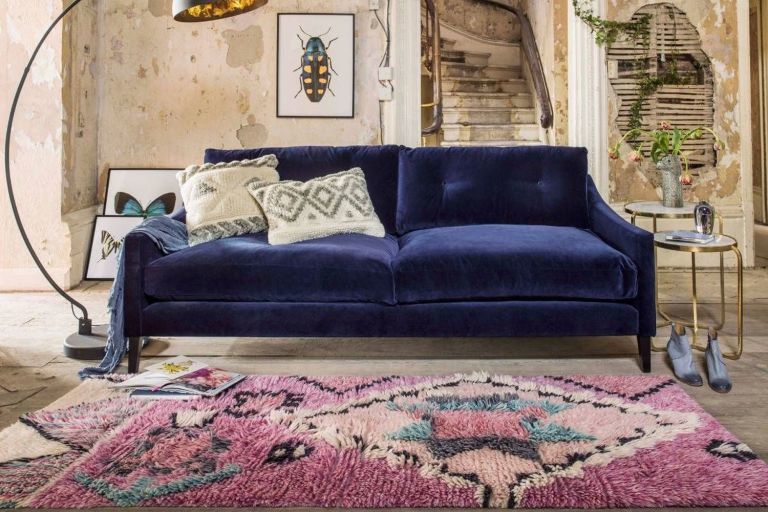 Hand-woven, using luxurious wool from New Zealand, Graham & Green's Myla rug (£328) benefits from a sumptuous deep pile that's perfect for unwinding. The design features a kaleidoscope of pink hues against soft accents of blue that will create an inviting focal point within a space.

Styling tip: with its feminine charm, the Myla rug would suit a glamorous setting, try pairing with a dramatic cut-glass chandelier or a statement brass coffee table. At 100cm wide, this design is perfect for smaller spaces that are big on personality.


9. John Lewis & Partners Anyday Berber Style Rug, £150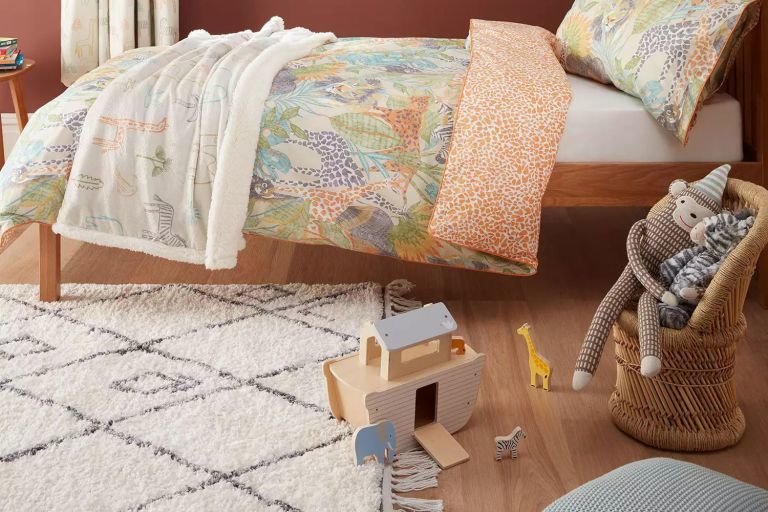 In recent years, berber style rugs have become a design classic. The Anyday Berber Style rug by John Lewis & Partners (£150) is the perfect example of how its laidback but luxurious design can literally work in any space.

Many opt to use berber rugs in their living rooms, hallways or master bedrooms but why not add warmth to your children's bedroom? Not only will it add texture to the space but it'll provide something soft for them to put their feet on in the morning – it might even help them to get out of bed on time!


10. Cuckooland Lorena Canals Washable Berber Rug, £217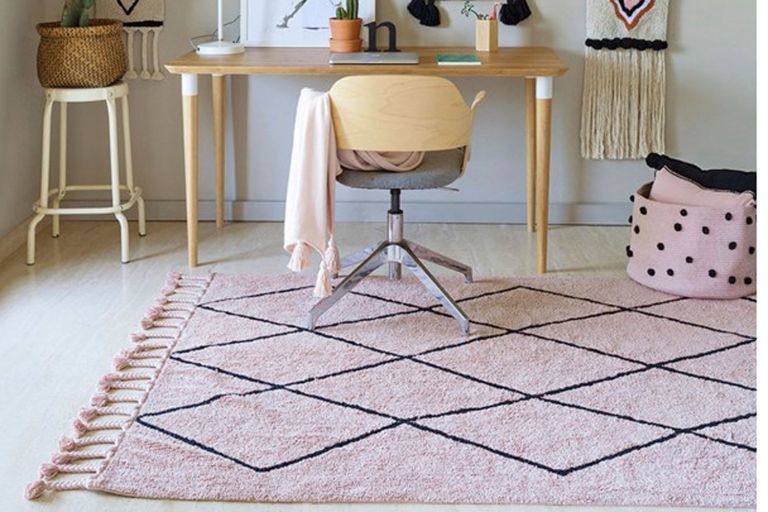 Perfect for a playroom, children's bedroom or an area that experiences heavy traffic, the Lorena rug from Cuckooland (£217) is machine washable, making it the ideal addition to a busy household. Breathe new life into your home with this gorgeous soft pink hue and delicate diamond design made from recycled cotton. Muted pink is still a hot colour trend, as it works almost like a neutral, use with pale accessories for a calm space or set against darker shades to add depth.

Styling tip: pair several rugs together and layer them over one another to create added interest as well as warmth.


Where to buy Berber style rugs?

If none of these took your fancy, search for yourself at some of the places listed below.


Lilla on Etsy
Also hand-knotted by the Beni Ourain tribe in the Atlas Mountains, Lilla Rugs on Etsy has a thick and heavy pile, made from 100% wool, and are considered to be among the best rugs in all of Morocco.The designs are actually surprisingly modern looking, featuring minimalist designs of crosses, diamonds and geometric motifs, and they are guilt-free too as theyare all eco-friendly, fair trade and locally produced.


Maison M
Sourcing original authentic Berber rugs from the Beni Ourain tribe in Morocco, Maison M has an ever-changing but always beautiful rug collection that has us refreshing its page almost daily. These are not just Berber-style – they're the real deal.La Redoute If your budget won't stretch to the real thing, head to the


La Redoute
If your budget won't stretch to the real thing, head to the La Redoute rug section where you will find plenty of Berber-style options in both neutrals and colours. Their affordable designs include intricate patterns with lots of detail, or very paired back options of just three or four lines.